50 Spectacular Arabic Mehndi Designs You'll Love!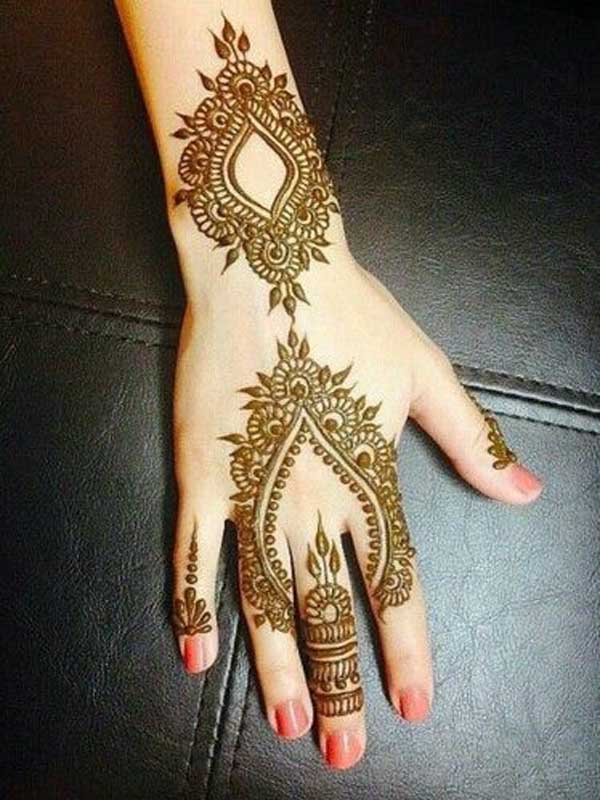 The Arabic mehndi designs are usually visible on wedding day and "Henna nights". They also call Henna night as "the night before the wedding day". "Henna nights" is the occasion wherein the friends and relatives of the bride gather. The relative with successful marriage should be the one to paint the Mehndi on the bride. This is to share the good luck to the bride. The Arabic Mehndi Designs are bigger and more complicated. The lines are thinner so it does not occupy the entire hand.
In Arab regions, they call the temporary tattoo Al Hinna. That is where Henna got its name. Most of the practitioners of Henna or Mehndi in Arab regions are from the Cooperation Council for the Arab States of the Gulf. The tradition of Mehndi in Arab is a form of blessing from the ancient ancestors. Mehndi can bring Baraka or good luck, good health and fertility to the bride. It also brings protection against the bad and unknown spirits like Jnoun.
1. Most of their Mehndi are about floral or geometric designs.  This is because of the Islam belief that any figure or art that represents animal picture is a form of idolatry. The common colors used for Arabic mehndi designs have darker tones.
2. This is such a beautiful mehndi design that features Black and beautiful outline.. The strokes are very vivid which made the design to standout.
3. Here is another Beautiful arabic mehndi design design for hand. This design features a mehndi that cover the full hand.
4. An outsdanding mehndi design that can make any bride be the center of attraction in the crowd. This one features beautiful swirls and strokes, like flowers and vine and is truly beautiful in the hand.
5.  Usually they use black or brown for painting Mehndi in the hands. Each artist has his or her own mixture of ingredients to create a Mehndi. The common ingredients are henna powder, water to moisture the paste, lemon for acidity, sugar to seal the stain and oil to create a darker stain.
6. If you are a bridewho doesn't want a messy mehndi design on yor palm, this design is for you. This one uses simple patterns. It is very feminine which gives you the feel of beauty and elegance.
7. Here is another simple and very neat Mehndi design for hand. The design covered most of the fingers and the center of the palm. The swirly outlines and prominent dots made this mehndi beautiful to look at in the hand.
8. If you're looking for simple yet elaborate arabic mehndi design, this one is for you. This design is the combination of simplicity and elegance. The designs of leaves and vines, plus the floral patterns made this mehndi one-of-a-kind.
9. For more traditional feel to your mehndi, this design is perfect as it uses darker shades of mehndi and thicker outlines for the patterns.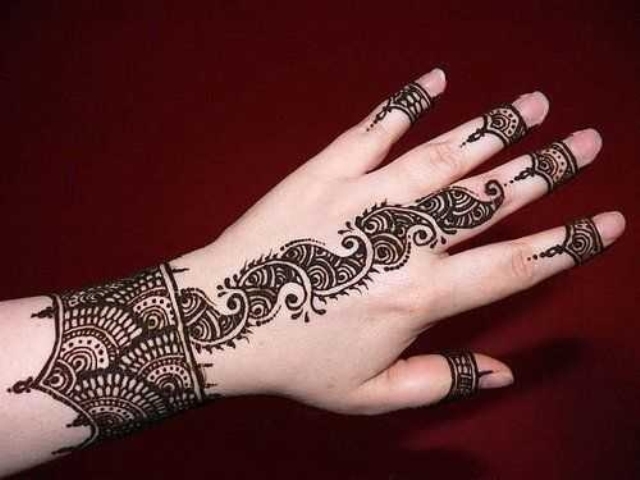 10. Do you want to be the center of attraction in particular event with your beautifully decorated hand? Well, why don't you try wearing this kind of Arabic mehndi design? This pattern looks like you're wearing a bracelet jewelry which spreads towards your fingers, going through the back of the hand. This one is truly eye-catching and is really beautiful.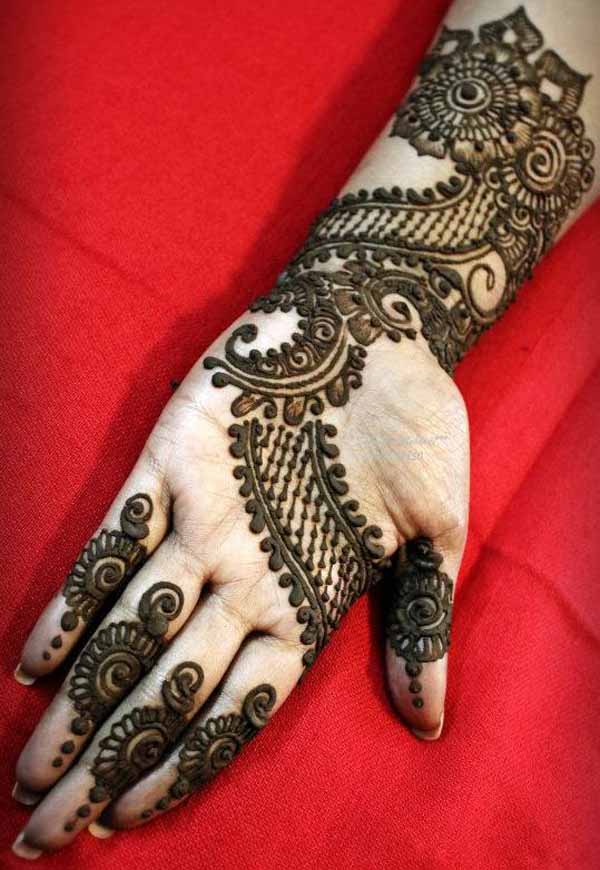 11. For those who want unique and different patterns for their mehndi designs, this one is a must-try. This is a combination of simple yet elegant pattern which is perfect for brides who want to keep the simplicity and elegance for her wedding.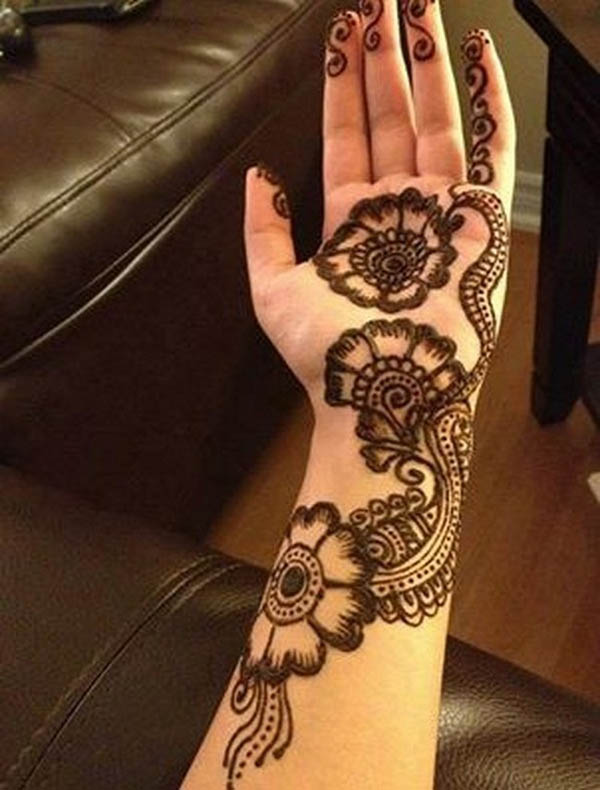 12. Love flowers? You may include floral designs on your arabic mehndi designs as well. You may extend the design even in your wrist and arms! Have a beautiful floral mehndi design with this pattern.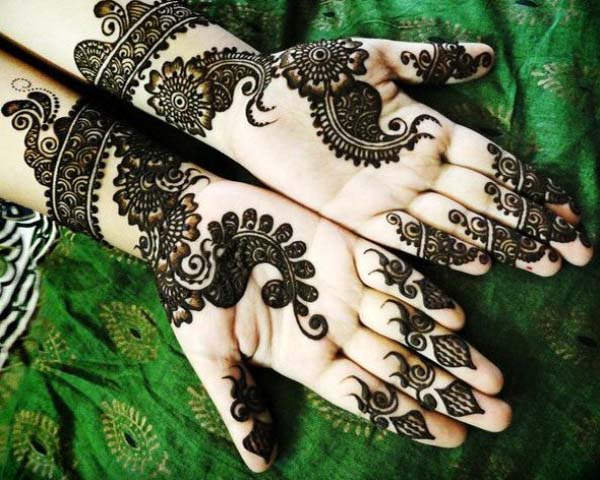 13. A beautiful mehndi designs, with flowers on the wrists extending to the fingers.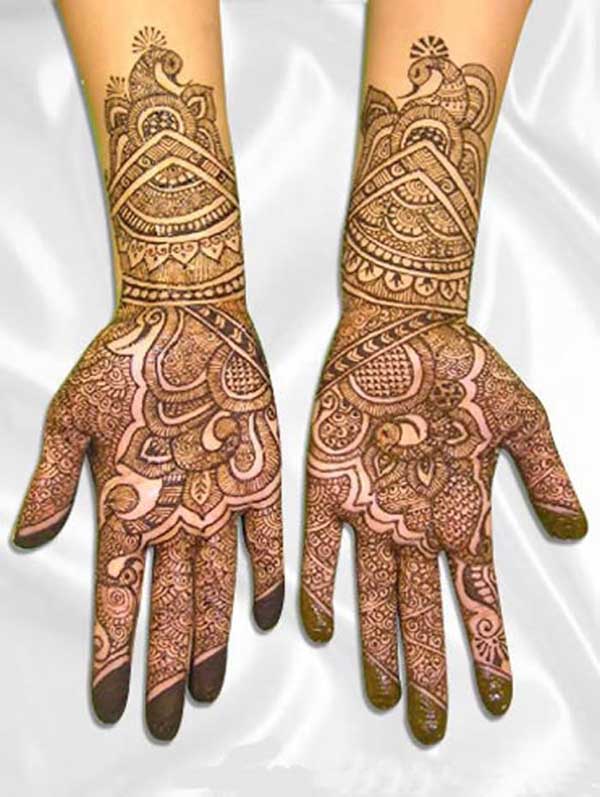 14. An elaborate arabic designs mostly used for traditional arabic weddings. This one uses intricate patterns and outlines.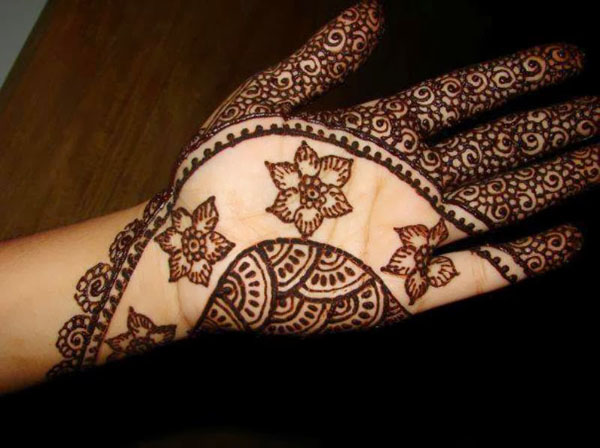 15. A modern and fashionable arabic menhndi designs, with floral, swirls and dots as main element.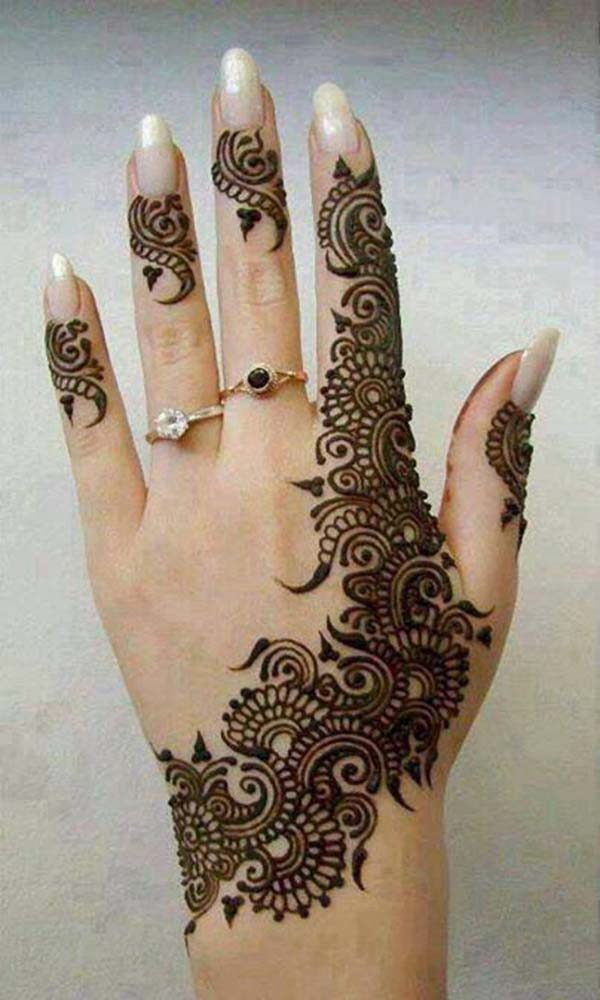 16. A simple and sophisticated arabic menhdi design featuring semi-floral and swirly vines patterns. Covering one side of the hand, and the back of each finger, this one is a gorgeous mehndi for any occasion.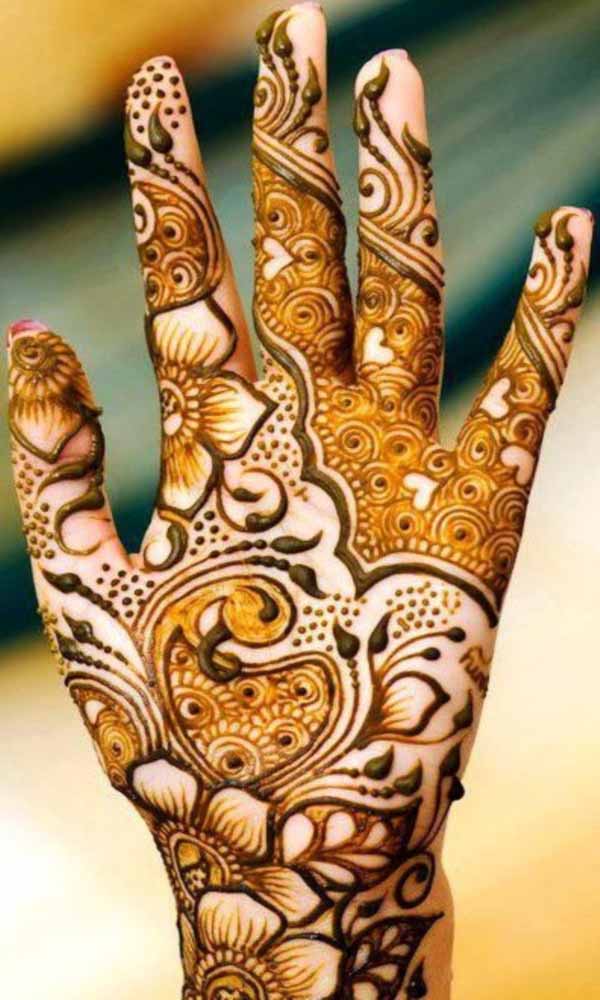 17. A blend of intricate and traditional patterns for arabic mehndi design, this one covers most part of the palm, with the flowers, leaves and vines spreading all over the hand.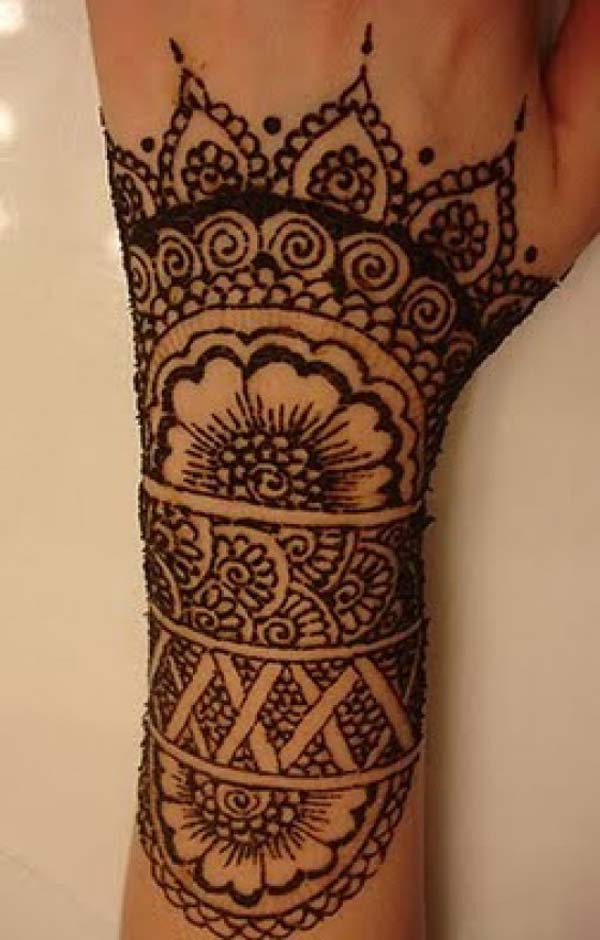 18. A bracelet-like mehndi design perfect for a party or any occasion. This one serves as one's hand accessory thus there's no need to wear any jewelry.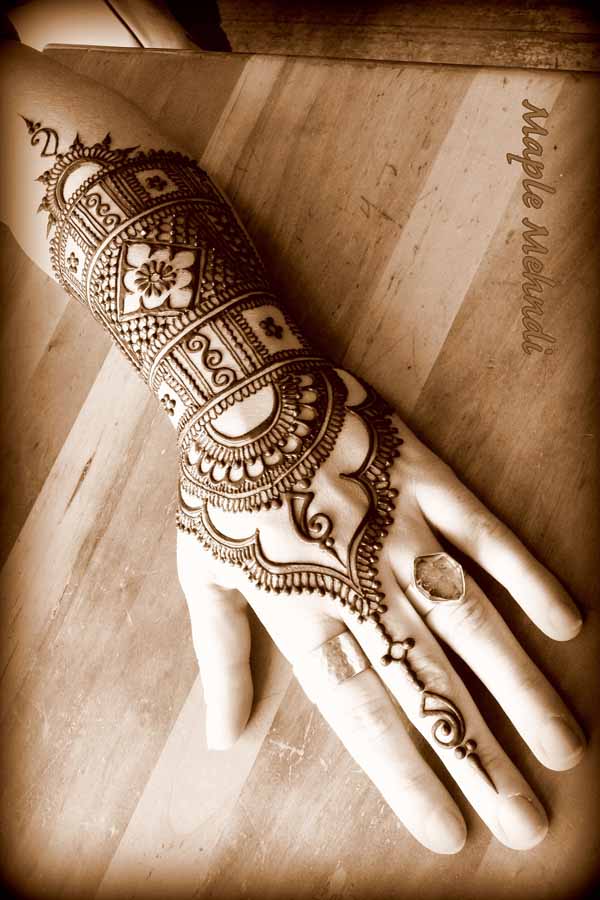 19. Another sample of bracelet-like mehndi design, but extending all though the back of the hand towards the middle finger.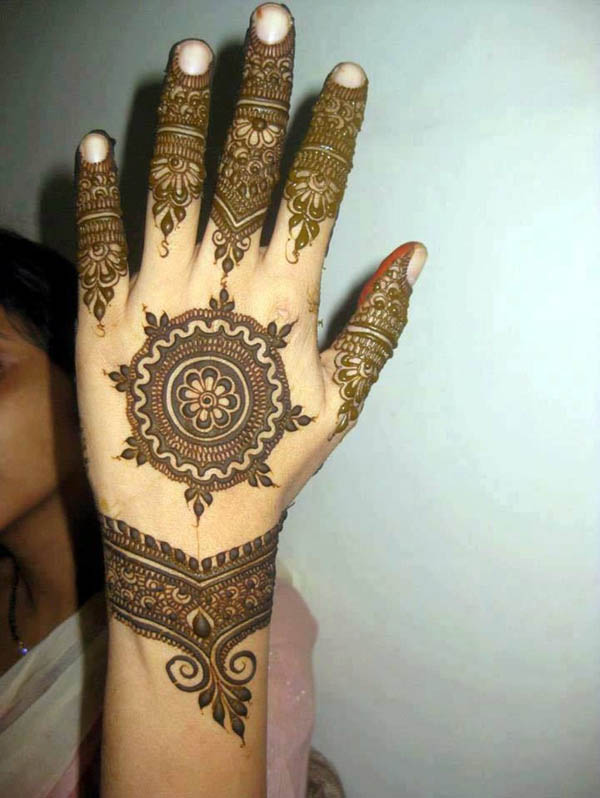 20. A combination of full-hand design and bracelet motif, this one is a sophisticated mehndi design to wear in a wedding.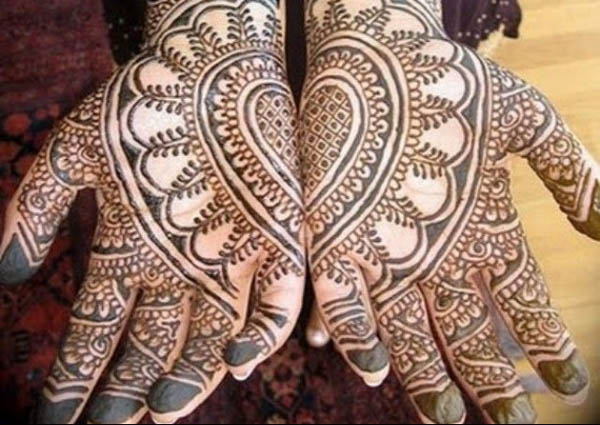 21. Want an intricate patterns for your palm? Then you must try this full hand arabic mehndi design. The patterns covered most of the palms and the fingertips are shaded with black mehndi.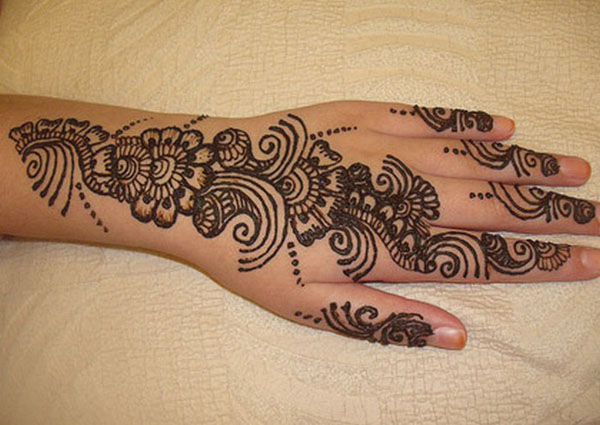 22. If you want more simple and clean motif for your wedding, this mehndi is surely a best choice for you. This only includes some fine and thinner outlines for the design, making it simple yet beautiful.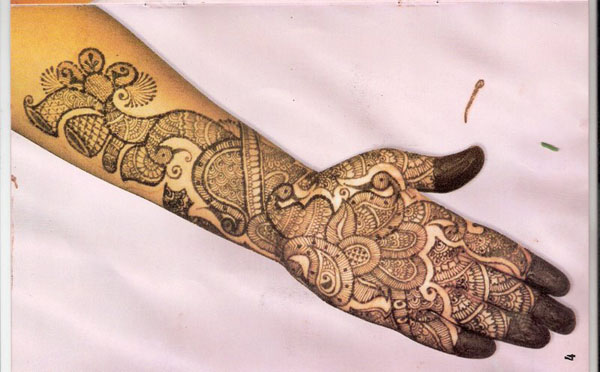 23. Another sample of arabic mehndi design that uses thinner outline, but this one used black mehndi and shaded most of the fingertips for more traditional touch.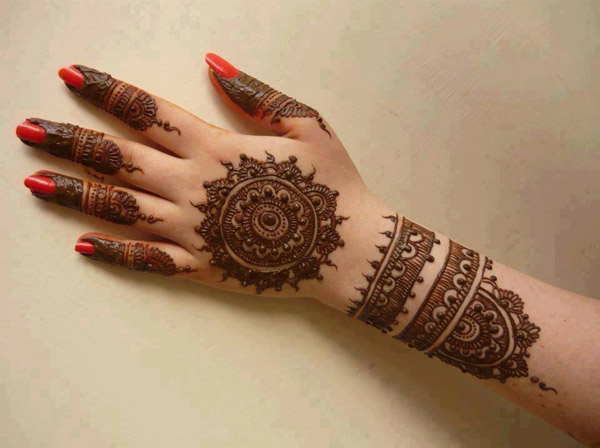 24. Be an elegant and eye-catchy while wearing this beautiful and splendidly drawn arabic mehndi design, boasting the prominent circular pattern at the back of the hand and the bracelet-like patterns in the wrist part.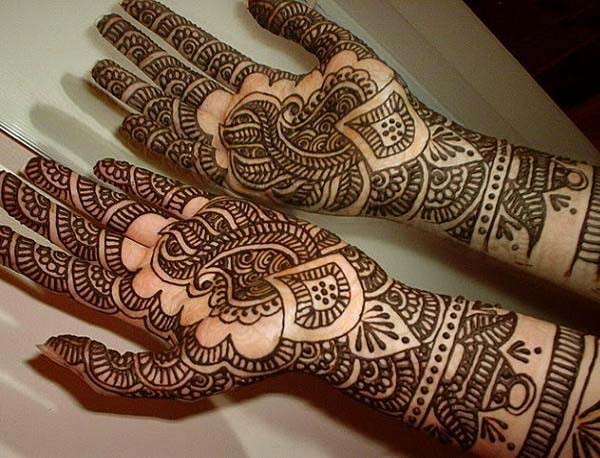 25. Want to cover most of your palms as well as the wrist on your wedding? This pattern is for you. The swirly outlines extend throughout the palms and into each finger. It also covers the wrists and arms.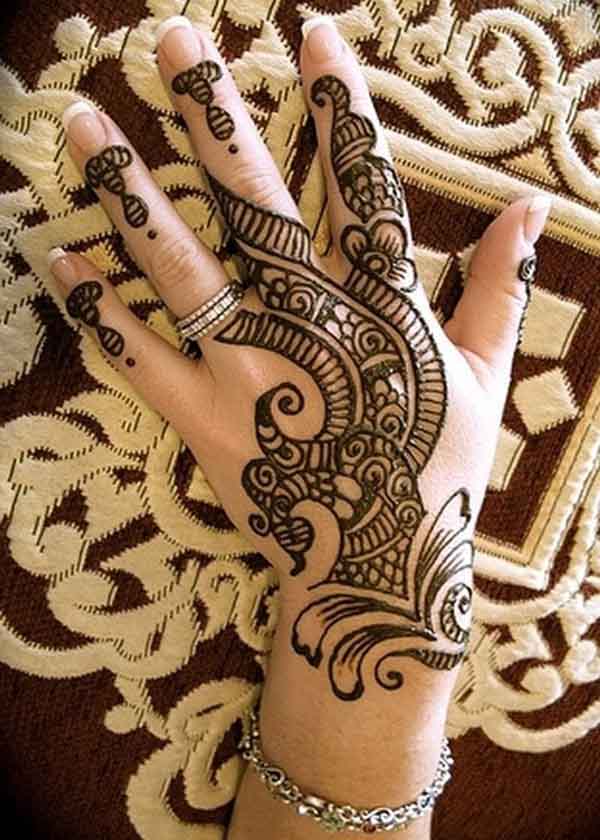 26. Most modern brides choose trendy and most fashionable design, just like with the above mehndi. The outlines are thicker , while keeping the design to be messy.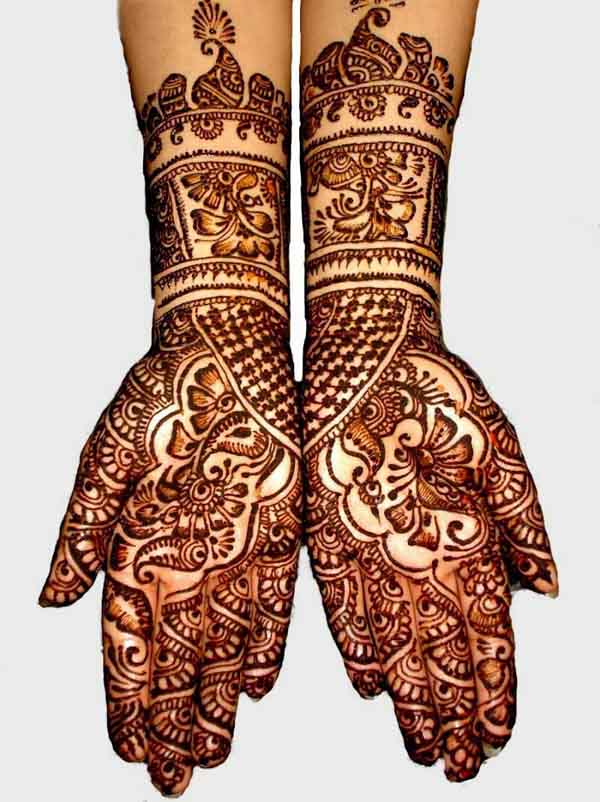 27. This is a perfect mehndi designs for auspicious occasions like wedding. This incorporates intricate and detailed patterns, covering most part of the palm. This design features a floral and peacock design patterns.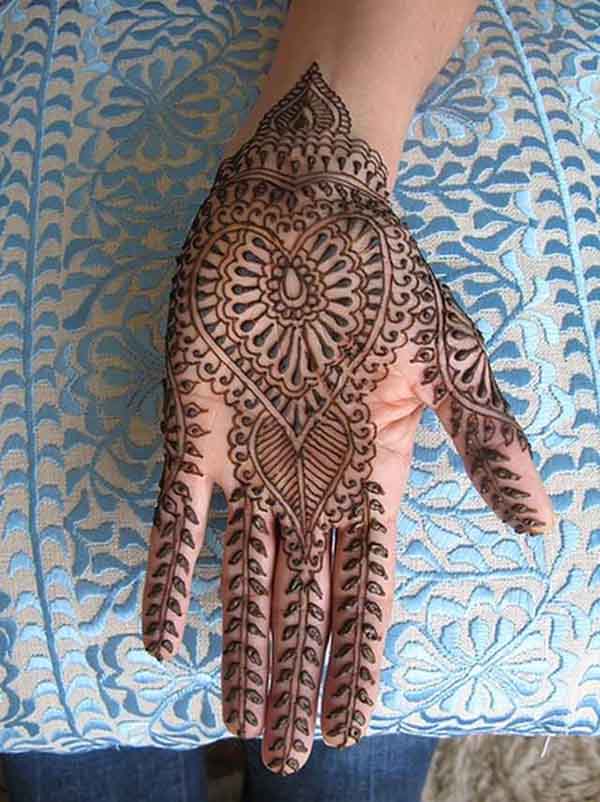 28. Here's a gorgeous mehndi design featuring a heart-shaped pattern made out of vines and leaf outlines. This one covers the palms, the fingers and some of wrist.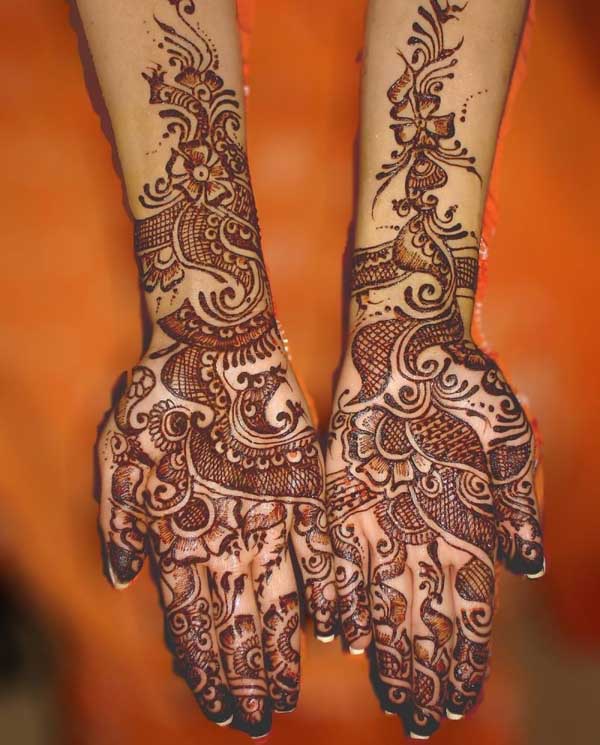 29. For those who want an elaborate yet elegant arabic mehndi design, this pattern can be a good option. This one boasts the prominent floral and peacock pattern and the dark shades of mehendi.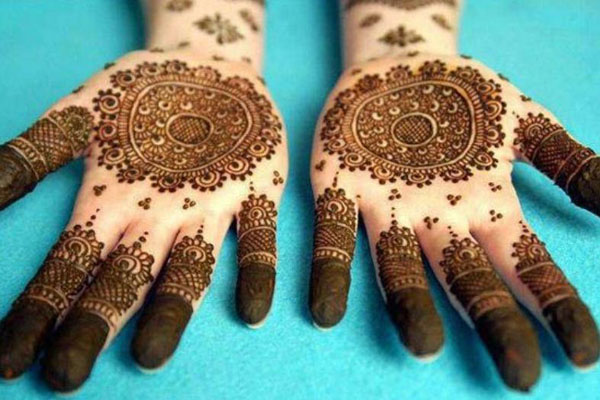 30. For simple yet unique mehandi design, this option can be yours. The circular pattern at the center of the palm and the shaded fingertips are the main attraction of this mehendi.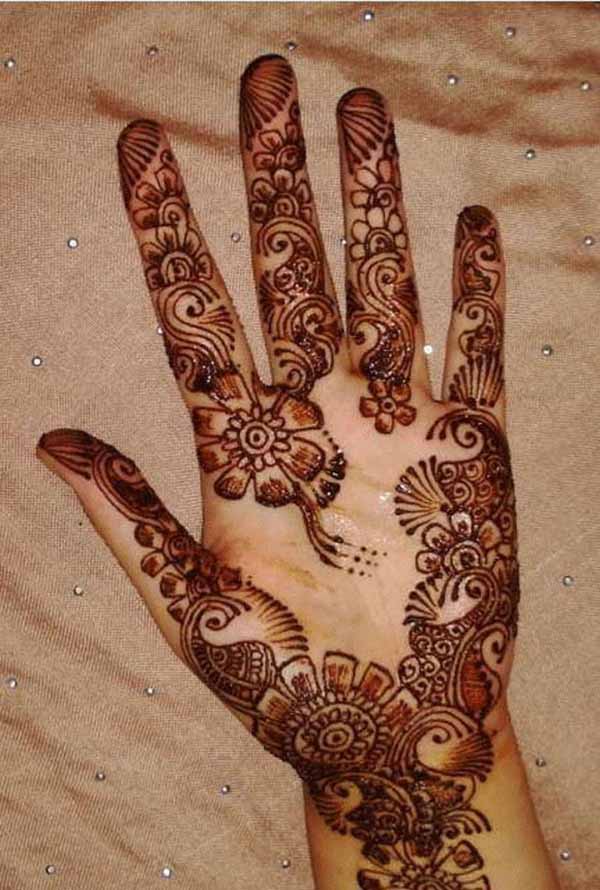 31. For everyday look, this simple and easy arabic mehendi design can be a good choice, featuring some flower motifs and dark brown shade of mehandi.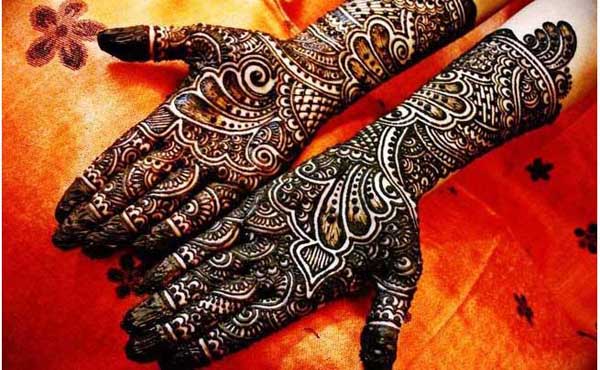 32. You want to get your full hands and arms to be completely covered with mehndi? This traditional arabic mehndi design can be one of your options. This one is an elegant design, boasting intricate and very elaborate patterns and outlines.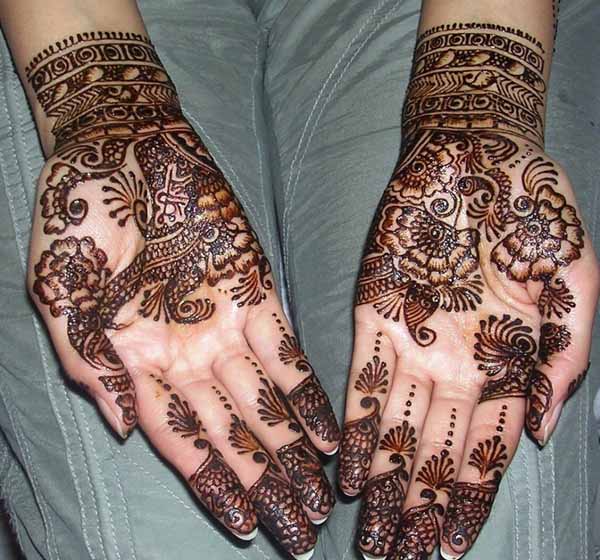 33. Another sample of mehandi design that can be used in everyday look, or can be worn at the party or event, this one features flowers, dots and swirls as main element.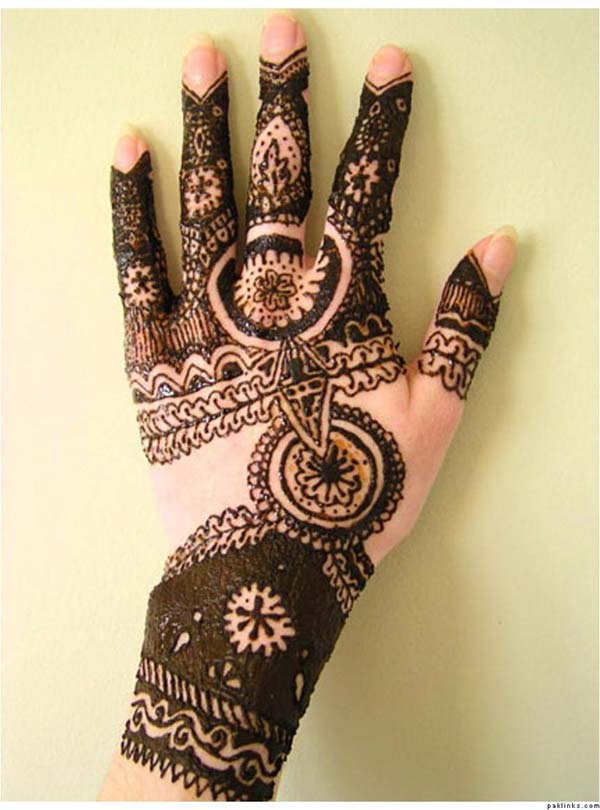 34. A beautiful, breath-taking mehndi arabic design featuring circular locks and swirls all throughout the back of the hands, all the way to the fingers.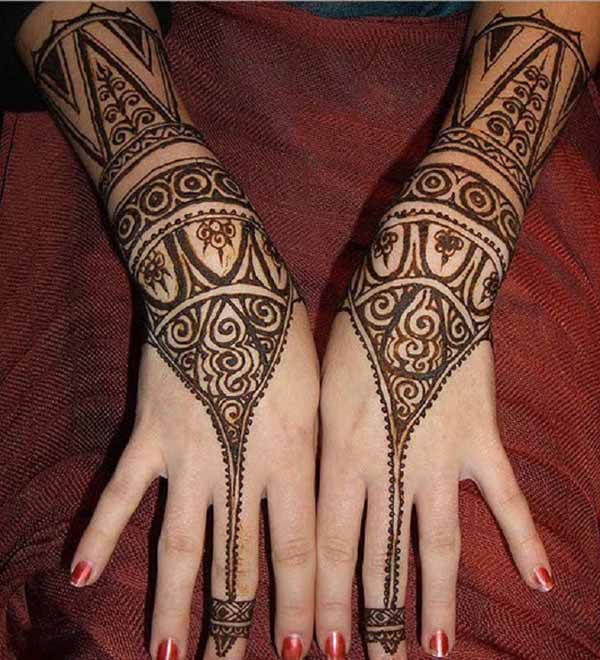 35. Clad your hands with this trendy and fashionable mehandi design. This is perfect for any party or event, which will surely make you stand out.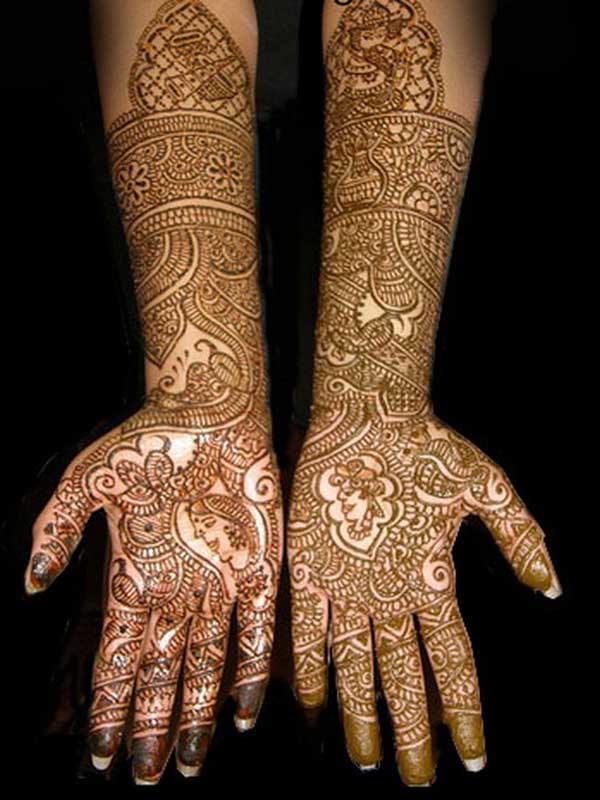 36. Stand out from the crowd and make yourself a center of attraction with this beautiful two-toned mehndi design.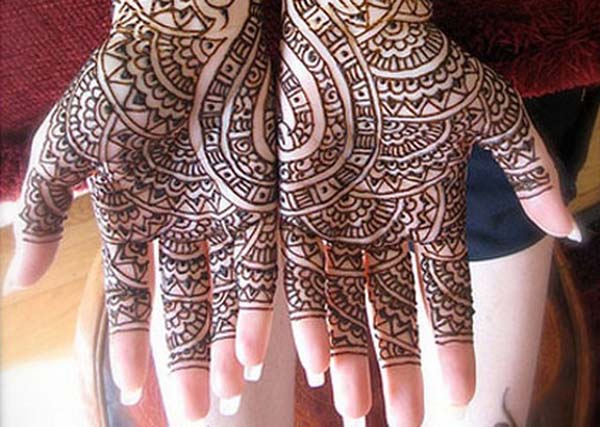 37. Here's another modern sample of arabic mehndi design which uses black mehndi and solid strokes and outlines. This can be work at any party or important function.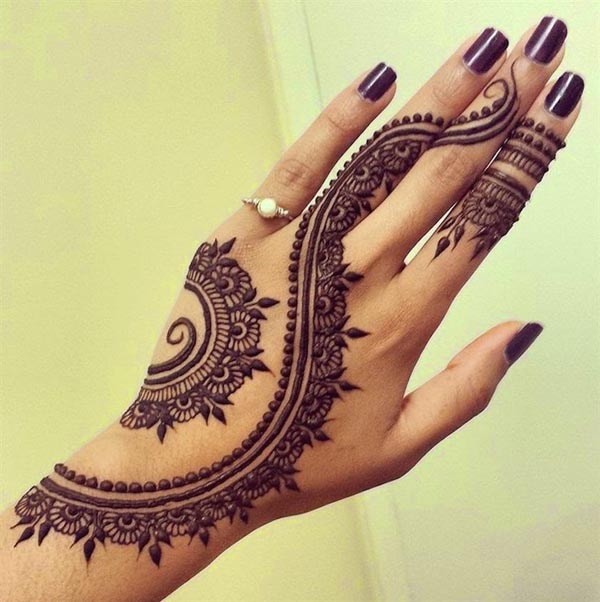 38. Are you looking for unique arabic mehndi designs that you can use as the celebration of Eid? This one may be what you're looking for.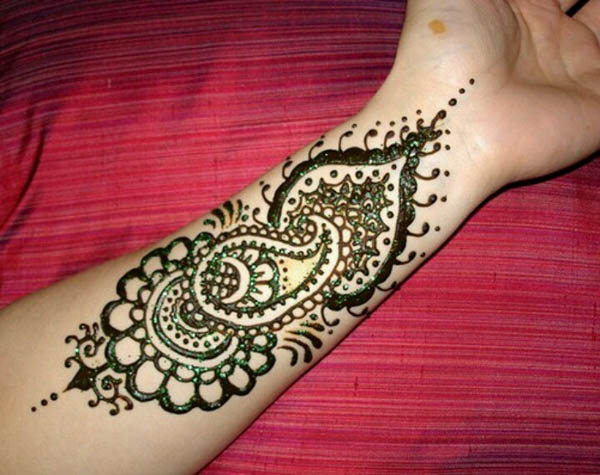 39. Here's another simple and easy Eid mehndi design that you can use. This one just covers the arms and extends to the wrist.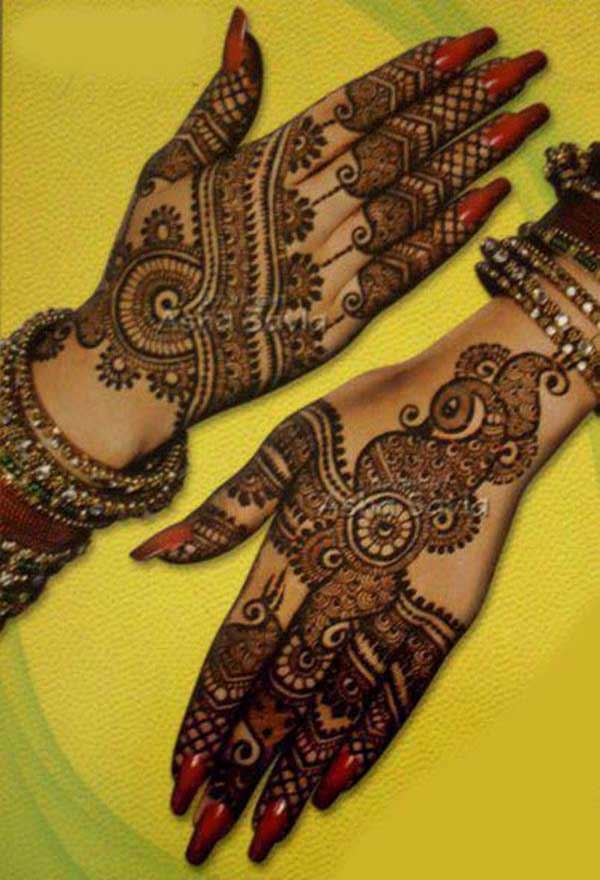 40. Brides can also choose mehandi designs that will complement to their jewelries and nail color. A traditional mehndi design that uses two shades of mehndi, the lighter and the darker shade.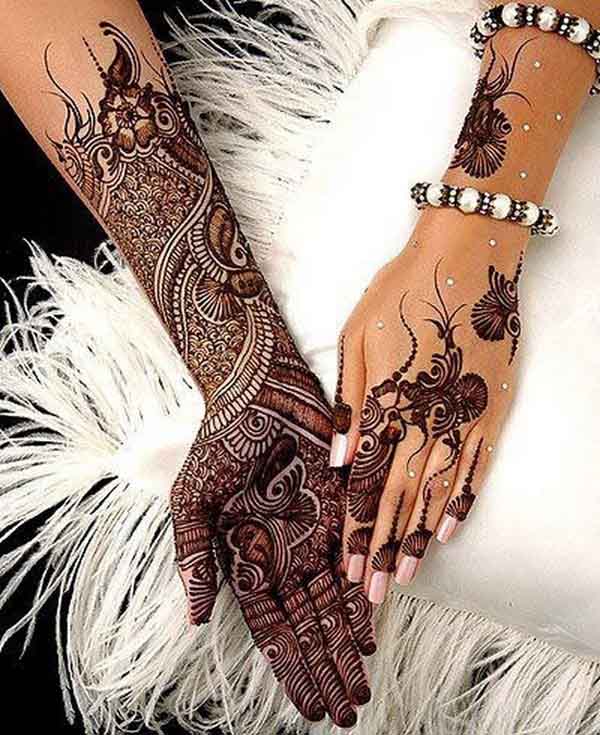 41. Mehndi artists can also use different shades of colors. In this one, black and dark shade of red are used to make the design even more intricate.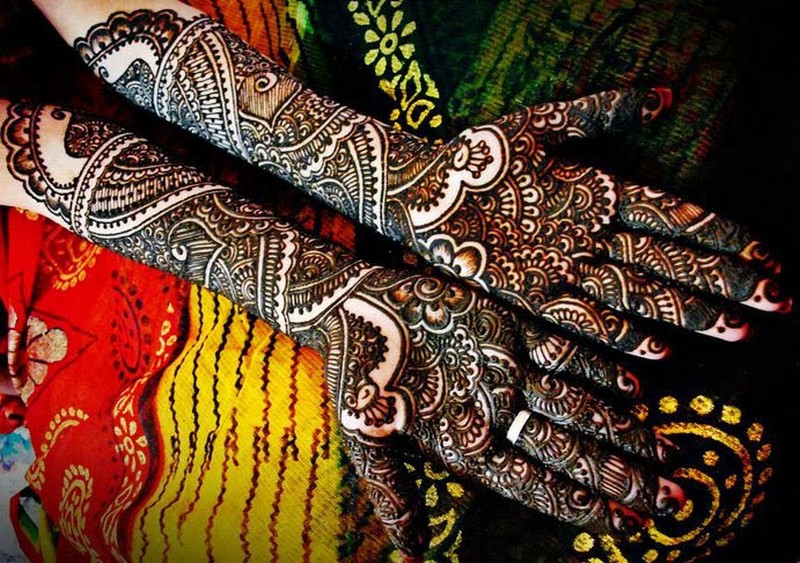 42. Most of the bridal mehndi designs are more intricate than other mendi used for casual events. They often use more detailed patterns and elements.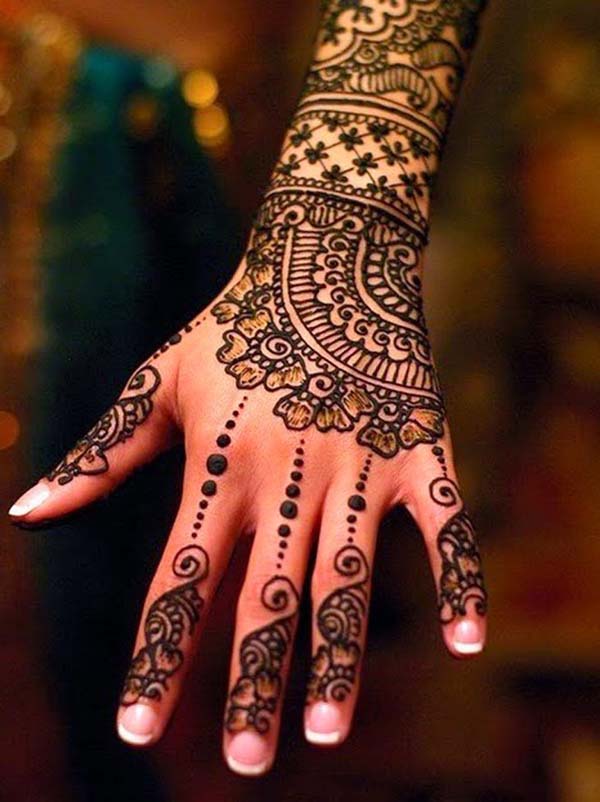 43. Whether you're gonna be the bride or just the bridal guest, a mehndi on your feet or hand can be very suitable for the event.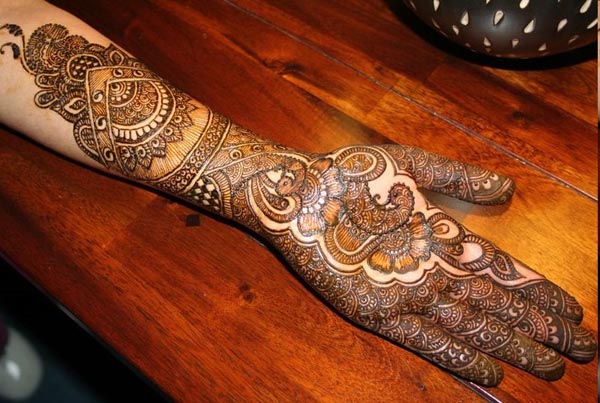 44. For wedding and important functions, elaborate, with more intricate patterns, are perfect. You can go all the way with your choice of mehndi designs.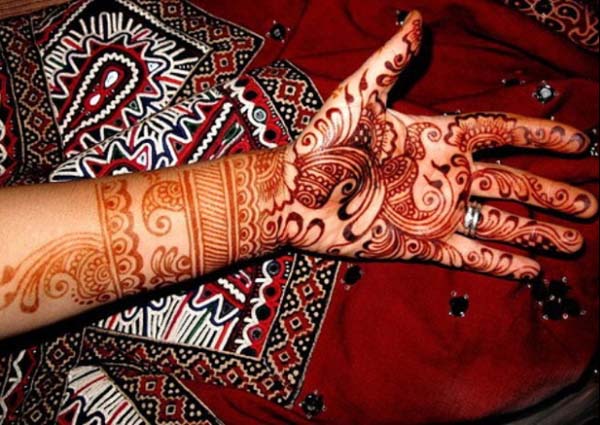 45. Although black are the most commonly used color in arabic mehendi designs, one can also use solid red or light brown mehndi. It creates different feel for the design.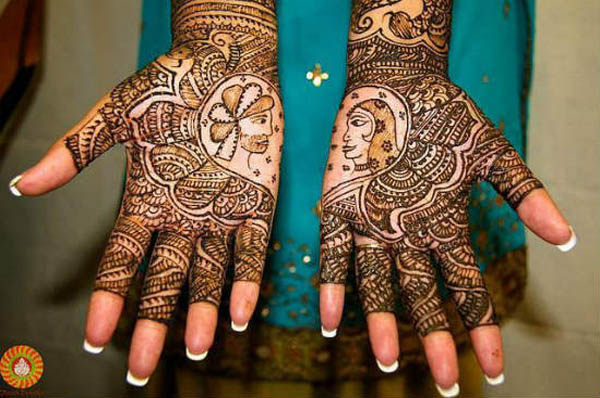 46. Here's another unique and one-of-a-kind mehandi which features thinner lines and profile of the bride and groom in each hand as the focal point.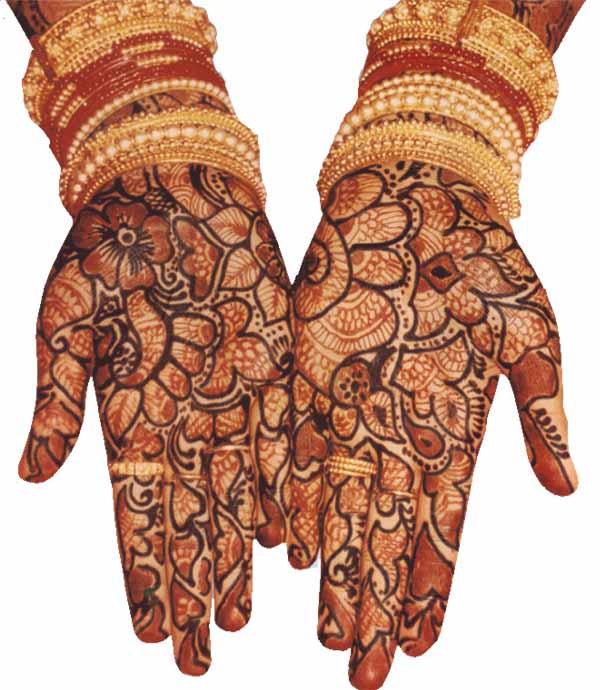 47. Since mehndi designs are becoming more popular, it is being used in different ways and in different functions, thus the design varied over time. Latest arabic designs are blend of two colors, in which the red and black are the most commonly used.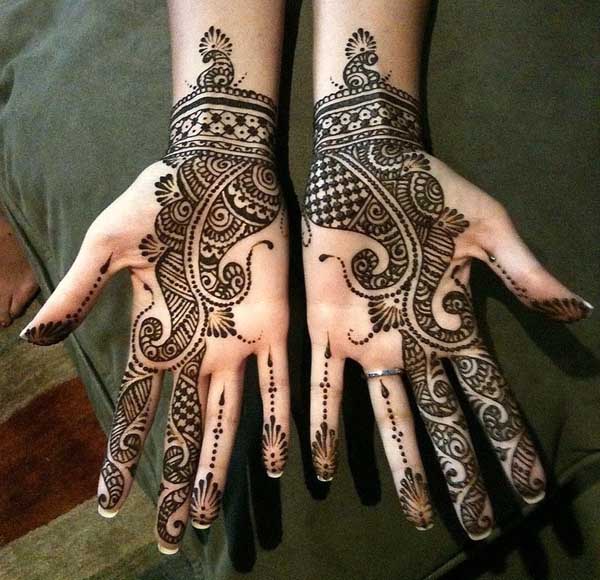 48. Most of the arabic mehandi designs use simple lines and strokes. But as you can see, the patterns and lines are meticulously applied.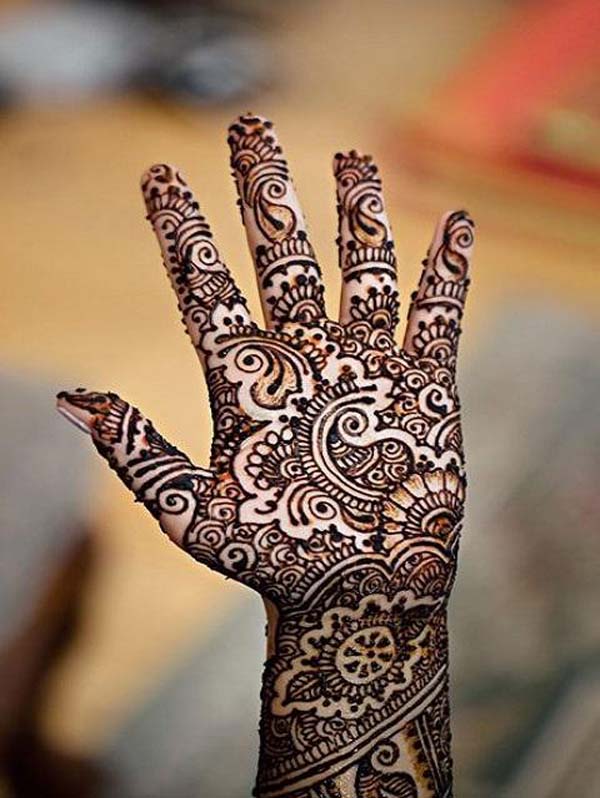 49. Arabic mehndi designs usually use one shade of mehndi. Just like the above picture, bold lines and shapes in symmetrical patterns are used/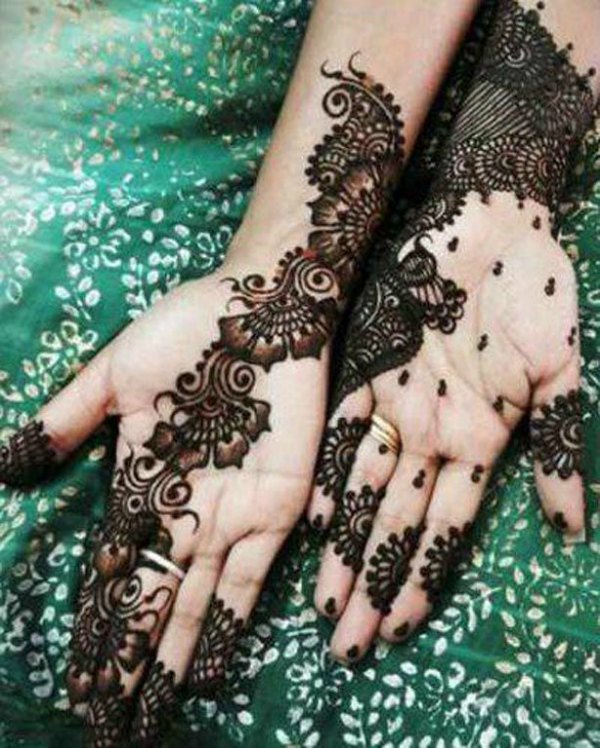 50. Flowery and elegant mehndi designs are the most popular designs used nowadays. It doesn't limit in the palm, one can also wear mehndi on their feet, and other body parts.
25 Elegant Mehndi Designs for Feet That Will Make You Stand Out!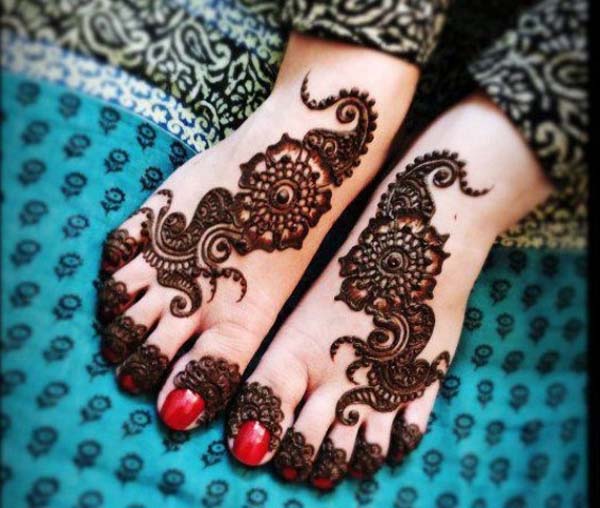 Mehndi designs for feet symbolize a divine intervention between human and earth. During wedding and other festivals in India or Arab they also put Mehndi designs for feet. In Bengal, they add another type of dye which is called Alta or Mahur. Alta or Mahur is combined with red Mehndi to stain or decorate the feet. Alta reddish tone while Mahur is a bit pinkish in color. It is usually seen on Durja Purja Festival.
In Pakistan, they decorate their hands and feet during EID celebration. Their pattern of their Mehndi designs are darker than it's shading. Africa's Mehndi designs are more linear and combined with geometric shapes. There are different meanings for each decorations in every part of the body. There are also different types of designs and elements included in Mehndi designs for feet. It varies depending on the occasion.
1. Here is one beautiful bridal mehndi design for feet. This design incorporates complex elements and strokes. Covering most part of the feet and toes, this one is mostly used for Pakistani and Arabic weddings.
2. Floral designs and swirls are also popular mehndi designs. Most designers use darker shades of henna to create this kind of design. Not just on the feet, the mehndi can also be applied to the upper leg.
3. There are also simple mehndi designs for feet that one can use for everyday fashion style. Flowers and some swirly strokes are perfect for this.
4. This is one of the most complicated mehndi designs for feet. This is usually worn for special events like weddings. This one includes very intricate patterns and strokes. This kind of design covers most part of the feet including the toes, ankle and leg.
5. This design can make anyone stand out in any event or occasion. The solid strokes of the dark shaded henna make the feet beautiful and extravagant. The dark shade complement well on the color of the toe nails, making is majestic and elegant.
6. Here's another elaborate mehndi design mostly used in wedding and auspicious occasions. This one mostly covered the hood of the feet, as well as the toes. The circular, floral pattern on the middle is the center of attraction of this design.
7. For those who want elegant but simple mendi designs for feet, this pattern is for you. This one incorporates darker shades of henna. Although it covers most of the feet and toes, it doesn't look like a messy design.
8. Here's another bridal mehndi design that used by many brides on their weddings. This one has beautiful patterns. The artist use darker shade of henna, creating the elegance and beauty on the mehndi. The contrasting color of henna and the nail is very striking which made this design to stand out.
9. This is a perfect design if you don't want to smother your whole feet with henna. This one only covers the side of your feet. The intricate yet beautiful patterns on the side of the feet will surely look fashionable to you.
10. This mehndi is usually worn on auspicious celebrations like Eid, dulhan and weddings. This one features the circular pattern on the "hood" of the feet. the artist used two colors of mehndi for this design, dark shade of brown and some red for additional artistic feel.
11. Not just for weddings and auspicious celebrations, mehndi designs are also used as fashion statement. This one is a beautiful and trendy design that one can wear anytime.
12. Here's another trendy mehndi designs worn in just one foot, while the other foot has some kind of accessories. This is perfect if you want to be unique, which can truly make you stand out from the crowd.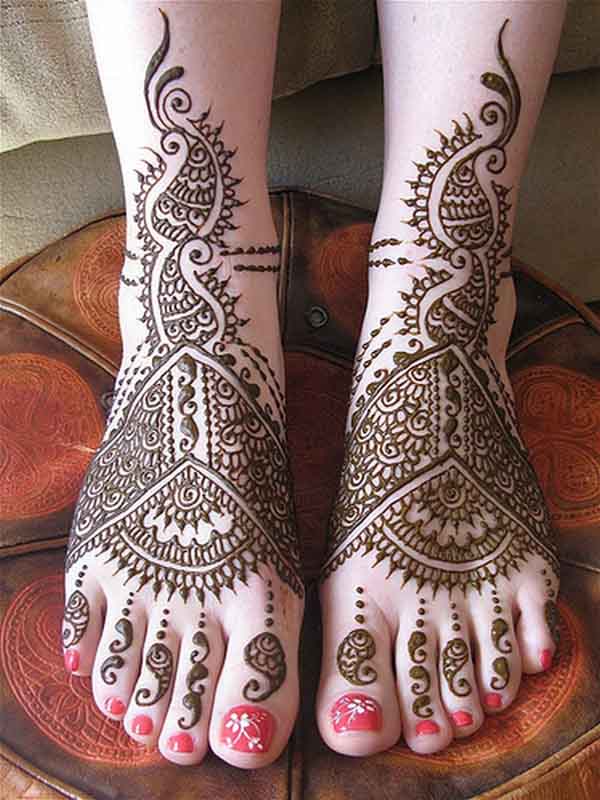 13. If you don't want an ultra complicated patterns and elements for your mehndi, this design is for you. The patterns and strokes are pretty clean and elegant. It also uses light brown shade of mehndi, making it look glorious and pretty.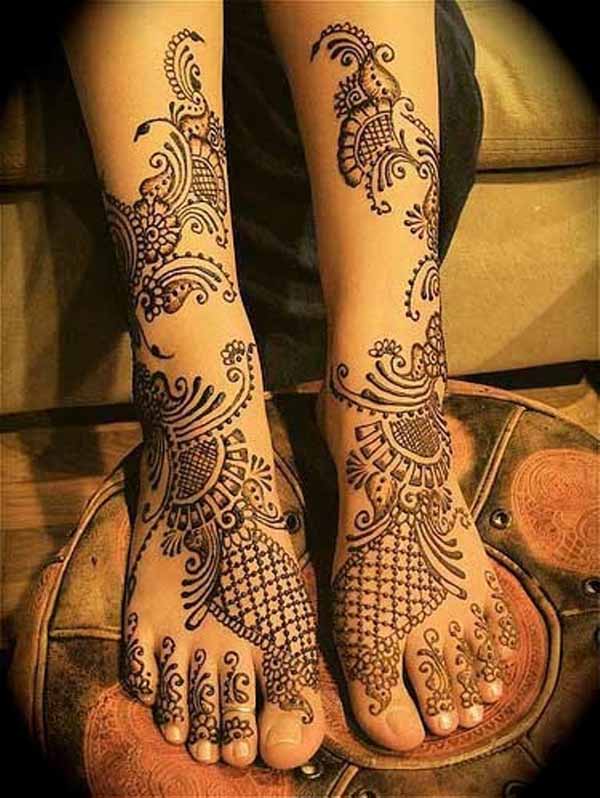 14. Here's another beautiful and elegant mehndi design that any bride can wear in their wedding day. This one shows beauty and elegance of the bride. The small swirls and vine patterns on the toe and some floral patterns make this design one-of-a-kind.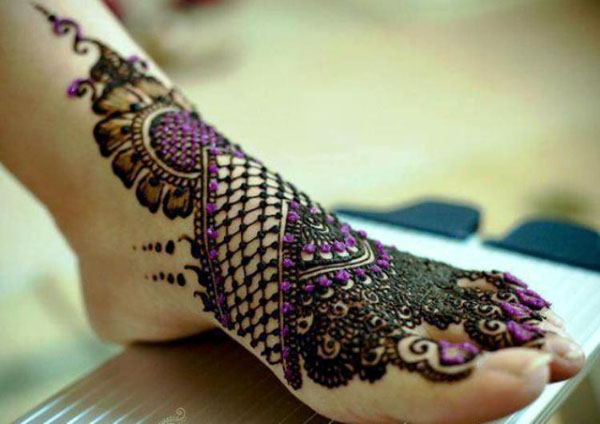 15. This is one pakistani-inspired mehndi design. This design use multi-colored henna. The artist used black, light brown and violet color of mehndi, which results to this beautiful Mehndi design.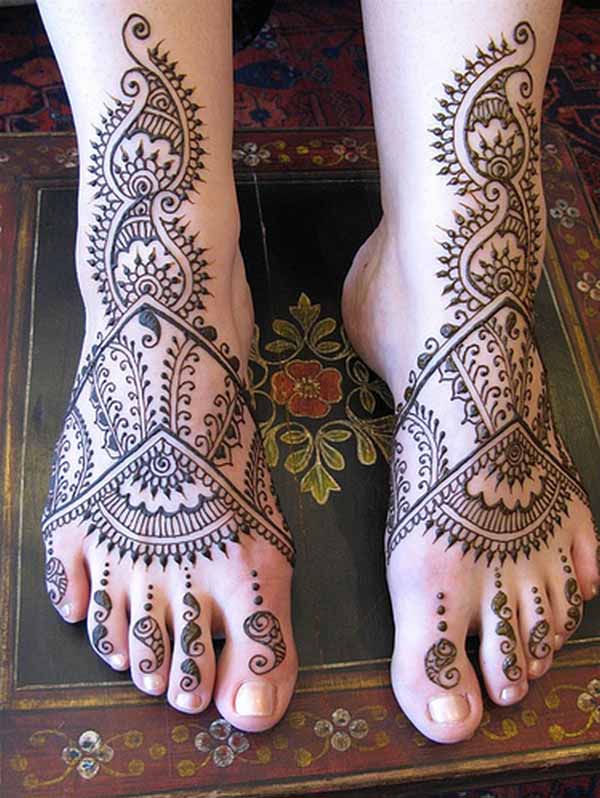 16. Since vines and leaves represent long life, most of mehndi uses this kind of patterns. Well, this is quite perfect to cover most of the upper part of the leg, as well as the toes.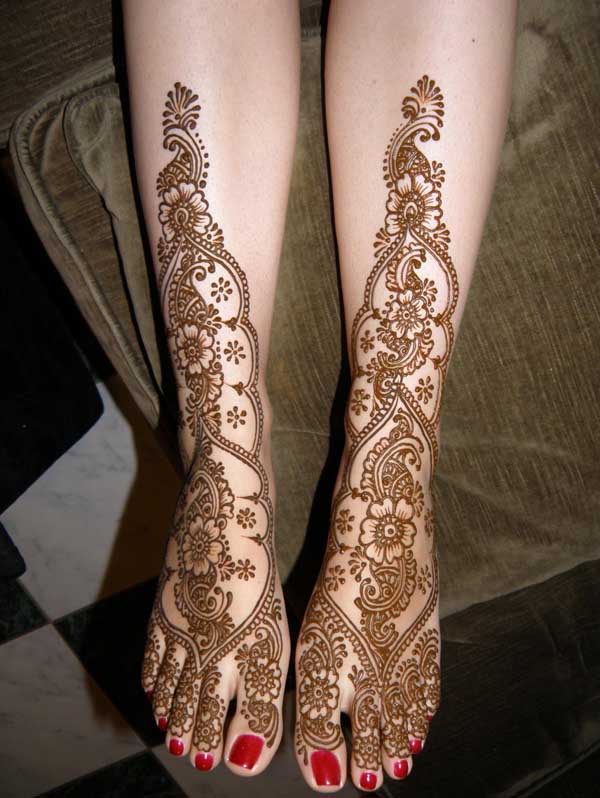 17. If you want a trendy and clean mehndi design for your wedding. This design is for you. This one speaks off minimalist pattern, mostly vines and flower, covering the entire feet up to the lower part of the leg.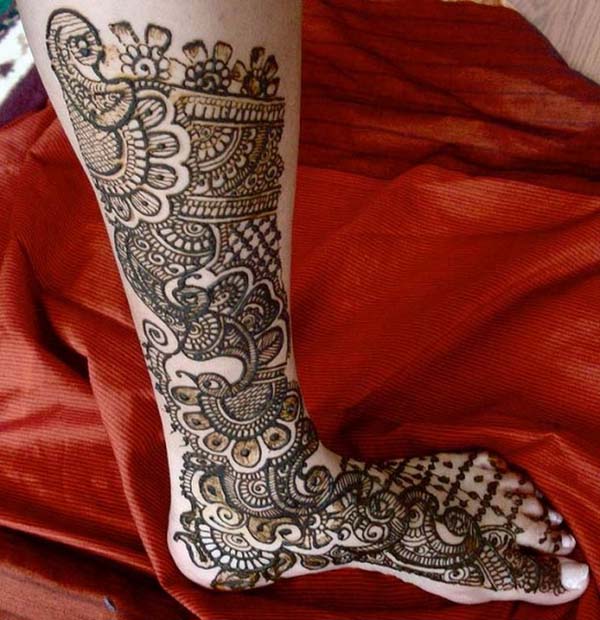 18. Animals have symbolical meaning also in Mehndi designs for feet. Peacock represents the beauty of a bride. That's the reason why most bridal menhdi designs use peacock as the main element or pattern.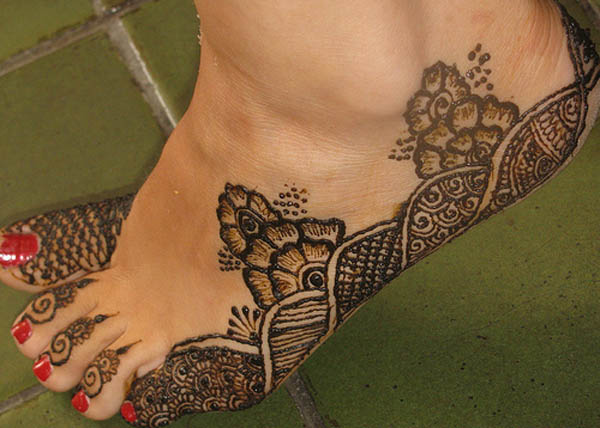 19. While most of the mehndi designs for feet cover the entire foot, one can also choose the designs that only covers the sides and toes.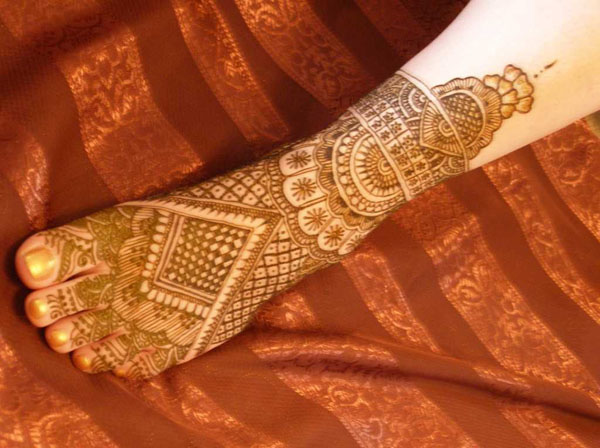 20. Here's another traditional mehndi design for feet that any bride can wear on her big day.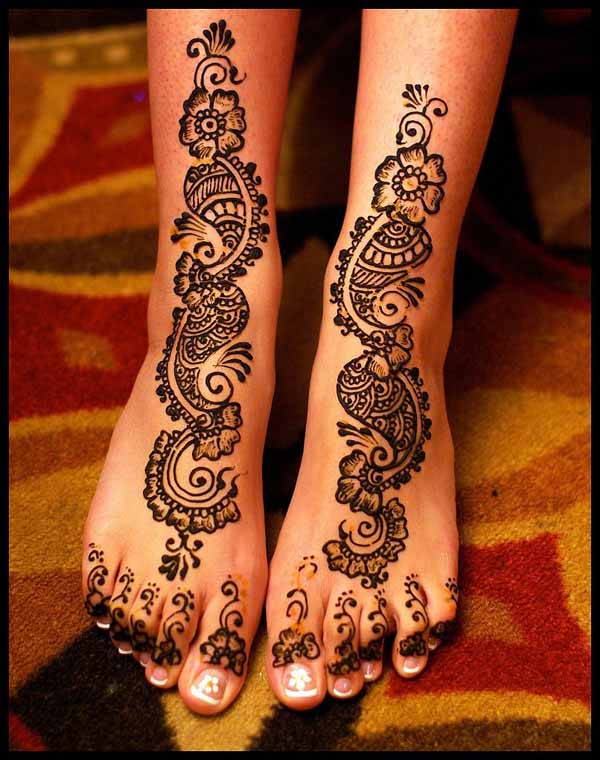 21. Most of the mehndi designs use vines and leaves. This is perfect for those who want to have a longer life. Well, who wouldn't want that?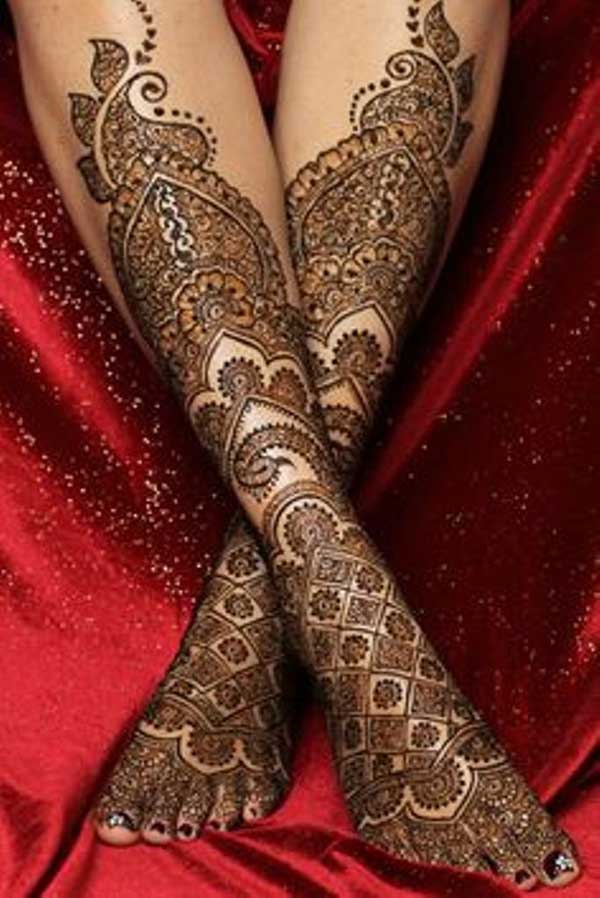 22. Any bride wants to be the center of attraction on her wedding day. Well, you can be. Here's an elaborate and eye-catching mehndi design that you can wear on your wedding. This one involves intricate patterns that will make your feet glorious and beautiful!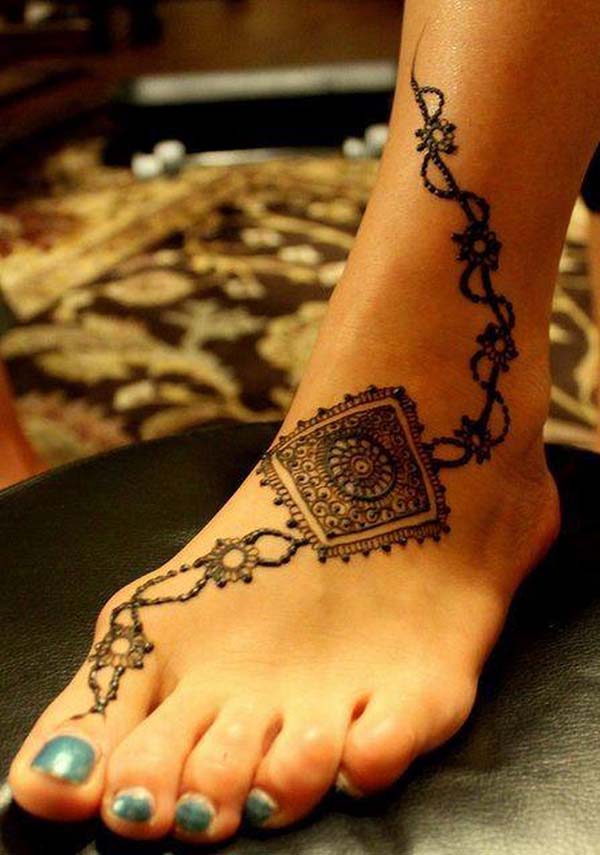 23. Want a minimalist mendhi design? This one totally rocks! This is best worn in any casual event.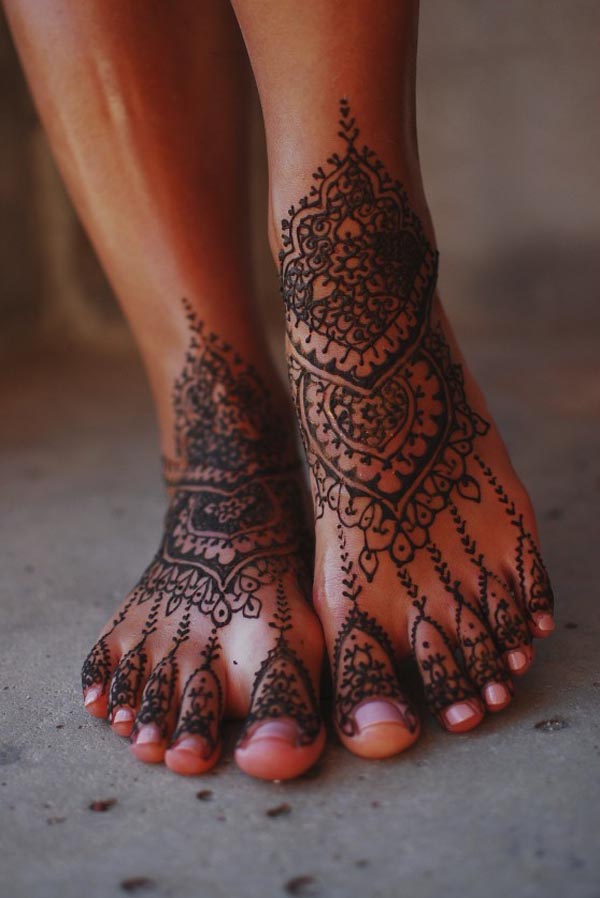 24. For those who don't want to spend a lot of time on drawing a mehndi on their feet, this design is for you. This one is quite simple and doesn't involve too much complicated patterns.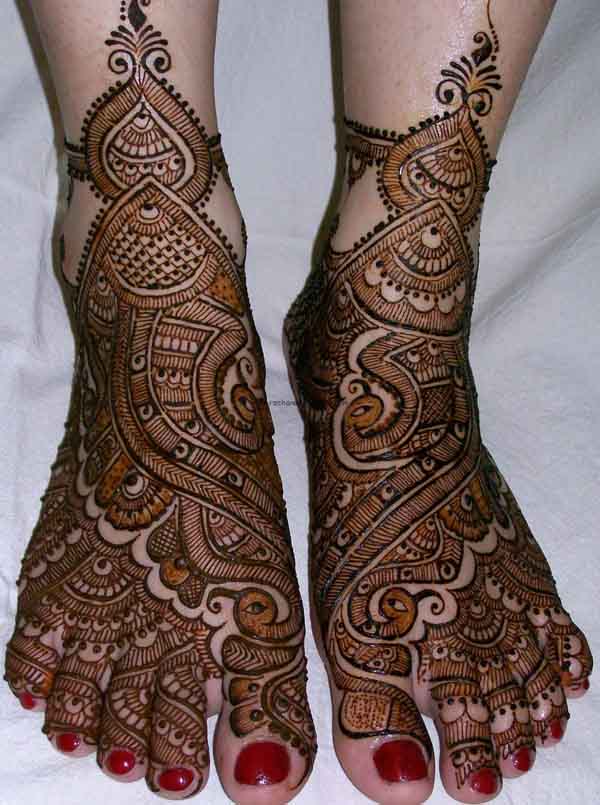 25. Are you getting married and want to have a unique yet traditional mehndi design? This one is totally for you. Surely, your feet will be beautiful and elegant on your wedding day!