Christmas is one of the most-awaited holidays of the year. Decorating for Christmas is one good way to prepare for the holiday. And our dining table, where the family gathers on the night of the Christmas Eve, should never be left out when decorating for the holiday.
A perfect centerpiece can create whatever atmosphere you want for your table. Be it sweet, elegant, romantic or festive, the right choice of Christmas centerpiece can set your preferred mood. There are so many options you can choose for your centerpiece. You can use different materials and ornaments to achieve the centerpiece you desire for your table. But what should you actually get?
First, you have to decide what kind of mood you want to set for your table. You can start your decorating from there. And to give you more inspiration, here I've gathered some of the most beautiful Christmas centerpiece. Hope you enjoy this collection.
Beautiful Christmas Centerpiece Ideas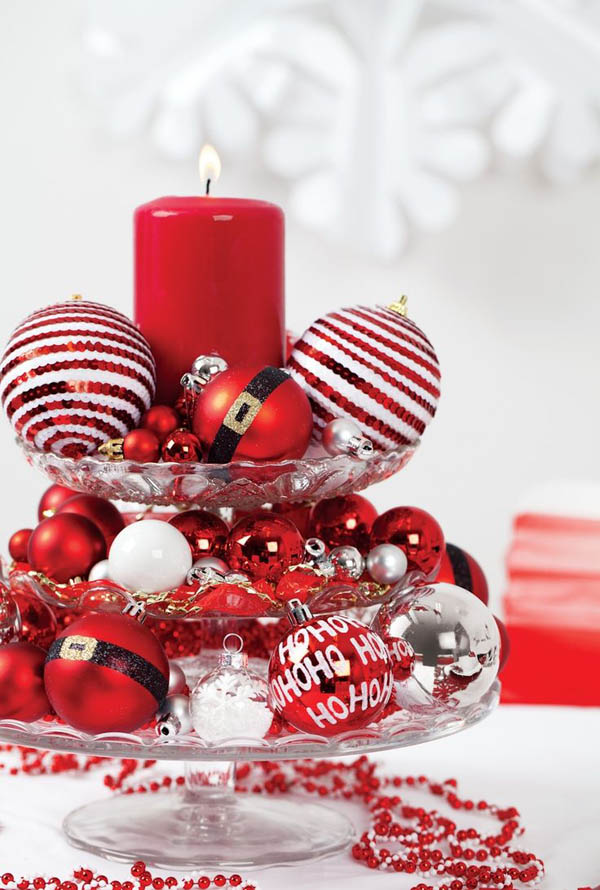 The combination of red and silver Christmas baubles, beaded garlands and red candle, arranged in a three-tiered glass cake stand complete this beautiful centerpiece. This can give your dining table a festive and jolly atmosphere on the holiday.
Candles and Berries Centerpiece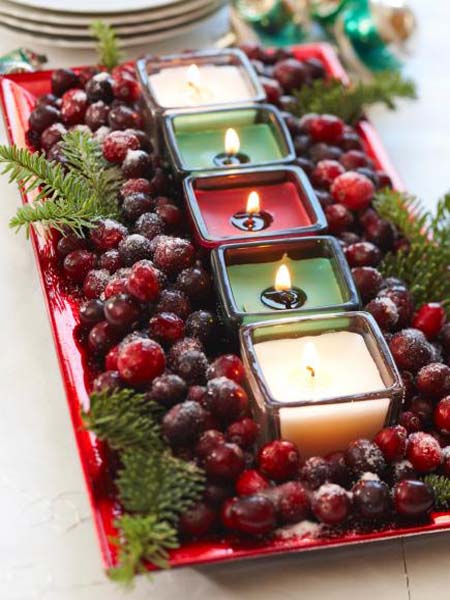 You can also use cranberries in decorating your centerpiece. Simply arrange your votive candles in a platter and fill it with cranberries. Put some pine leaves on the side and you have this stunning centerpiece.
Via: Midwest Living
Winter Wonderland Christmas Table Decorations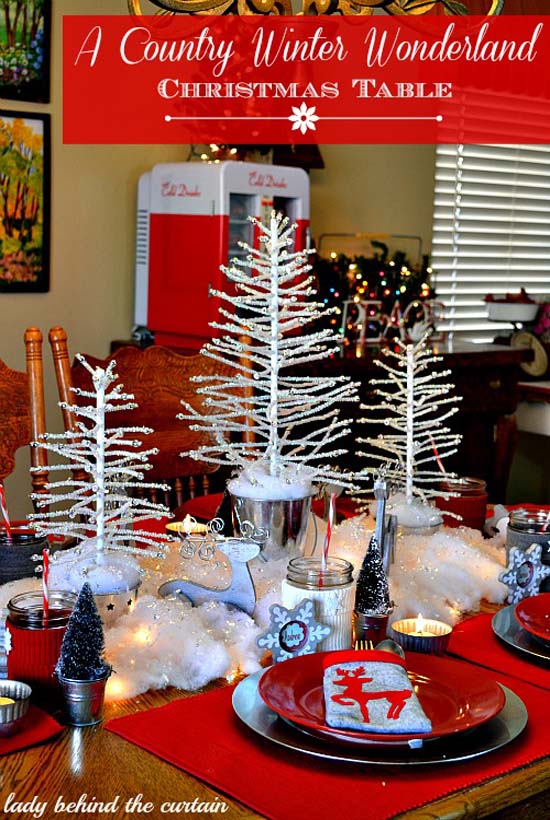 Create a winter wonderland atmosphere in your dining table this Christmas. The frosted and snowy tree ornaments complement well with the red place mats and plate.
Rustic Christmas Table Setting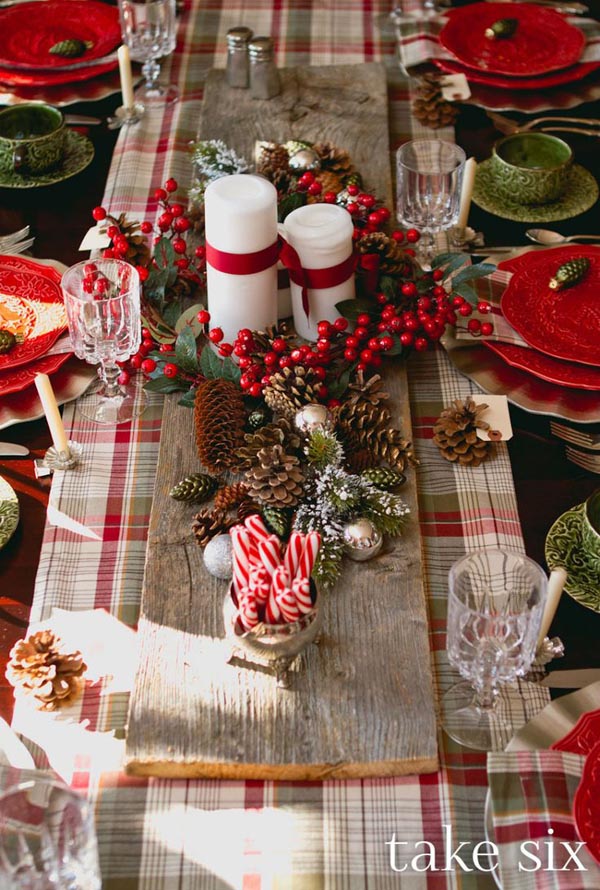 Christmas decoration is never complete without hollies, candy canes and pinecone. Create a rustic table setting by creatively arranging these Christmas ornaments on the center table. Complete the set up with a chunky candles with ribbons.
Via: Lisa Takes Six
Simple Christmas Centerpiece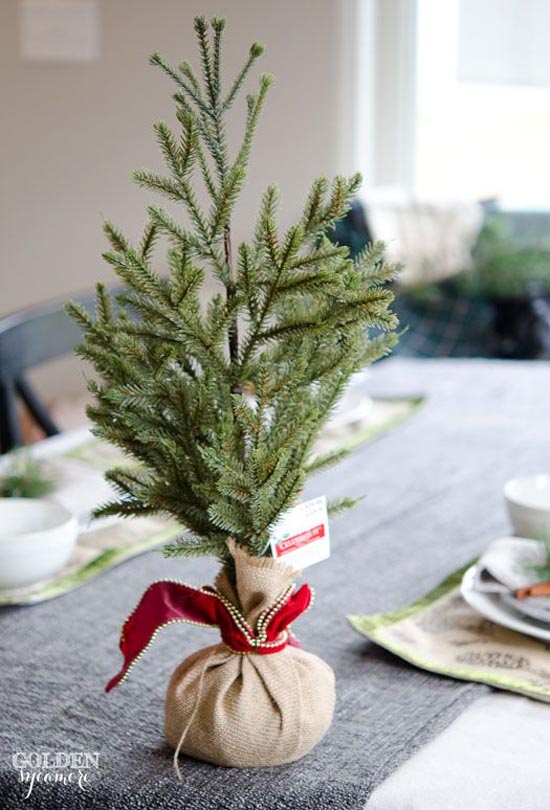 You can keep your centerpiece nice and simple. Gather a handful pine twigs, wrap the bottom part with burlap fabric and secure it with ribbon and you have this cute centerpiece.
Via: The Golden Sycamore
Floral Christmas Centerpiece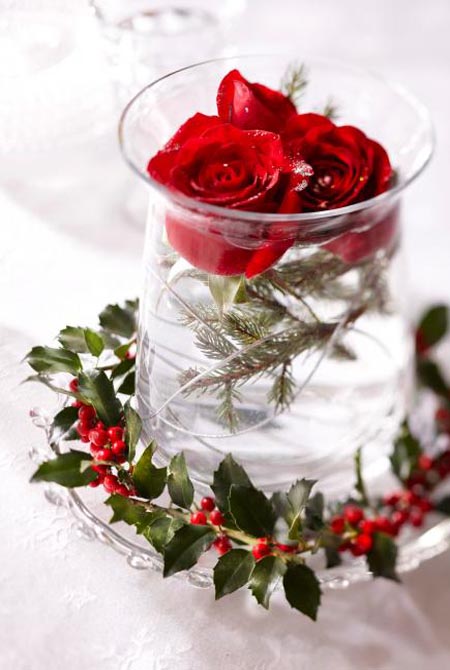 Rose flowers plus holly wreath made this centerpiece a unique craft. Put some rose inside a clear glass and let it sit on a crystal plate. Put the holly wreath around the bottom of the glass to accent.
Via: Midwest Living
Easy and Simple Christmas Centerpiece Idea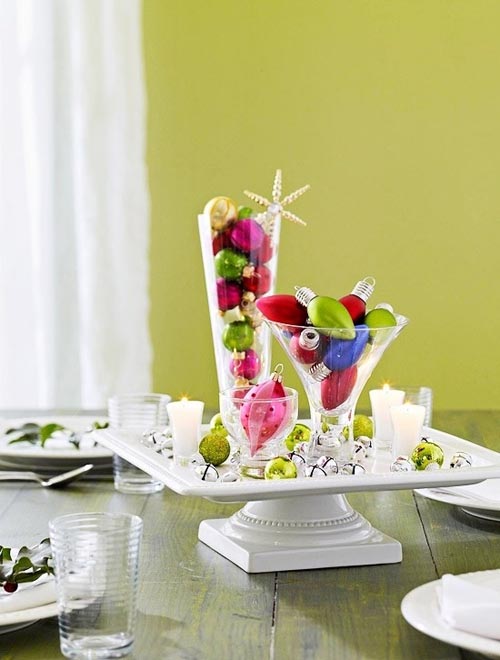 Christmas baubles and ornaments are not just for Christmas tree. You can also use them for your centerpiece decor. Fill those clear jars and glass with brightly-colored bulbs and baubles and arrange it on a white cake stand.
Via: Pinterest
Painted Mason Jars Christmas Table Centerpiece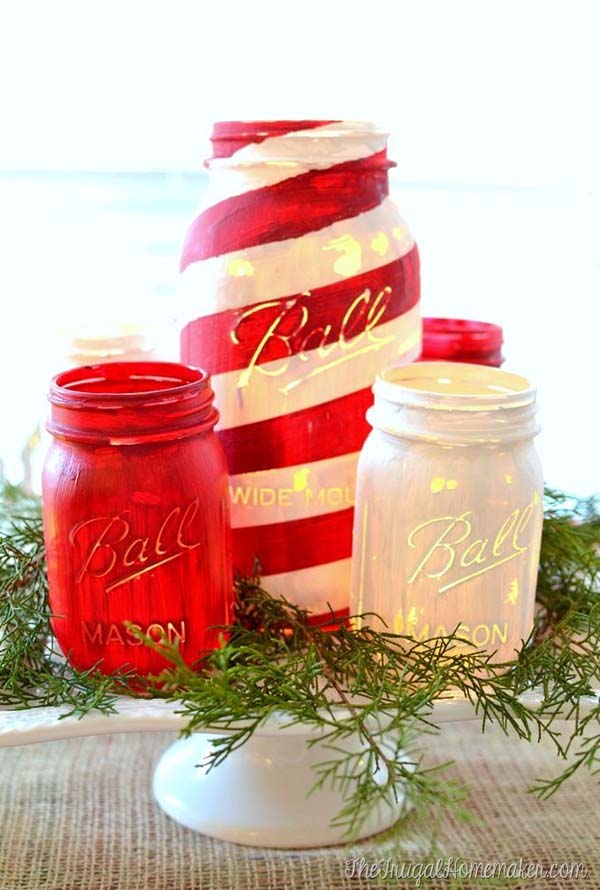 For frugal diy Christmas centerpiece, you may try creating your own luminary made of painted mason jars. Put candles inside and arrange it on a cake stand. Accent it with pine twigs and presto!
Via: The Frugal Homemaker
Candle Centerpiece with Fresh Ornaments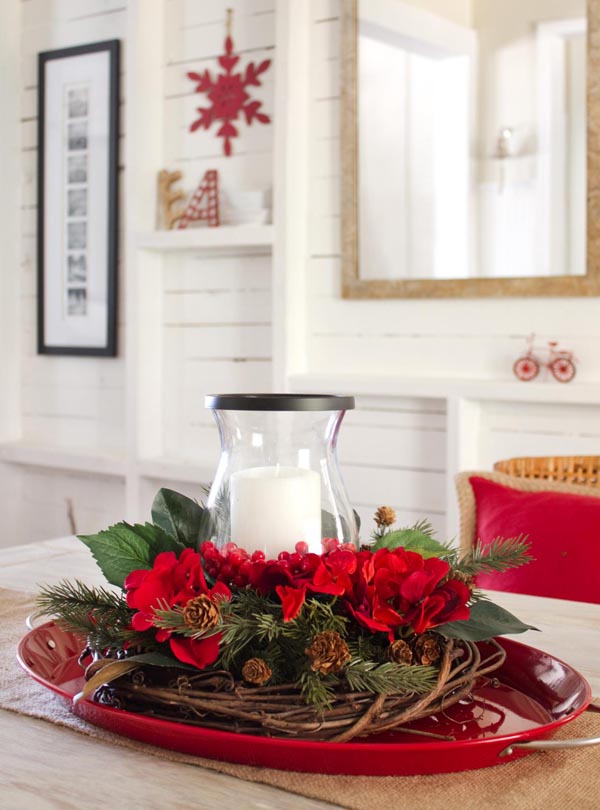 Candles and flowers usually complement with each other. Arrange some flowers and evergreen leaves in a red platter. Then, put your clear glass with candles on it on the middle part of the floral bedding. This is a perfect centerpiece of romantic dinner.
Via: HGTV
Cinnamon Stick Floral Christmas Centerpiece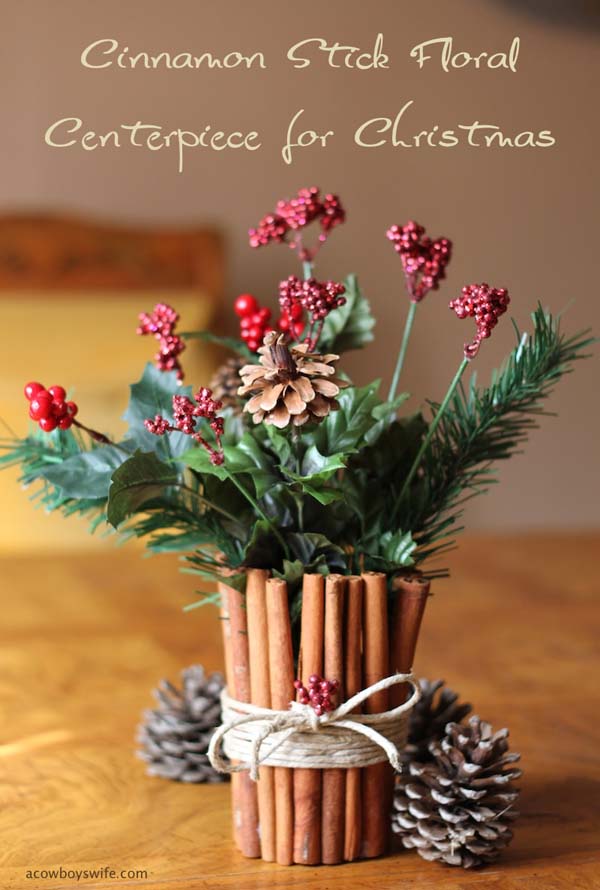 Push your creativity to the fullest with this inexpensive Christmas centerpiece. Create a vase of made of cinnamon sticks by simply wrapping it with yarn. Then put some greens on it. Accent it with dried pine cone to complete the arrangement.
Via: A Cowboy's Wife
Rustic Christmas Table Decorations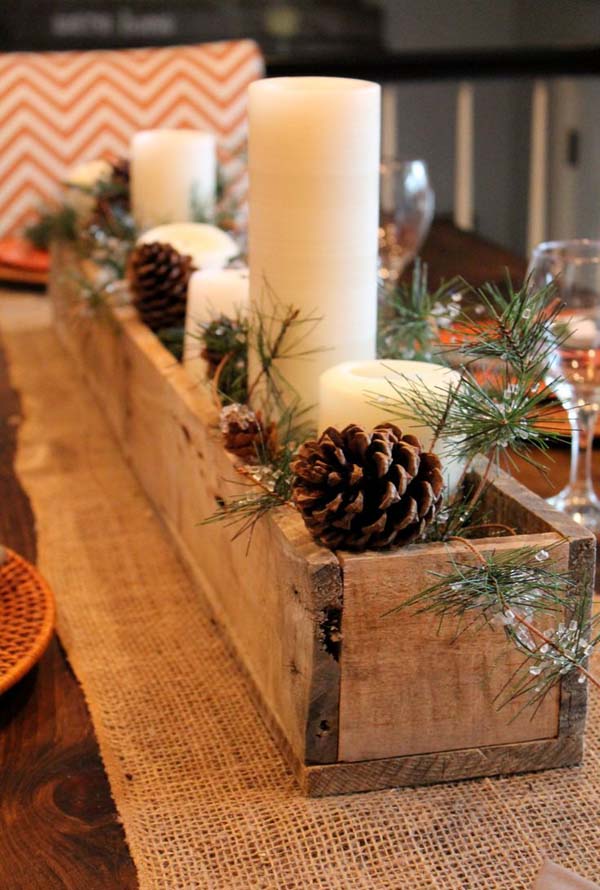 If you want a country-style Christmas table setting, you can arrange pillars of white candles in a wooden plant box. Then add some pine twigs and cones to complete the setting. This is perfect especially if you use wide burlap ribbon for table runner.
Image: Etsy
Shabby Chic Christmas Centerpiece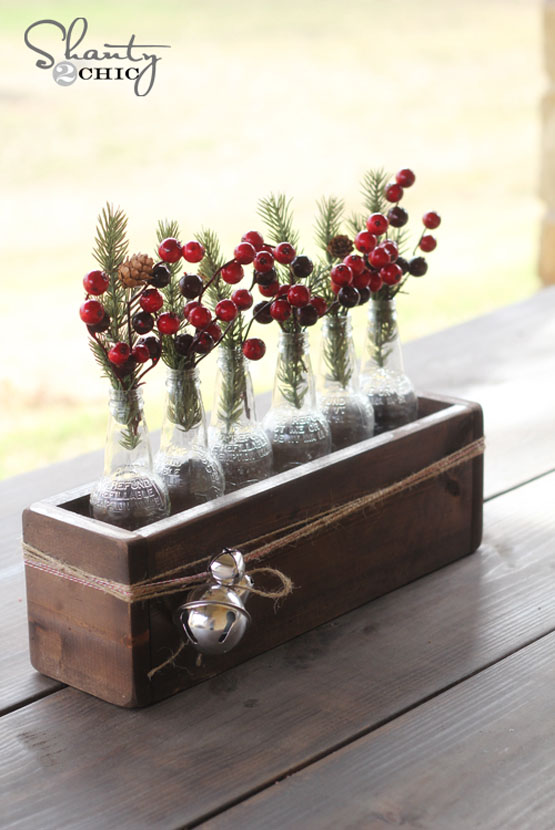 Oh, this one is so cute and clever I can't help it but to share.
Via: Shanty 2 Chic
Garden Christmas Centerpiece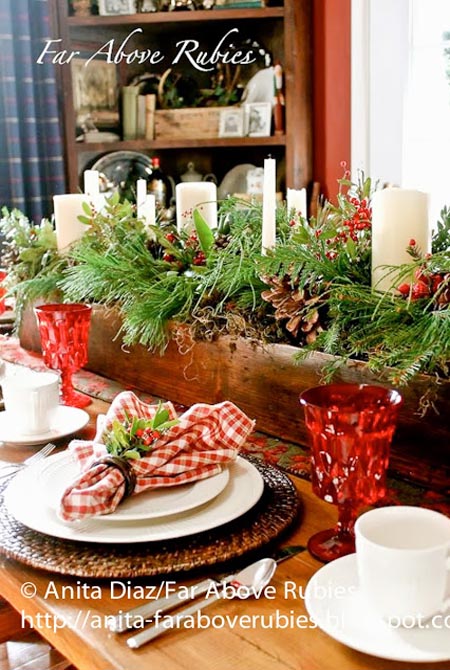 Greens and wooden plant box are a perfect combination for a rustic centerpiece. Arrange your candles in a wooden plat box. Throw some pine twigs and cones on it and it's perfect!
Via: Far Above Rubies
Balls, Candies and Hollies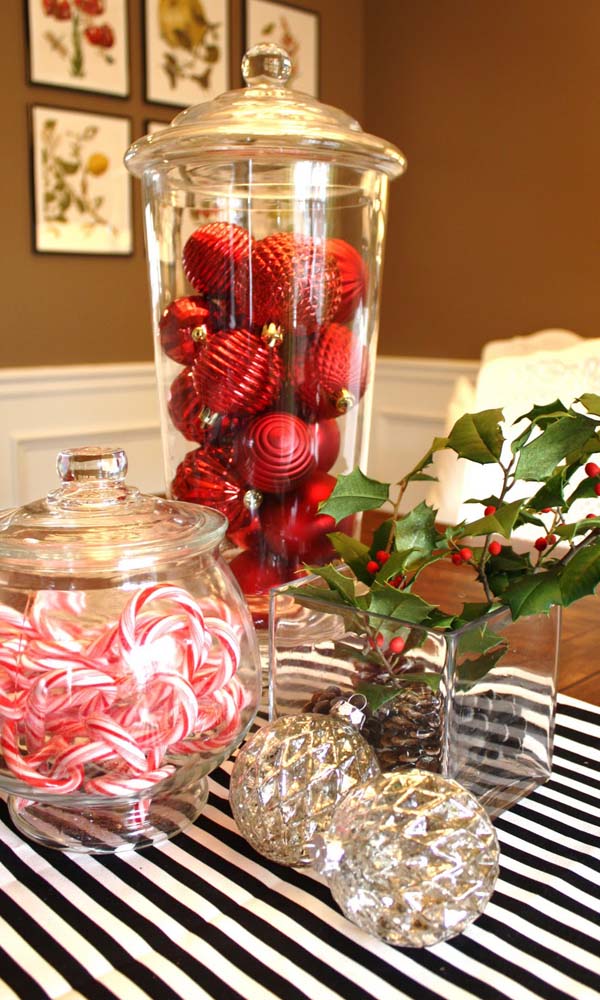 You can make a beautiful centerpiece with almost anything. Clear jars and glasses are a perfect basin for candy canes, natural ornaments and Christmas balls.
Via: Pinterest
Rustic Christmas Candle Holders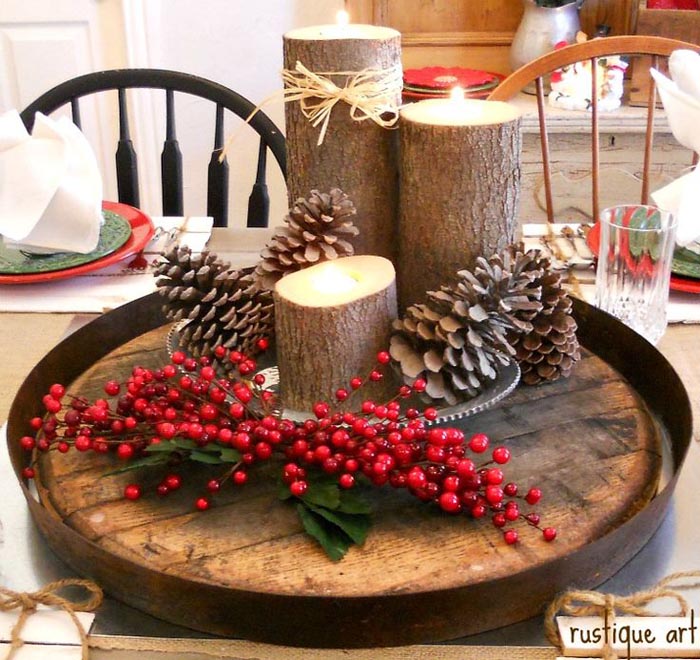 You can make a candle holder with a log. Carve a hole on each log and set your teacup candles on the top of each. Arrange the holders in a rustic platter and accent it with red berries and pinecones.
Via: Rustique Art
Red and Silver Candle Centerpiece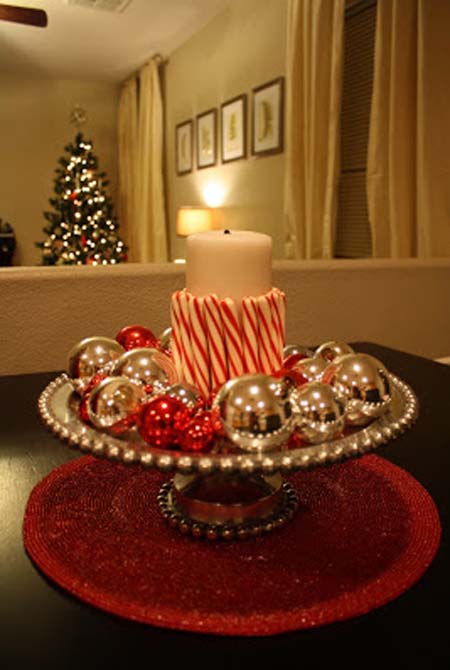 Red and silver is the traditional colors for Christmas. Use those red and silver balls and set them up in a two-tier cake stand. Complete the set up with candy-wrapped candle on the center.
Pretty Balls Centerpiece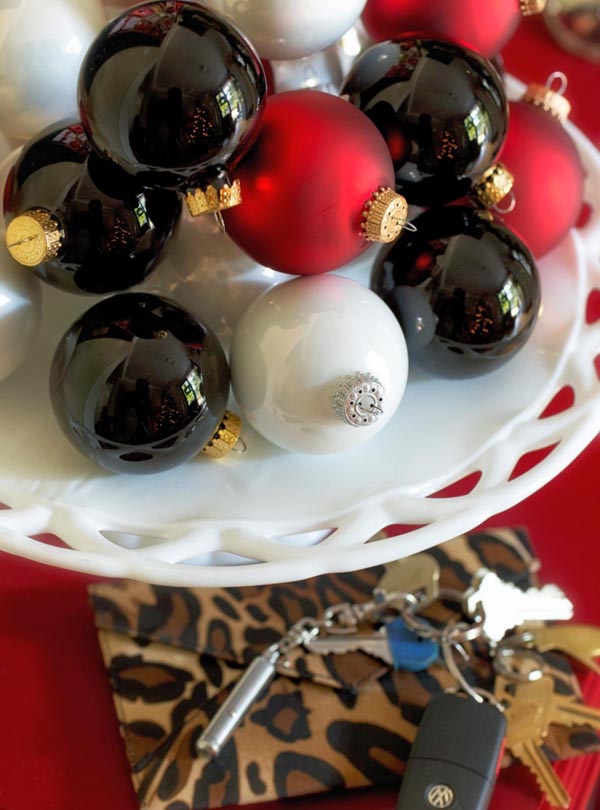 This one is so pretty. The colors of Christmas balls create elegant feel on the platter.
Via: HGTV
Felt Flowers and Twigs Centerpiece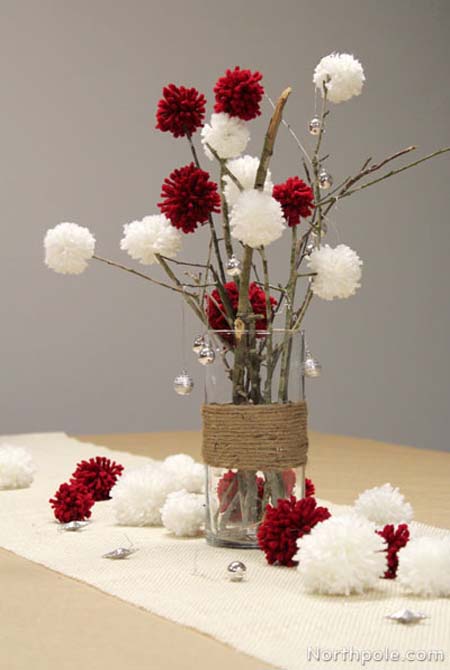 Red and white felt pom-poms plus twigs, set in a clear cylinder glass can make a stunning centerpiece.
Via: Northpole
Ornamental Christmas Centerpiece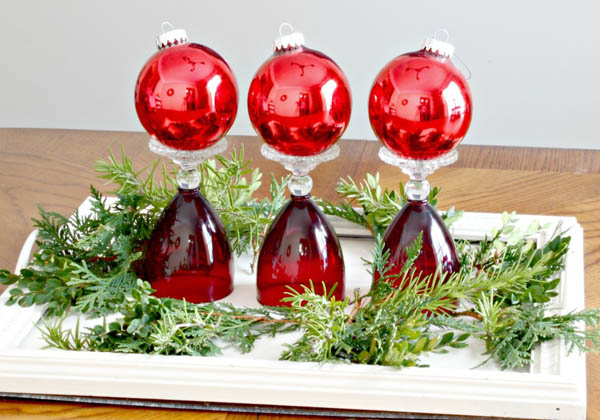 Here's another beautiful ornamental centerpiece. The red baubles sitting on the top of inverted wine glass is such a delight to see. The greeneries make this centerpiece even more stunning.
Via: Reinvented
Quirky and Swirly Christmas Ornaments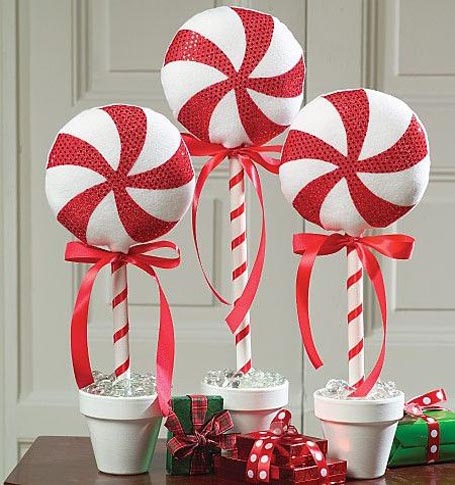 You can also use swirly topiary as centerpiece.
Via: Pinterest
Luminous and Sparkling Candle Lights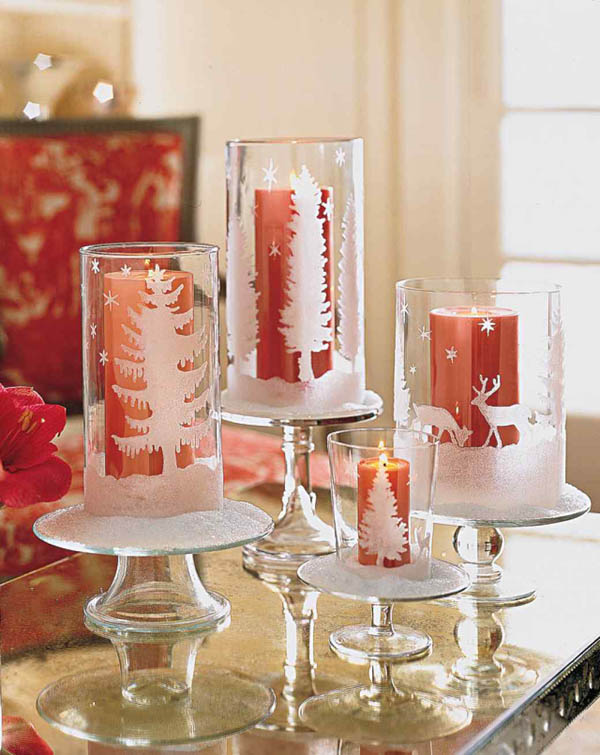 Candle holders with snowy and winter wonderland cut-outs is perfect for your red candles.
Via: Martha Stewart
Holiday Fuchsia Delight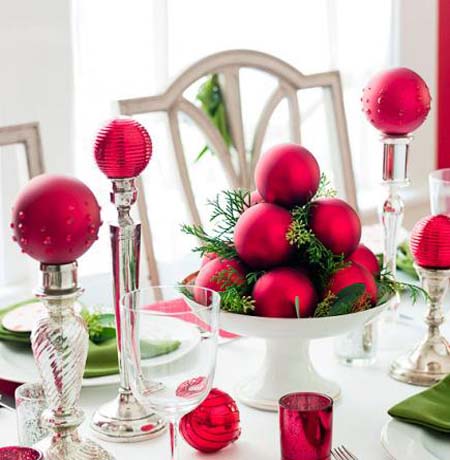 Via: Midwest Living
Cranberries and Candles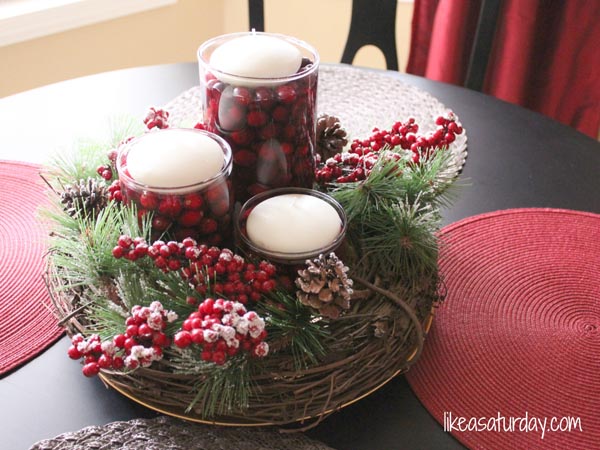 Via: Like a Saturday
Cute Christmas Table decoration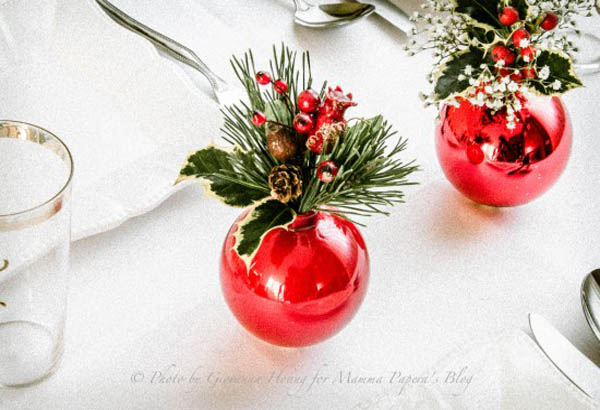 Via: Mama Papera
Simple Cranberry Centerpieces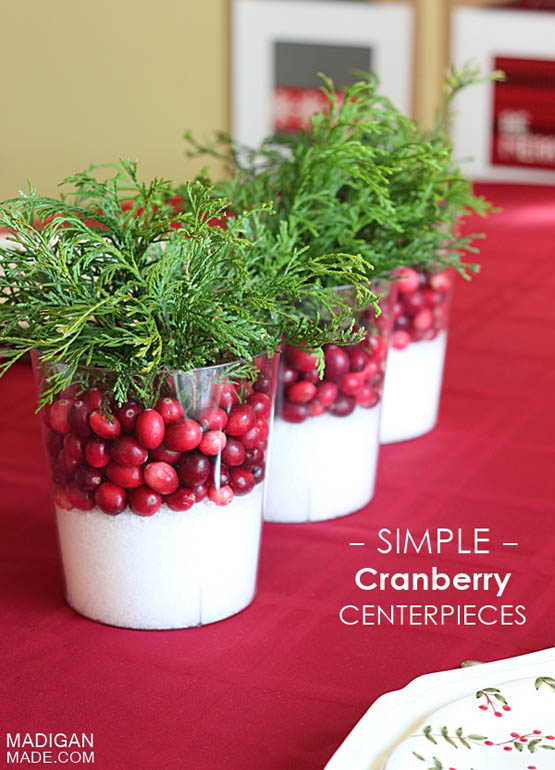 Fill a glass with a layer of salt, cranberries and evergreen leaves to create this simple yet enticing centerpiece.
Via: Madigan Made
Floating Candles and Cranberries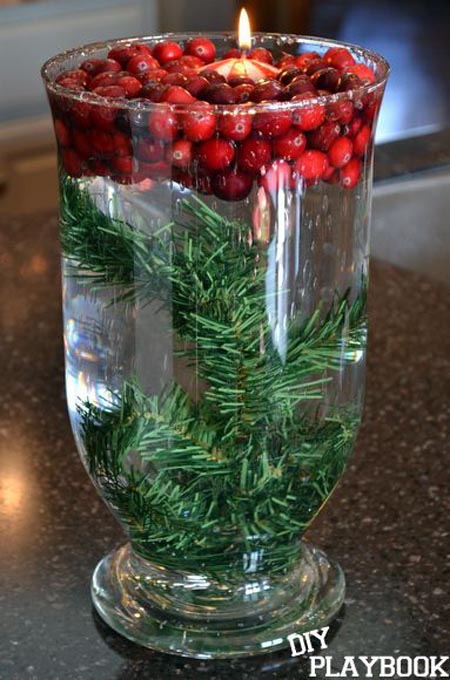 Or, you can fill a clear jar with water (you can also use scented oil), pine twigs, cranberries and floating candle.
Via: The DIY Playbook
Tiers of Holiday Delight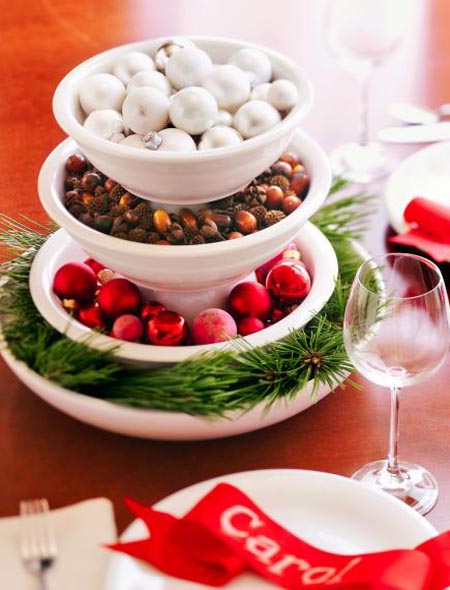 You can create a tiers of happiness by arranging a layer of Christmas balls (red and white) on a three-tiered bowls. Put some greens on the bottom and nuts on the middle.
Via: Midwest Living
Sparkling Gold and Silver Centerpiece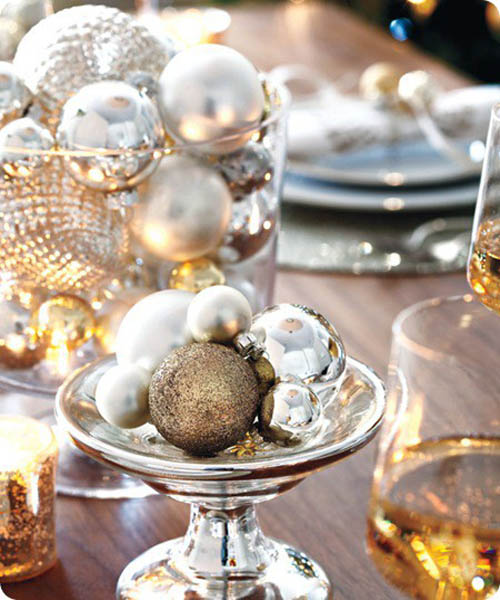 Golds and silvers speak elegance. So if you want elegant table setting on the holiday, here's an idea for you.
Via: Style at Home
Topiary Holiday Centerpiece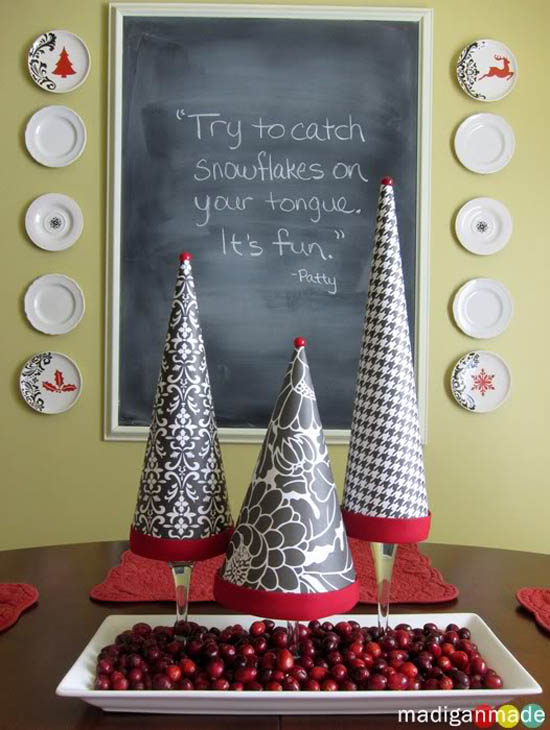 Via: Madigan Made
Floating Candles on a Mason Jar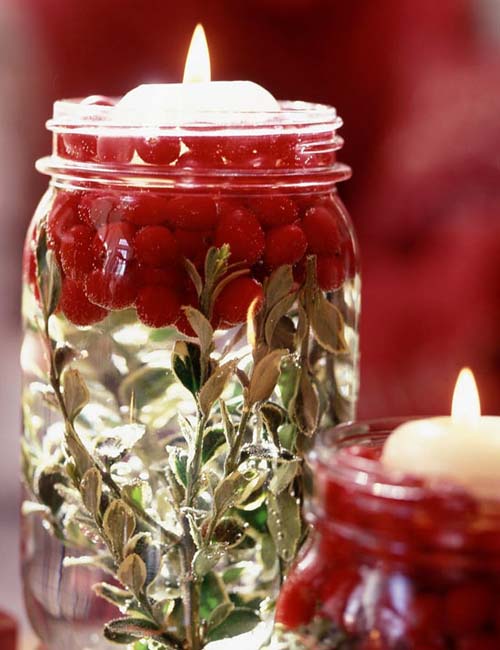 Here's another version of floating candles with cranberries in mason jars.
Floral Delight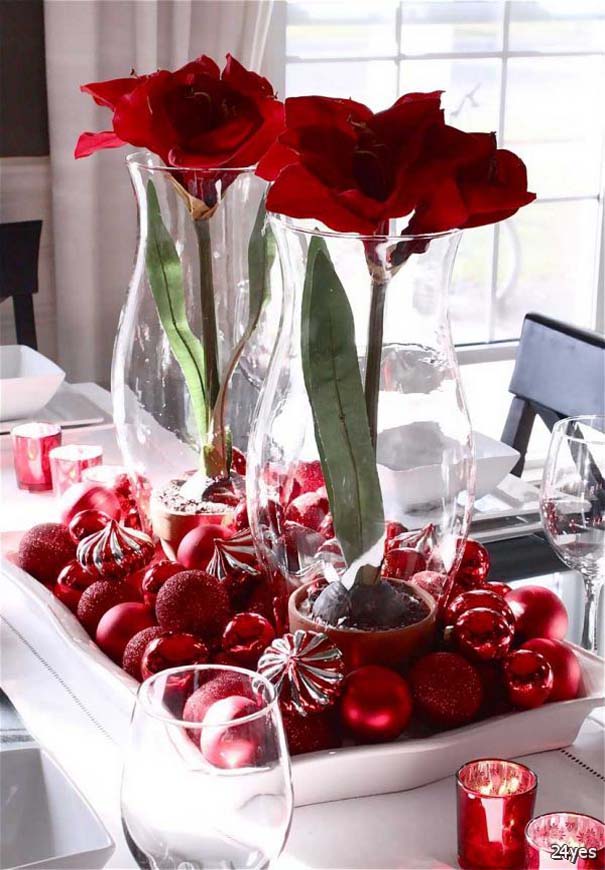 Reds will never go out of style when it comes to Christmas decorating. In this one, the bright colors of red Christmas balls against the white platter is truly majestic.
Frosted Votive Centerpiece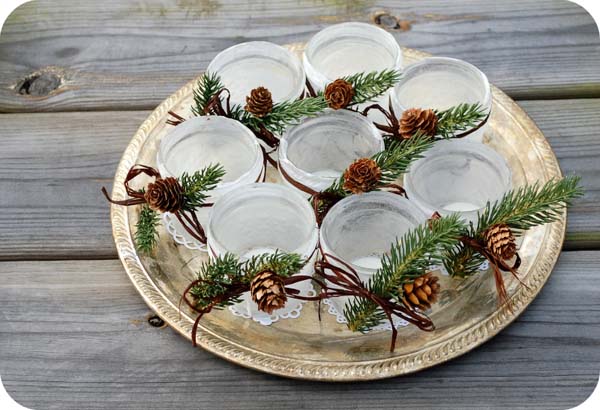 Via: Garden Mama
Christmas Baubles and Clear Jar Centerpiece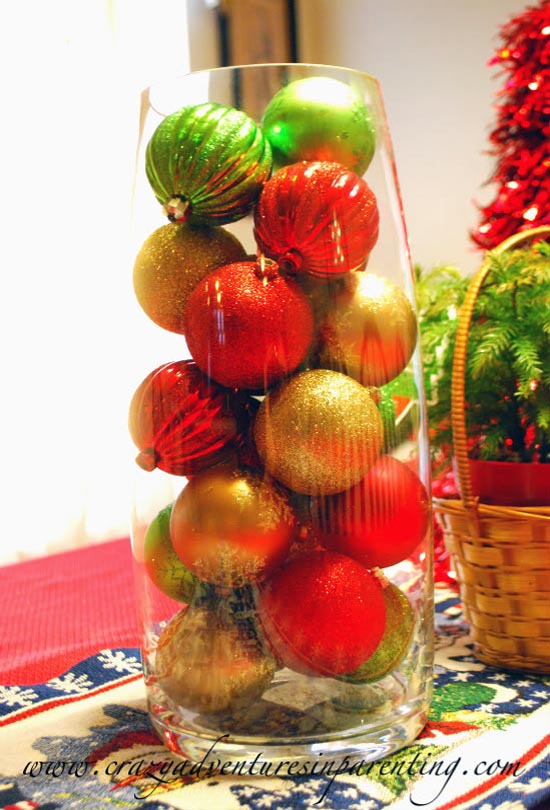 Throw some Christmas balls in a clear jar and you have this frugal centerpiece.
Via: Crazy Adventures in Parenting
Simple Christmas Table Decoration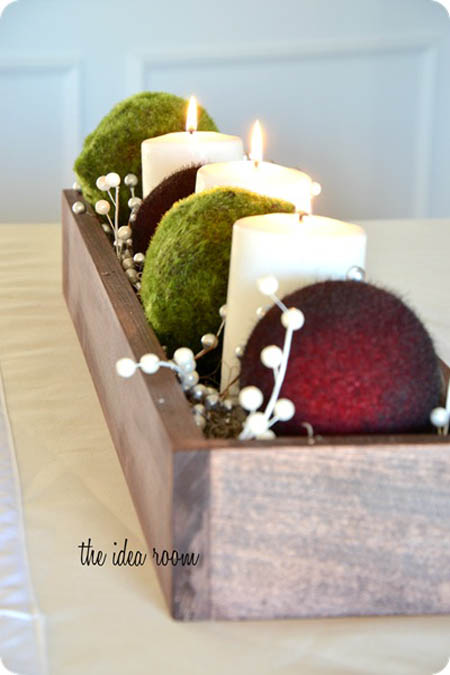 Here's another easy-to-make Christmas centerpiece.
Via: The Idea Room
Santa Hat Centerpiece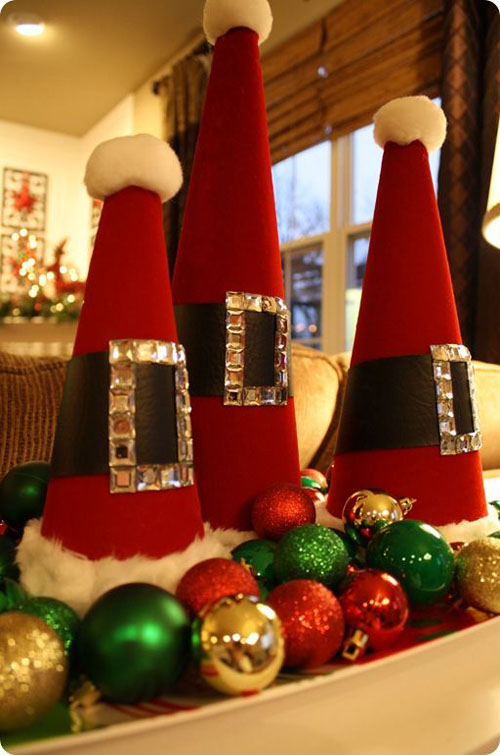 Santa hat centerpiece is perfect for a festive atmosphere for your table. Add some colorful baubles on the platter.
Via: A Thrifty Decor Chic
Painted Bottles and Evergreen Branches Centerpiece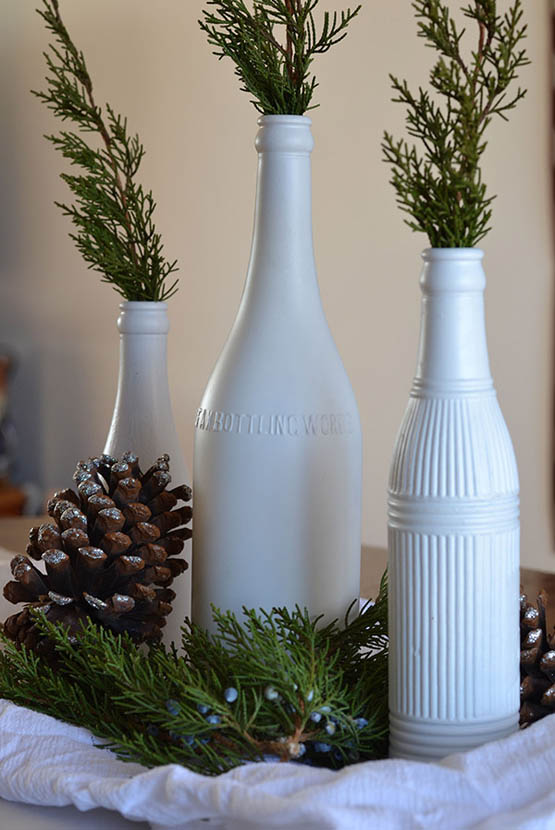 Paint unused bottled with white and use it as a vase. Put some evergreen twigs on it and complete this serene centerpiece arrangement.
Via: B Lovely Events
Wineglass and Floating Candles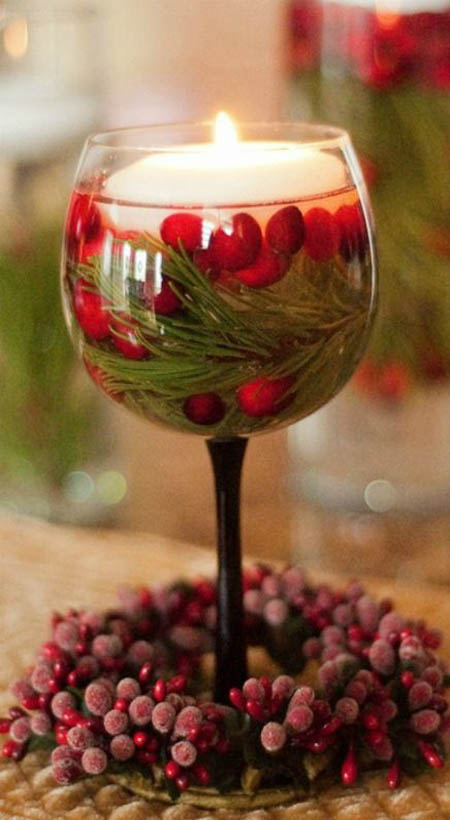 Here's another floating candle centerpiece. But this time, you can use wine glass.
Via: Flickr
Enhanting Mason Jar Luminaries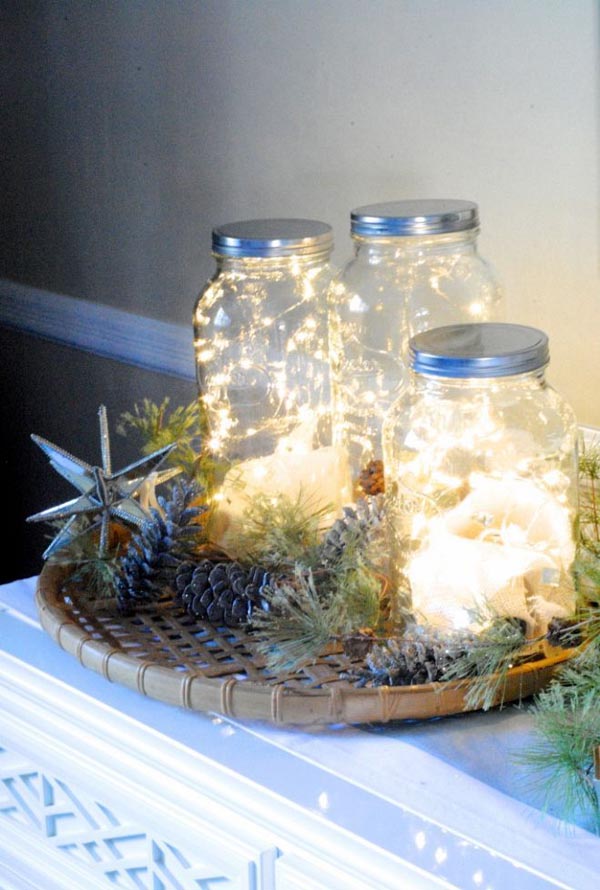 These enchanting luminaries can create a magical atmosphere in your dining hall on the holiday. Put some sparkling Christmas light inside the clear jars. Arrange them in a wicker plate. Add some pine cones and twigs to complete the look.
Via: Hometalk