50 Beautiful Mehndi Designs and Patterns to Try!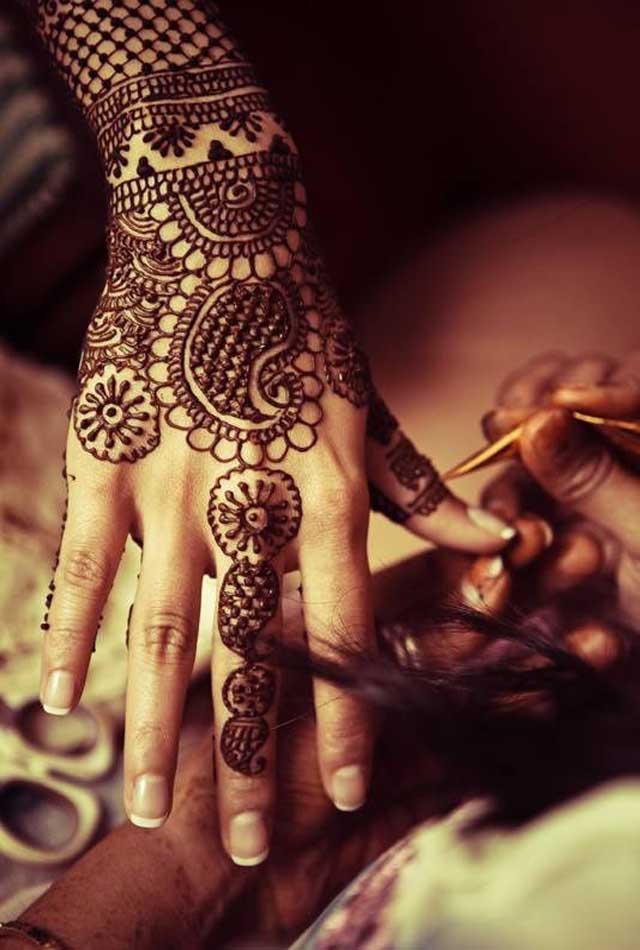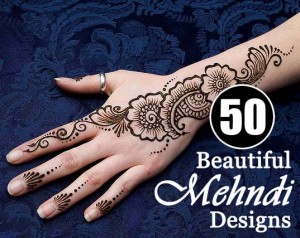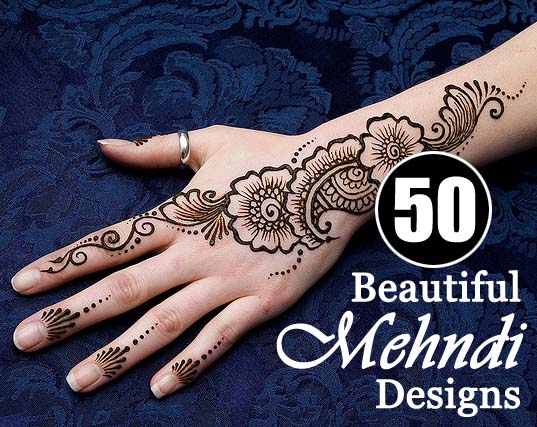 Mehndi designs, known as Henna in the west, are temporary, superficial skin decorations that were first practiced in the Middle East and North Africa a few millenniums ago. The leaves of henna plants were used to create various colors of dyes for this traditional art. Mehndi is typically painted on the hands and feet for artistic or ritual use. The designs are usually elaborate patterns with multiple motifs. Different cultures have their own distinctive styles and methods of application. Fine lines, geometric patterns, bold shapes – mehndi is undoubtedly an art worth preserving.
Due to globalization, nowadays, mehndi designs are appreciated worldwide. Mehndi designs are beautiful on anyone and, because it's not like a tattoo, you can continuously change your style whenever you get tired of your old one.
Mehndi Designs for Hands
Mehndi is often applied on the hands and feet. The hands are the perfect place to paint your mehndi design because they're the most exposed part of your body.
Painting your hands were traditionally done for festivals or special events (like weddings) but nowadays it's a common practice to apply mehndi designs on your body on a regular basis, like make-up.
There are numerous designs for the hands. Intricate ones that coat almost the whole hand are usually reserved for wedding ceremonies and special functions. Simpler ones are more casual, more common, and fit for everyday use.
Arabic Mehndi Designs
Arabic designs typically use one color. They differ from Indian designs because Arabic designs are largely influenced by the bold symmetrical lines and shapes developed by Africans. The patterns are simple but are painted with meticulous care.
Bridal Mehndi Designs
Muslim brides paint their hands and feet with mehndi designs. Their designs are more elaborate and full compared to normal mehndi designs. The painting of mehndi is an important function before the marriage and is often held like a festival.
It's also a great way for the bride, her friends, and soon-to-be family to bond. In some cultures, grooms also have mehndi painted on their hands and feet.
Latest Mehndi Designs
With the rising popularity of this traditional art, mehndi designs have flourished rapidly. Different styles and patterns are used. Elegant and flowery designs are the latest trend.
The latest designs are combinations of two colors. Black and red are the most popular. It's also common practice nowadays to paint mehndi on the body as well as the hands and feet.
Indian Mehndi Designs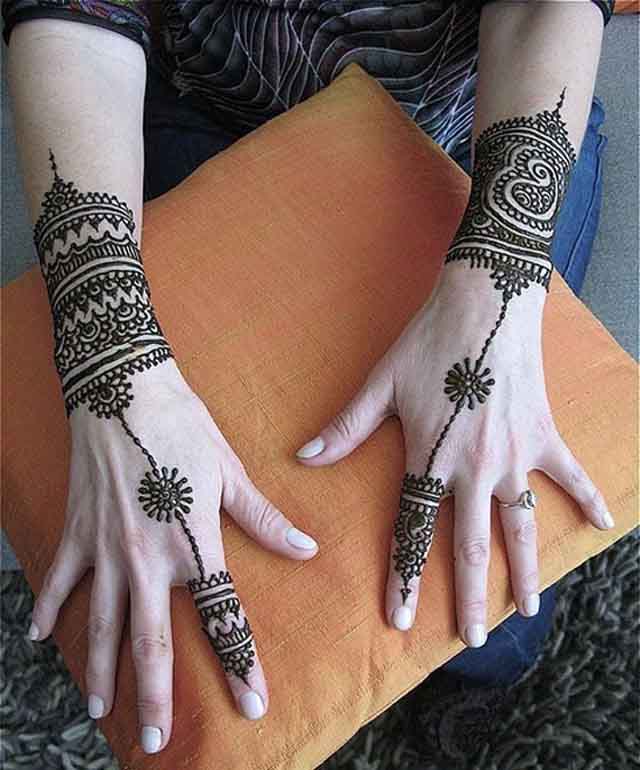 Indian mehndi designs pay close attention to delicate lines. The dramatic shapes and patterns make Indian designs distinctive. They also use solid, distinctive colors for their designs to stand out.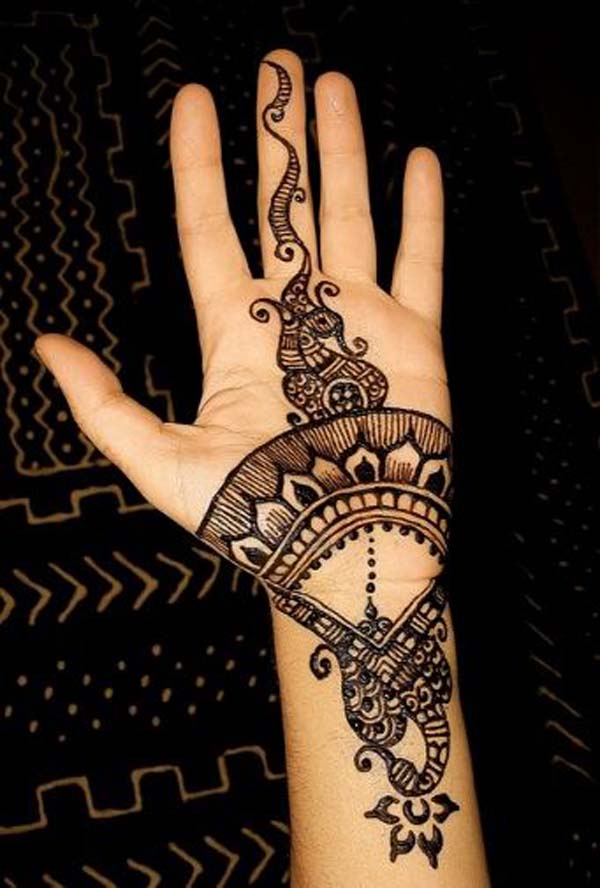 Peacock patterns are commonly practiced in Indian mehndi. The elegant strokes make peacock the best subject for mehndi designs.
Pakistani Mehndi Designs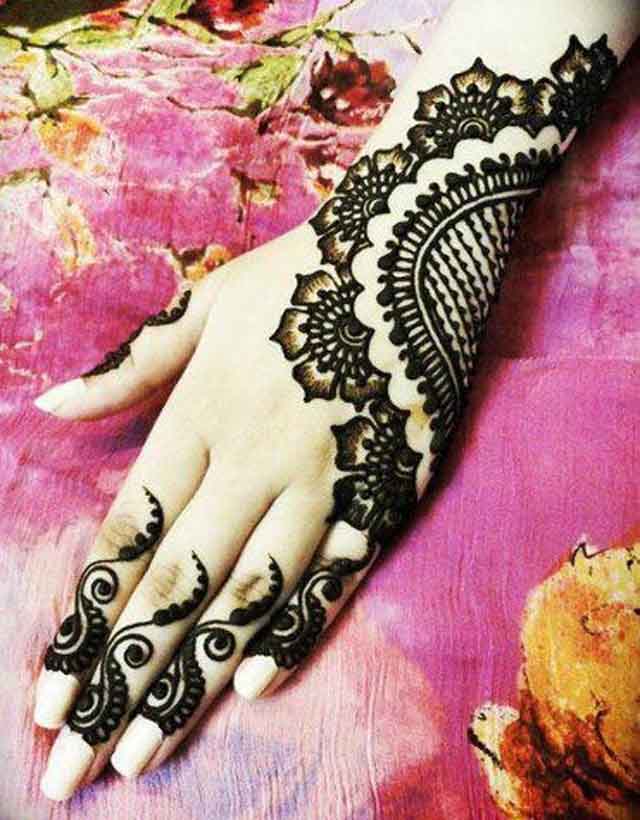 Traditional flower and paisley designs are the distinctive appearance of Pakistani mehndi style. They usually use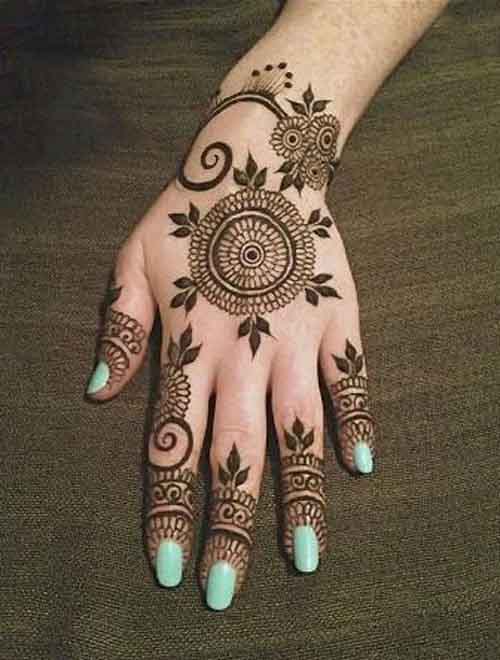 Striking lines and shapes are preferred. Pakistani designs are often more intricate and unique.
Mehndi Designs for Kids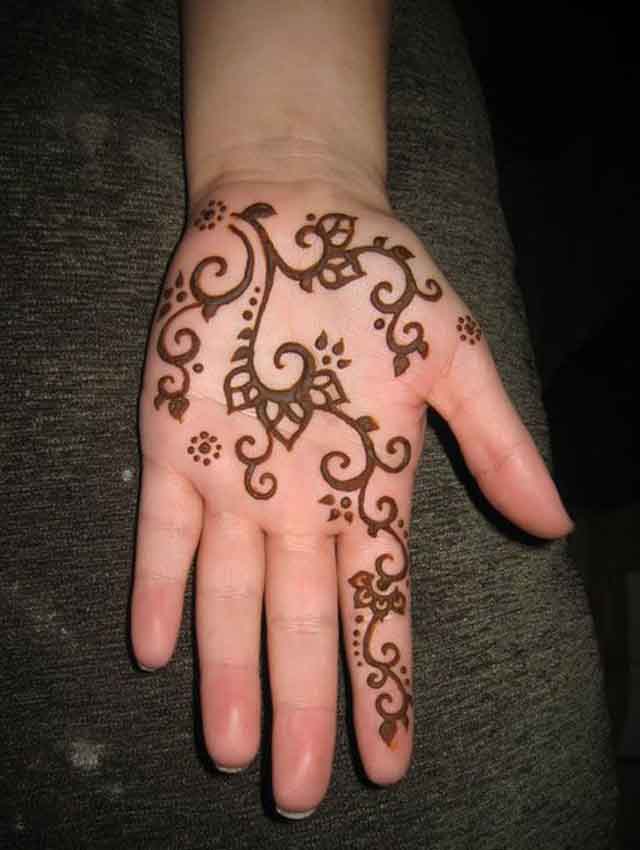 Simple designs suit children better than intricate and complex designs. Flower patterns look great on them especially if they're not too detailed.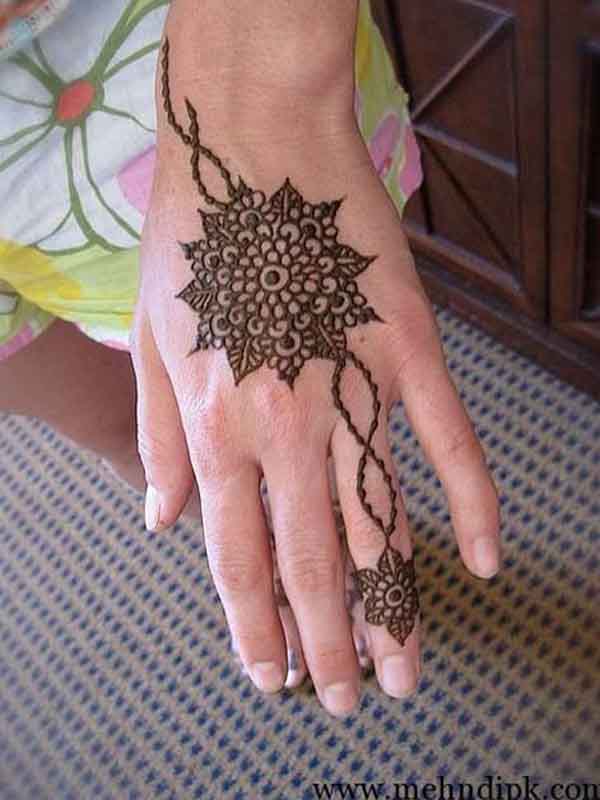 It's also recommended that the design doesn't extend too far from the hand. It should be limited to the palms and/or the outer surface of the hand.
Mehndi Designs for Wedding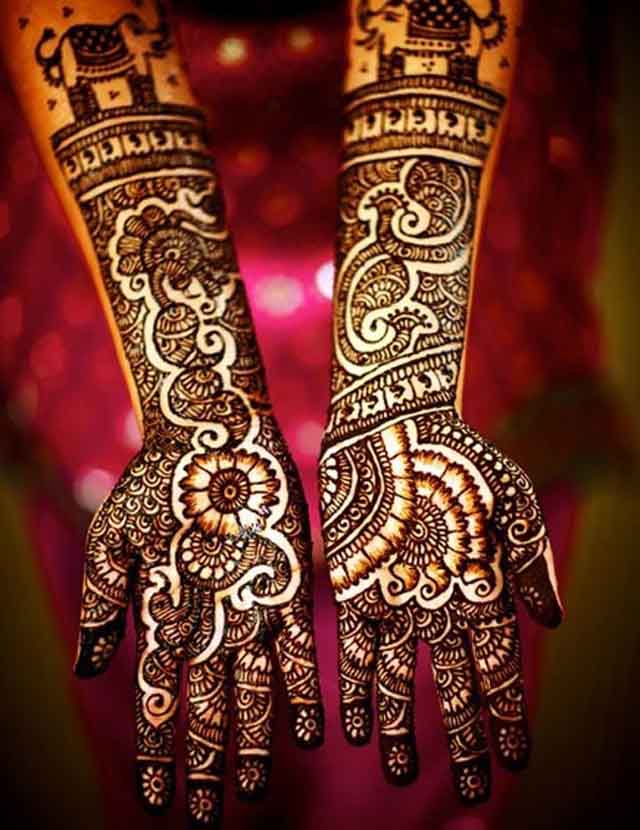 Whether you're the bride or simply a guest in a wedding, having mendhi painted on your hands and feet will really set the mood. It is said that a wedding isn't complete without mendhi. For weddings, elaborate designs are great. You can really go all-out with your designs. Celebrate the happy day with mehndi designs!
Easy Mehndi Designs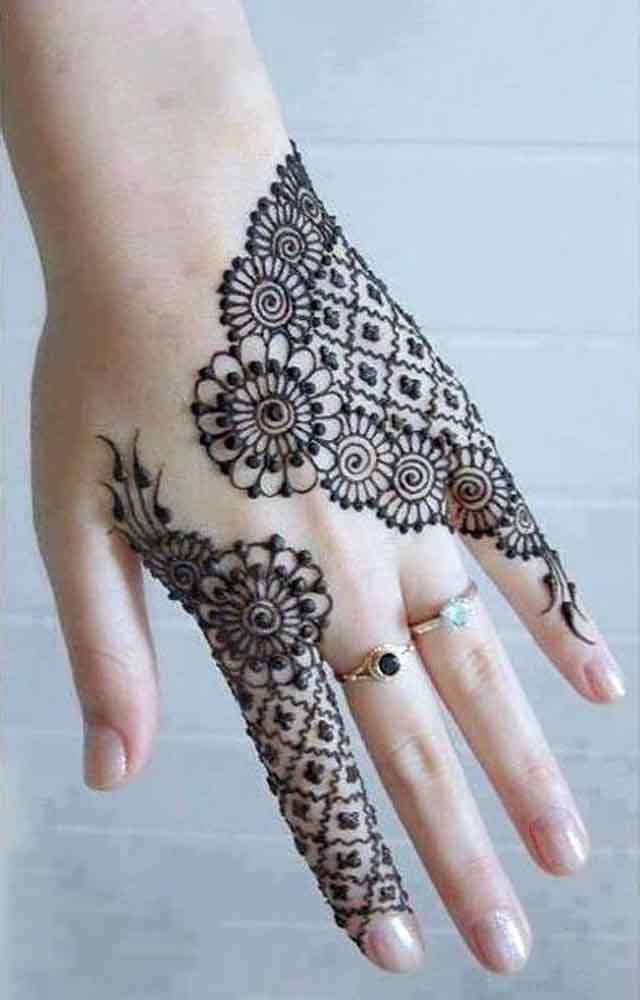 Most mehndi designs might look difficult but, with practice, they are actually quite simple. It's all a matter of filling in the gaps and combining shapes and lines. There are plenty of easy motifs to experiment with. Just take it slow and easy.
Simple Mehndi Designs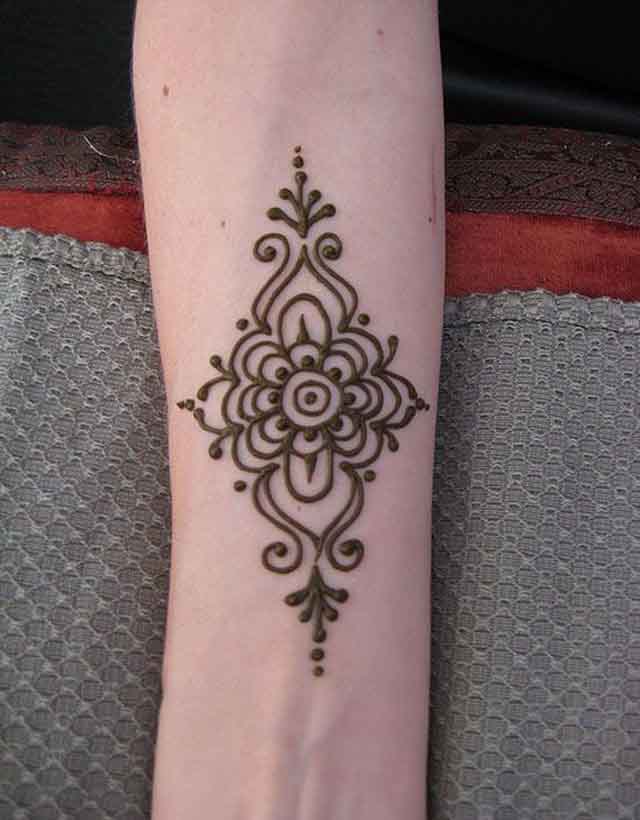 Simplicity is beauty. This is all too true when it comes to mehndi. Meticulously designed mehndis have a striking and gorgeous quality that makes them ideal for special occasions. Simple mehndi designs have their own lovely and humble charm. The more simple the design, the better it will stand out.
Mehndi Designs for Beginners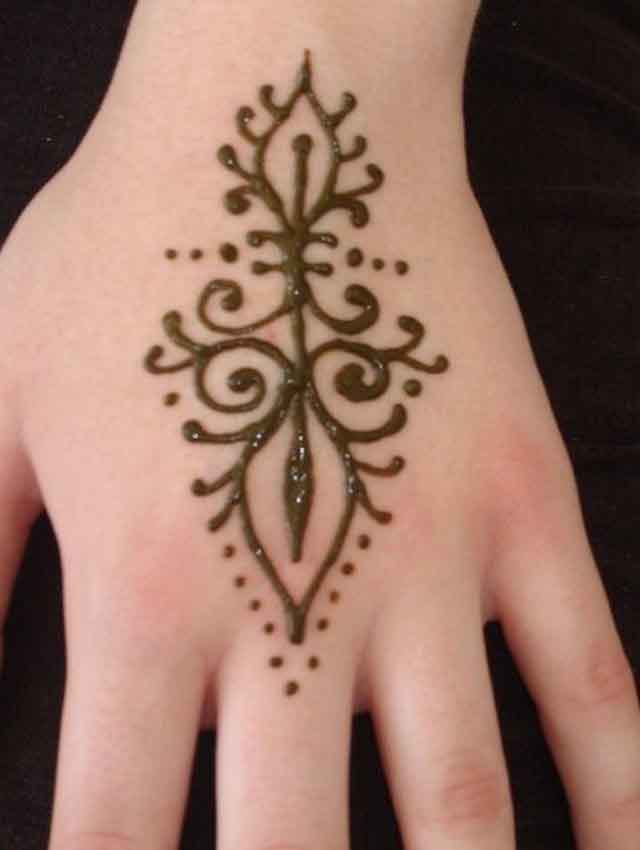 For those who are new to the art of mehndi, it is recommended that you try to make your own designs to really get the hang of the art. Practice makes perfect! Beginners should learn how to manipulate the cone or pencil properly before moving on to more complicated designs.
Dulhan Mehndi Designs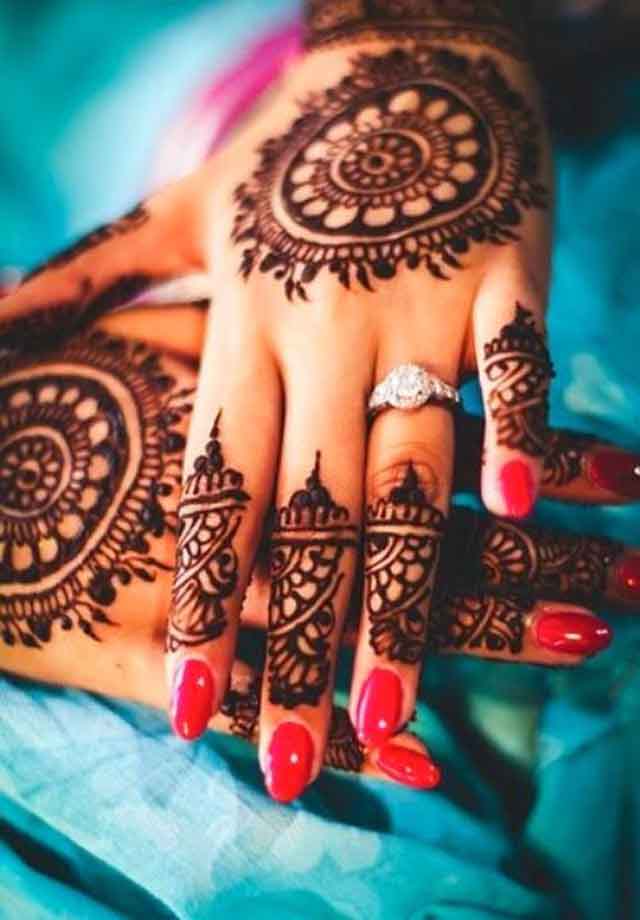 Dulhan is the Hindu word for bride. Hindu weddings have a mehndi festival, the first and most important day of the three-day event, where the dulhan and all the other girls attending the wedding apply mehndi designs on their hands and feet.The dulhan needs to have mehndi designs on her hands and feet otherwise she'll be incomplete. Mehndi designs make the dulhan look and feel more beautiful and confident.
Bridal Mehndi Designs for Full Hands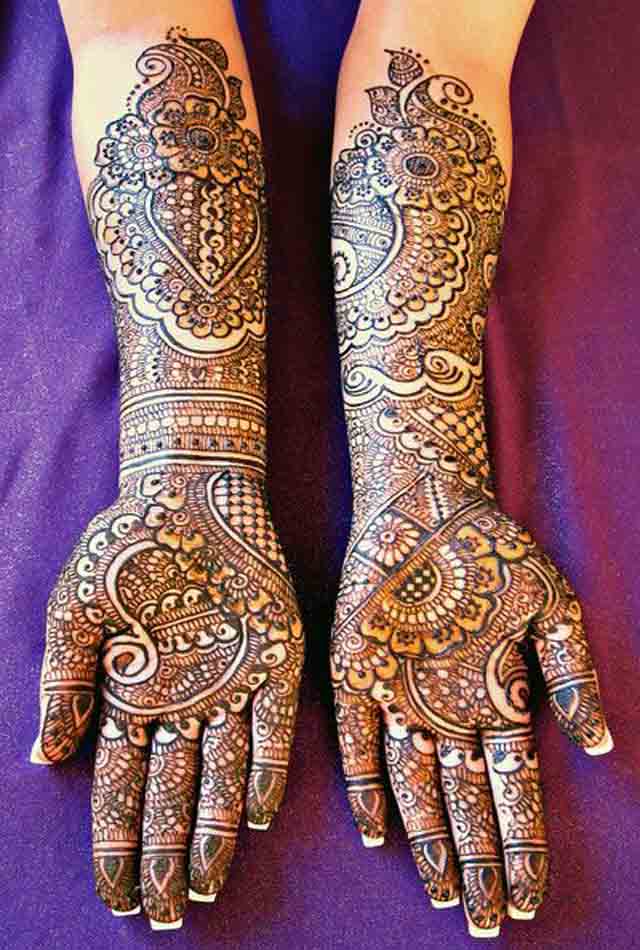 To enhance the bride's beauty and elegance, the mehndi designs on her hands have to be very prominent. They should cover her hands completely.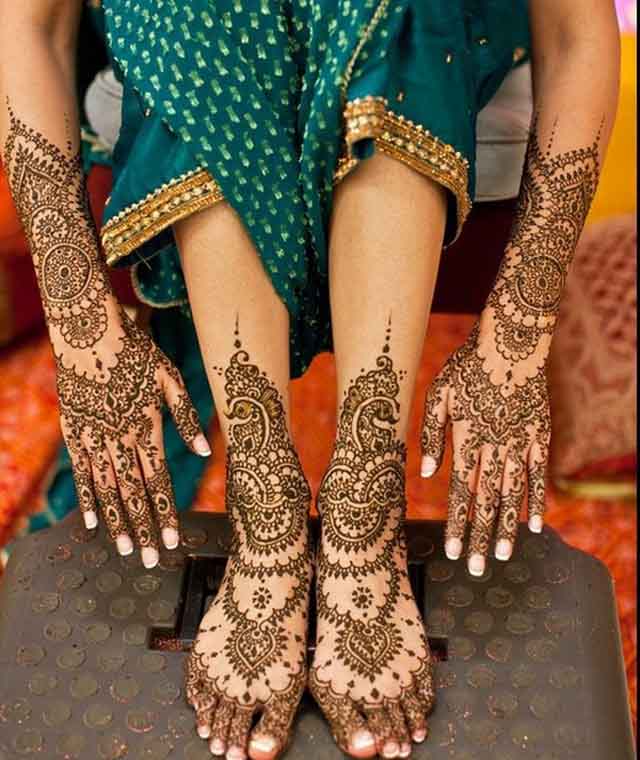 The design should be full and heavy but not too intense. It should be just enough to beautify the bride perfectly.
Mehndi Designs for Full Hands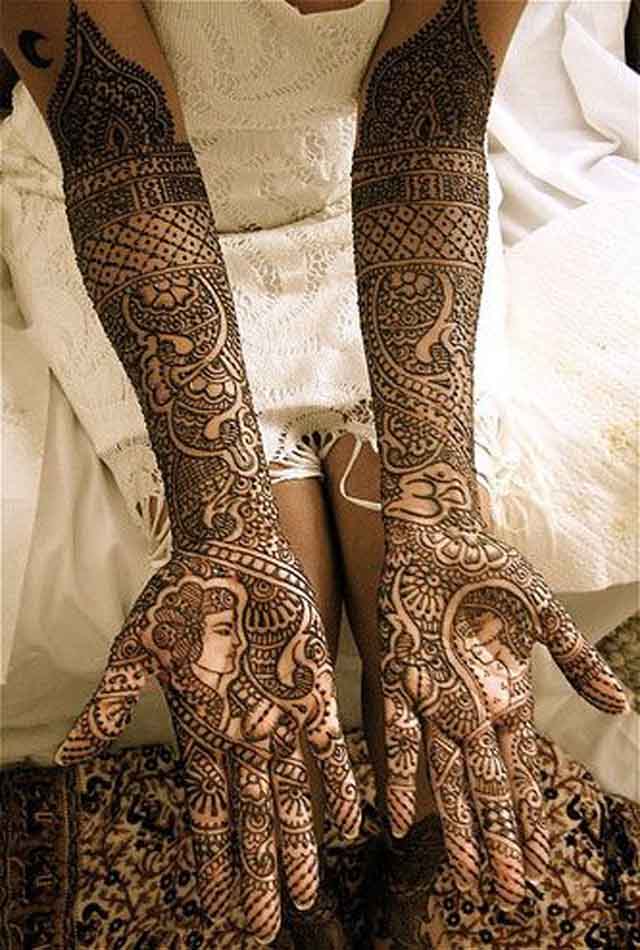 For getting a more dramatic look, applying full mehndi designs to your hands should be considered. It will enhance the hands' delicate fingers and slender wrists. Full designs give the wearer a more eccentric but very stunning look.
Mehndi Designs for Legs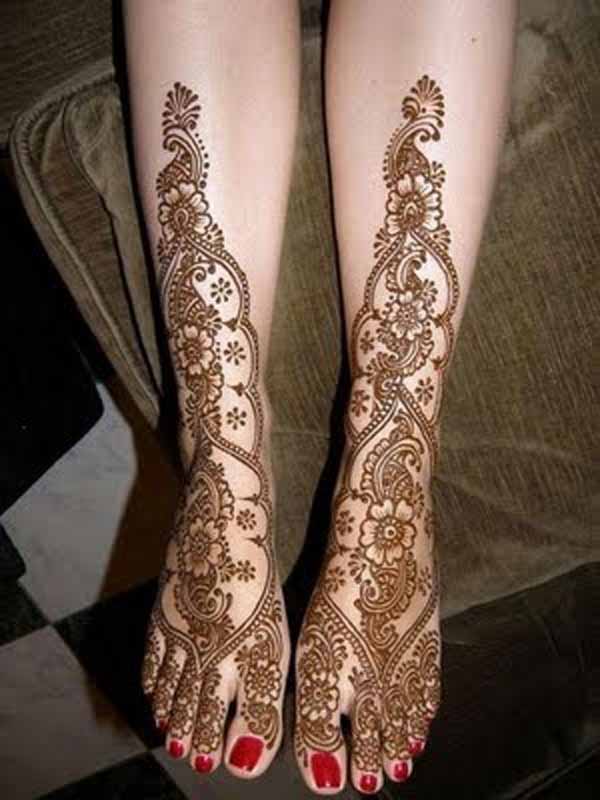 Recently, mehndi designs aren't just applied on the hands and feet. Some women like to paint them on their legs. Mehndi designs make the legs appear longer and more gorgeous. It also adds an exotic charm to the woman regardless of the occasion.
Mehndi Designs for Feet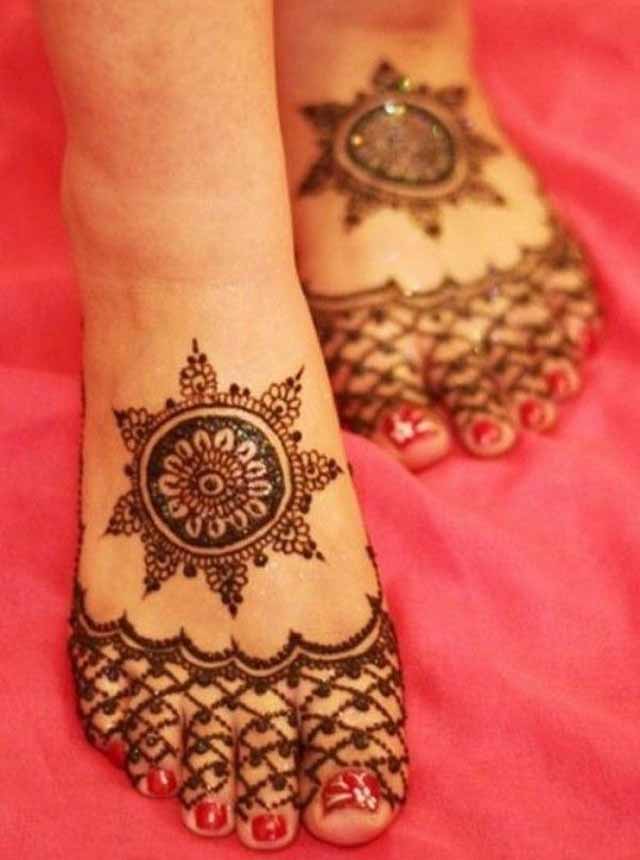 You can get really creative with the mehndi designs on your feet. Detailed floral patterns are the most popular for feet. Fine lines and Arabic-inspired styles and shapes are also great.
Latest Bridal Mehndi Designs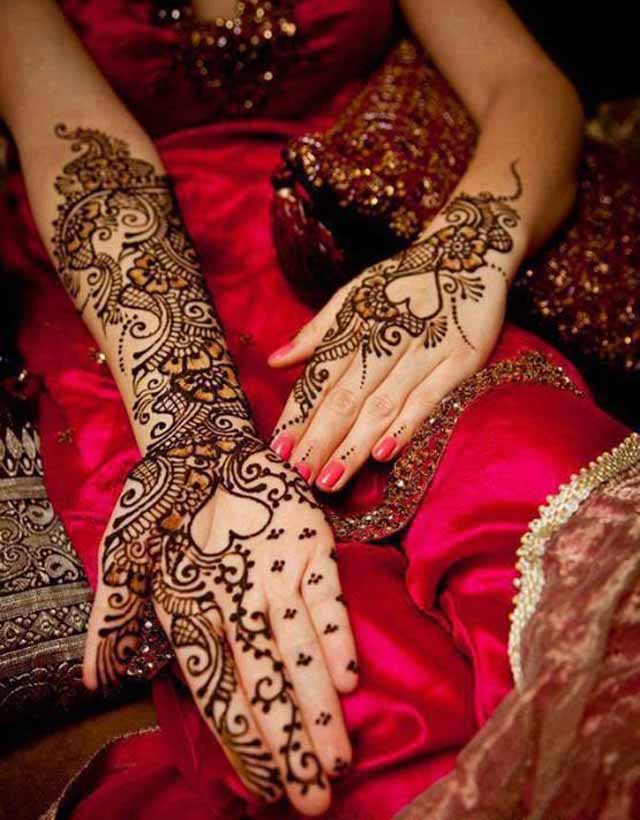 The latest trend in bridal mehndi designs is combining traditional mehndi designs with contemporary designs. Colorful mehndi designs are also gaining popularity.
To make your design even more gorgeous, strategically place colorful crystals on your mehndi. Thin and thick lines also give the mehndi design a very modern look.
Latest Mehndi Designs
Black Mehndi Designs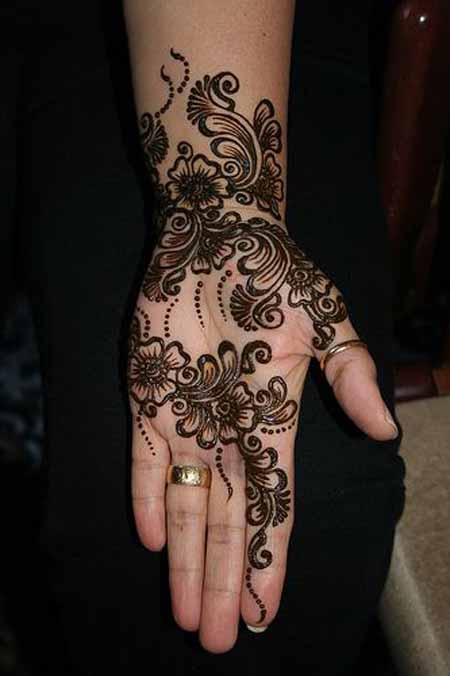 Black is a prominent color. It's strong and bold, perfect for mehndi designs. Black mehndi designs are sharper and simpler. These can be used in special occasions and in casual events. It's stylish but also elegant.
Traditional Mehndi Designs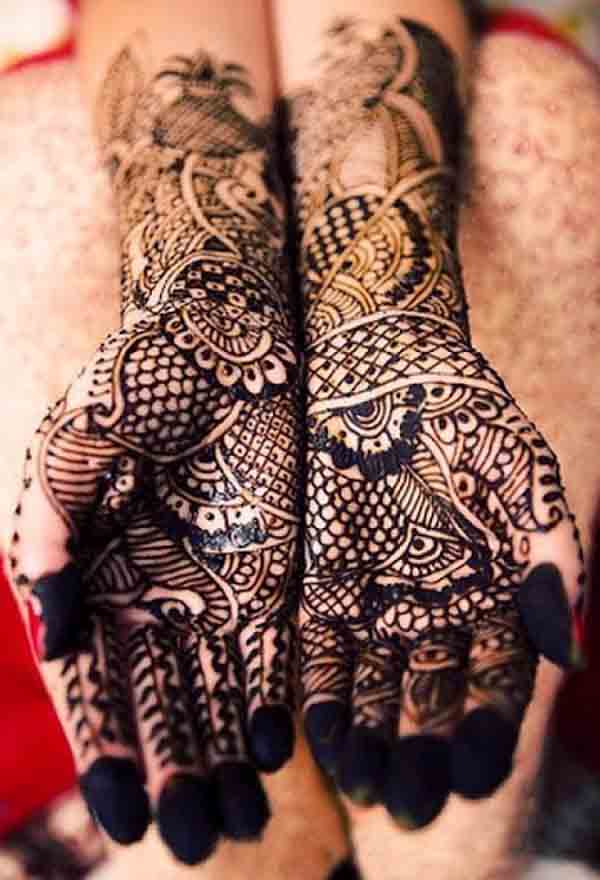 Traditional designs include common motifs such as paisley shapes, leaf shapes, scallop lines, delicate lines, and more. They're more elaborate than the mehndi designs used for casual wear. Oftentimes, they cover the whole hand or the whole foot.
Mehndi Designs for Eid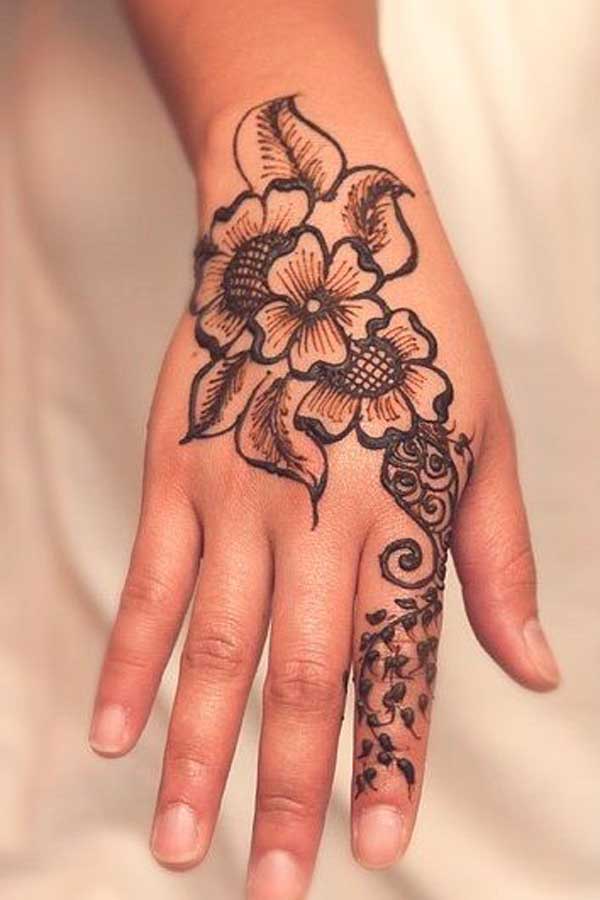 Eid is any Islamic religious festival that Muslims fervently observe. A great way to celebrate the feast day is by applying mehndi designs on your body.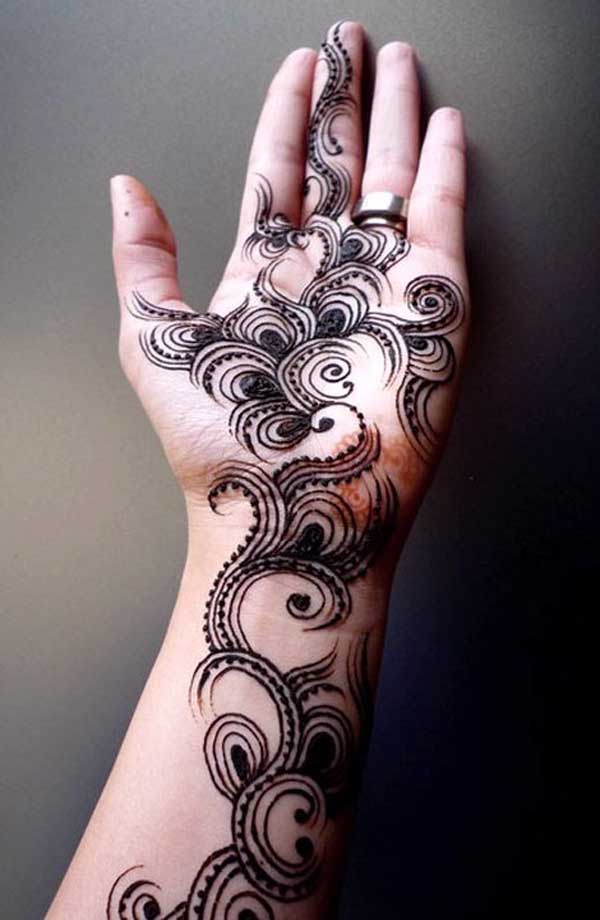 Medium strokes are preferred for Eid mehndi designs. They're not too thick but not too fine either. Express your emotions and your personal style!
Best Mehndi Designs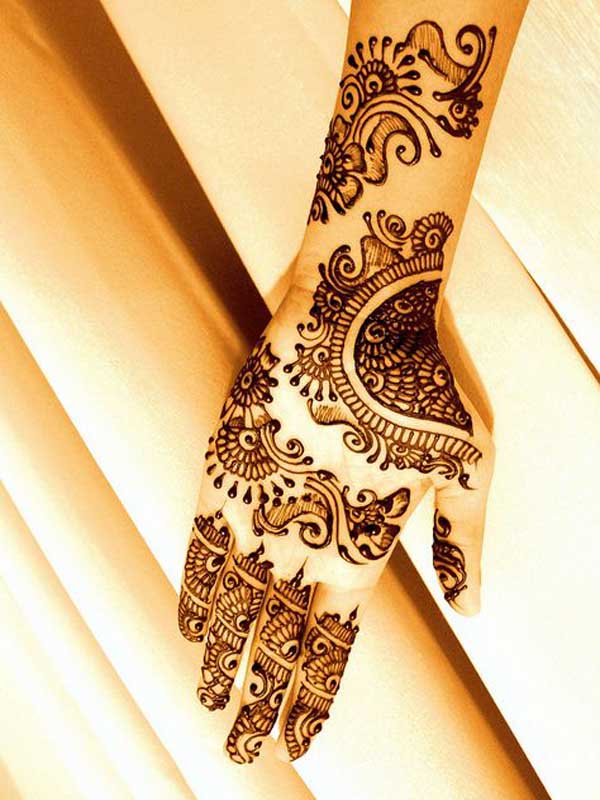 There are numerous combinations of motifs and styles for mehndi designs. It's difficult to say which is the best design because all of them are beautiful and incredible in their own unique way.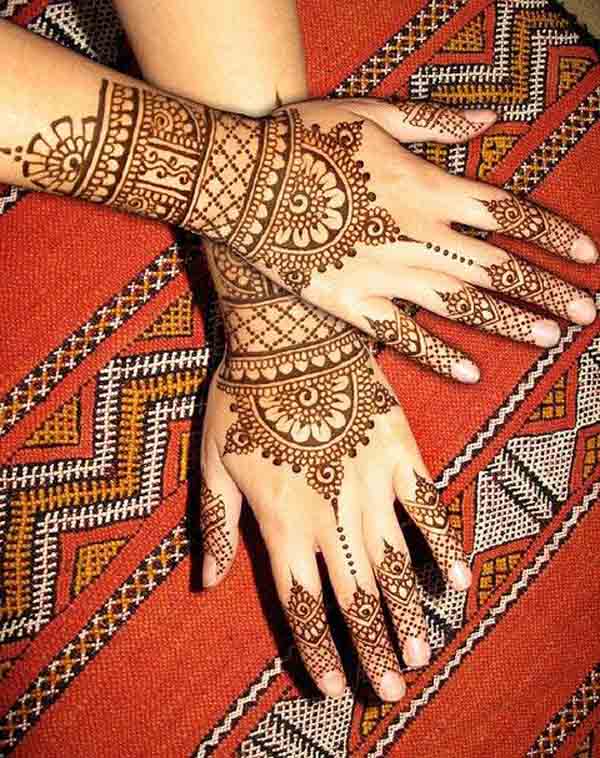 However, the best designs should have even and careful strokes, elegantly meticulous details, and a touch of the wearer's personality.
Beautiful Mehndi Design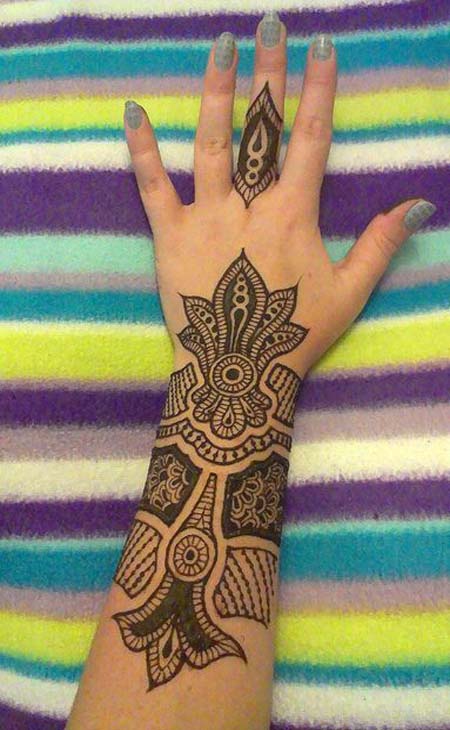 This beautiful, intricate mehndi design is perfect for every auspicious occasion like wedding, engagement and Eid. The design features beautiful patterns, some with fine lines while some have full color.
Elegant Round Mehndi Design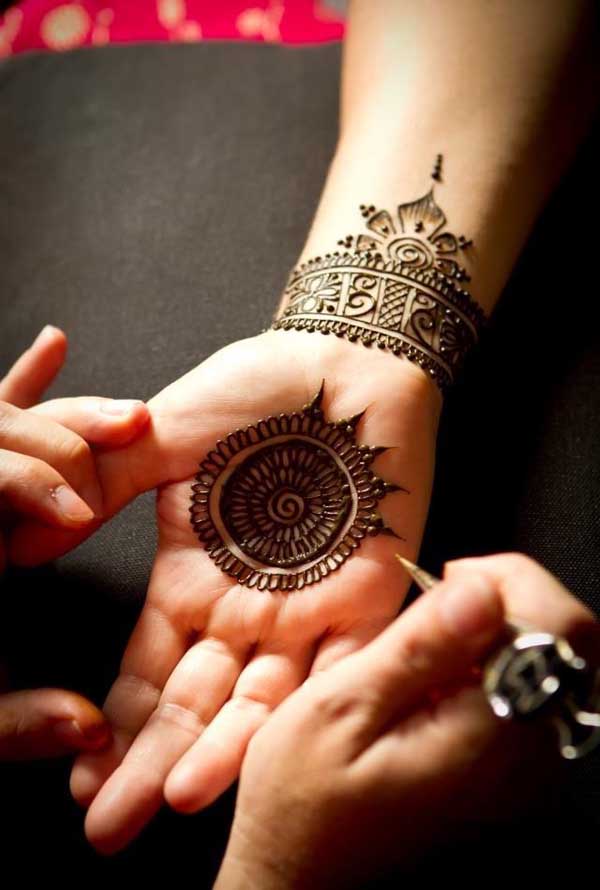 Round patterns for mehndi are quite popular. In above photo, the designer focuses the main design in the palm by creating a round, intricate pattern, covering most of the space. The design in the wrist that served as bangles make the design even more elegant.
Latest Mehndi Designs for Wedding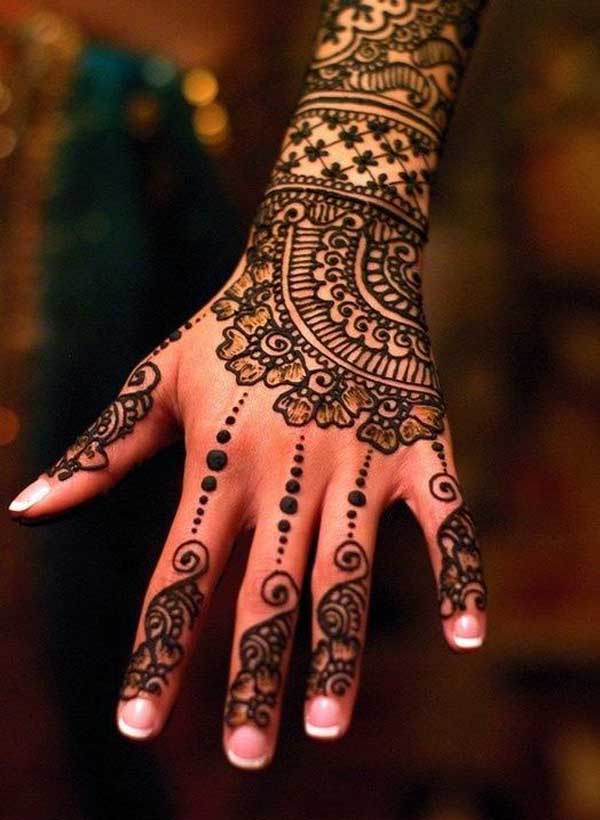 This design features intricate, detailed pattern covering almost all the spaces at the back of the hand, extending towards the arms. The floral patterns, plus the swirls and dots make this design distinctive and unique.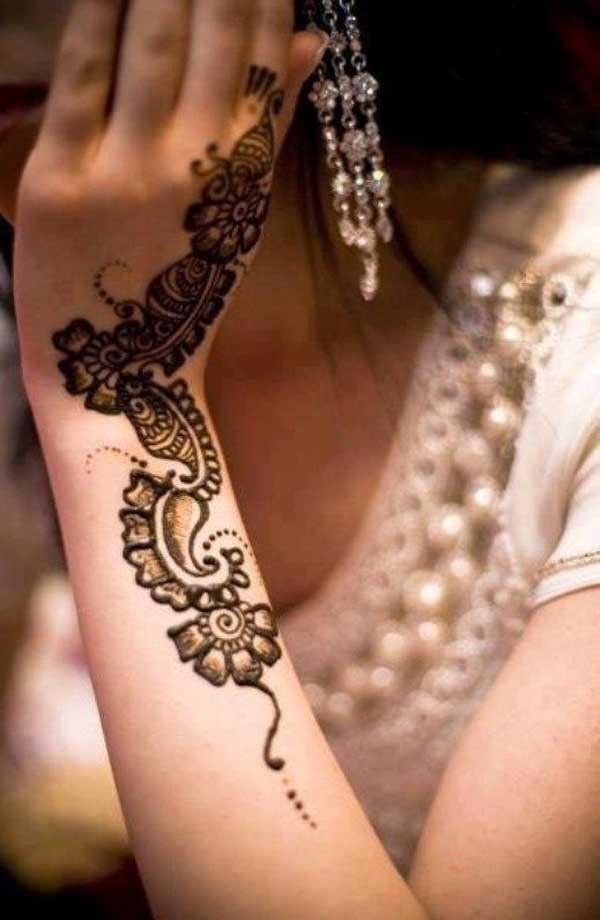 This is quite simple for a bridal mehndi. However, most of the latest bridal mehndi use simple and easy to make patterns. This kind of design is also used for engagement and mehndi functions with family and friends.
Simple and Easy Mehndi Design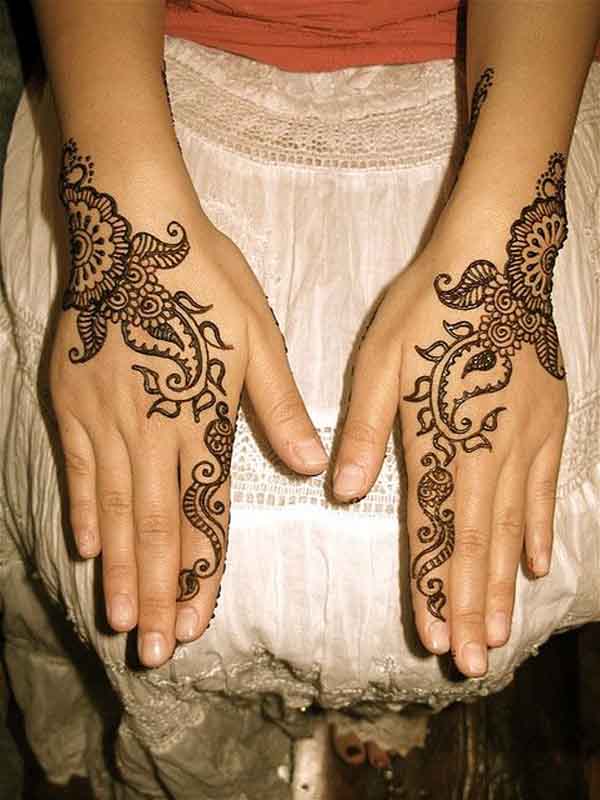 For beginners, simple and easy patterns for mehndi are best to start with. Designs that have simple swirls and outline is best to choose.
Simple Arabic Mehndi Designs
But if you just want a design that covers only the fingers of your hand, the above design is the best option for you. With its simple yet elegant patterns, this will surely make you stand out in any function.
Latest Pakistani Mehndi Designs
Gone are those days that mehndi colors are limited by one or two colors. Today, many designers can enjoy creating their patterns using different colors and accessories. Pakistani mehndi designs feature the combination of color brown, blue and green plus some gems and jewels in their  designs.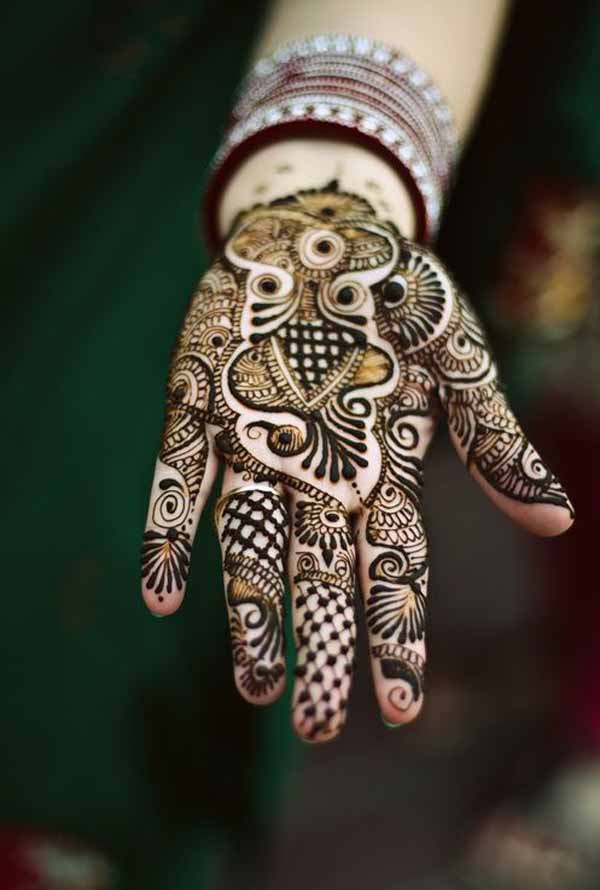 Floral Mehndi Design for Full Hand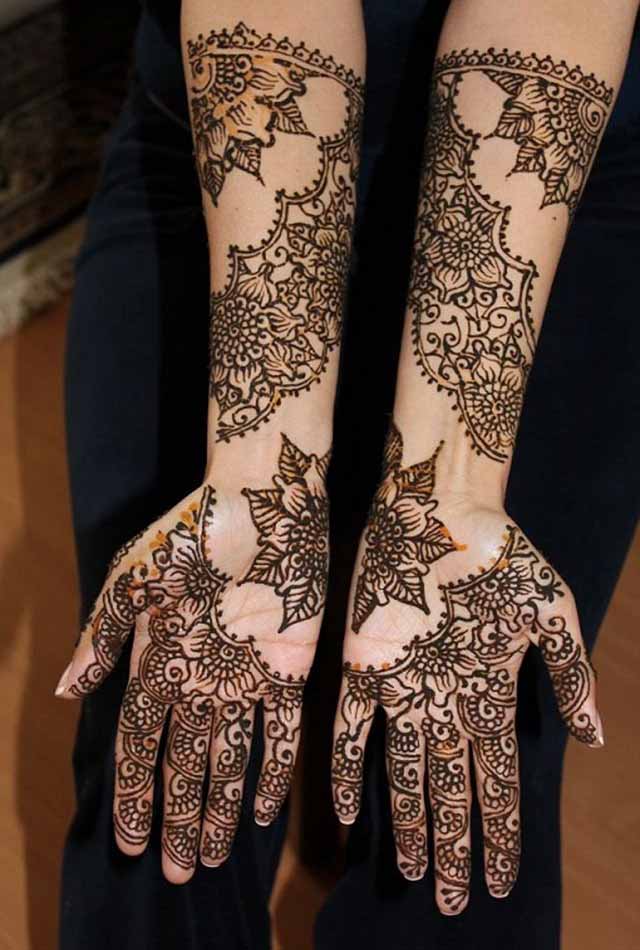 Elegant Henna Mehndi Tattoo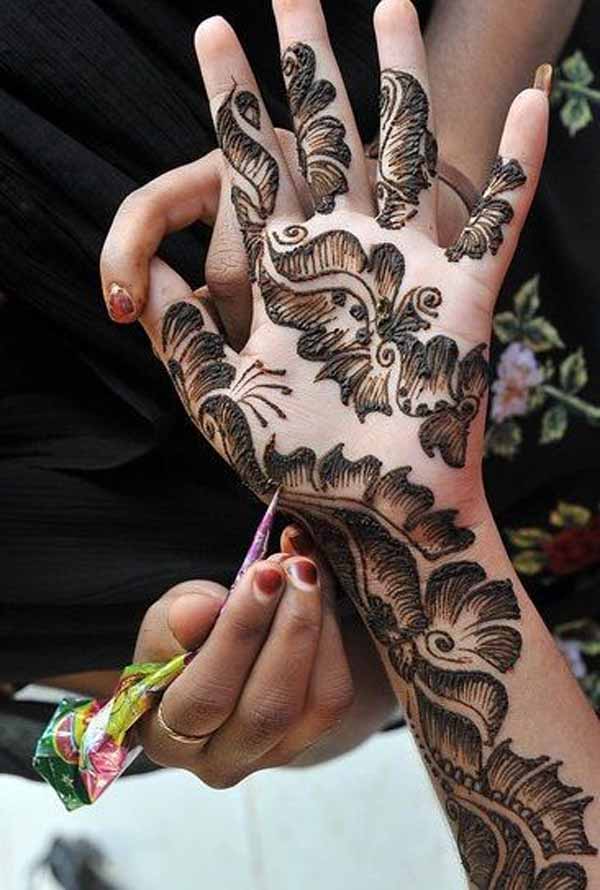 Henna Mehandi Designs for Palm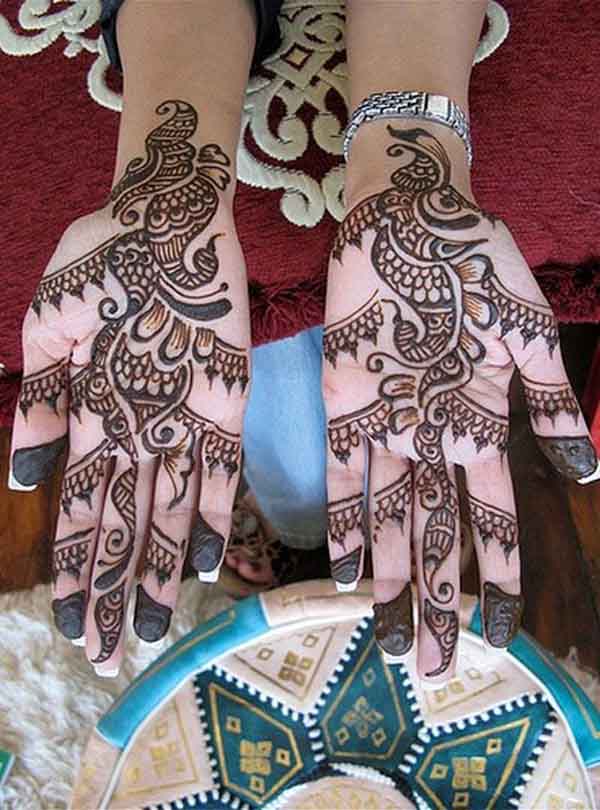 Beautiful Eid Mehndi For Hand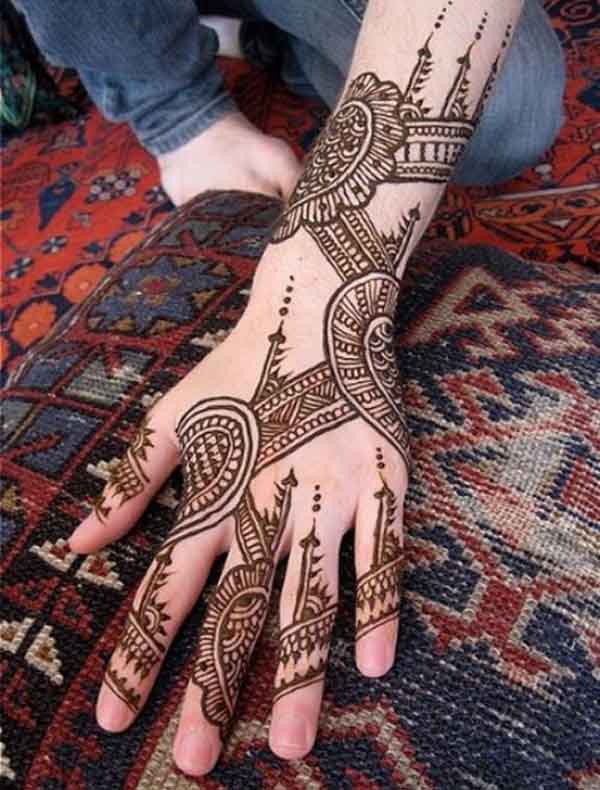 Round Pakistani Mehndi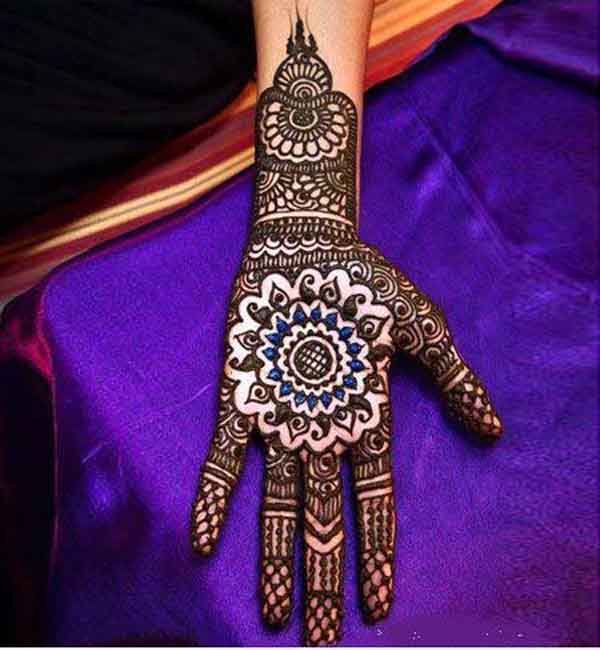 Simple Mehandi Design for Feet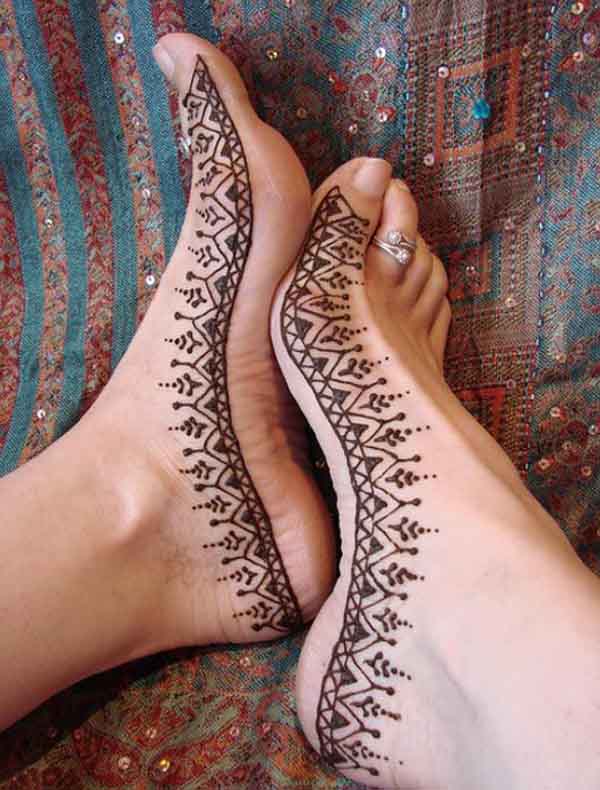 Elegant Mehandi Designs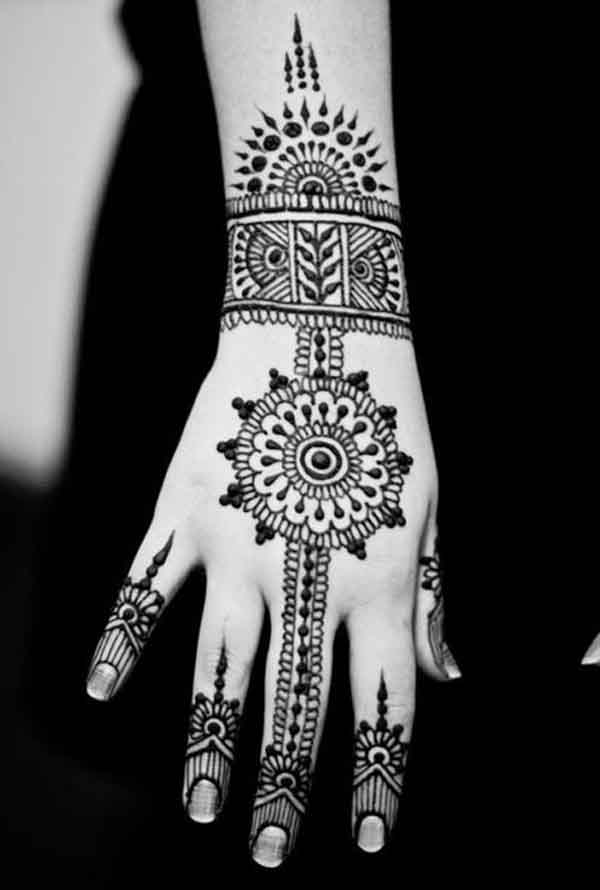 Image Sources: Google / Pinterest
14 Cool Rose Tattoo Designs For Girls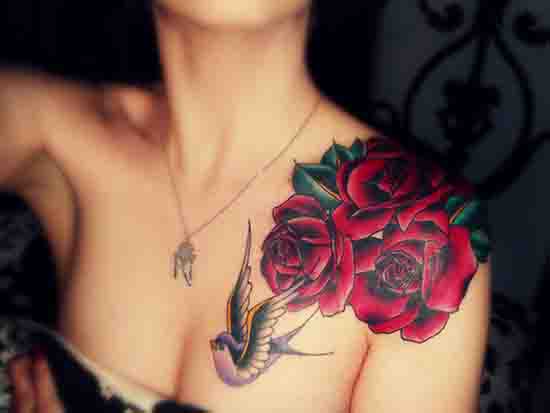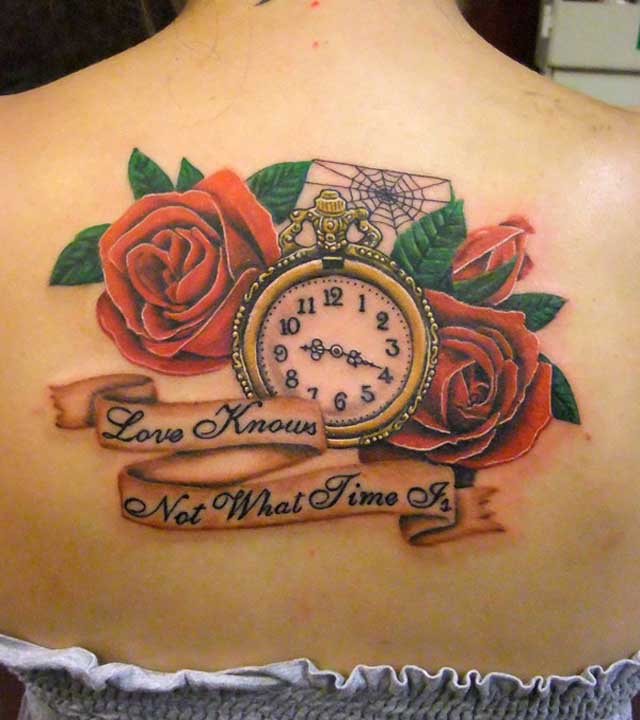 Since time immemorial, roses have always been a beacon of love, romance, sweetness, sophistication, and beauty.
As such, roses give a strong standpoint and excellent statement as a timeless tattoo design. It never fades nor fails. Just like a tattoo, the great rose does not simply charm without stinging. It has thorns – doubling its symbolic value as a design.
The rise in the popularity of roses as a tattoo needed no promotion. Largely contributing to the affection for the design is the fact that well-loved celebrities are inked with all kinds of roses. Cher, Mary J Blige, and Lady Gaga are just some of the female artists having a rose tattoo. And it was never exclusive to femininity. We are talking about Vinnie Jones, Richie Sambora, and Ricky Martin, to name a few.
A red-and-black tattoo design inked on the ankle. It has a main rose and a smaller bud next to it. The stem dramatically curls and branches out, giving more black stems with leaves. Only the roses and the leaves are shaded red.
If you are looking for a grand rose design, this foot tattoo is a perfect fit for you. It is solidly colored in black with impeccable shadings and a lone, huge rose as a centerpiece. It gives a corsage feel to it. It is further adorned by rose vines and leaves.
Accentuate your left shoulder with a bouquet of roses. This design will not give you a hard time making that impossible. A ball of vividly red roses with green leaves and is seemingly being pulled afloat by a flying bird (of great details too), this tattoo is hard to miss.
The classic red rose. The text surrounding it, inked in black, summarized what roses really are. They are a combination of gentle and fierce. This is as suggested by their thorns. This back tattoo makes a nice statement and is pleasant to the eyes as it is, because of the cursive text font used.
These roses are so realistic that they look freshly handpicked from the garden. The shading is beautifully made including the different hues of green in the leaves. Aside from a red rose, the design also has a pink and a white one which symbolizes admiration and purity respectively.
Roses for a tattoo often incorporate add-ons to accentuate them further. This design makes use of another iconic and staple tattoo symbol, the skull. Situated just behind the right shoulder, the skull is surrounded by roses in red ink which cascades further down the back.
Two beautiful symbols of color and grandeur are roses and peacock feathers. This massive side trunk tattoo design combines the two complementarily. The rose is shaded in a pale hue as to not overwhelm the bright colors of the peacock feather.
Everybody loves a blue rose as much as everybody loves music. These two favorites are united in this great tattoo design. The single blue rose stems out a blue stem which curls to form a G clef. An ingenious and attractive design.
This arm tattoo is composed of a beautiful dream catcher adorned by surrounding pink roses. The net inside the dream catcher is weaved ,forming another flower-pattern. The "bead work" and feather elements add up to the beautiful elements this tattoo design has.
Three huge roses surrounding a leg are what this tattoo design is offering. The three large roses in full bloom are shaded to give an old rose effect. The roses are connected by flirty vines. In addition, a beautiful butterfly sitting atop in a sideways position caps this body art.
This leg tattoo design comprises a large red rose with outlined leaves. The red shading on the petals of the rose is so realistic it looks like a photograph of a real rose. To give contrast to the softness of the flower, its leaves are inked black and outlined without any shading.
Music and roses both relate to romance, and are both featured in this design. Musical elements such as notes, the G clef, and staff with some written lyrics house the centerpiece which is a grand red rose. It is not a linear design as the icons are playfully angled.
This very detailed red-and-green sleeve tattoo is hard to miss. The contrast of the colors demands attention. Moreover, the green does not come from the leaves alone. Alongside the red ones are green roses too.
There are several key (literally) elements in this tattoo design. It is composed of a bird, a rose, a banner, a statement, and yes, a key. The whole art is outlined in black giving it a sleek kick to it.
15 Beautiful Butterfly Tattoo Designs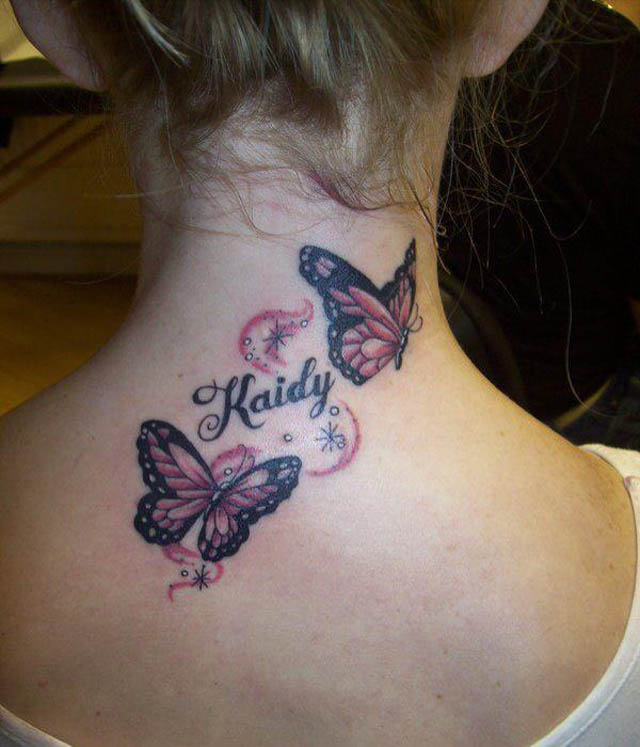 Butterfly tattoo designs are so popular nowadays. Butterflies can stand alone as a tattoo design. However, it is not uncommon to see a juxtaposition of additional elements. It may go with a skull, a cross, a dagger, a banner, or flowers, but the most popular are butterflies just like the following tattoo designs suggest.
The same holds true with the beauty of a butterfly. It is a mythical creature we actually see regularly. It is often associated with what is grand and colorful. Here are some of the best butterfly tattoo designs that you may actually try.
A blue butterfly and an orange butterfly star in this arm tattoo design. Both beautiful creatures are resting on branches of a pink hibiscus plant. The shading in the flowers and the butterflies, along with the twigs are superbly done.
Black butterflies of elegance fly behind you in this great back tattoo. Two butterflies of different sizes are inked black and similarly patterned and outlined. They are positioned just under the right shoulder. A minimalist and sleek approach to tattooing.
Dainty little butterflies adorn your back in this tattoo design. Although solely colored black, the angles of each butterfly suggest that they are playfully soaring high. Each also has a pair of uniquely patterned wings.
This red-and-blue back tattoo is a tribute to colorful butterflies. The stenciling of the butterflies is similar to the shape of the real creature, and not whimsically made. The butterfly on the topmost part (shoulder-level) is the largest, followed by a by-size troop, to the smallest.
A fly, a bunch of shrubs, a butterfly, leaves, and pair of scissors randomly compose this poetic arm tattoo. The butterfly has a pair of very beautifully patterned wings. Everything is outlined in black ink, and is a very enticing crypt, overall.
This colorful tattoo makes use of a multi-colored butterfly and a helm (ship's steering wheel). The butterfly is colored black, red, orange, and the skin tone for the area of the pattern left uncolored. The patterns in the butterfly are almost of an ancient cultural feel.
Two mystical turquoise butterflies are depicted in this design. The creatures are seemingly floating in a smoke of black streaks and pink flowers. A definitely catchy shoulder tattoo.
Here is an attractive back tattoo just below the spine. The design is very linear, having a huge butterfly in the middle, as a centerpiece. Curving lines emerge horizontally from the butterfly, and for small butterflies hover above the design. Everything is inked black.
A foot tattoo with a majestic butterfly, this design is nothing short of pretty. The butterfly is colored fuchsia and black thus providing a striking contrast. It is further adorned by patterns and flowers.
This artsy and whimsical lone butterfly is flying but illustrated on its side view. In effect, it looks like a butterfly which lost the other half of its wings. The brown-yellow-orange shading for the wings are impeccably made too. A one-of-a-kind butterfly.
Here is a pink-and black butterfly tattoo positioned on the nape. It has two butterflies flying beside the name Kaidy (changeable), making it appear like it is protecting the person with that name. Further, it has pink shadings suggesting movement.
Everybody sees everything neon. Especially these neon-inked butterflies arm tattoo design. Five beautiful butterflies which are shaded in the arm and not outlined, this is a total standout.
The whole back is a canvass for this colossal colorful butterfly. The four corners of the wings reach the shoulders and the lower back sides, and the body of the butterfly is illustrated on the very position of the spine. A majestic tattoo of details and colors ranging from hues of blue to red and orange.
An anklet will no longer be needed in this intricate gray-and-silver foot tattoo. The two elements of a flower and a butterfly are connected by cursive outlines with leaves. The wings of the butterfly wittingly hid initials. Subtle but decorative.
Here is a very genius tattoo art. Each forearm has the exactly, and identical design of the other – only, inverted. A butterfly on top of a rose on one arm, and a rose on top of a butterfly on the other. Both are perfectly shaded and solely use the color black. The shadings differ, making it avoid a flat feel to it.