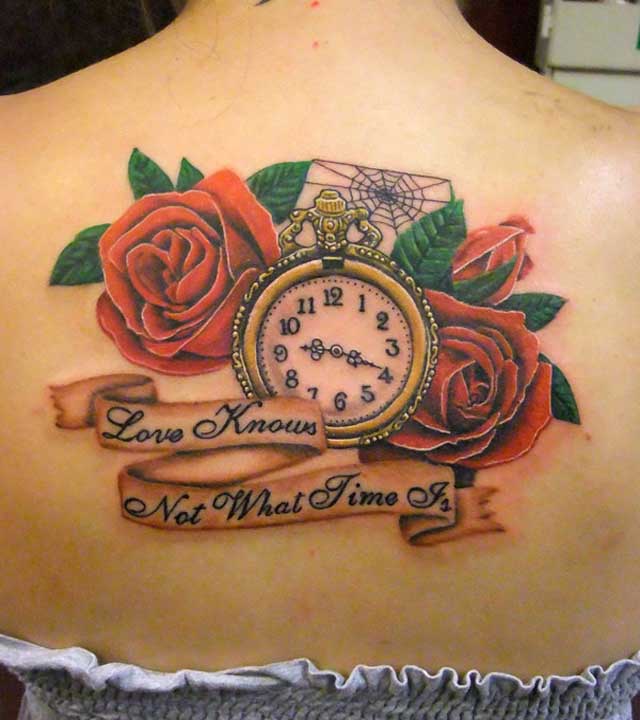 Since time immemorial, roses have always been a beacon of love, romance, sweetness, sophistication, and beauty.
As such, roses give a strong standpoint and excellent statement as a timeless tattoo design. It never fades nor fails. Just like a tattoo, the great rose does not simply charm without stinging. It has thorns – doubling its symbolic value as a design.
The rise in the popularity of roses as a tattoo needed no promotion. Largely contributing to the affection for the design is the fact that well-loved celebrities are inked with all kinds of roses. Cher, Mary J Blige, and Lady Gaga are just some of the female artists having a rose tattoo. And it was never exclusive to femininity. We are talking about Vinnie Jones, Richie Sambora, and Ricky Martin, to name a few.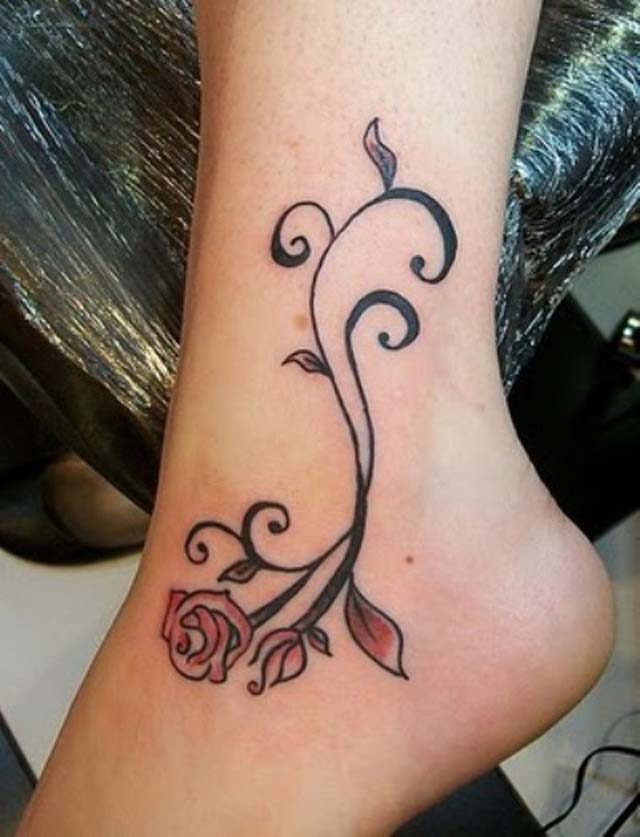 A red-and-black tattoo design inked on the ankle. It has a main rose and a smaller bud next to it. The stem dramatically curls and branches out, giving more black stems with leaves. Only the roses and the leaves are shaded red.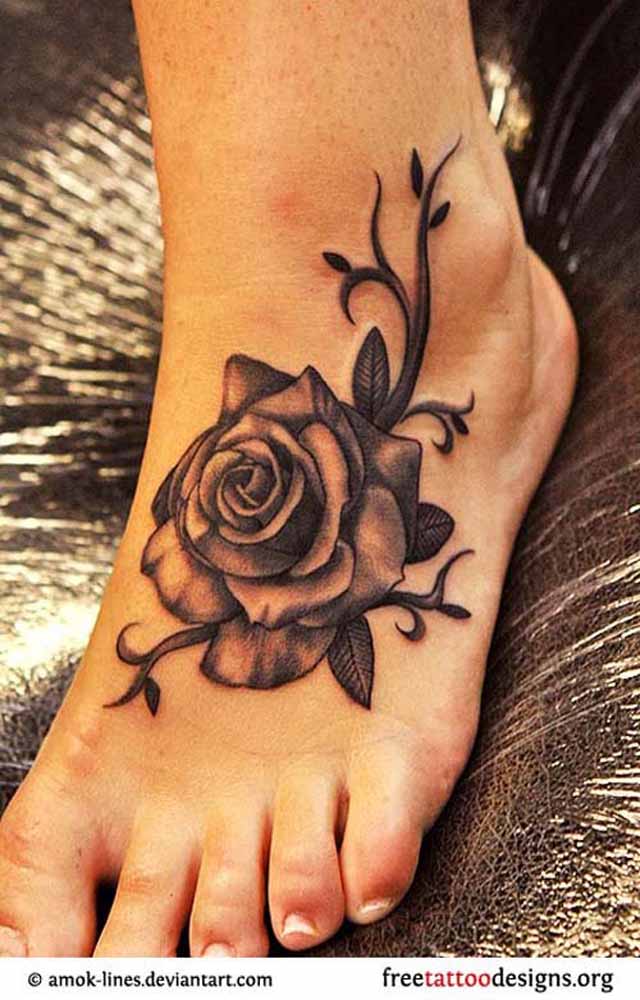 If you are looking for a grand rose design, this foot tattoo is a perfect fit for you. It is solidly colored in black with impeccable shadings and a lone, huge rose as a centerpiece. It gives a corsage feel to it. It is further adorned by rose vines and leaves.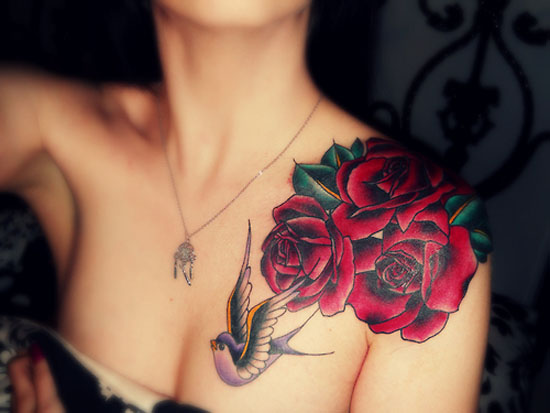 Accentuate your left shoulder with a bouquet of roses. This design will not give you a hard time making that impossible. A ball of vividly red roses with green leaves and is seemingly being pulled afloat by a flying bird (of great details too), this tattoo is hard to miss.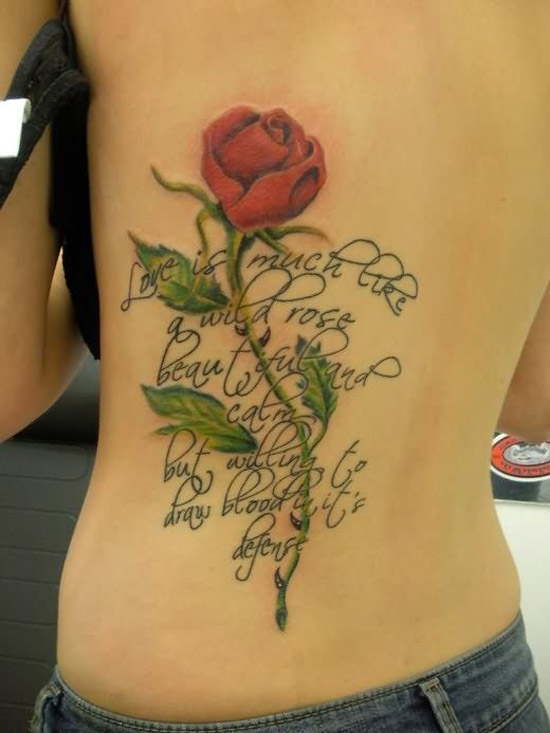 The classic red rose. The text surrounding it, inked in black, summarized what roses really are. They are a combination of gentle and fierce. This is as suggested by their thorns. This back tattoo makes a nice statement and is pleasant to the eyes as it is, because of the cursive text font used.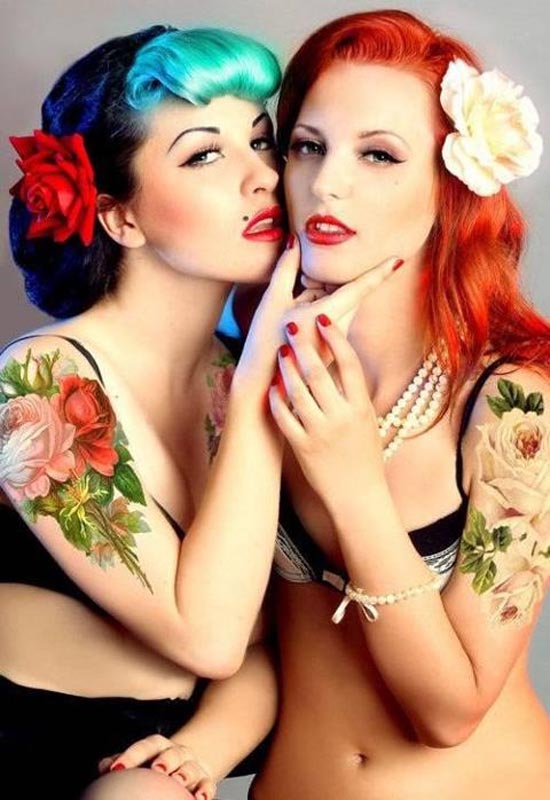 These roses are so realistic that they look freshly handpicked from the garden. The shading is beautifully made including the different hues of green in the leaves. Aside from a red rose, the design also has a pink and a white one which symbolizes admiration and purity respectively.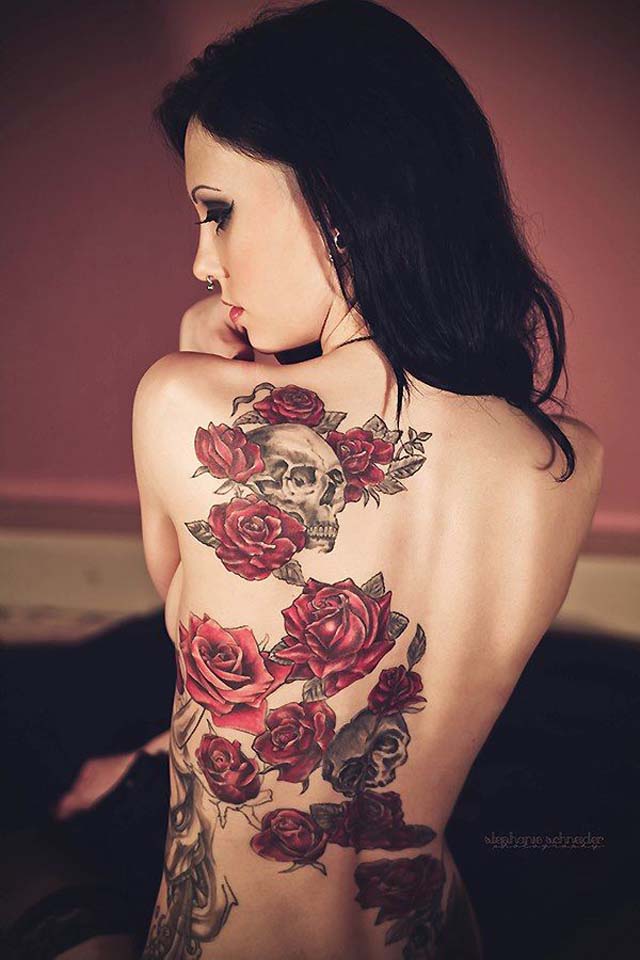 Roses for a tattoo often incorporate add-ons to accentuate them further. This design makes use of another iconic and staple tattoo symbol, the skull. Situated just behind the right shoulder, the skull is surrounded by roses in red ink which cascades further down the back.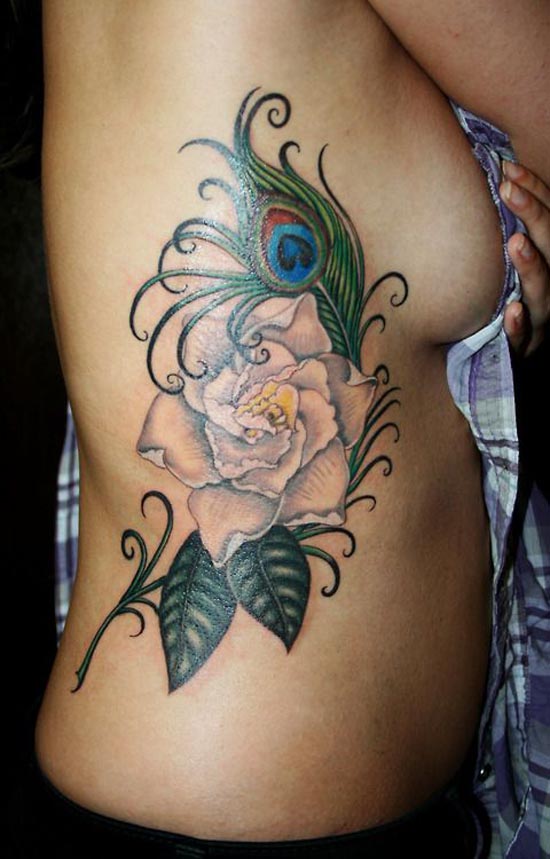 Two beautiful symbols of color and grandeur are roses and peacock feathers. This massive side trunk tattoo design combines the two complementarily. The rose is shaded in a pale hue as to not overwhelm the bright colors of the peacock feather.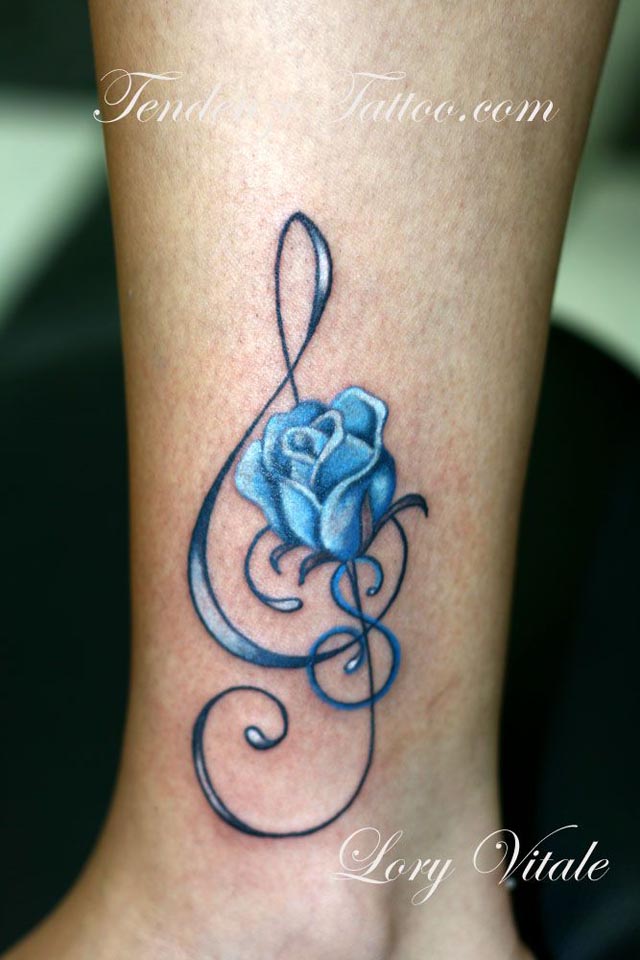 Everybody loves a blue rose as much as everybody loves music. These two favorites are united in this great tattoo design. The single blue rose stems out a blue stem which curls to form a G clef. An ingenious and attractive design.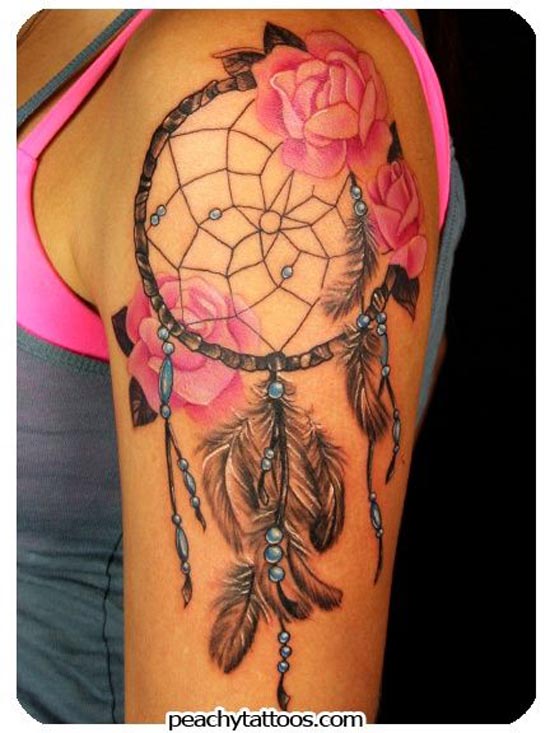 This arm tattoo is composed of a beautiful dream catcher adorned by surrounding pink roses. The net inside the dream catcher is weaved ,forming another flower-pattern. The "bead work" and feather elements add up to the beautiful elements this tattoo design has.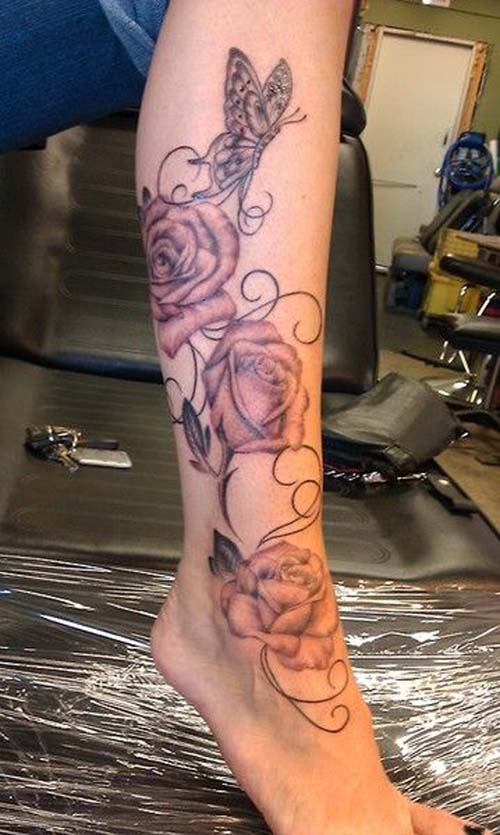 Three huge roses surrounding a leg are what this tattoo design is offering. The three large roses in full bloom are shaded to give an old rose effect. The roses are connected by flirty vines. In addition, a beautiful butterfly sitting atop in a sideways position caps this body art.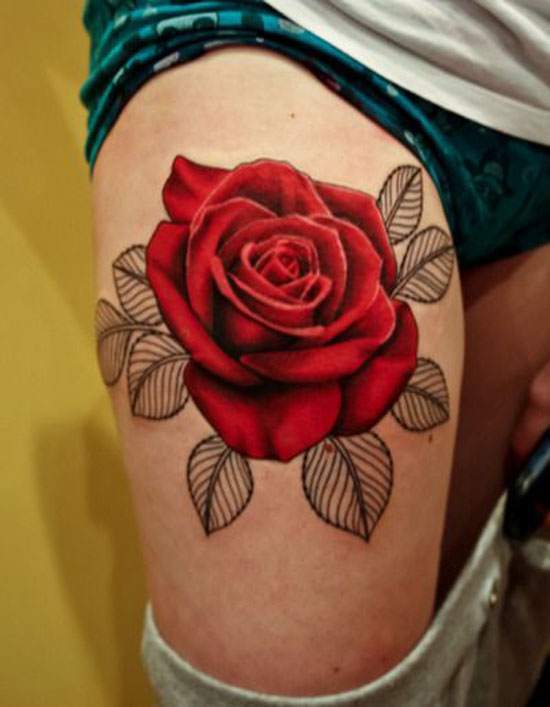 This leg tattoo design comprises a large red rose with outlined leaves. The red shading on the petals of the rose is so realistic it looks like a photograph of a real rose. To give contrast to the softness of the flower, its leaves are inked black and outlined without any shading.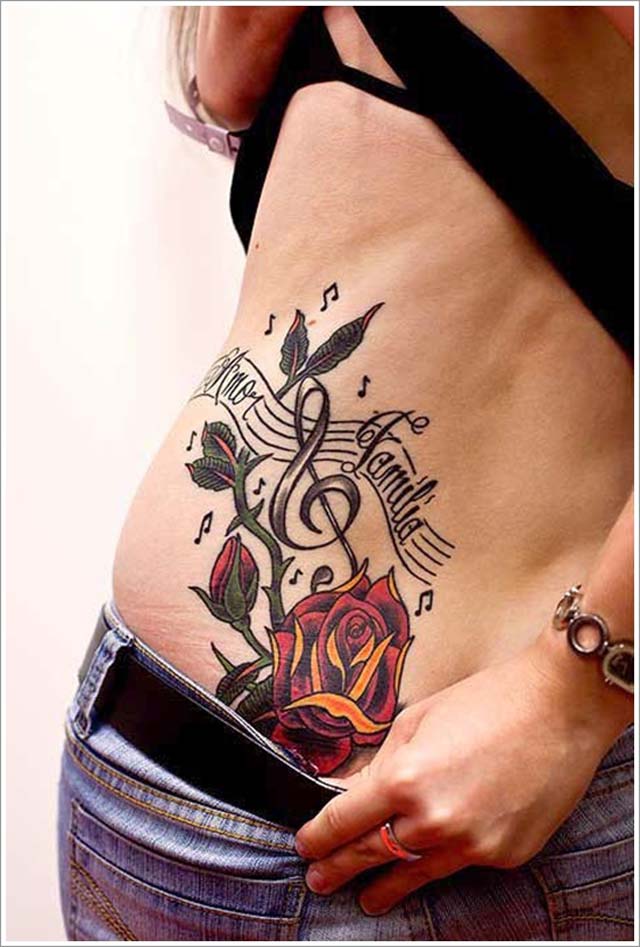 Music and roses both relate to romance, and are both featured in this design. Musical elements such as notes, the G clef, and staff with some written lyrics house the centerpiece which is a grand red rose. It is not a linear design as the icons are playfully angled.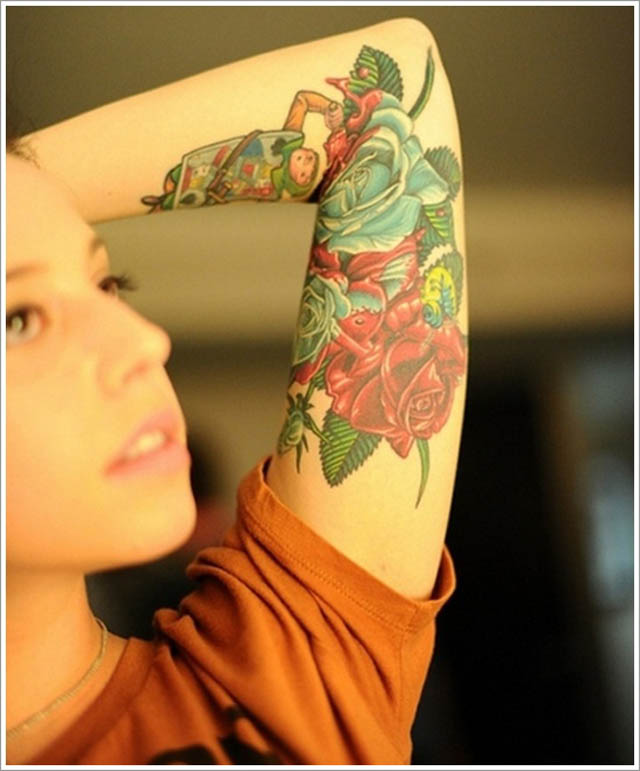 This very detailed red-and-green sleeve tattoo is hard to miss. The contrast of the colors demands attention. Moreover, the green does not come from the leaves alone. Alongside the red ones are green roses too.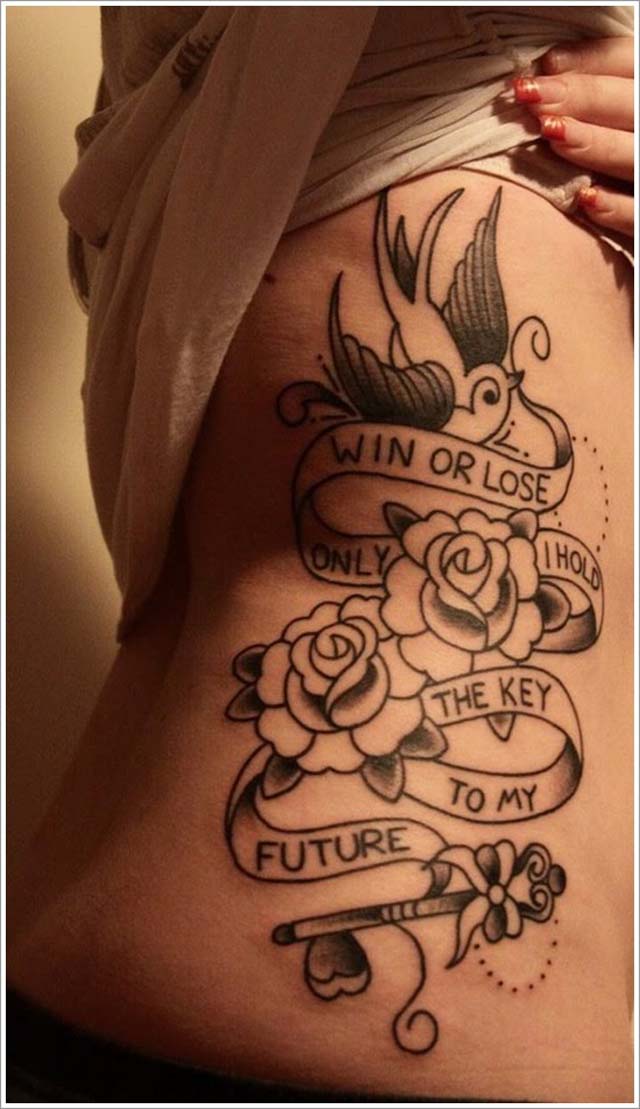 There are several key (literally) elements in this tattoo design. It is composed of a bird, a rose, a banner, a statement, and yes, a key. The whole art is outlined in black giving it a sleek kick to it.