Tying the knot is always completed by a group of loved ones and friends attending as witnesses to the celebration of marriage. Their presence is an integral part not only in rejoicing, but in attesting to the love expressed, and the vows exchanged by newlyweds. Guests form a huge part of all nuptial preparations, no matter how small they come in numbers.
Of friends and flowers, a wedding is a day of happy and beautiful things. Extending gratitude to wedding attendees is done mostly by verbally thanking them during reception speeches. Traditionally, however, it is also gestured by giving tokens of appreciation or souvenirs. In addition, they would be a good reminder of that day of unison, the start of forever.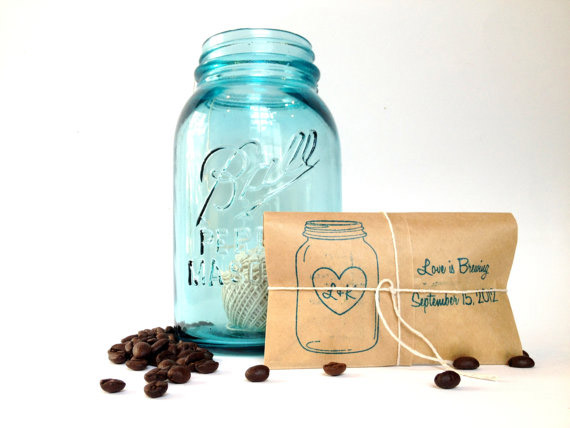 This wedding memento is not just personal for being handmade, but is also very unique and tasteful – literally. Coffee never goes out of fashion. Wrapped in a beautiful paper packet and bound by a string, twine, or ribbon or choice, these coffee beans surely will make any guest perked up with excitement.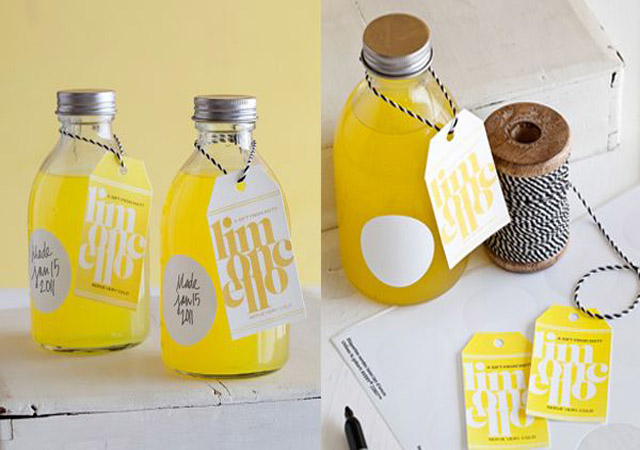 Preparing wedding favors does not require spending too much to me memorable. This homemade souvenir suggestion is simple but iconic – and drinkable. A mixture of lemon juice and vodka on a pretty clear jar is both appealing to the eye, and quenching.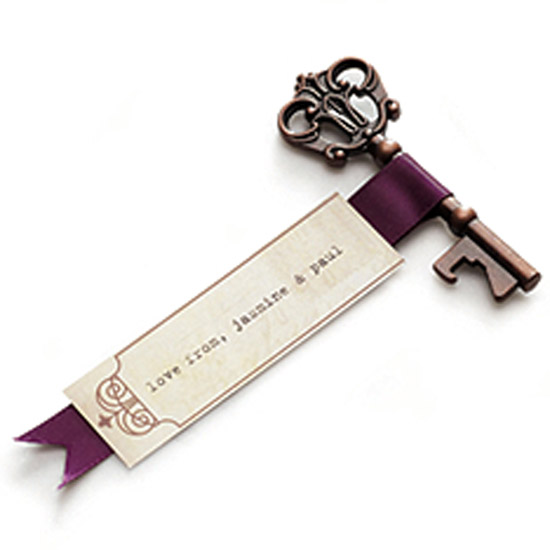 Cap your wedding celebration by giving your guests this very classy token. An antique, old-fashion styled key would be remindful of a large mansion or castle. A symbol of a fairytale-like wedding. It can also be used as a bottle opener. A symbol of merriment. Just add a thank you tag and you will be thanked in return.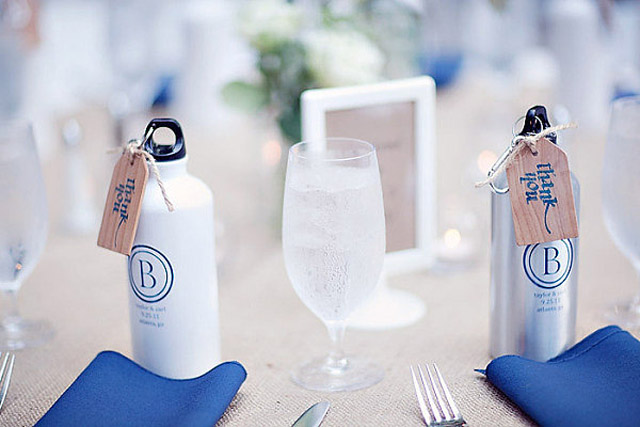 The most remembered gifts are those which can actually be used. These personalized water bottles are not just unique wedding favors. They are also very useful. They may come in a classic variety of silver or white. Have them printed with you and your spouse's initials, plus the wedding date, and all that is lacking are the thank you tags to go with them.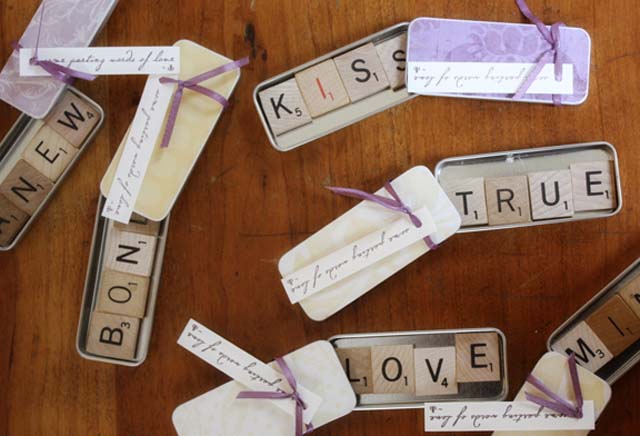 Your wedding keepsakes may be uniform in material but each guest will receive a 4-letter message apart from the rest in this Scrabble-tiles wedding favor idea. Just glue each tile with a magnet and have the letters stick in a tin container. There will certainly a buzz from comparing guests. The day ends up poetically.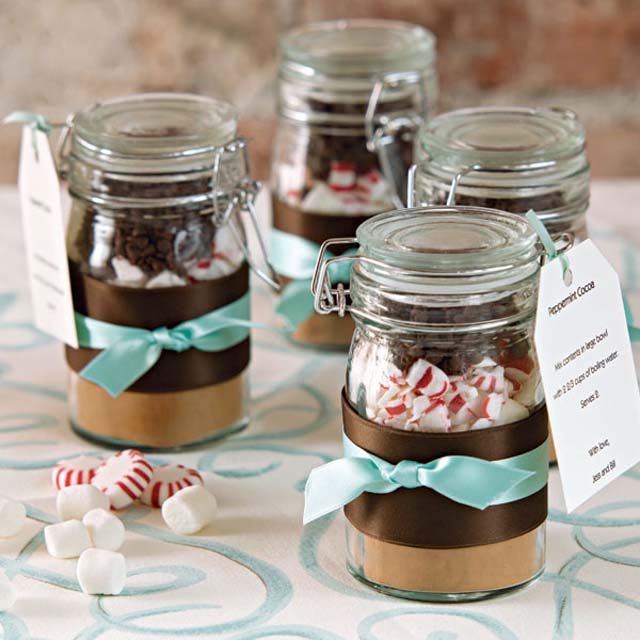 Spread the love and the sweetness of your wedding day by giving your guests edible remembrances. This idea is a cool layering of sugar, cocoa powder, powdered milk and salt in a clear pint-sized jar. Before capping, add crushed peppermint candies and marshmallows. Supply with ribbons and tags of choice. No guest would not smile in this token of appreciation.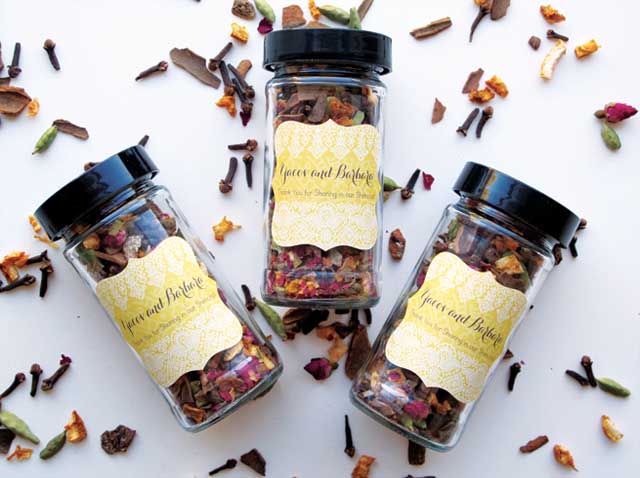 "Sugar, spice and everything nice" literally comes in these bottled wedding favors. For "sugar and spice," a bottle can be filled with a sweet and spicy rub while you can use curry for the "everything nice" bottle. Two bottles of flavorful and colorful spices, boxed together, designed, and tagged for each guest.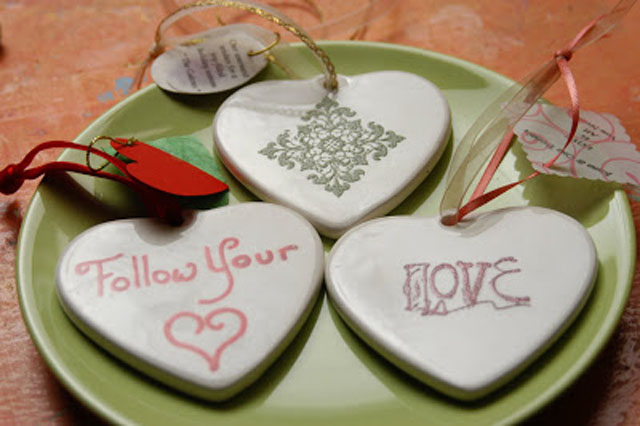 This wedding favor idea is definitive of how grateful you are to your guests. A labor of love, they are of classic and elegant quality. Porcelain is always precious. Especially if made out of scratch. They can be personalized my metallic ink and stamps and may be pierced for a ribbon to hang it with.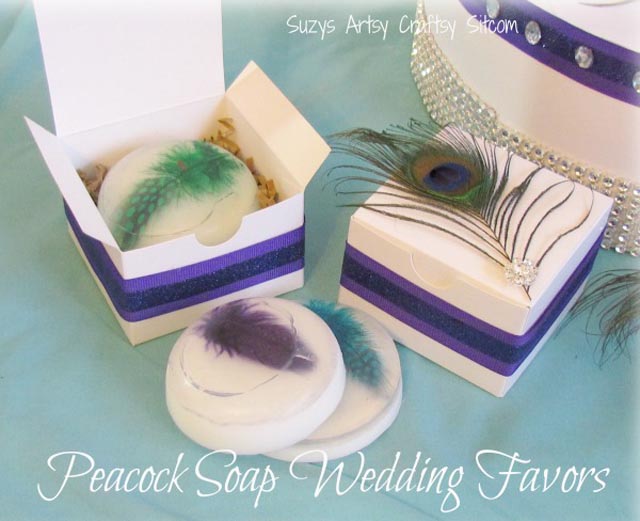 These boxes of souvenirs contain both elegance and fragrance. It makes use of the grand peacock feathers and personally-made soap. House them on boxes of same stylishness and adorn them further with studs and ribbons, and you guests will surely not forget your wedding.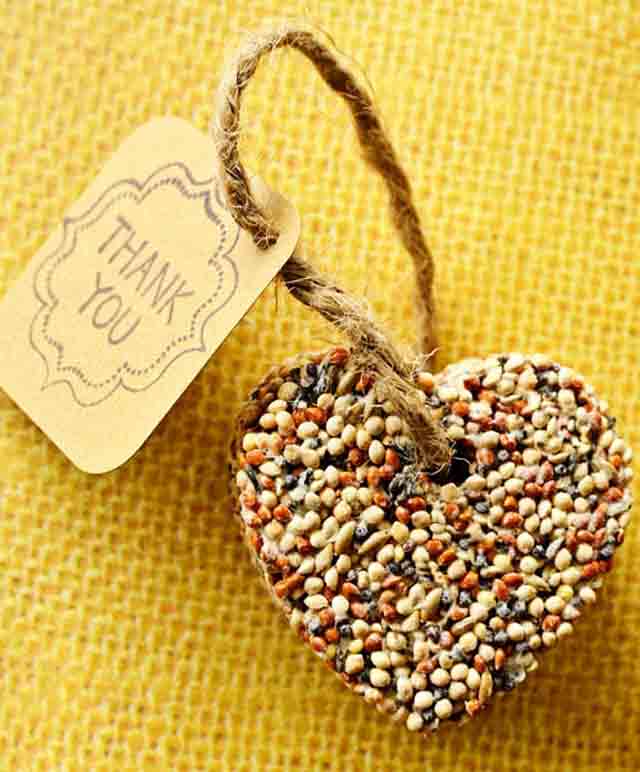 This organic idea of a wedding favor is very colorful, inexpensive, and easy to do. Birdseeds give a rustic palette of colors. Mix them together with binding agents of flour, water, gelatin, and corn syrup. Mold them in heart-shaped cookie cutters and you are ready to let dry your one-of-a-kind wedding favor.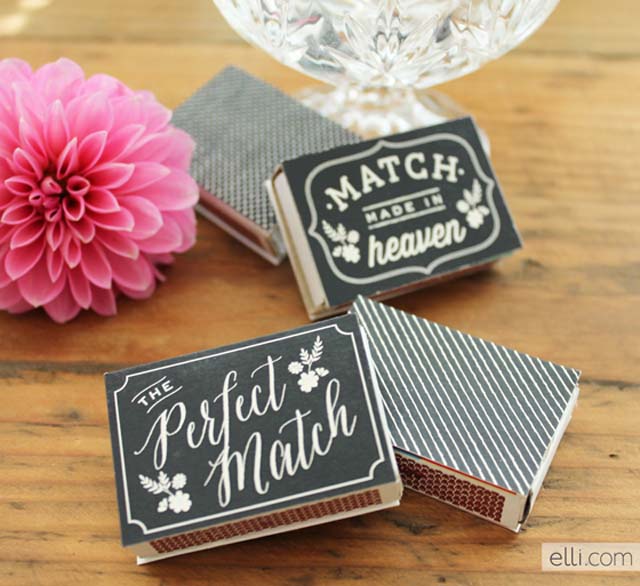 Ignite fire on your wedding favors by giving out matches labeled personally. Theming on chalkboards, you may circle on them when printing out your designs. Being the "perfect match" that you and your spouse are, these keepsakes will definitely make your guests smile.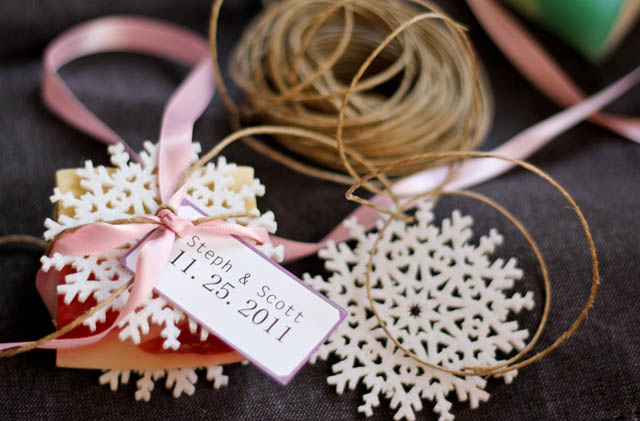 You can handmade your wedding favors by preparing bath soaps. Lavish and fragrant as they are, satin ribbons tying them steps it up further. Tags, twines, and other decorative add-ons can set the theme similar to the rest of your wedding.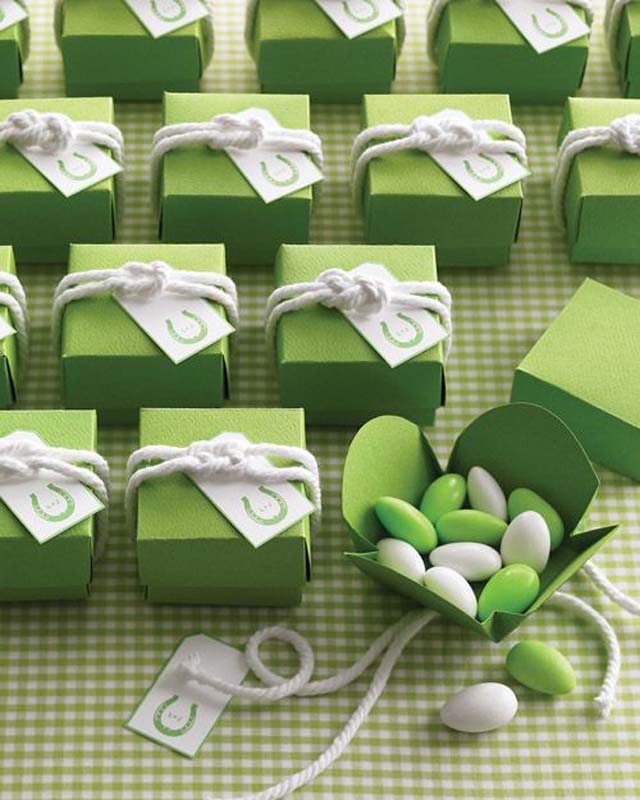 Stuff your favor boxes with covered almonds. This wedding favor makes uniform colors for the boxes and the almonds depending on your motif. Not just pleasant to the eyes, these edible goodies will surely be a hit to your guests. Bind them with sailor strings where you can hang your thank you tags.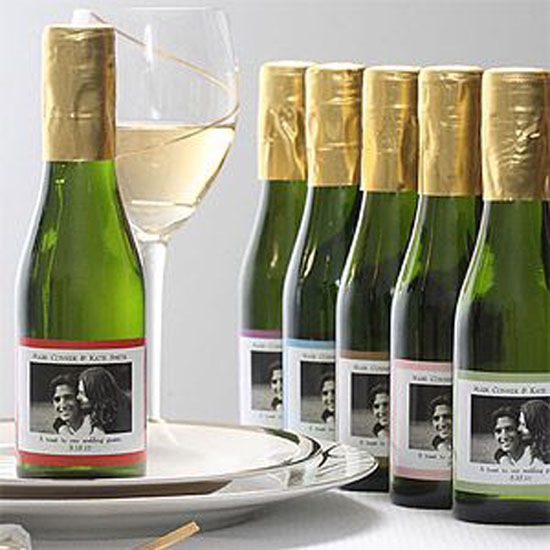 On your wedding, you may give out mini wine bottles. They may represent your love growing only sweeter with age. You may personalize them by labeling them with your lovely couple photos captioned with the date of your wedding or any message you wish to extend to your guests.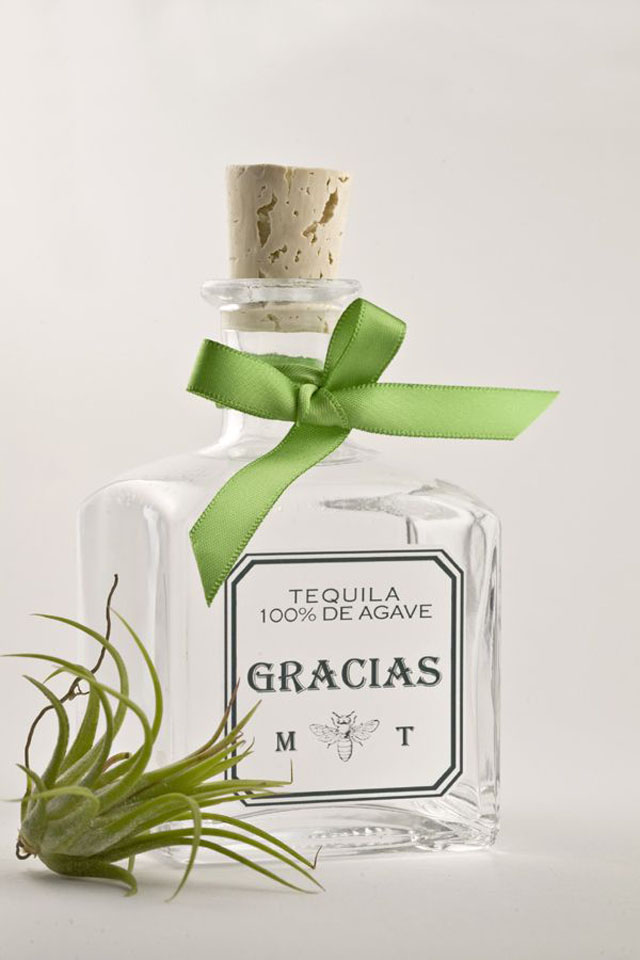 Message in a bottle is what this wedding favor is all about. But the message is actually on the tequila bottle, not inside it. You may commission bottle printing services with thank you messages and designs of choice. Seal it up with cork and embellish it with a ribbon that suits your motif.