15 Beautiful Butterfly Tattoo Designs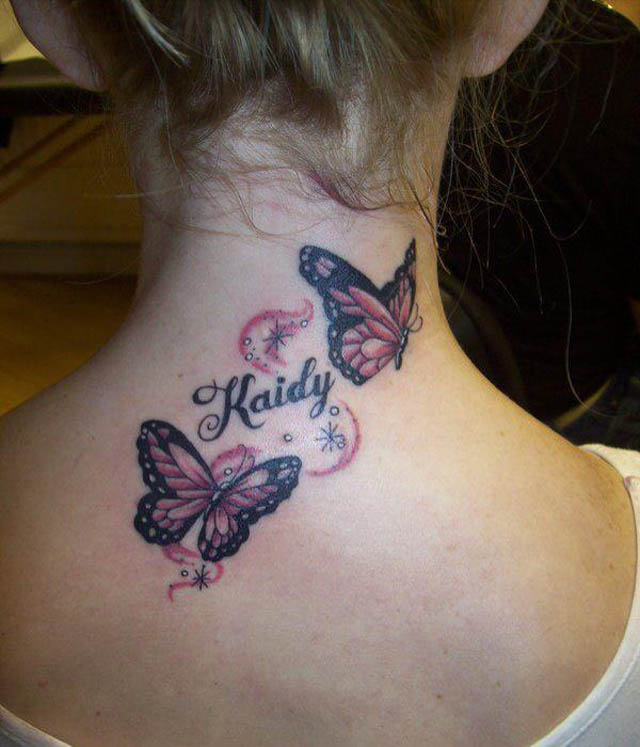 Butterfly tattoo designs are so popular nowadays. Butterflies can stand alone as a tattoo design. However, it is not uncommon to see a juxtaposition of additional elements. It may go with a skull, a cross, a dagger, a banner, or flowers, but the most popular are butterflies just like the following tattoo designs suggest.
The same holds true with the beauty of a butterfly. It is a mythical creature we actually see regularly. It is often associated with what is grand and colorful. Here are some of the best butterfly tattoo designs that you may actually try.
A blue butterfly and an orange butterfly star in this arm tattoo design. Both beautiful creatures are resting on branches of a pink hibiscus plant. The shading in the flowers and the butterflies, along with the twigs are superbly done.
Black butterflies of elegance fly behind you in this great back tattoo. Two butterflies of different sizes are inked black and similarly patterned and outlined. They are positioned just under the right shoulder. A minimalist and sleek approach to tattooing.
Dainty little butterflies adorn your back in this tattoo design. Although solely colored black, the angles of each butterfly suggest that they are playfully soaring high. Each also has a pair of uniquely patterned wings.
This red-and-blue back tattoo is a tribute to colorful butterflies. The stenciling of the butterflies is similar to the shape of the real creature, and not whimsically made. The butterfly on the topmost part (shoulder-level) is the largest, followed by a by-size troop, to the smallest.
A fly, a bunch of shrubs, a butterfly, leaves, and pair of scissors randomly compose this poetic arm tattoo. The butterfly has a pair of very beautifully patterned wings. Everything is outlined in black ink, and is a very enticing crypt, overall.
This colorful tattoo makes use of a multi-colored butterfly and a helm (ship's steering wheel). The butterfly is colored black, red, orange, and the skin tone for the area of the pattern left uncolored. The patterns in the butterfly are almost of an ancient cultural feel.
Two mystical turquoise butterflies are depicted in this design. The creatures are seemingly floating in a smoke of black streaks and pink flowers. A definitely catchy shoulder tattoo.
Here is an attractive back tattoo just below the spine. The design is very linear, having a huge butterfly in the middle, as a centerpiece. Curving lines emerge horizontally from the butterfly, and for small butterflies hover above the design. Everything is inked black.
A foot tattoo with a majestic butterfly, this design is nothing short of pretty. The butterfly is colored fuchsia and black thus providing a striking contrast. It is further adorned by patterns and flowers.
This artsy and whimsical lone butterfly is flying but illustrated on its side view. In effect, it looks like a butterfly which lost the other half of its wings. The brown-yellow-orange shading for the wings are impeccably made too. A one-of-a-kind butterfly.
Here is a pink-and black butterfly tattoo positioned on the nape. It has two butterflies flying beside the name Kaidy (changeable), making it appear like it is protecting the person with that name. Further, it has pink shadings suggesting movement.
Everybody sees everything neon. Especially these neon-inked butterflies arm tattoo design. Five beautiful butterflies which are shaded in the arm and not outlined, this is a total standout.
The whole back is a canvass for this colossal colorful butterfly. The four corners of the wings reach the shoulders and the lower back sides, and the body of the butterfly is illustrated on the very position of the spine. A majestic tattoo of details and colors ranging from hues of blue to red and orange.
An anklet will no longer be needed in this intricate gray-and-silver foot tattoo. The two elements of a flower and a butterfly are connected by cursive outlines with leaves. The wings of the butterfly wittingly hid initials. Subtle but decorative.
Here is a very genius tattoo art. Each forearm has the exactly, and identical design of the other – only, inverted. A butterfly on top of a rose on one arm, and a rose on top of a butterfly on the other. Both are perfectly shaded and solely use the color black. The shadings differ, making it avoid a flat feel to it.
14 Healthy Smoothie Recipes To Try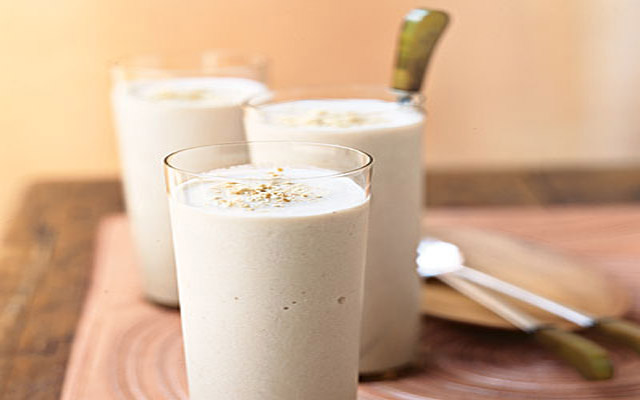 Getting rid of all the unnecessary fats in the bodies is quite difficult. They become conscious of what they eat and sometimes they neglect the nutrients in the body. But this generation has given the weight conscious people more options of food to eat. Not only has that, several studies been made about foods with low calorie content but high in protein diet. There are many recipes available worldwide offered for those who want to have a great figure.
Now who says you can't enjoy dessert and sweets while loosing weight. There are available non-fat food products in the market. To enjoy loosing weight while maintaining the nutrients in the body, there are several protein shake recipes available in the market. You can also make your own protein shake. With a little bit of studying about food diet and exercise they will soon achieve a desirable outcome.
Mango Kiwi Shake. Enjoy the healthy Mango Kiwi shake. Most of the ingredients of these shake are good for the growth of your hair. But wait, there's more! It is also good for your skin because Kiwi is pack with Vitamin E nutrients. Mangoes are rich in Vitamins A and C, which strengthens your immune system.
Banana Cream Pie Smoothie. Are you weight conscious? Banana cream pie smoothies have non – fat milk and yoghurt, which does not crash your diet. Banana fruit is rich in potassium and milk provides you calcium both nutrients will benefit your bones while your on a diet.
Orange Smoothie for Weight Loss. Loose your weight with orange shake! Drop the orange into the blender. Then add the chopped carrots and ginger. Spill some water unto the blender. Let it blend until it becomes smooth.
Strawberry Mango Banana Shake. Satisfy your smoothies craving with strawberry mango banana smoothies. Strawberries have low caloric content, which is good for those who want to loose weight. Mix a cup of strawberry, sliced mangoes frozen banana and orange juice into the blender. Let it spin then add vanilla yoghurt, honey and 6 ice cube then blend it again.
Strawberry & Banana Smoothie. Toss the strawberry and banana into the blender. Add three cups of milk and yoghurt unto the blender and let it spin. Enjoy the fresh cool strawberry and banana smoothies.
Peach Mango Smoothie. Catch one of the healthy green smoothie recipes this summer. Its Peach mango smoothies! Peach fruit is high in Vitamin A and C. This fruit also helps in fighting diabetes and heart diseases.
Healthy Green Smoothie Recipes
Spinach Smoothie. Spinach does not only make us strong but it also improves our skin with its Vitamin A content. Grab some spinach and grind it in the blender. Mix it with chunks of avocado, pear and grapes. Blend it still with yoghurt and lime juice.
Green Goddess Smoothie. Go for green vegetables and make a healthy breakfast smoothie recipes. Find a couple of green leafy spinach and mint leaves. Then throw them with the cucumber, avocado and kiwi into the blender. Let it splash with yoghurt and orange juice.
Healthy breakfast smoothie
Banana Oat Smoothie. Oatmeal is good for your digestive system. It helps you prevent constipation. Blend it well with yoghurt, milk and banana. Don't forget to add a few drops of honey and a dash of cinnamon.
Creamsicle Breakfast Smoothie. Looks like were going to get more potassium with Creamsicle Breakfast Smoothie because it has coconut water. Place it in the blender with the yummy yoghurt and slices of mango fruit. A touch of orange juice and ice cubes will make it tasty and cooler.
Healthy Smoothie Recipes for Kids
Peanut Butter Banana Green Smoothie. Do you love peanut butter? You can make a smoothie with a creamy peanut butter. Mix it with milk, vanilla, yoghurt and frozen banana. Toss it all in the blender and viola! There's your peanut butter banana smoothie.
Monster Green Smoothie. Play scary stuff with your kids with this monstrous green smoothie. For this recipe, you'll need almond milk, fruits that are good sources of vitamin c, which are apple juice, pineapple, apple, banana, kiwi and spinach. Shake them all together in the blender with ice cubes.
Healthy smoothie recipes with yogurt
Passionfruit, Banana and Vanilla Yogurt Smoothie. Summer is coming and it is getting hot, hot, and hot! So make the coolest refresher out of a creamy yoghurt and milk. The passion fruit is rich in Vitamin B2 and riboflavin. Mixing it with banana, yoghurt, ice cream and vanilla into the blender will make it taste oh so good.
Raspberry-Beet Smoothie. Get those raspberries from your chiller and shake it with spicy beetroots. Smoothen with yoghurt and cranberry juice. Cranberry juice is good for those who have kidney disease such as urinary tract infection.