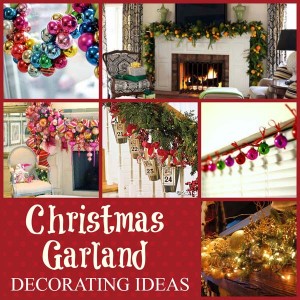 The Season is just around the corner.
As the temperature goes down and we prepare for another celebration, we put up our decorations. Every year, we try our best to make our homes look special. By decorating every room and nook of our houses, we try to bring in the Christmas Spirit.
For sure, our list of Christmas decorations is incomplete without garlands. With garlands, we make every corner of our houses give off the Christmas vibes. They are handy; all we need to do is hang them there and let them Christmas-fy our homes.
Another plus for garlands is the fact that they are very customizable. First of all, they come in different colors and thickness. Some you can hang them as they are, while some leaves you a space for creativity. You can even make some of your own. Here are some ideas that you can do with your garlands:
Bright Lights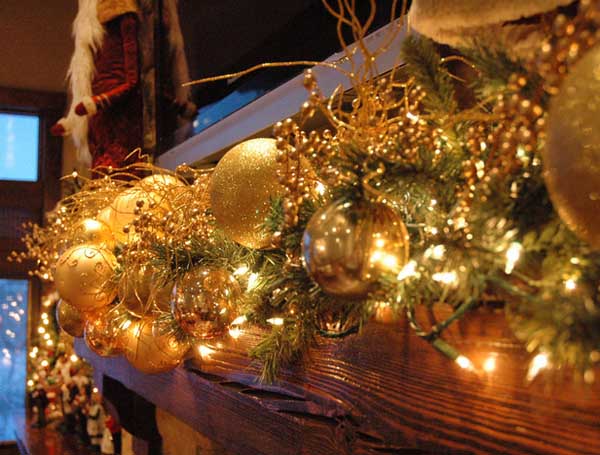 This décor is just right…and bright. Accompany your garlands with everything you want–Christmas balls to mistletoe to holly to pine cones…everything! You can experiment with whatever you have in store and go with a theme. Any part of a home decorated with these bright golden, garlands will glow with Christmas spirit. Don't forget the lights for the magical feel!
Sassy and sweet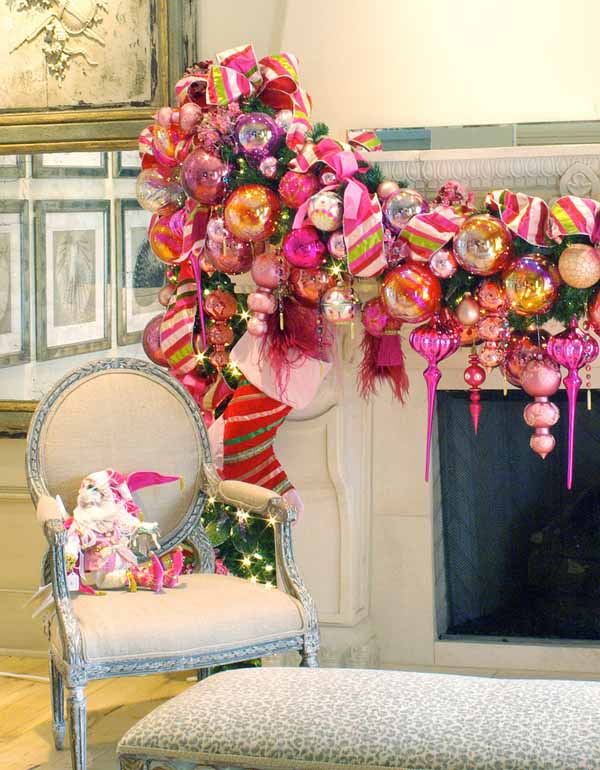 Would you look at this—you'll get a toothache just by looking at this! By "experimenting" as said before, we mean this! Don't feel be afraid to deviate from the norm; you can go bright pink or pick other colors aside from the normal red, green and white to hang around your home. Just look at this, for sure the fireplace stands out and looks loud with pink and the stripes. Maybe Santa'll drop more treats once he gets down from the chimney, you think?
Warm and bubbly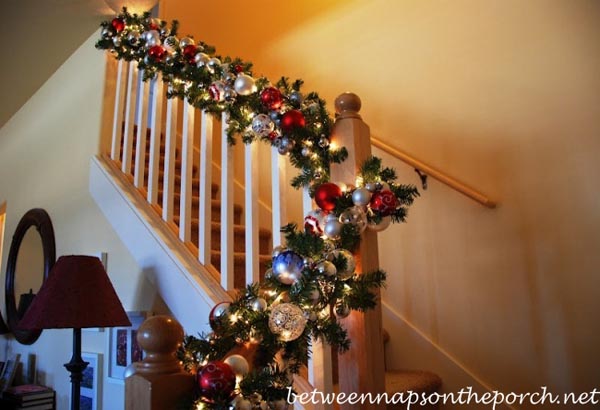 The dim lights give off a warm, cozy vibe. Stick some Christmas baubles to your green garlands and add some sparkle with lights, then wrap them on the handrails and still feel the Christmas vibes as you go up and down the stairs.
Bauble up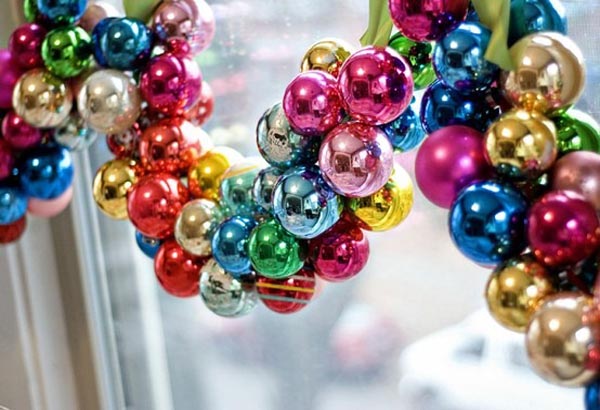 Feeling a little urge to experiment? You can hang up Christmas balls instead of actual garlands. Believe it or not, these baubles possess their own magic, such that you can put them there as they are and bam! You now have the Christmas vibes.
Classic but classy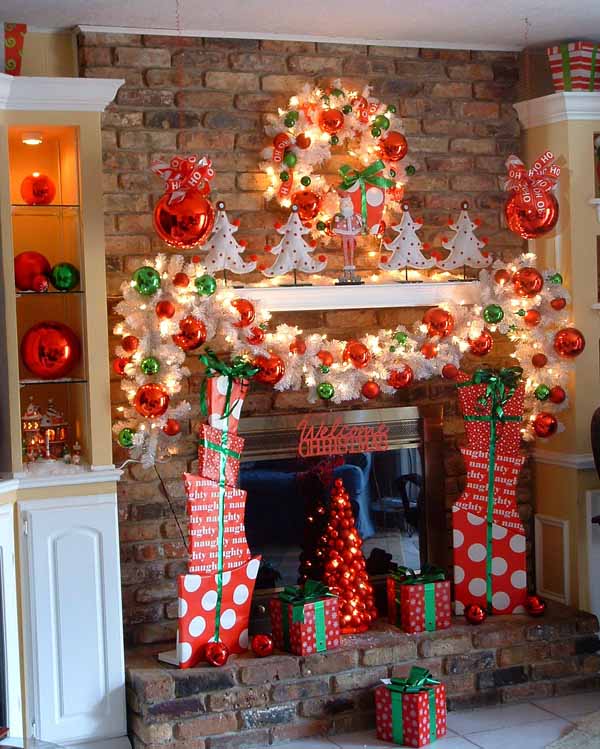 For sure, the classic never goes wrong. Here is a fireplace saying a very loud "MERRY CHRISTMAS" to you. Nothing beats the classic red-green-and-white combination, right? For some change, you may opt to have a white garland with some red and green trinkets and make it sparkle with some lights.
Creative and handy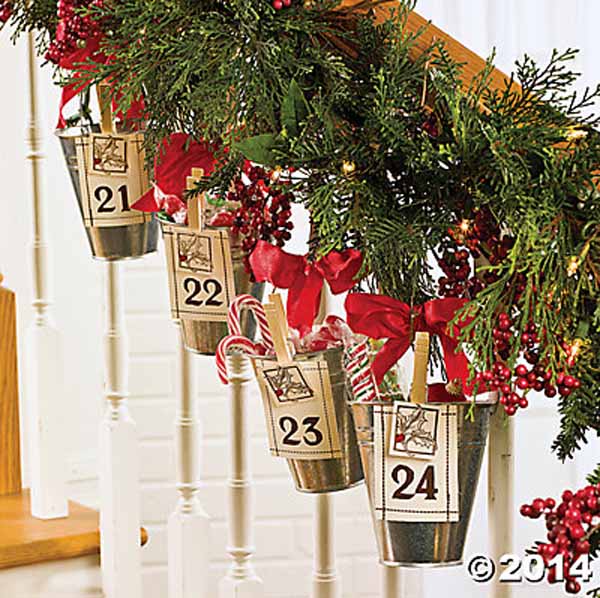 Those candy canes are just too cute to be stored until Christmas, right? So here, use them as your décor! Hang them on your garlands in Christmas socks or customized buckets like this one in the picture. Just remember, if you have kids at home, keep these canes out of their reach—or else they wouldn't last until Christmas! Or if they still reach them, make sure they brush their teeth after eating them.
Snowy and white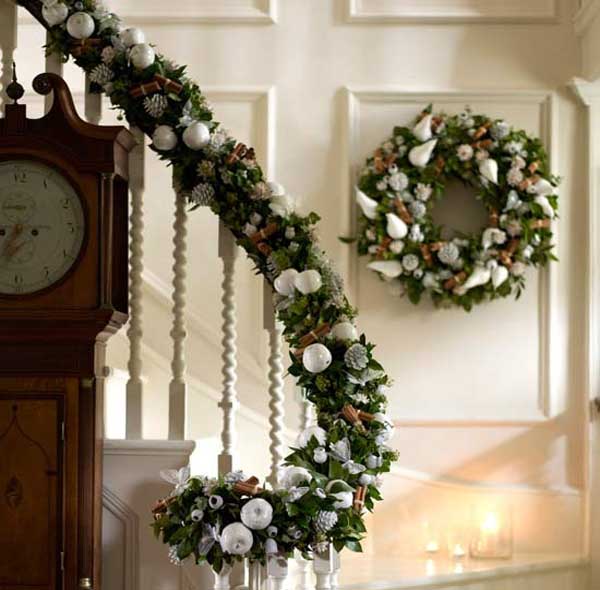 If you want some snowy, white Christmas feel inside your house, you can put white trinkets on your garlands and wreaths like this. They look simple, yet elegant and sophisticated.
Simple, subtle, snowy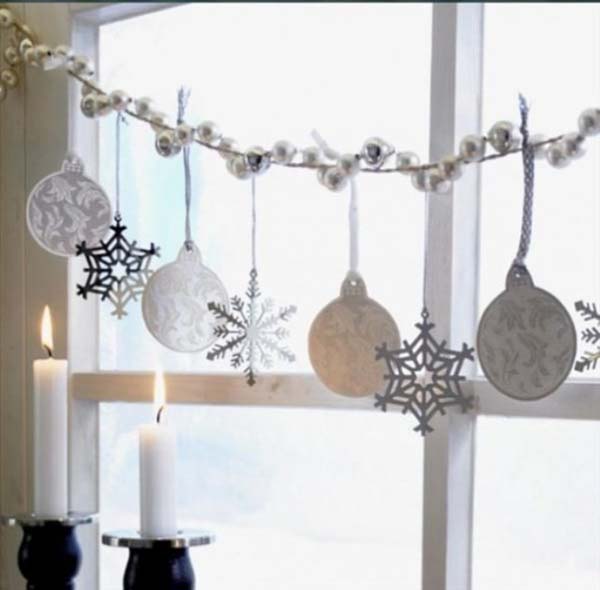 Here is another example of a décor that you can do by yourself. All you need to do is cut outlines of Christmas balls and snowflakes from cardboard then decorate them to your taste, and finally use some string to hang them. Again, don't be afraid to experiment with the cutouts. In turn, you'll come out with a wonderful snowflake mobile!
Tinker with trinkets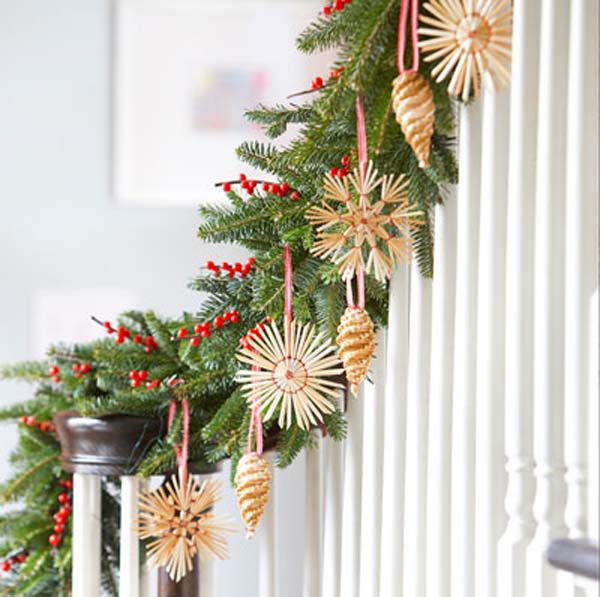 Just look at this simple ornaments hanging on the garlands! Look for star-shaped or snowflake-shaped decors from stores and hang them with other little things. A little tinkering with trinkets does the trick.
Zest the Season to be jolly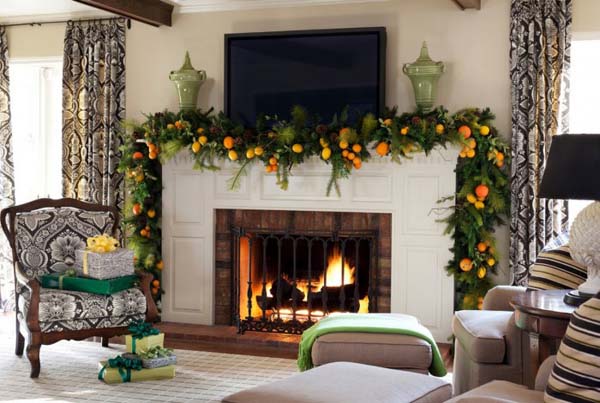 Knock knock!…Who's there?…ORANGE …Orange who? ORANGE these garlands look a little zesty? Hahaha…
Kidding aside, aren't they? Whether these are real fruits or not, we don't know. But we know for sure that this is a cool idea. The citrus fruits match the orange color of the flame in the fireplace, see?
Just hanging out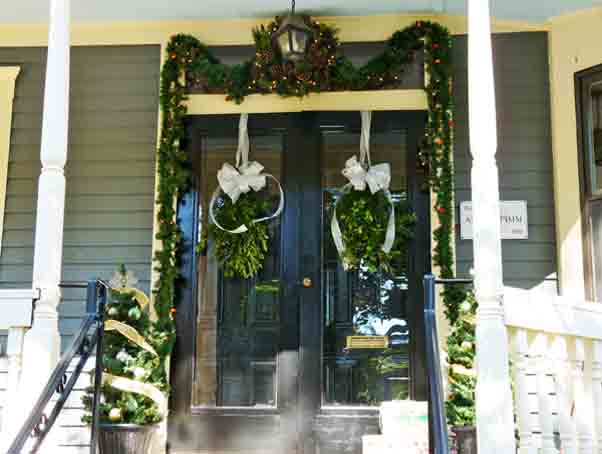 You can hang your garlands in front of your houses, too, and tell everyone you're celebrating Christmas through your doorways. Why, there is no reason to hide your ornaments from your neighbors, right?
Winter wonderland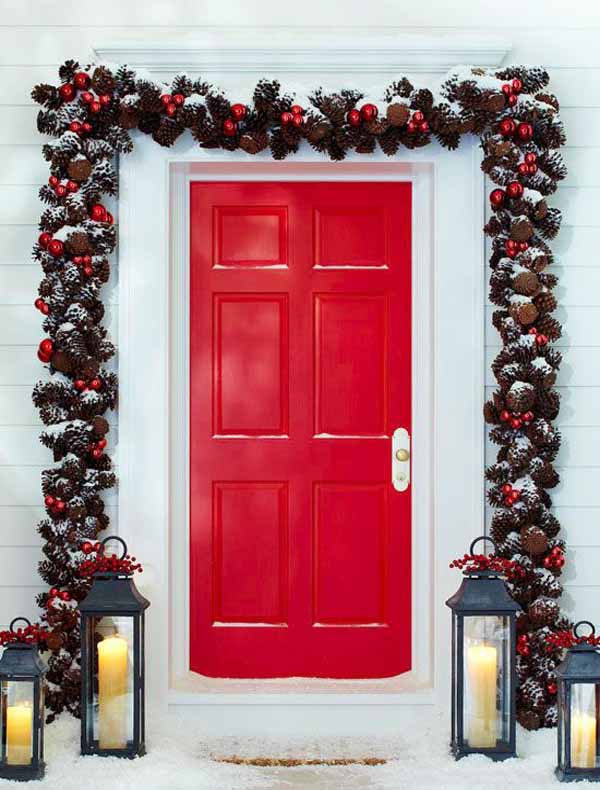 You have whitewashed walls and a scorching red door. Hang a dark-colored garland on your doorway and put some pine cones and red trinkets. Then, let the snow fall and now you have a perfect chic-looking doorway for winter!
Cute and cozy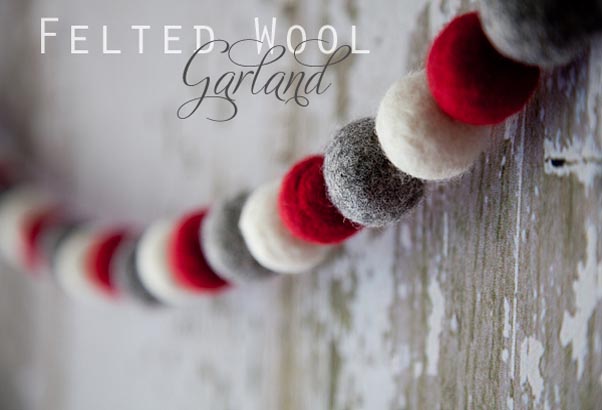 These cute little puffy felt balls are give off the cozy vibe for Christmas. You can hang them wherever you like—on the walls, the fireplace, the doorway…everywhere! Uhm, maybe not on your necks, because we have scarves for that. 😉
Simply pretty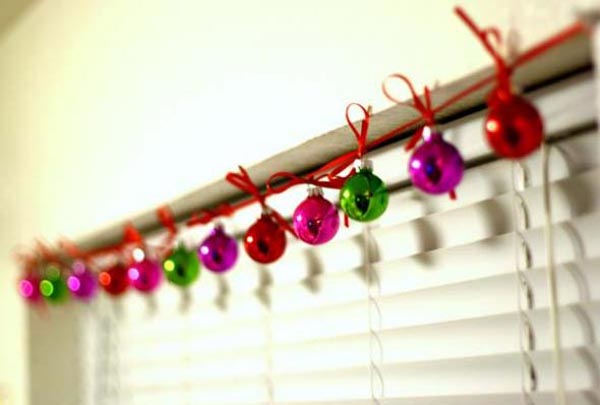 Again, the magic of the Christmas orbs. You may simply hang them using a ribbon like this and see that your windows became incredibly cute.
Fur, felt and fluff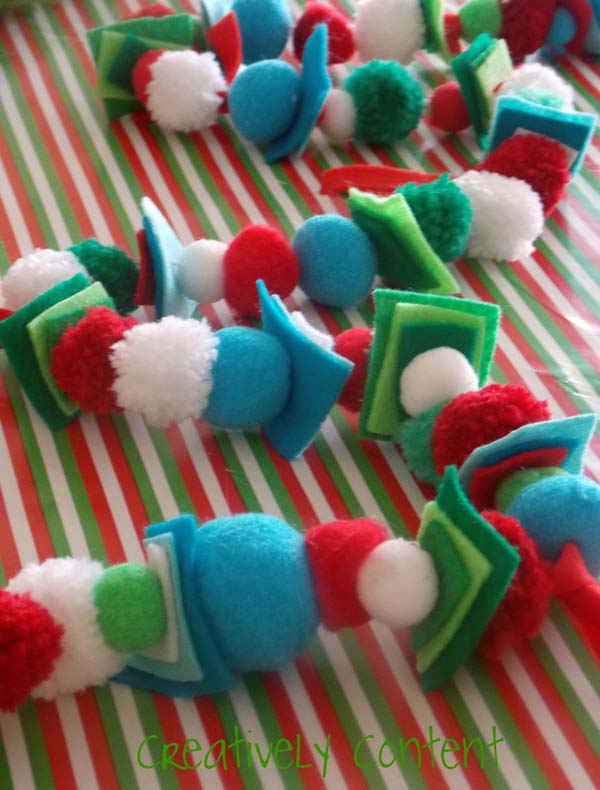 Who can resist this fluffy garland made of wool pompoms and felt? Not only does it looks cute and fluffy, it can also be done at home! All you need is some felt, pompoms (which you can buy from craft stores), a needle, a long piece of string and a pair of scissors. You just have to string the felt and pompoms in an order that you like (like 3 pieces of different-colored felt, then pompoms of different sizes and color).Additionally, believe or not, but you can make your own pompoms out of wool! Amazing!
Hangin' the Christmas tree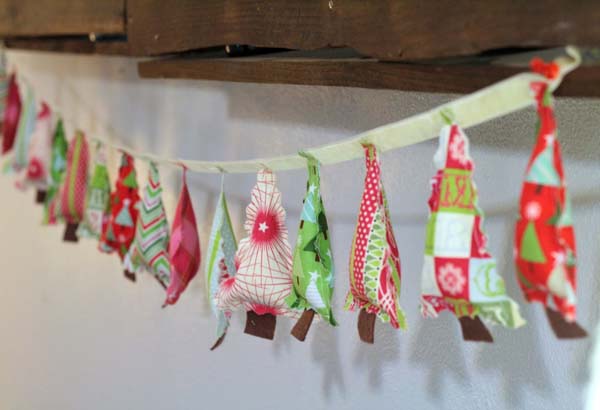 Normally, you hang ornaments on your Christmas tree, but do you know that you can hang your Christmas trees as ornaments too? This simple but cute decoration is another example of our DIY Christmas decors. You just simply cut out Christmas tree shapes from gift wrappers, paste them together with some stuffing then tape (or string) them on a piece of wire, felt or string. You can even use old Christmas wrappers to make this—very savvy, right?
Happy Holly-days!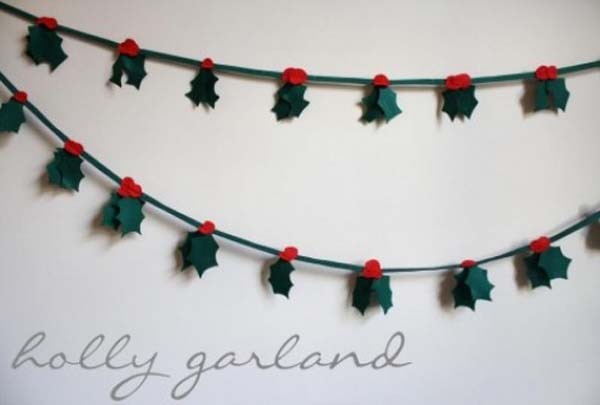 It's just holly and holly. You easily can make this out of colored paper and string in place of real hollies. Happy holidays!