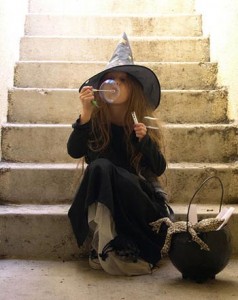 Homemade Halloween costume ideas aren't that difficult to come up with. Whether you want to add a personal edge to your scary frock or you can't be bothered to spend all that money on a costume you'll probably use only once or you just can't stand the thought of contributing to the growing pile of once-used garments and plastics in landfills, making your own Halloween costumes is a great idea not only in terms of money but also in personal style. Think about it. Those generic store-bought costumes might be snazzy and sharp, but there's always the huge possibility of walking into a party and seeing the exact same costume on someone else. It'll only get worse if that other person wears it better than you. Yikes!
Once upon a time, people made their Halloween costumes by themselves. They had no other choice. But then stores started offering witch hats and fairy wands. Before anyone realized it, stores everywhere were selling complete Halloween ensembles. Homemade costumes are one of a kind. You can personalize it as much as you want. It's a fun and creative way to get ready for Halloween. So what are you waiting for? Get inspired by these homemade Halloween costume ideas and unleash your inner ghoul this Halloween!
Image: TheDailyGreen
Best Homemade Halloween Costume Ideas
Here are some of the best halloween costume ideas that you can make yourself. No need to buy in the stores and spend a lot on Halloween costumes.
Scare Crow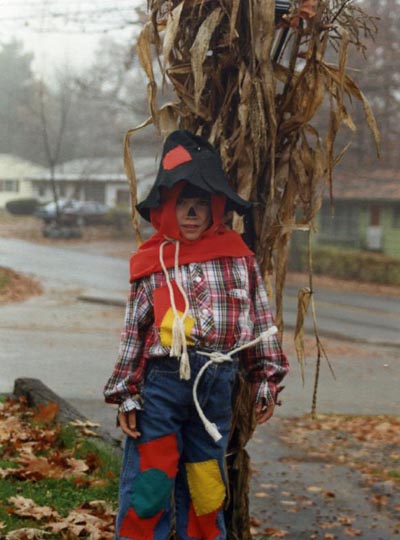 This is a nice halloween costume that you can create by yourself. All you need are old pair of jeans, some sewing skills, old checkered shirt and tattered hat and tada! You are now a scarecrow. Scare those kids who are doing the Trick or Treat!
Medusa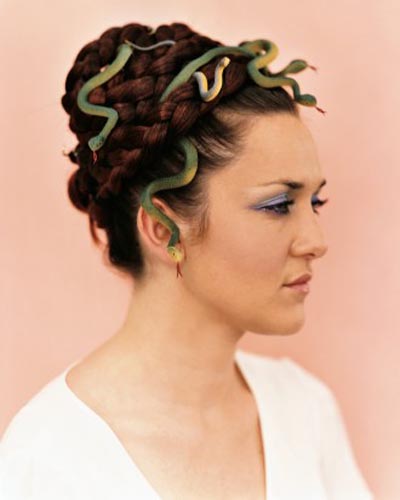 Scare your neighbors off with these snakes on your head. You can easily achieve this if you have plastic or toy snakes and decorate your hair with them
Ice Queen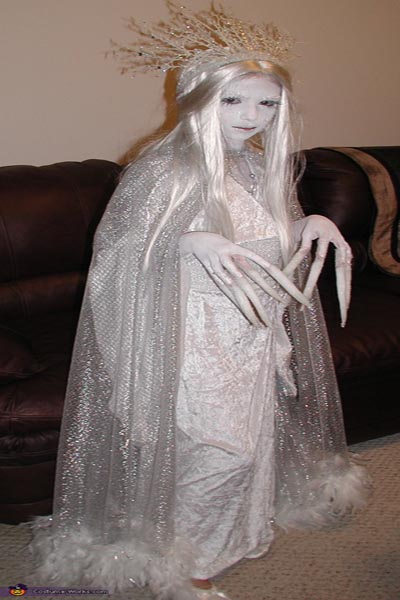 With the proper pieces of clothing and some touch of white makeup and powder, you can be an ice queen in no time.
Homemade Halloween Costume Ideas for Adults
Who says dressing up is just for kids? Halloween is that time of the year when you can walk around with a crown on your head or a bloody mask over your face and not be judged. Everyone should take advantage of such a great opportunity.
Cardboard Dinosaur/Reptile Costume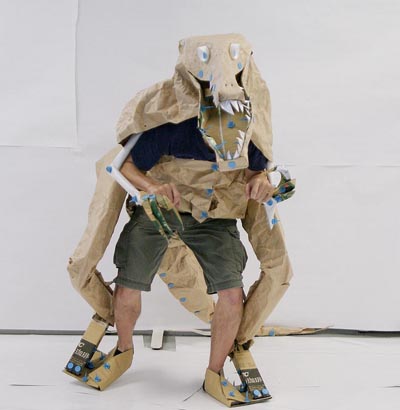 Want to get rid of those pesky unused cardboard boxes up in the attic? Why not try recycling them instead? With a few snips and folds and a little bit of tape, you can turn a boring old cardboard box into a fierce dinosaur costume. Or perhaps a crocodile instead? Cardboard is great to work with because it's sturdy and foldable. Be as creative as you want!
The Ring Girl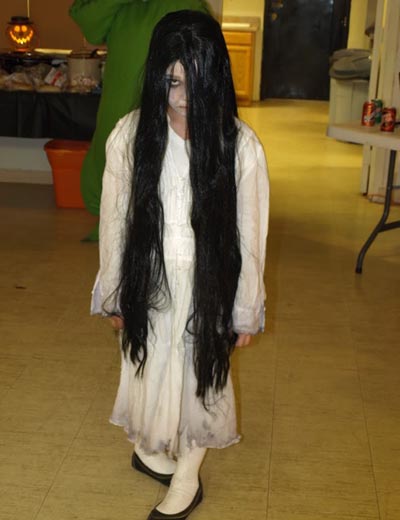 Are you a horror movie aficionado? The Ring is a popular horror movie that has terrified audiences since it first made it to the big screen. The movie's antagonist, the long-haired girl, is a particular favorite of many. You need only a tattered white dress and a long and messy jet black wig and you're good to go. Put on some eerie white and pale make up and you'll definitely give your friends a good scare.
Pirate Costume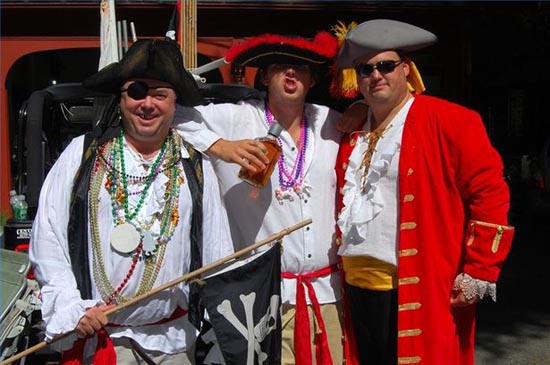 Avast, me hearties! Pirate costumes are one of those classics that everyone just can't get enough of. Landlubbers can look like a weathered pirate with a few modified household items. Sailor pants or worn out jeans can be used. A striped top should do ye s'me good. An eye patch, an empty brown bottle labeled "XXX", and a pirate hat (easily made with black construction paper or cardboard) with a jolly roger will make you look like an authentic buccaneer. And don't be forgettin' to speak th' pirate lingo, matey.
Homemade Halloween Costume Ideas for Women
Want to scare your friends with a spooky costume? Or do you simply want to dress up (and who could blame you?) and be the best dressed witch in town? Homemade costumes will definitely win you some shrieks or cheers. Strut your stuff and sharpen your fangs, ladies! Halloween is a time to shine!
Homemade Candy Costume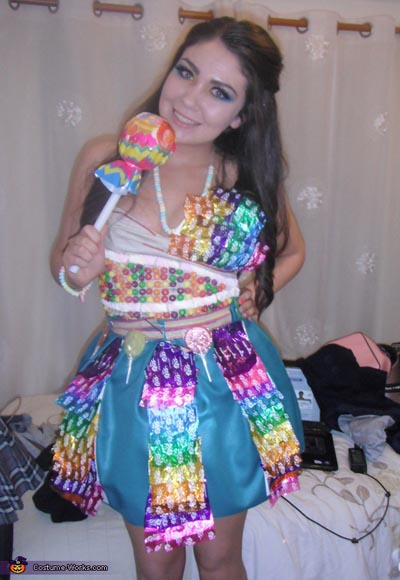 For sweet-toothed gals, dressing up as your favorite dessert is as easy as A, B, C. Tights and leggings (in the color that suits the sweet treat, obviously) will be your base costume. A recycled laundry basket or a loop of wire and some fabric should complete it. Get those sewing kits ready and show us your needlework skills. Pastries are generally fluffy so some cotton or other material should help. Trick or TREAT indeed!
Homemade Witch Costume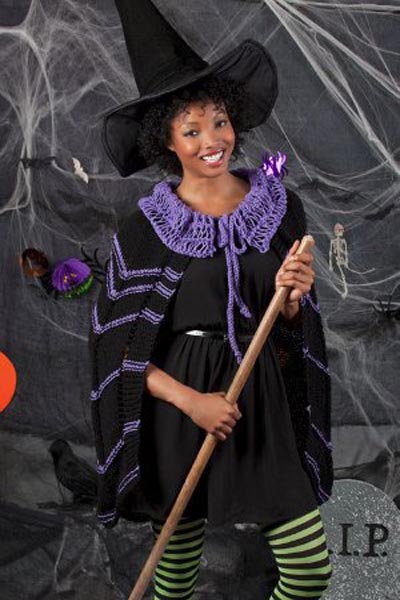 A classic! However, you can be one heck of a fashionable witch with a little bit of imagination. Black is often associated with witches but don't be afraid to add a little more color to your dress. A papier-mâché cauldron, a customized wand (can be made with a single chopstick, a glue gun, and beads), and a witch hat made of either carbon or cloth will complete your look.
Cat Girl Costume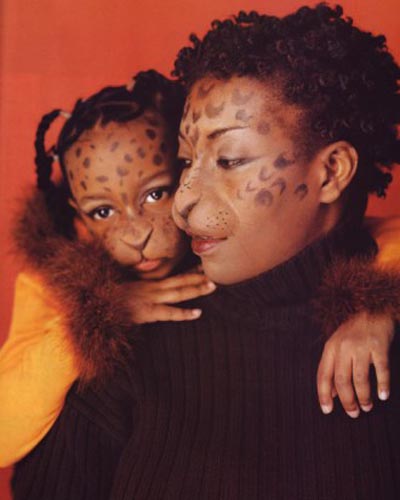 Meeeeow! Dress up as a cute little kitten or a sexy and fierce feline this Halloween! The ears can be made from construction paper glued on a head band. The tail can be just a stretch of fabric sewn on or pinned on your back. One of the best things about this costume? Face paint! You can either just add a few lines on your cheeks for whiskers or you can go for a more dramatic approach and become a seriously sassy kitty with a fully painted face.
Homemade Skeleton Costume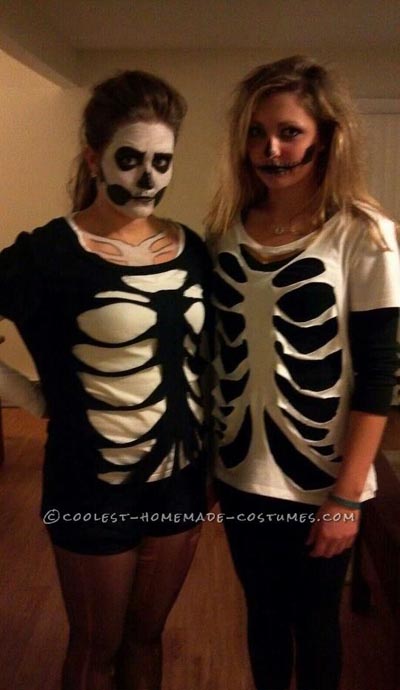 Homemade Halloween Costume Ideas for Kids
For the little tikes going trick-or-treating, nothing beats a good homemade costume. They'll have a blast walking around in their personalized costume all night!
Homemade Clown Costume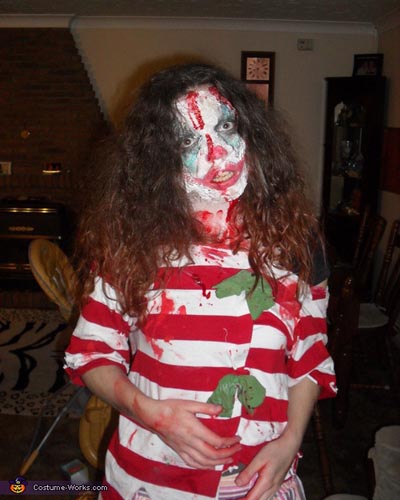 Colorful and oversized clothes will make your child look like a clown. Face paint or make up should be applied excessively! For that clown nose you can use a small, red rubber ball. Just make a cut on one side (big enough for the nose) and voila! A cute little clown of your own.
Homemade Bunny Costume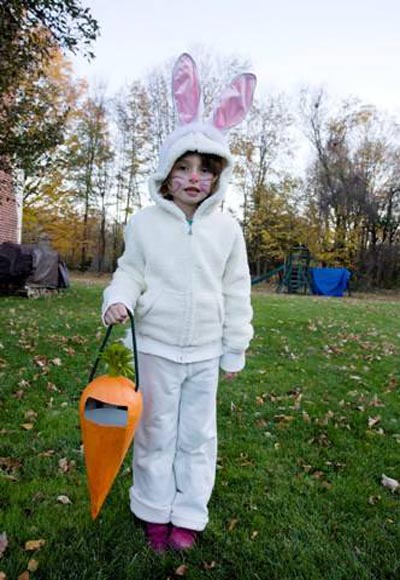 This hopping mad costume is very cute and very easy to put together. Floppy ears can be made with construction paper or, if you're handy with the needle, bits of fabric. Make sure to stick them properly to a plastic head band. The cotton tail can be made out of an old powder puff or a pom-pom.
Homemade Fairy Costume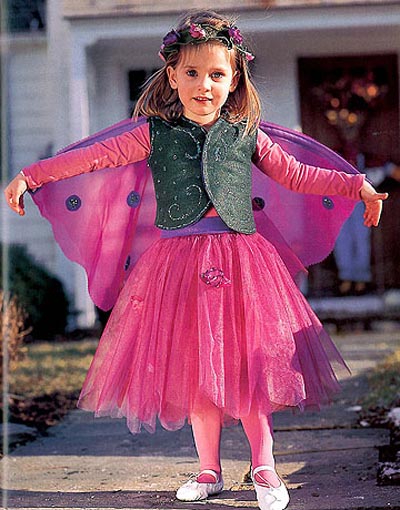 An old little dress can be jazzed up with some sequins and glitter and the wings can be made out of construction paper or, for the extremely artsy, from some wires and fabric. Fairy wands are easy to make with a long stick, some glue, and glitter.
Funny Homemade Halloween Costume Ideas
A great thing about Halloween is that it's not just about the scary costumes and eerie decors. There's also the numerous outrageous and hilarious costumes people come up with every year. Either ironic costumes or downright crazy frocks, Halloween has become more than just a day of scares. It's a day for laughs too!
Bag of Jelly Beans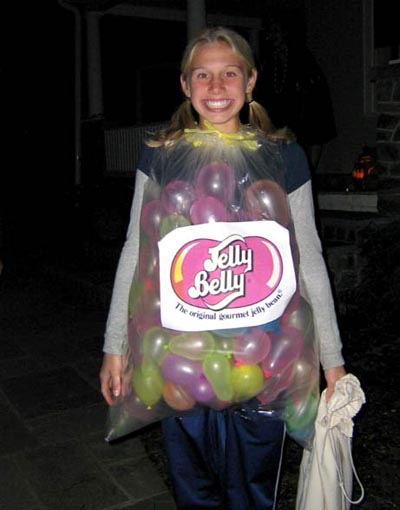 This deliciously cute costume consists of a large plastic bag, an assortment of colorful balloons, and a ribbon. The balloons will be the jelly beans so they need to be blown up. The bag, as expected, is the large plastic bag. Make sure to cut leg and arm holes on the plastic bag – that's what you'll be wearing. Once you've put on the bag, place the balloons inside the bag and then tie the ribbon stylishly around your shoulders (wouldn't want those jelly beans falling out, eh?).
Crash Test Dummy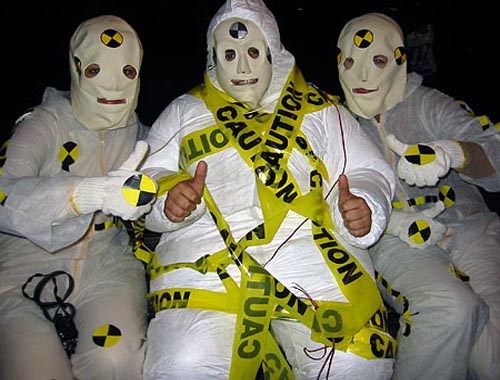 After the crash! Put on some sweats (worn out and sooty) and add some bandages and you'll look like you've just been through a collision. A mask is also optional for this costume.
Iphone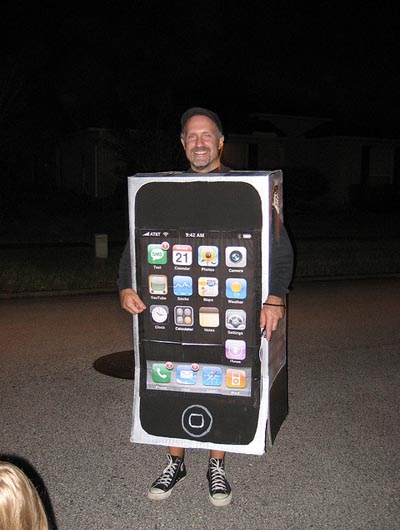 Show the world your love for technology and dress up as an iPod! You can decide which model you wish to be. Cardboard boxes and some paint are the integral materials for this costume.
Homemade Couple Halloween Costume Ideas
A couple that dresses up together, stays together. Couple costumes are great for lovebirds who love to do things together and dressing up in whacky costumes.
Zombie Couple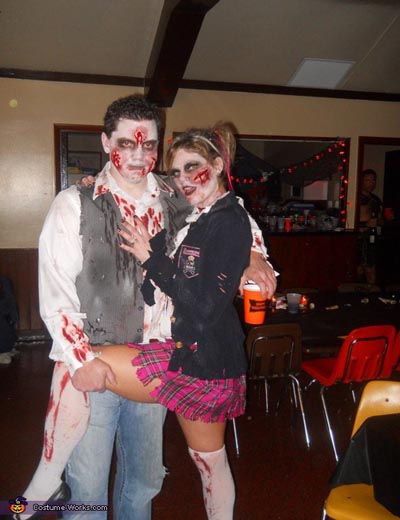 The current generation seems to have a certain obsession with zombies. Couples can dress up as a zombie couple out to eat some brains. Just wear tattered clothes (as in really tattered. You just came back from the dead, remember?) and put on some creepy make up. Fake blood is also a huge plus.
Skeleton Costumes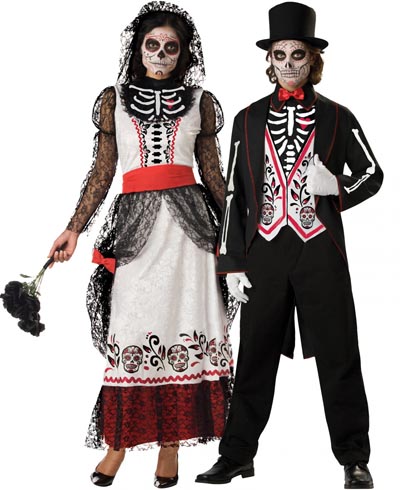 Funny Couple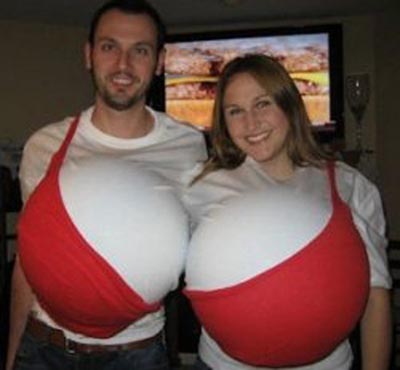 Mario and Luigi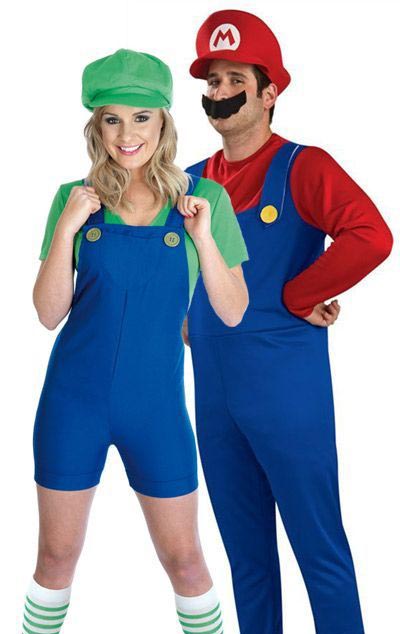 Everyone is familiar with these two brothers. For couples who adore classic video games, dressing up as Mario and Luigi is recommended. Their attire is pretty simple. A blue jumper, matching t-shirt and hat (red for Mario, green for Luigi), white gloves, and a fake moustache will do great.
Peter Pan and Wendy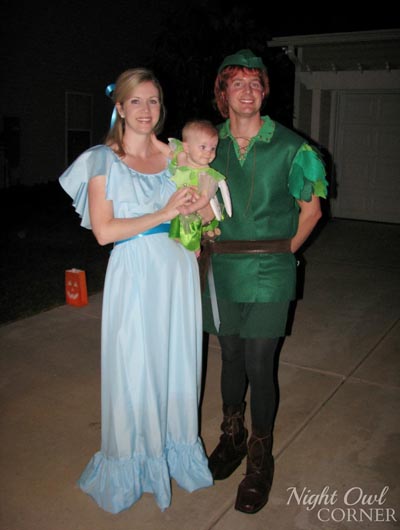 This Disney-inspired costume might seem like it'll take some time to put together but you can actually just use a long blue dress and a blue ribbon for Wendy and an oversized green shirt (cut a large zigzag pattern on the shirt's end), a brown belt, green tights, and a green cloth hat for Peter.
Easy Homemade Halloween Costume Ideas
Pressed for time? Can't get a hold of proper materials? Not to worry! There are countless easy-to-make costumes that can be put together in a jiffy.
Homemade Ghost Costume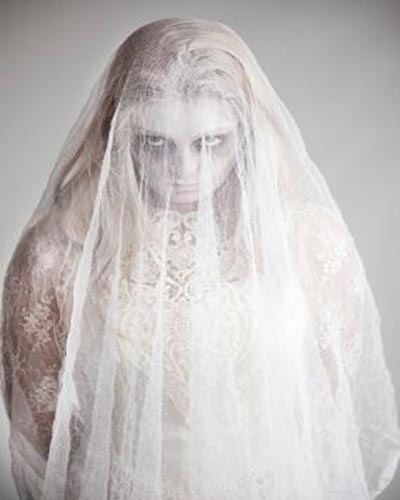 A timeless classic. Just get a white table sheet, cut some eye holes, and put it on. It's that simple! If you want to pump up the 'spook' factor, you can get a black (or any color of your choice) eye shadow and put some color around the eyes to really give your ghost a haunted look.
Homemade Ragdoll Costume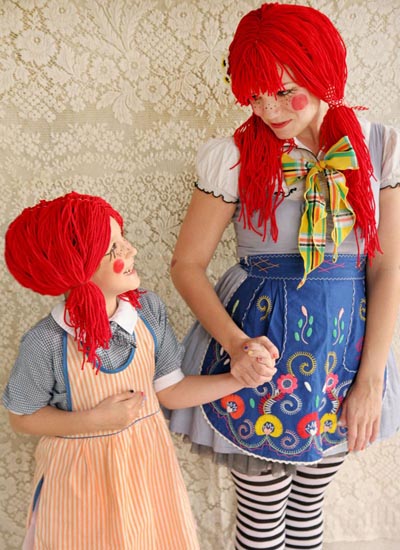 An old dress can be used for this costume. Put on a white apron over it and wear long striped socks. That's it! It's cute and easy.
Homemade Mummy Costume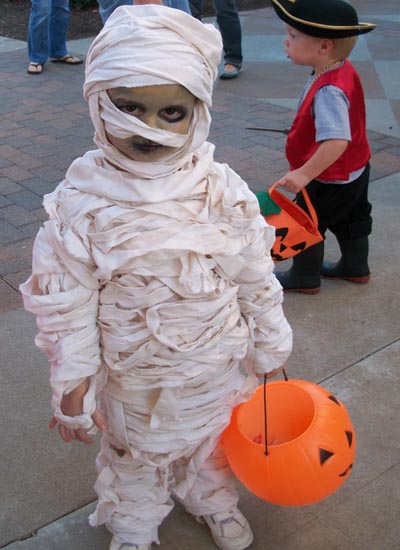 The one thing you really need for this costume? Bandages. Lots of it. Cover yourself from head to toe (though make sure you're comfortable and it's securely tied) and there you go. For best results, make sure that the bandages look a dirty and tattered.
Homemade Halloween Costume Ideas for Men
Guys dress up on Halloween as much as girls do. It's a time for craziness, after all. You're never too old to enjoy Halloween.
Labor and Delivery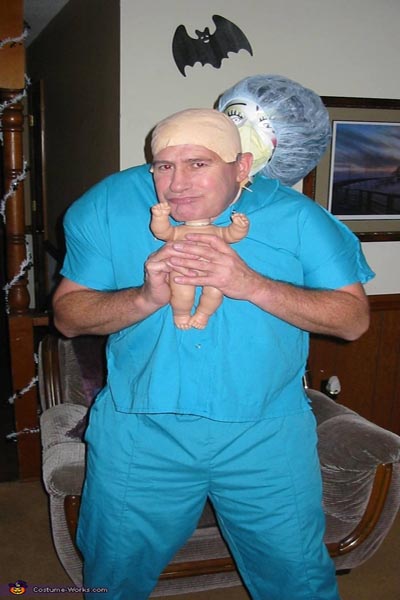 Chuck Norris
An all-time favorite action hero. Get that "I-will-kick-the-living-daylights-out-of-you" look by wearing a camouflage shirt and jeans, a bandana around your head, and dirt and grime (or just make up that looks like dirt and grime) on your face.
Robot
You'll need a couple of boxes for this costume. And tinfoil, if possible, for that metal sheen. This costume is relatively easy to make but it can't be said that it's easy to take off. You'll want to have emergency precautions in case nature calls.
Mad Scientist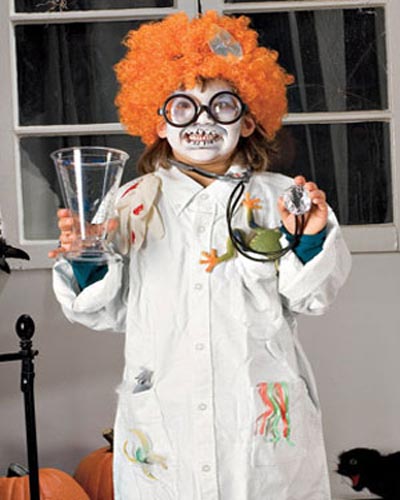 Evil minion optional. A long lab gown is used for this costume. Make sure it's stained with various colors, er, evil chemicals. Goggles and crazy wild hair is highly recommended. While you're at it, you can also wear thick black rubber gloves. You don't want any of those diabolical concoctions to burn your hands, right?
Group Homemade Halloween Costume Ideas
Want to dress up with the gang? Consider some of these ideas.
Scooby Doo and the Gang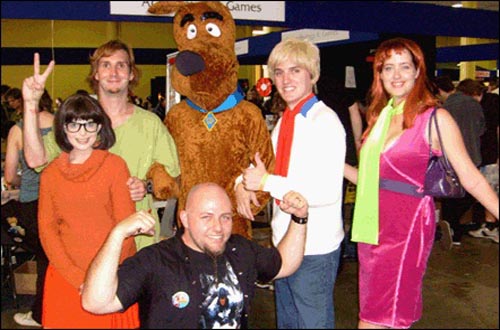 A nostalgic cartoon indeed. Who doesn't love Scooby Doo? This is a simple costume idea because the gang's attires are relatively easy to imitate. As for Scooby Doo… well, you can always bring along your trusty canine companion.
Loofah Girls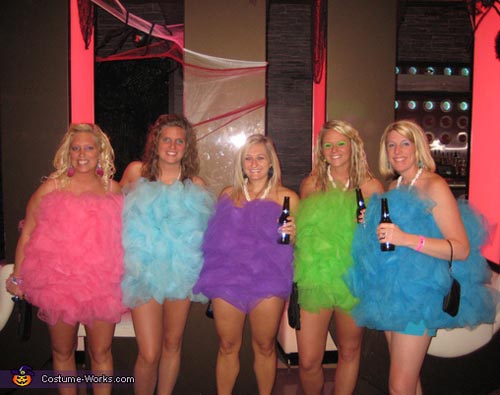 The Breakfast Club
A nod to the popular movie. Again, this idea is easy to achieve because the Breakfast Club's outfits aren't too complicated. You can get similar outfits anywhere, or at least get the closest match to them.
Ghostbusters
Who you gonna call? Ghostbusters! The group should wear beige overalls that is the signature wardrobe for the Ghostbusters. Their gear can be made out of all sorts of materials found at home and painted with a black finish.
Related Articles