Don't you just love passing through streets with houses and buildings beautifully decorated with Christmas ornaments? Don't you just love the grand decorations of the buildings in town, and the simple but equally beautiful decorations of the smaller shops? Even the biggest Scrooge will have to feel light and happy with all that holiday beauty!
Outdoor Christmas decors provide a lot of holiday cheer to anyone who sees them, but they need not be big and ostentatious. You will be surprised how a simply decorated cardboard can look so beautiful and festive! It doesn't matter whether you have a small garden or a spacious lawn.
We have picked out the best outdoor Christmas decor ideas suited for all kinds of spaces. They are very easy to set up or assemble, and very easy to stow away, too, when the holidays are over. No need to dig or drill holes! Scroll down and pick that one that's perfect for your home!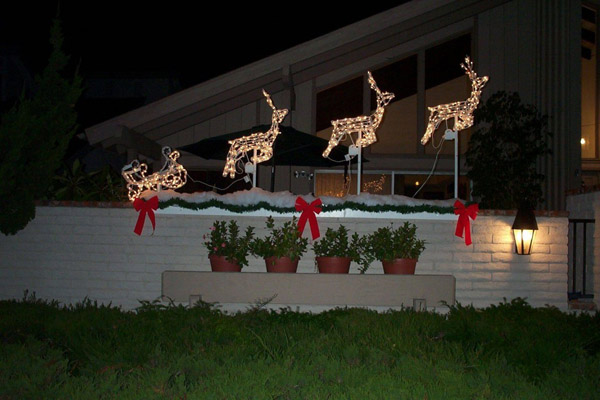 The reindeers are ready to deliver their gift without Santa on them… this is a fun outdoor Christmas decorations.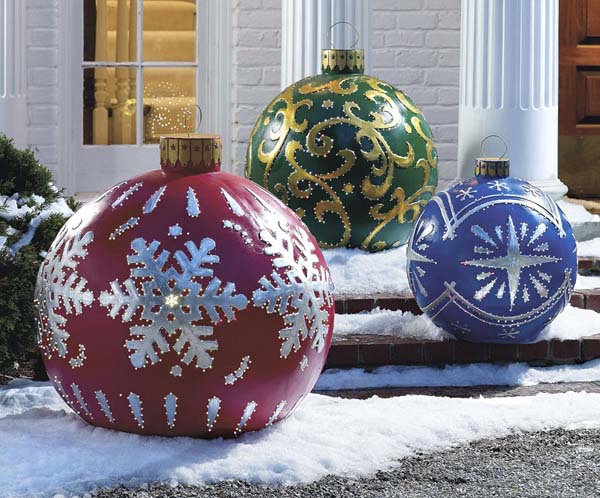 These lovely Christmas decorations took the phrase "the bigger the better" very seriously. And to very awesome results, too. Spruce up your front yard this Christmas with these colorful giant Christmas baubles. They're so big and bright nobody can miss them!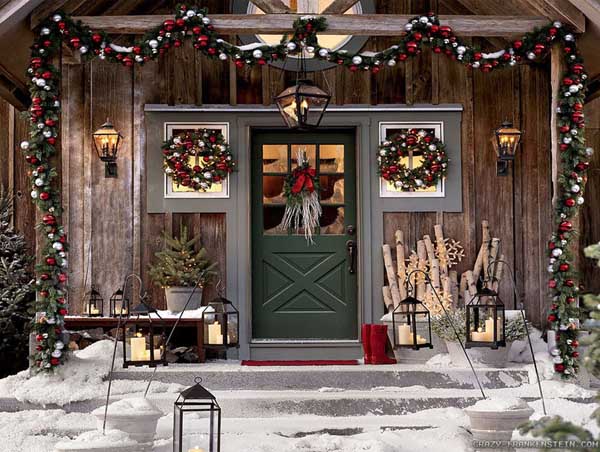 There's a certain kind of holiday cheer that only a perfectly placed Christmas garland can bring. This one right here is definitely a showstopper. All the holiday wreaths look so striking against the wooden beams and posts. They really make you want to go inside the house and begin the merrymaking.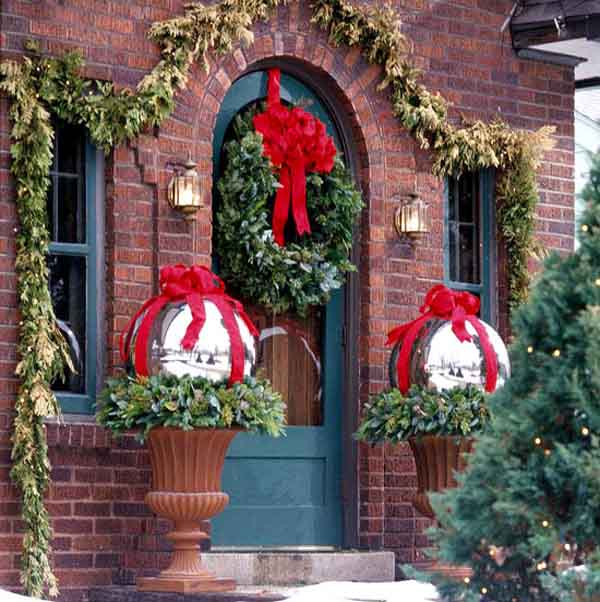 This is a lovely Christmas decor for outdoor. Huge baubles wrapped with red ribbons for festive atmosphere.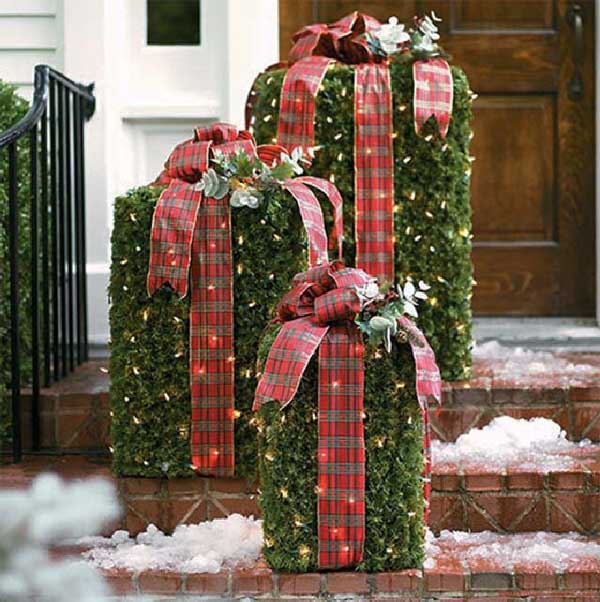 There are gifts to be opened on Christmas day. There are gifts that are strictly for decorative purposes only. These babies truly are a delightful holiday décor that will sprinkle good cheer right at your doorstep. Who would've thought a simple bush like this can look so festive and bright?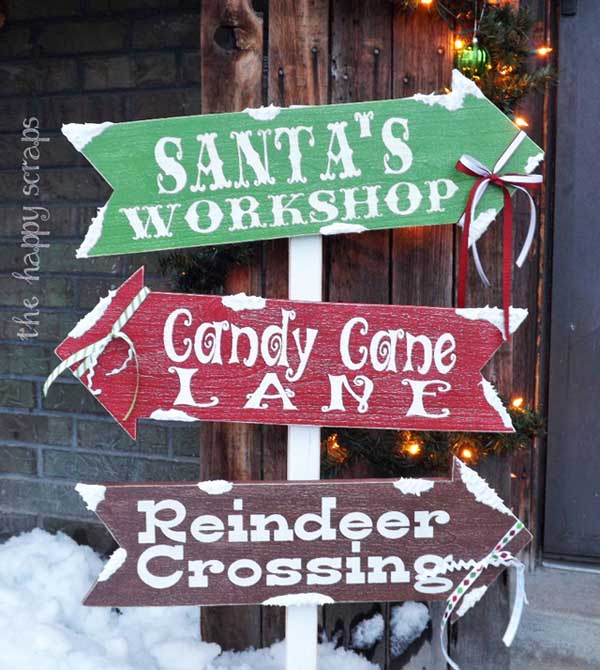 Here's another creative and unique outdoor Christmas décor that you can do this year. Have some wooden directional signs painted in the colors of the season. Put words like "Santa's Workshop", "Candy Cane Lane", or "Reindeer Crossing" on the signs. Anything Christmas-related will do. Lastly, add some festive bows for that really Christmasy feel.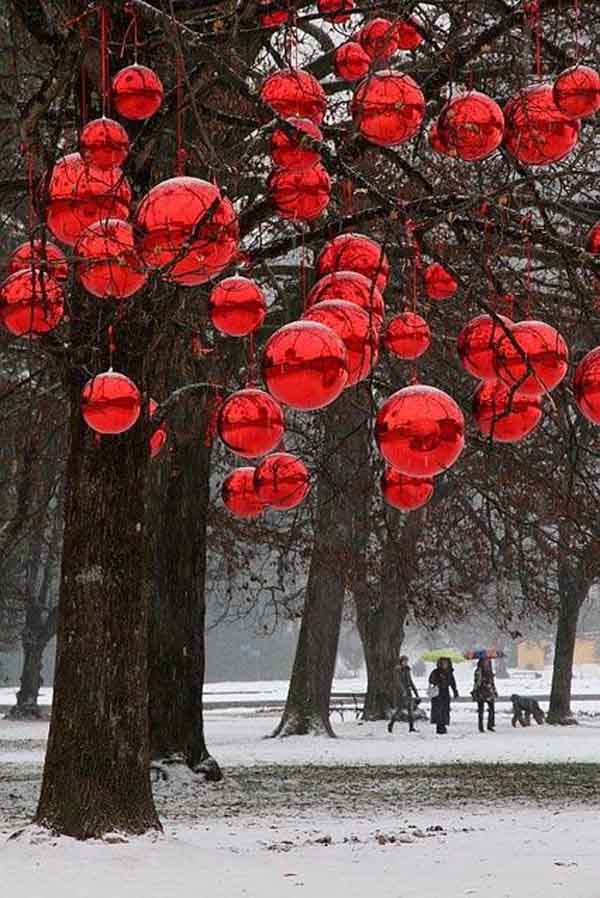 The harsh cold winter days can be bleak and heavy. Add that instant holiday cheer and pop of color to the colorless outdoors with these giant red Christmas baubles. Just hang them on a large tree in the park where everybody can see. You'll be amazed how these giant balls can transform a cold-looking place to one that's so cheerily warm!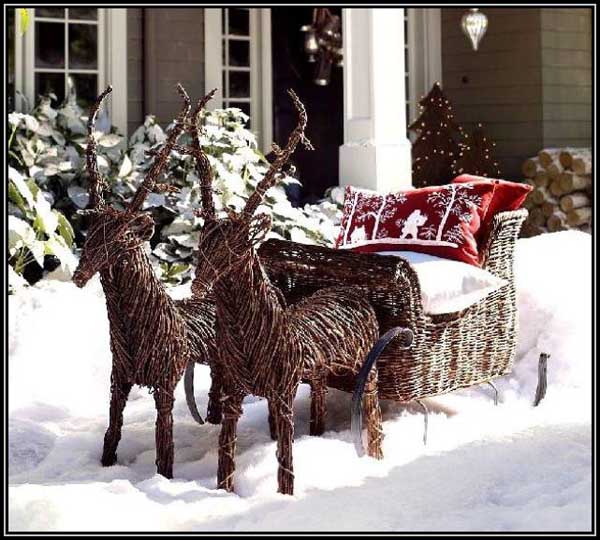 This outdoor wicker sleigh with reindeers is such a beautiful piece of Christmas décor. It looks even more beautiful against the background of white snow. Even without a snowy Christmas, this wicker sleigh will still look breathtaking on your lawn. You can add a Christmas-themed pillow, or more holiday trinkets for a prettier sleigh.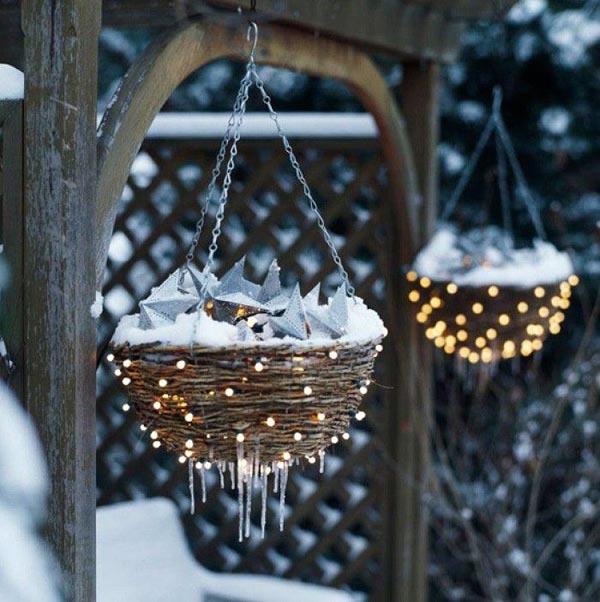 You can also make use of small wicker baskets to hang outside your house. Fill the baskets with snow and decorative snowflakes. Wrap a string of Christmas lights for sparkle. They truly are so pretty and simple that add so much holiday cheer to your space, don't you think?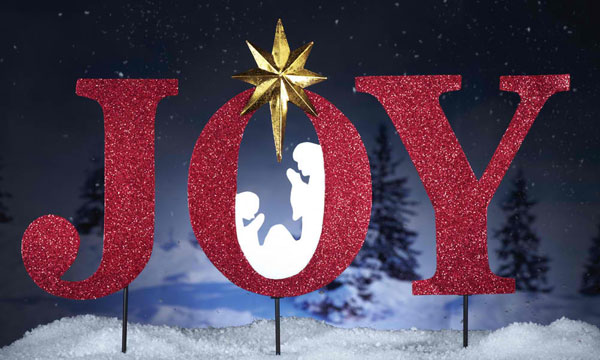 Words can also be fantastic outdoor Christmas decors. And by words we mean like this pretty Christmas-themed cut-out word 'Joy'. Paint it with the colors of the season. Add accents like the silhouette of baby Jesus, Mary, and Joseph, or a golden star on top.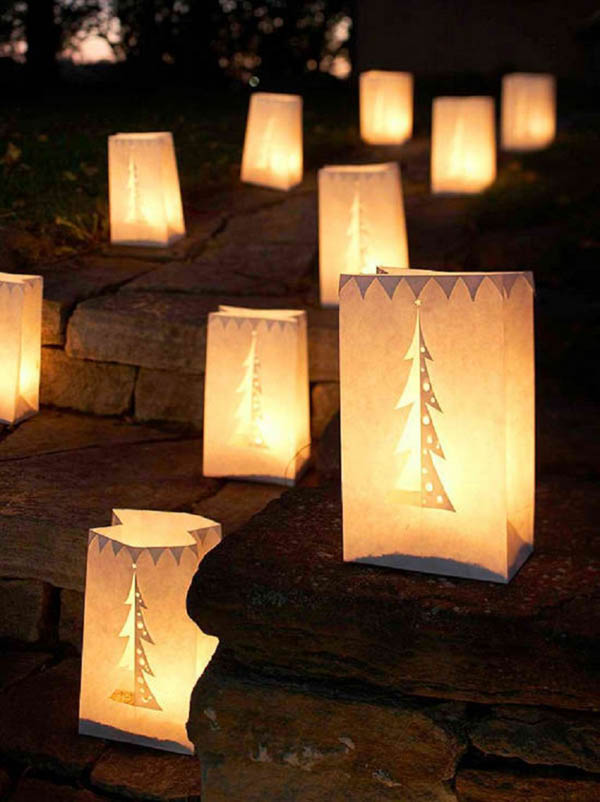 Paper bag Christmas lanterns? We had no idea they would look so pretty as outdoor Christmas decors! And they're so easy to make, too! All you need are paper bags, sand, and tea lights!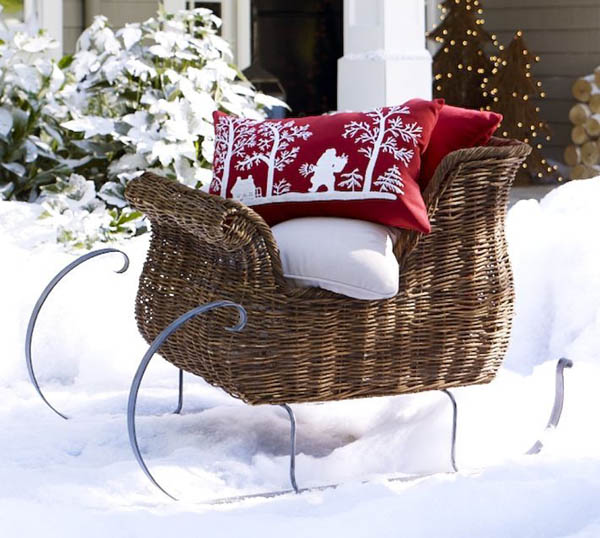 Here's another example of a wicker sleigh as an outdoor Christmas décor. It's just a sleigh in the snow, but instantly you know that it's Christmas. Setting it up and storing it away are so easy, too! You can have this wicker sleigh as a standalone, or you can add reindeers or elves, even Santa Claus and his big sack of goodies!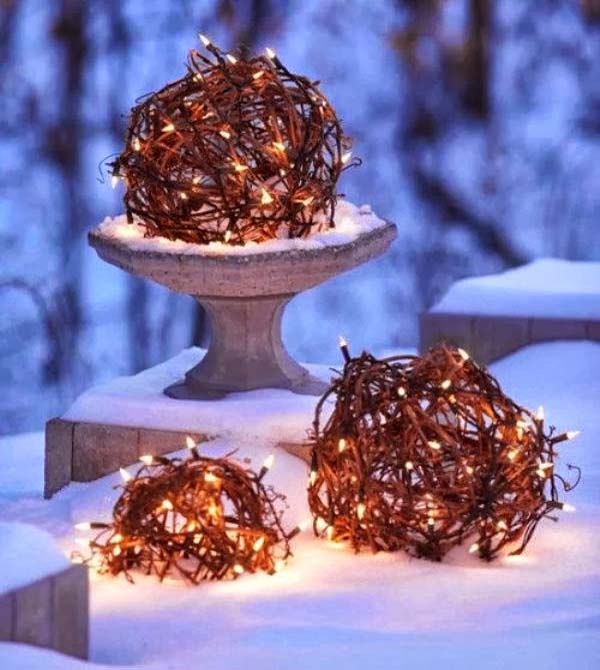 Wicker balls and Christmas lights are always a magical combination. They're so simple and understated, but pack a lot of Christmas feels. You can place them on your doorstep, or along the driveway. Anywhere you put them will be perfect and beautiful, we guarantee.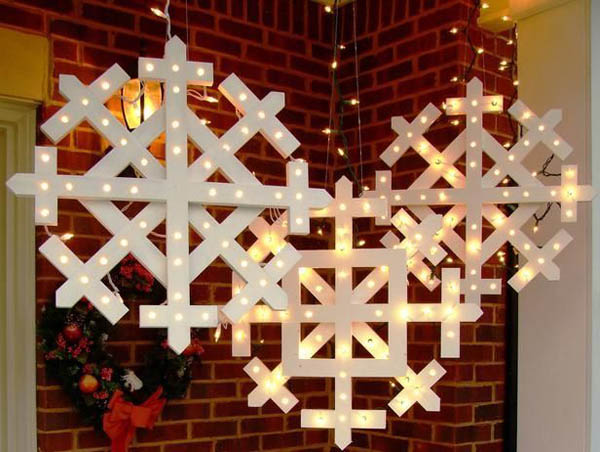 This intricate-looking outdoor Christmas décor is sure to delight Christmas and snow fans! You don't see a lot of giant snowflakes with built-in lights that much. This one is definitely a stunner! If you're quite good with your hands, you can easily recreate this pretty holiday décor.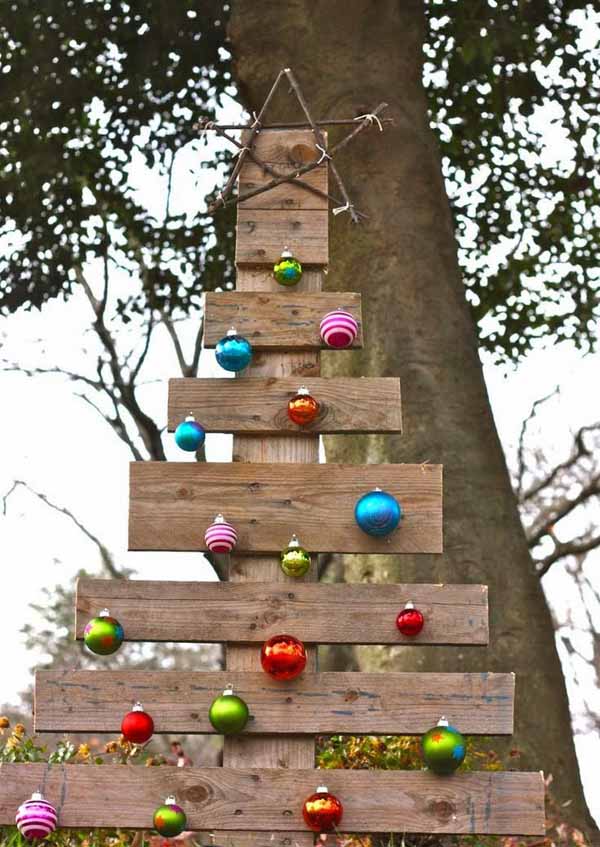 If you want a unique outdoor Christmas décor, why not get this charming outdoor Christmas tree made of wooden slabs? You will need a couple of wooden slabs of different lengths to stack as a tree. Adorn them with Christmas baubles or garlands. Then top with a golden star. Absolutely beautiful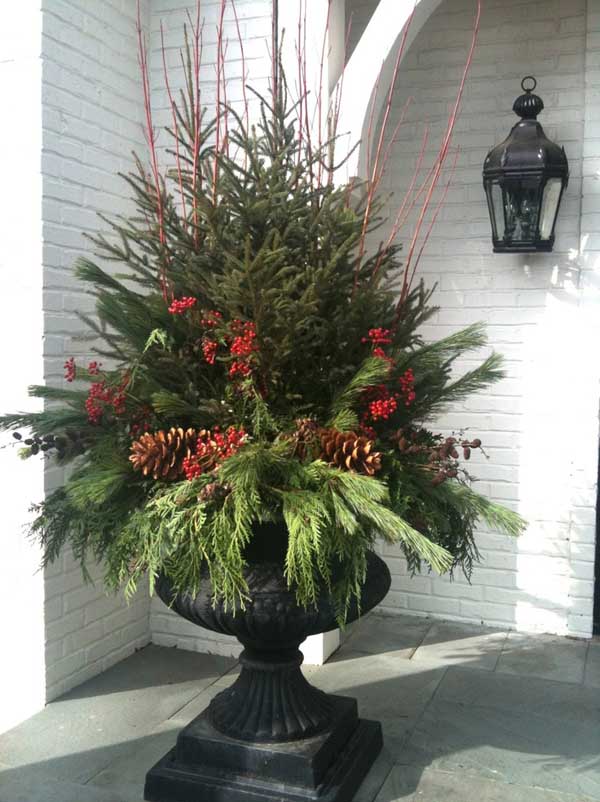 You can also make a special green leafy arrangement of pine cones and fir tree leaves. Stuff them into an elaborate pot like this one in the photo. Adorn with poinsettia flowers for that pop of Christmas color. You can also strew some Christmas lights for a prettier effect.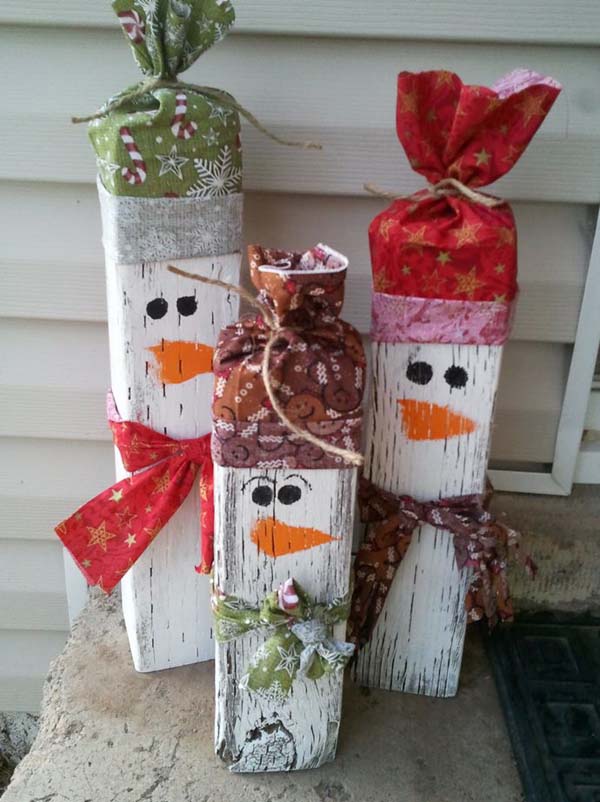 Got some wooden slabs that you no longer need? Turn them into these seriously adorable snowmen! These outdoor Christmas decors are so creative and so inexpensive to make. Just wood, some colorful scrap cloths, and paint!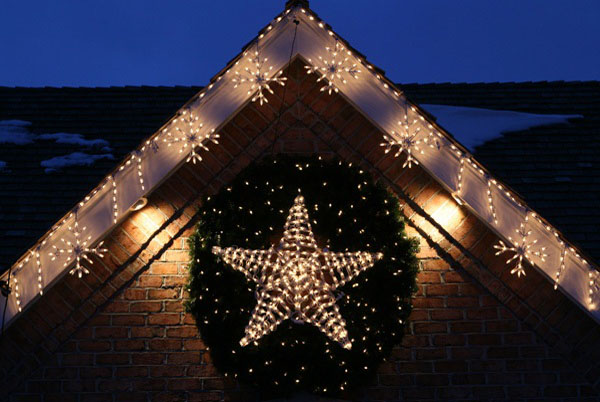 These outdoor Christmas decors are both gorgeous and dreamy. They are tasteful and understated but succeed in making you feel all warm and happy inside. Welcome the holidays with this gorgeous Christmas wreath and equally gorgeous star. Adorn with Christmas snowflakes and Christmas lights.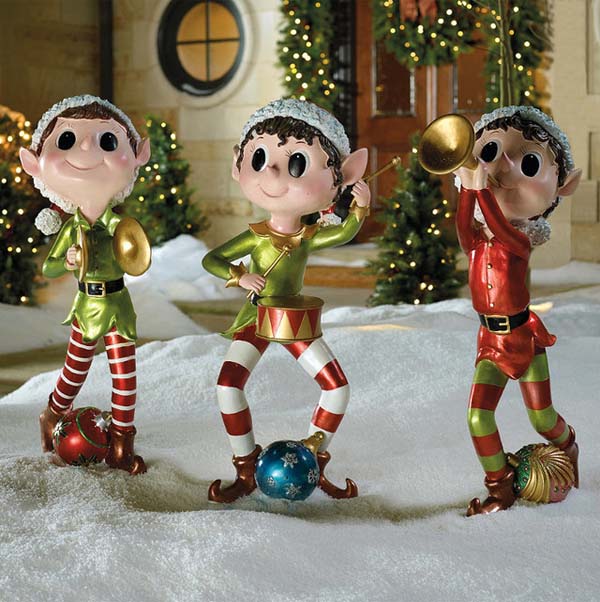 How about Santa's cute and happy elves? They're not at all freaky looking like all the others I've seen in the past. These elves look so happy that it's Christmas everyone who lays their eyes on them will break into a smile. If you've got little kids, they will surely love these cute fellas!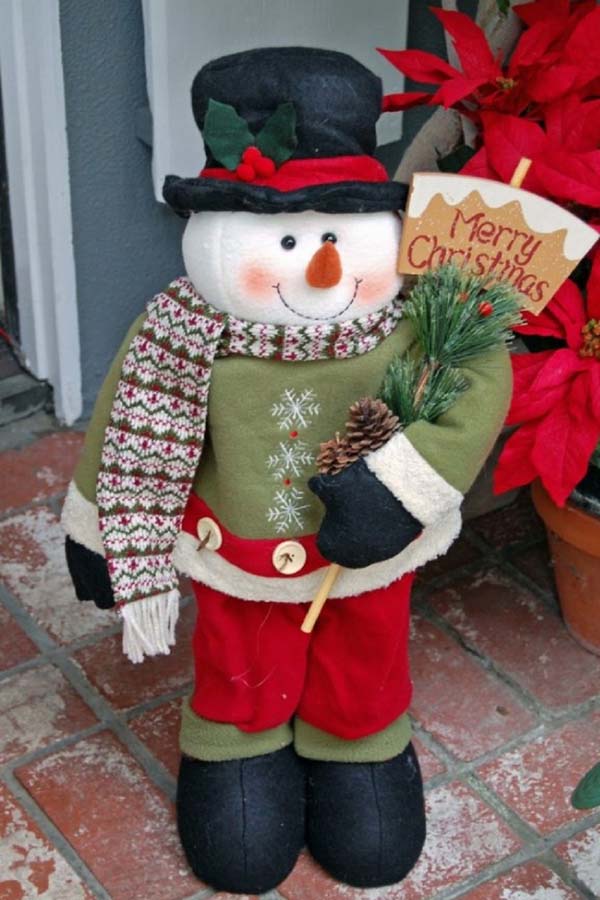 This adorable little snowman is the perfect welcome party to your guests this holiday season. Dress up a snowman plush toy with a hat and a scarf. Adorn with gloves and other cute Christmas ornaments that you can find at home. The cuter the snowman, the better!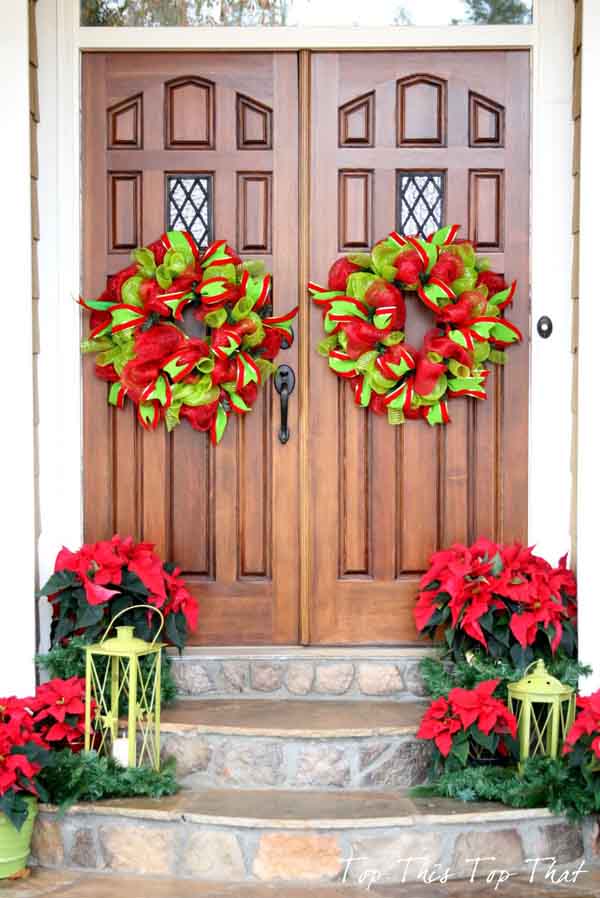 Showcase that exquisite doorway with this fabulous Christmas wreath decoration idea. Pick the brightest red and the most eye-catching green. You can go as big as you want, too. You can also add some garlands and poinsettias for added color and texture.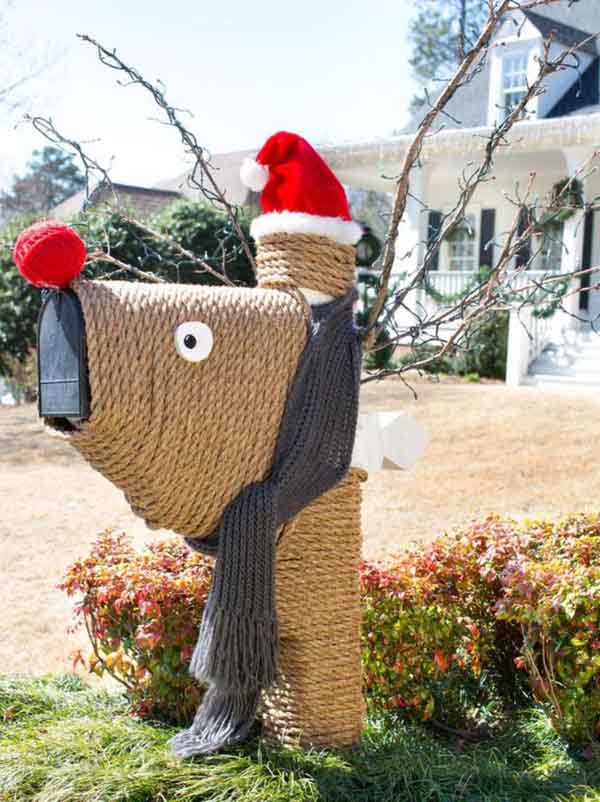 This is quite an ingenious idea. A red-nosed reindeer for a mailbox? Sign me up! Let me start gathering some rope straw, balls of red yarn, a scarf, and a Santa hat! This outdoor Christmas décor is just too cute for words.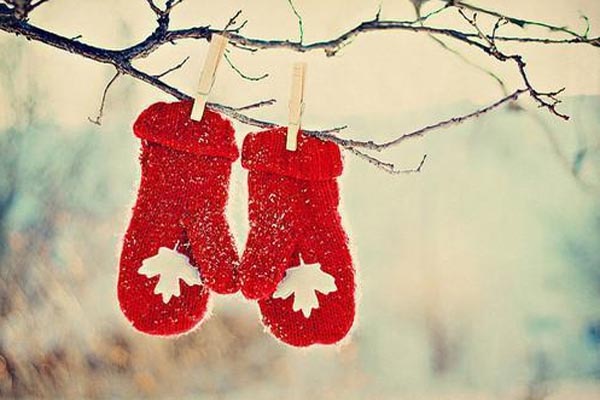 Even a pair of red mittens can be a beautiful outdoor Christmas décor if you know how to work it. There's just something striking about the color against the pristine background of snow, don't you think? Just clip a pair of mittens on a tree branch with wooden clothespins. Sprinkle with snow dust for a more charming effect.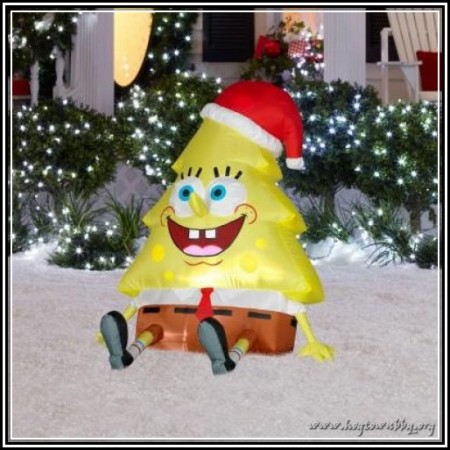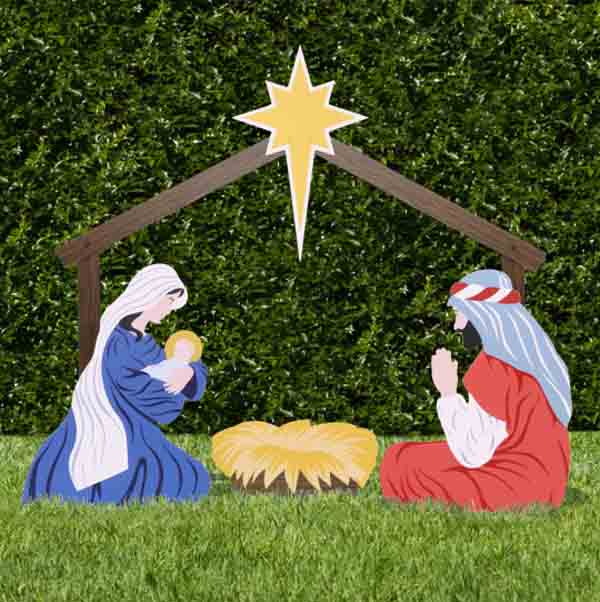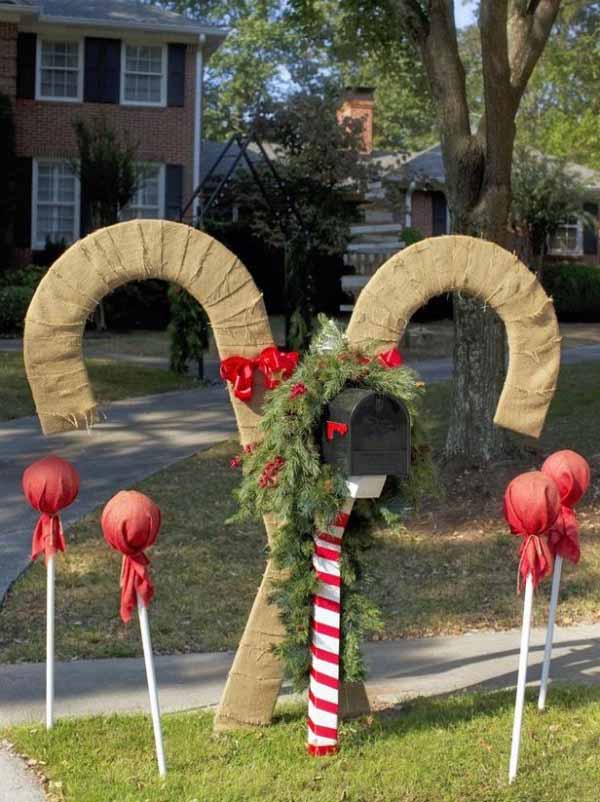 about a mini Candyland right on your lawn? Decorate your mailbox with oversized lollipops and candy canes. Add colorful ribbons and festoon with Christmas garlands. It's a simple outdoor Christmas décor that can easily transform your front yard. The kids on your street will surely enjoy this!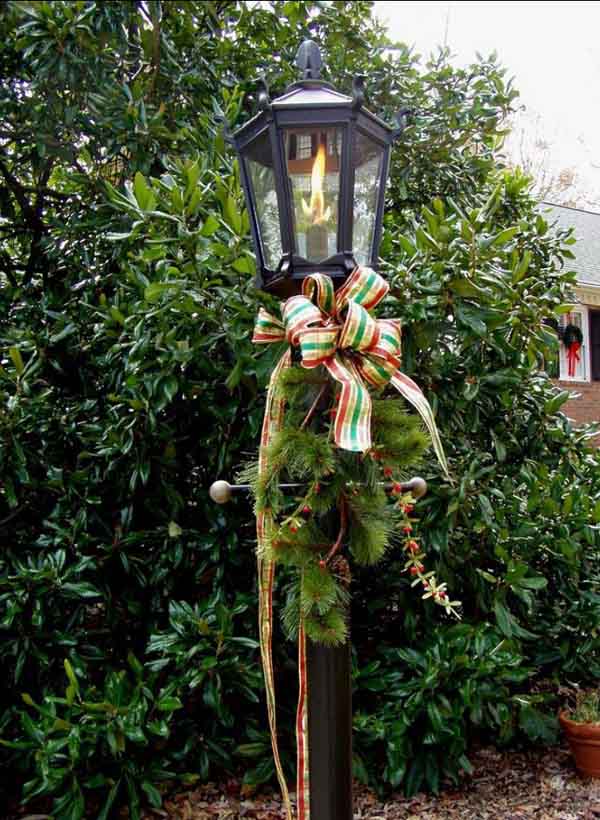 Decorate a beautiful street lamp with Christmas ornaments. You can make use of holiday ribbons and Christmas garlands. It's very simple to do and very inexpensive to make. When nightfall comes — voila! You've got yourself a beautiful holiday lamp!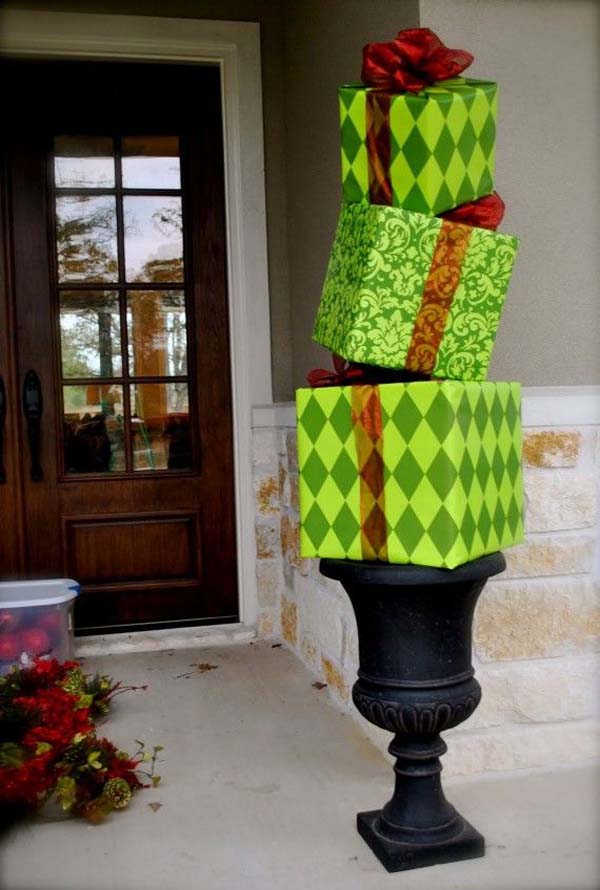 Pile giant boxes wrapped in holiday gift wrapping paper for another beautiful outdoor Christmas décor idea. The more colorful and the bigger the boxes, the better. You can place them on top of a nice wide-mouth vase, or on top of a makeshift table. We think they will be perfect right there at your doorstep!