Take a whiff of the sparkling top notes, sit down, shut up and start thinking about getting married but of course you won't be able to tie the knot in the most memorable way without throwing an engagement party – and for that, you need a dozen or two of engagement ideas that will mark the first step in ending your singlehood. That is, if you are the one throwing the engagement party.
Have you ever had that romanticized feeling that you suddenly become prepared to spend the rest of your life with the person who's holding your hand right now? Have you ever experienced suddenly being kneeled upon and asked for a hand in marriage? If you ever had these experiences, then it's good to be you – congratulations, because not everyone can be as lucky as you have become.
Celebrate the significant moment in your life when everything in the universe has suddenly fallen into places. If you're not the one throwing the party, then here are still a couple of ideas if you are invited to such an occasion. As the cheeky saying goes for all of us (engaged or soon-to-be engaged or not at all soon): shut up, keep calm and get married, an engagement party makes the moment last, so here's a couple of engagement ideas for you (and yes, you may still find these useful even if you're the guest and not the celebrant).
Engagement Party Gift Ideas
One Year Subscription of Fresh Flowers Bouquet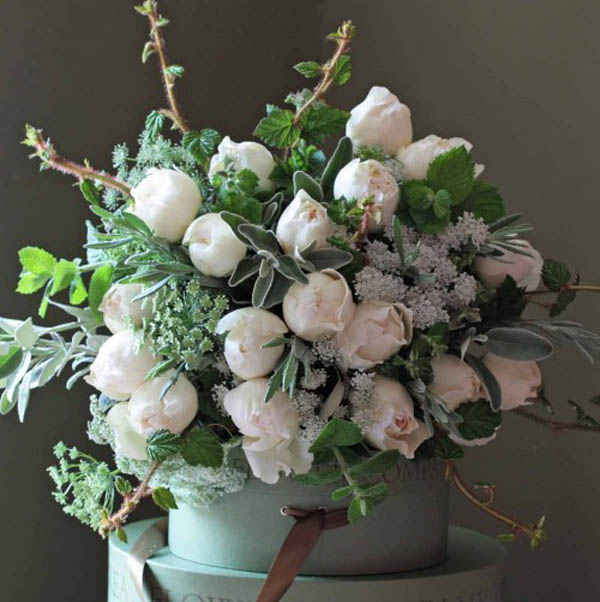 For the couple's new home, there definitely is a need to ignite the feel of hearth and home. Help them in this light when they have to re-define their concept of home – from a bachelor's pad to a family house. After all, fresh flowers never fail to brighten up anyone's day.
Bottle of Champagne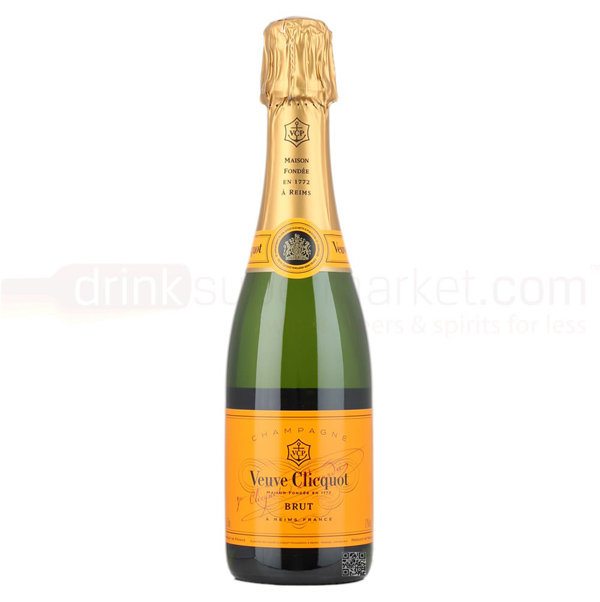 Don't panic, it's organic. And: if you are thinking at the last minute on what to give the couple, then this is a little treat that they would love. After all, they're bound to spend their honeymoon soon with a bottle of champagne to set the romantic mood.
Scrap Book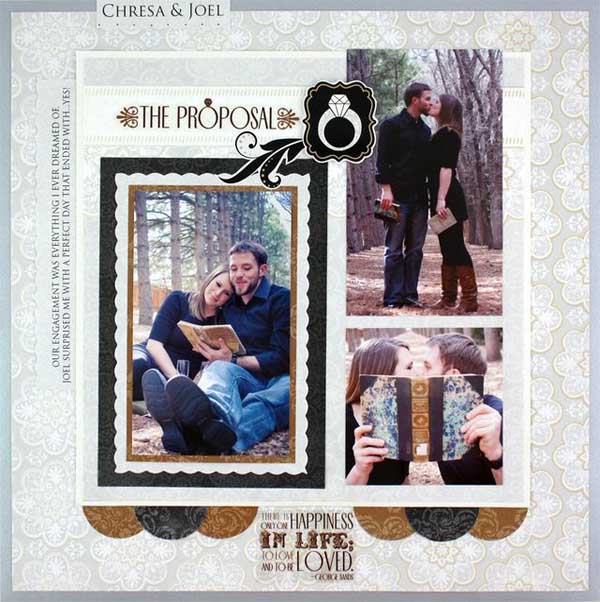 If you want s DIY gift that is less expensive and guest-engaging, then this is a recommended gift. It may be a simple kind of gift, but the couple will find this sweet and memorable, especially when they check out the dedications of the guests for their soon-to-be married life.
Writing a Story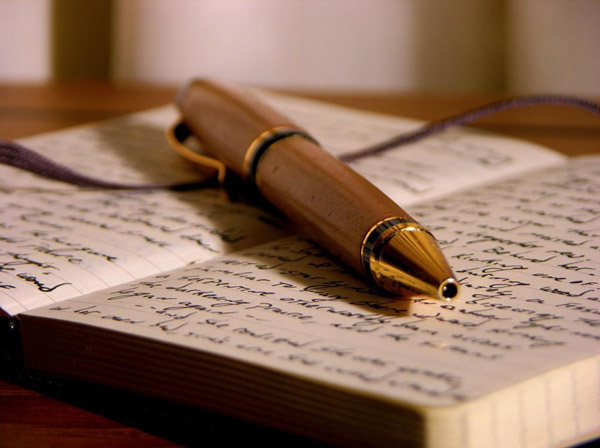 At first, you may think about what the heck to write. Don't worry if you haven't won any literary awards before, because the couple would still appreciate this, especially if the story is about their love life and who can write it better than you, a person who has seen them through the ups and downs.
Engagement Party Decoration Ideas
Fairy Lights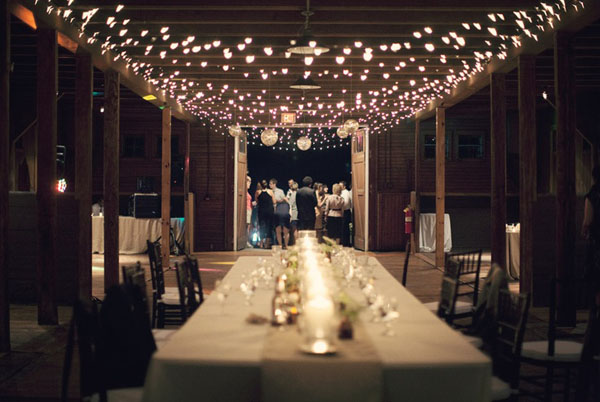 Dreamy and romantic without the unnecessary frills, you may find this decoration idea unique and easy especially if you want to hold the party outdoors. This is a simple yet elegant idea that can stand alone even without the help of additional fluffy decorations.
Sweets Table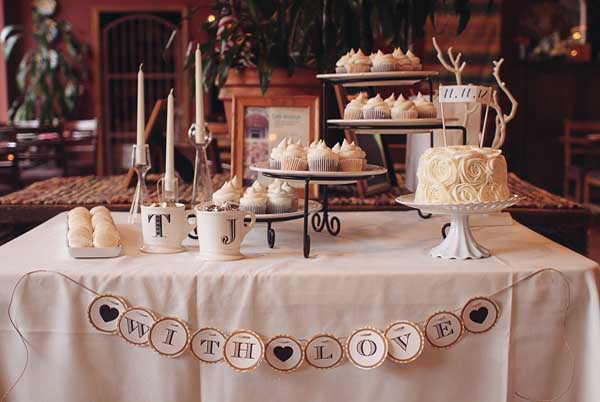 We want to please our guests to the fullest. This is also a tactical way to distract those sweet-toothed ants from raging over your sweet love bubble in the occasion. Shoo them away from feasting on the sweetness that the two of you are displaying by providing a sweets table.
Garlands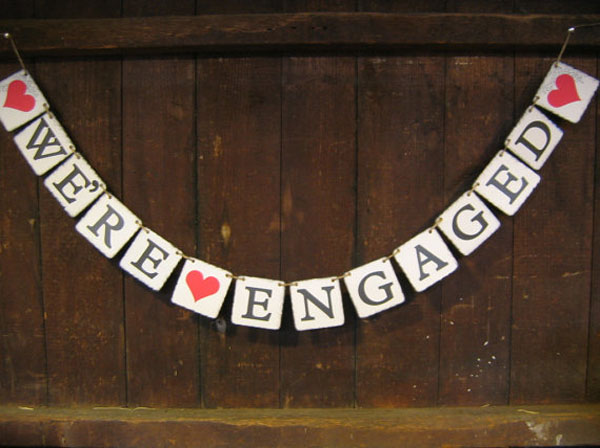 Just like fairy lights decoration, this can also stand alone for itself and define the occasion – a mood setter that is elegant yet simple. Also, we need not say more with the notion that this makes things a lot romantic.
Engagement Party Game Ideas
Diamond Carving Time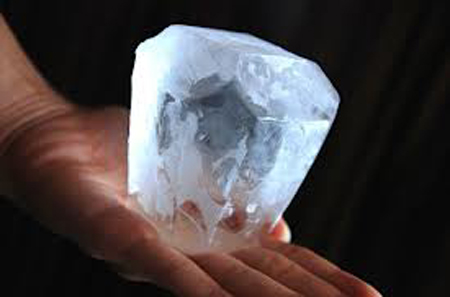 This is basically a contest to make the best diamond engagement ring using a block of ice. Give your guests their blocks of ice and allow them to create a sculpture of the best diamond engagement ring that they can make. The judge will be the hot-seated couple.
Karaoke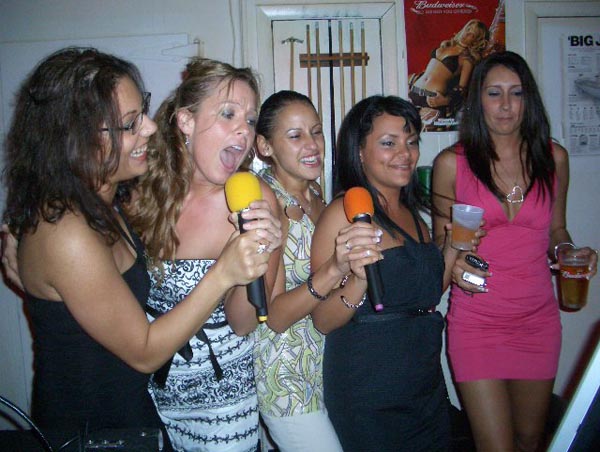 Traditional, loud, freelance and fun – these all come with endless karaoke sessions that will literally rock the party – because we know that wedding bands and romantic violinists are never too loud.
True or False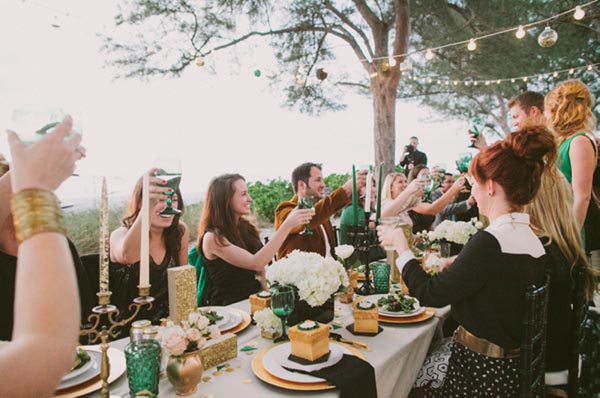 This is a simple yet mind-boggling game. You each tell a story about yourselves and then each will also guess whether the story is true or false. The person with the most correct guesses wins.
Engagement Party Theme Ideas
Wine Tasting Engagement Party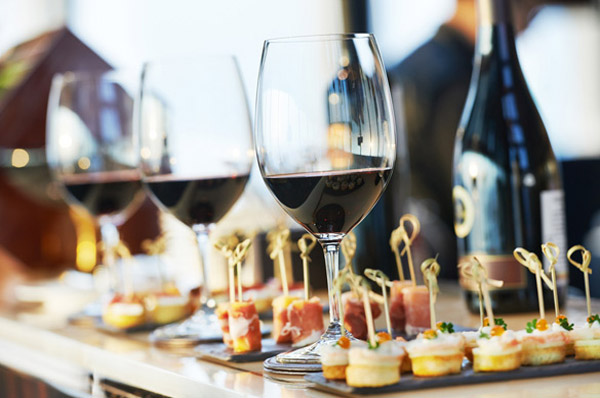 If you want an exquisite (and a little expensive) type of engagement party, then have this for a try. Your guests can freely choose their wine flavour choice and of course the fun and excitement will also be assured.
Cooking Class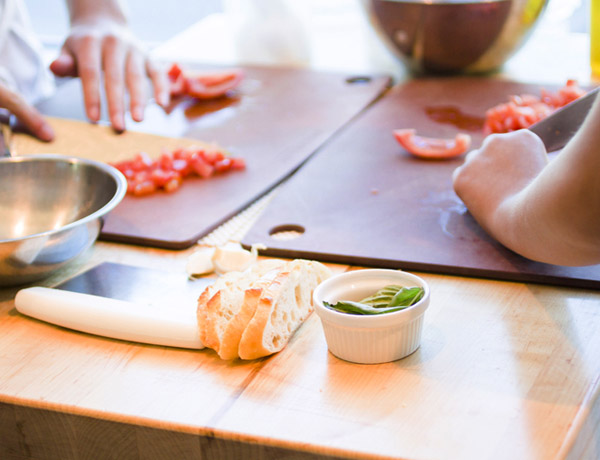 Why hire a catering to do the food for you when you can have your guests cook their own food? Of course, it would still be a must that you prepare a snacks or sweet corner for your guests, but having this theme will also give them a more interactive environment. How to do this? You can hire a chef have a cooking lesson (or basically anyone who knows a good meal) and allow your guests to make their own food.
Retro Couple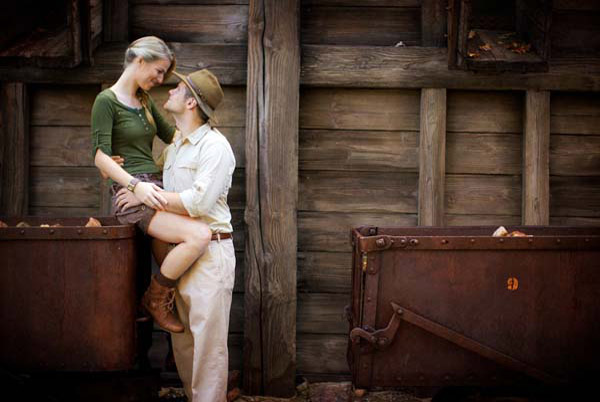 This may also be termed as "movie-inspired." Whether you want to Photoshop the couple's face on the Hollywood Titanic poster or Romeo and Juliet cameo, it's your choice. The idea here is to make the event look as if their love story is the one that's now showing.
Engagement Party Ideas on a Budget
Outdoor Engagement Party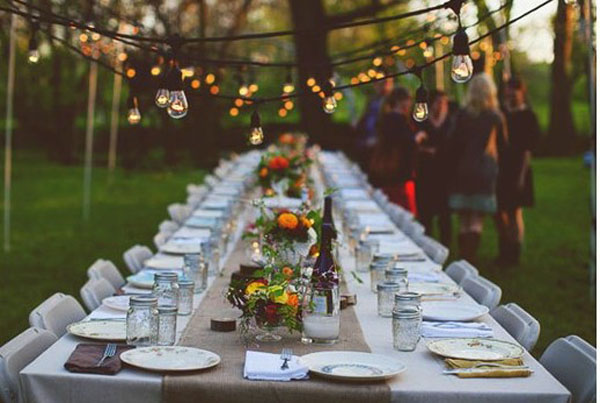 Sometimes the best thing to cut a little spending is to draw the occasion closer to nature – literally. Literally. This is the natural way to save yourself from the trouble of decorating and allow nature to do this for you – in the most natural way.
After-Dinner Party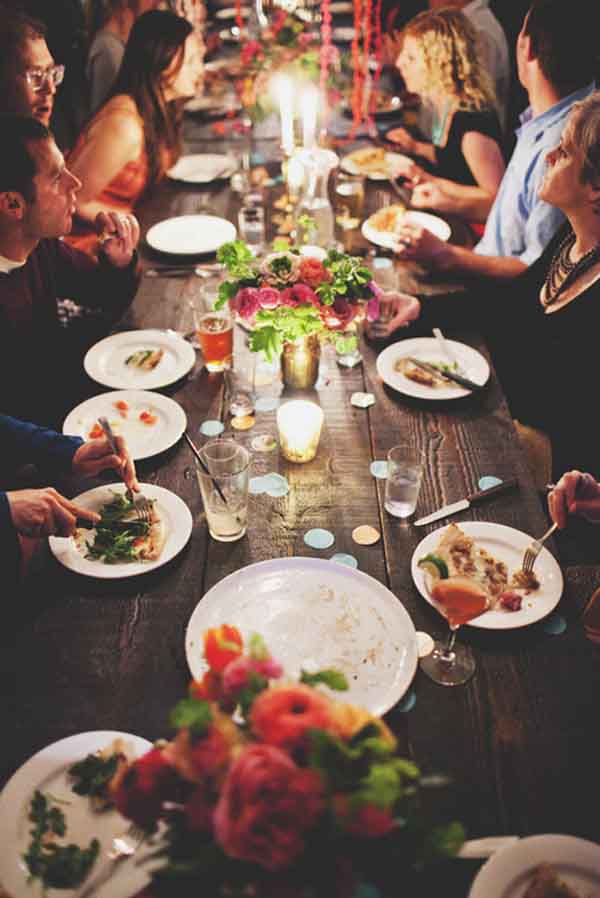 It's your choice if you want to put the description in the invitation letter advising your guests to take their dinner before heading over to the occasion, but if you want to put it in a more dignified manner, then instruct your guests that this will be an after-dinner party, and that you will be serving snacks and sweets for that matter.
Buy-Your-Own Alcohol
If you will be finding it hard to do away with the alcohol in the occasion (especially if the bachelorette or stag party suddenly follows), then instruct your guests that you will be sponsoring only one bottle of beer for them – if they want extra, then they have to buy from the snack corner. They'll understand.
Outdoor Engagement Party Ideas
Vintage-Inspired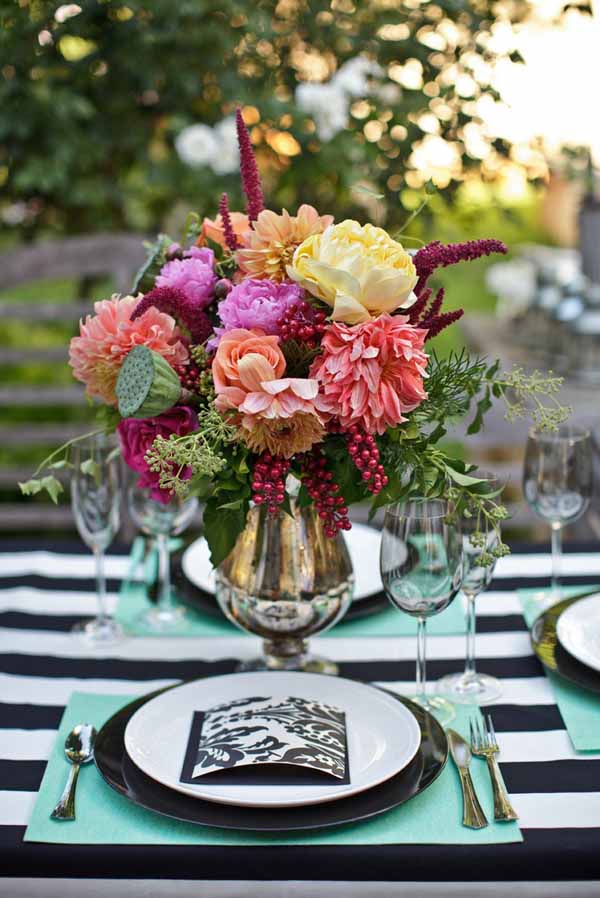 Always, vintage-inspired themes never fade away from the scene when we want something romantic and sweet but without the unnecessary frills. This is a recommend if you want something romantic and sweet – and outdoors.
"Ventura Country"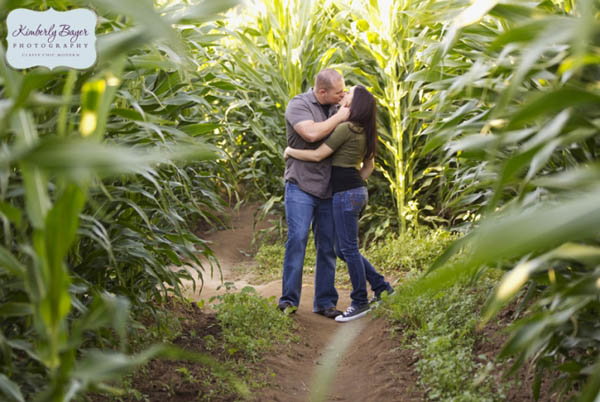 Just picture this: a couple of lined-up tables surrounded by fruit trees that infuse the air with citrus-smelling effects that enter your nostrils, making you feel comfortable with a nirvana-effect. This is the idea for an outdoor engagement party. After all, the point is to make your guests feel comfortable.
Beach Engagement Party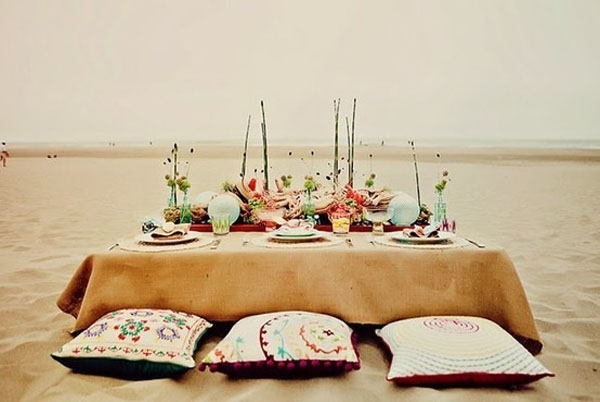 This is probably one of the most common if you want an engagement party that's outdoors. You can do tons of stuff on the beach, not to mention that you can also spend the time watching the sunset for additional romantic effects.
Engagement Party Cake Ideas
L-O-V-E 4-Layer Cake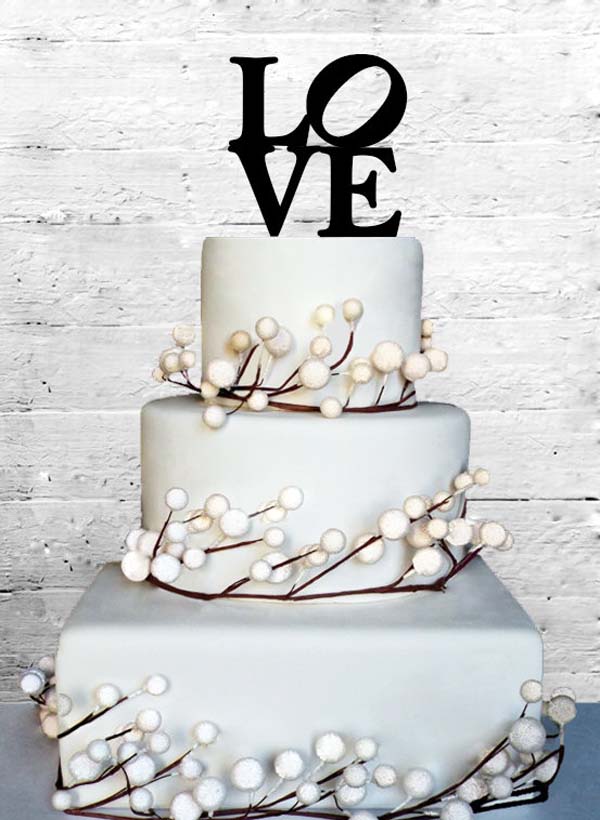 You wouldn't want something "too much" for your cake. The design for this sweet goody is simple and imposing – obviously, when the guests see the four letters: L-O-V-E, it will be obvious that this is a cake for love.
Love Birds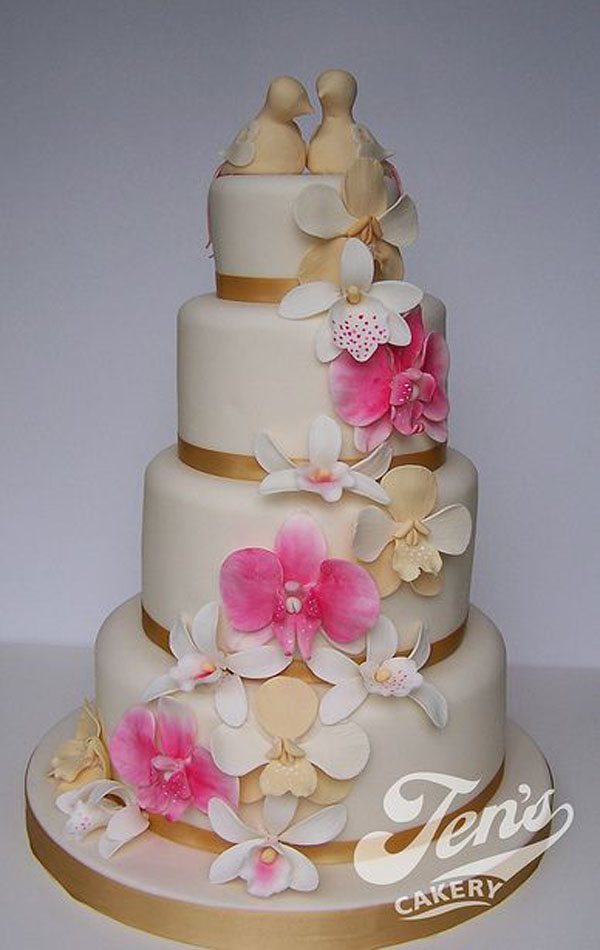 A love birds cake for a love birds. The design on this cake is cute and romantic but without the unnecessary details – just an animated frosting that draws two love birds kissing each other's beaks (although we know that love birds don't really kiss).
Fairy-Tale Inspired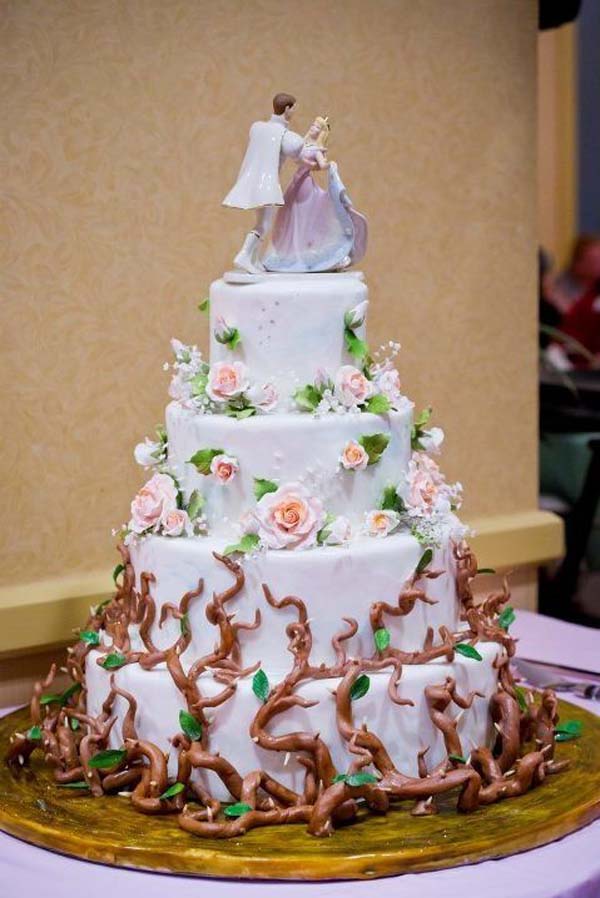 Not to worry. This will not make your cake look like Sleeping Beauty's crown. This cake only holds an elegant white touch with a few decorations at the topmost layer that says 'soon to be married.'
Engagement Party Invitation Ideas
Vintage Chalkboard Heart Theme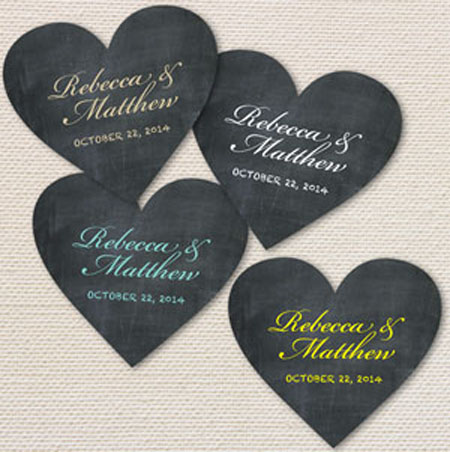 This invitation idea loosens the formality of the event and allows your guests to expect something more casual and engaging. The design involves having a heart-shaped imitation of a blackboard with chalkboard writings of the invitation.
Romantic Lips and Mustache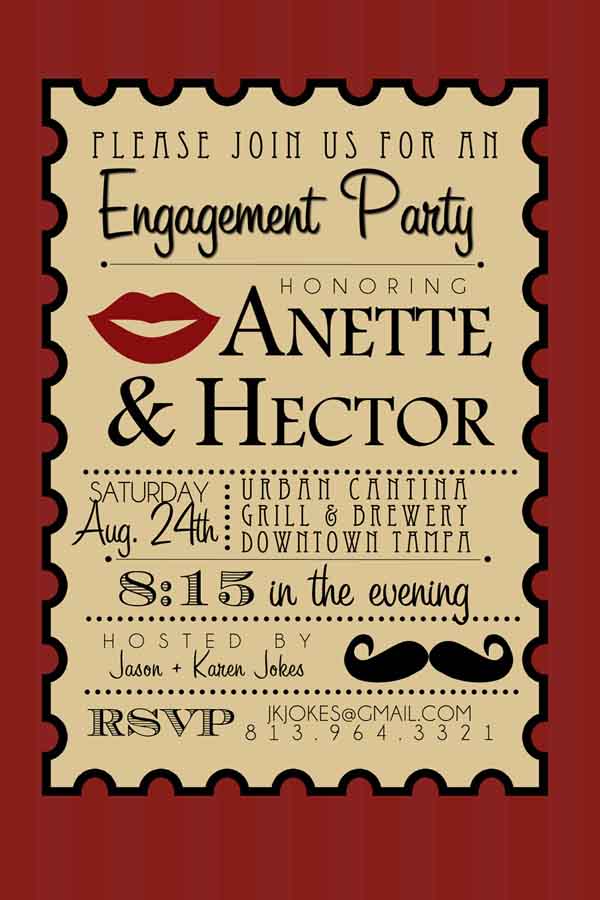 Easily understandable: your guests won't find it hard to guess the nature of the event because the minimalist graphic art can speak for itself. Obviously, somebody's got engaged.
Quirky and Fun: "Eat, Drink and Be Married"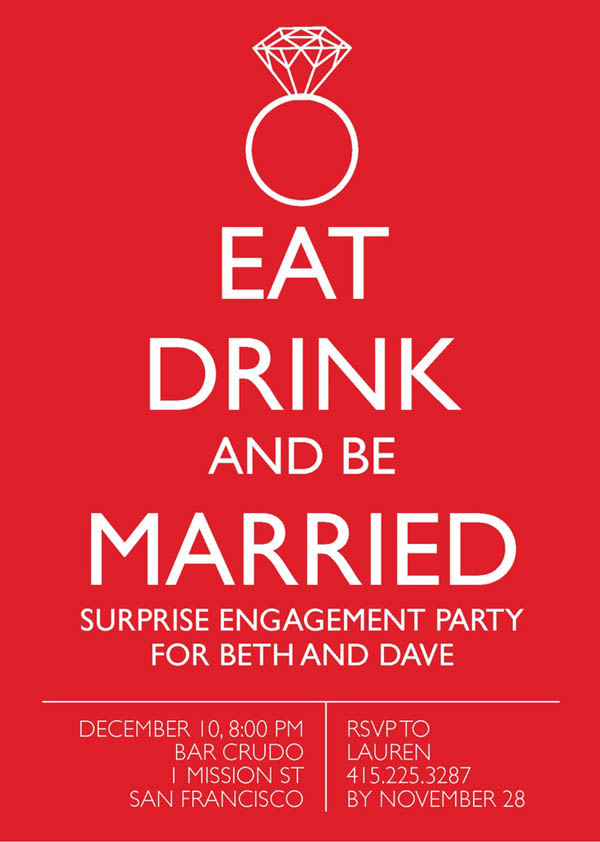 A simple inscription that will fill the front of the invitation before they flip on to the next page that gives the details of the occasion – and for that, we only have one word to say: "'Tis."