After the stag party and the bachelorette party, there is one important preparation to think about: wedding decoration ideas. In order to make the moment perfect, it is impeccable to have the decorations set the mood on the day that will tie the knot between two people. Wedding celebrations are the best excuses to wear our hair down and become as grandeur as we can. After all, the world has seen enough wars and battles. It's time to celebrate love, and weddings are the best venue for this.
Some of the best wedding decoration ideas, surprisingly, can be as cheap but unique. It is not necessary for a wedding to be expensive. The secret lies in creativity. Most people experience wedding jitters, especially in decorating the event. But it doesn't have to be this way. Have fun. It's a wedding, not a pressure cooker.
Wedding Table Decoration Ideas
Crystal Wedding Bubbles (Pink/Blue/Diamond)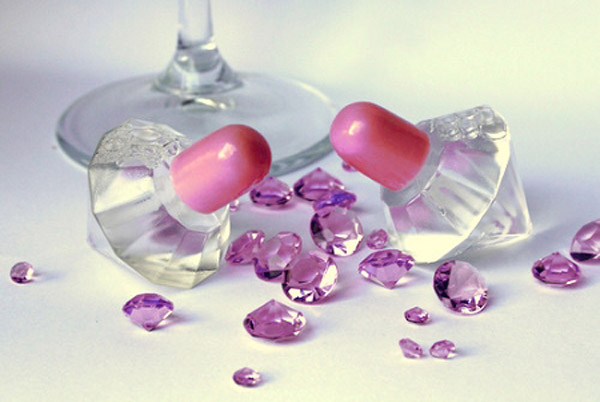 We love anything the glitters. They add a little specialty and royalty for the event, but they don't have to be pure diamonds (unless you want to give the royalty of England a run for their money). They can simply be crystal bubbles in any colour depending on the theme of the wedding.
White Scatter Table Pearls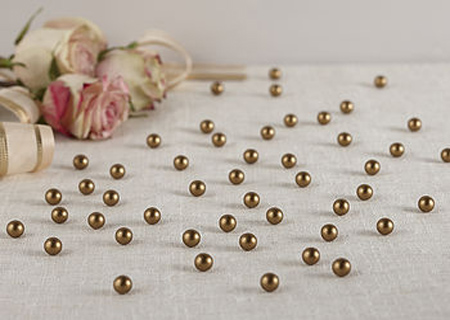 Same point as the idea on crystal wedding bubbles. If you want something that can make the table look like royalty, you can also have something glittery or shiny to scatter on the table such as pearls. Aside from pearls, pink or blue diamond (can be Swarovski or not), depending on the theme. It's a better decoration idea than scattering glitters on the table. It just isn't right.
Diamond Napkin Rings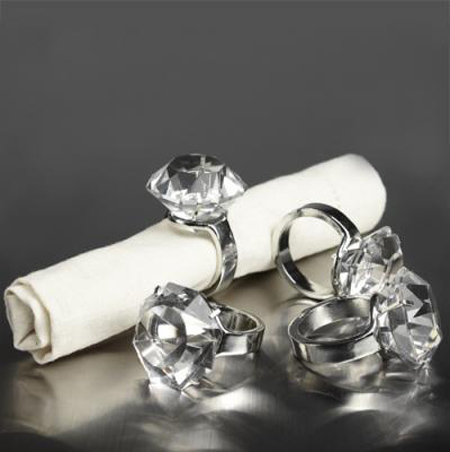 This is a creative idea for table decoration. You can mimic the napkin ring according to your engagement ring. Everyone can then have a piece of it.
Linked Hearts Place Card Holder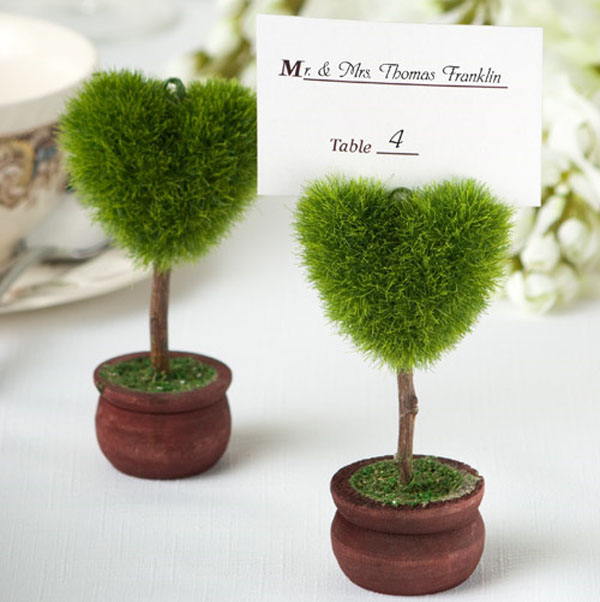 You can place the names of the guests here, according to their seats at the reception table. The design perfectly fits the event. Aside from this, this card holder will not over-shadow the design on the table especially if you want to put a centrepiece.
Wedding Reception Decoration Ideas
Apothecary Jars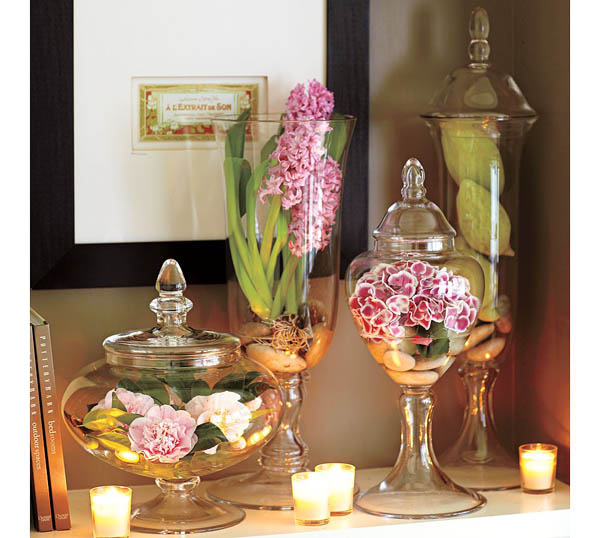 Who says apothecary jars are only for pickles in the kitchen? They can also be a decorative idea for a wedding. Yes, they can be. If you don't want the traditional flower centrepiece, then you should try this idea. Fill the jars with bright color combinations of flowers (depending on your theme) and have them as a background display on the food table. It's a little appetizing to see them behind the food.
Chair Sashes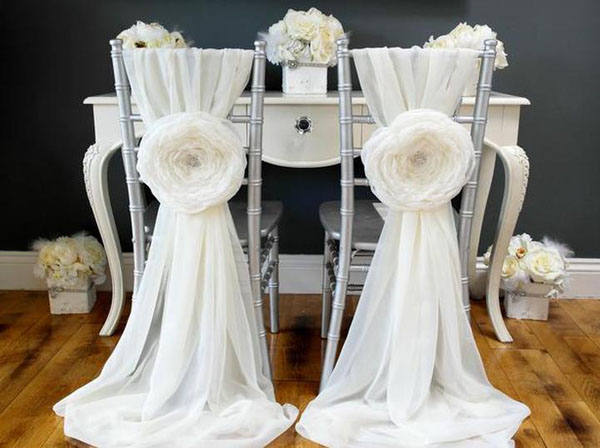 No, this will not make your wedding look gay (unless it's a gay wedding). There are ways to design the sash in order to make it look elegant. Having designs on chairs will also lessen the boring look, because chairs are usually given less decorations in receptions.
Crystal Garlands and Curtains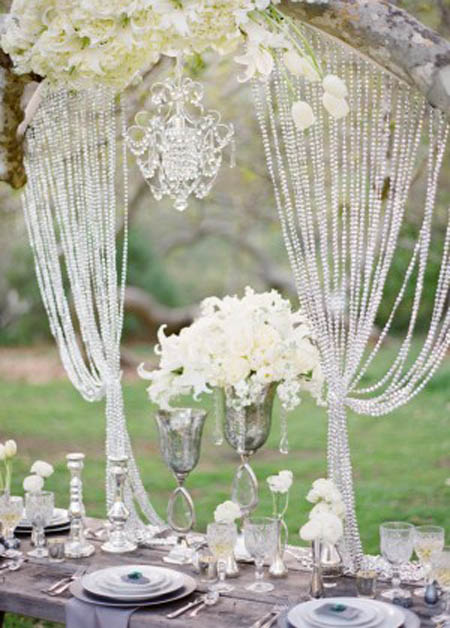 If you're tired of the usual floral centrepieces and flowers everywhere, then you can have crystal garlands to decorate the reception with. Garlands never fail to make an event look elegant. But be careful not to put too much detail when you use this because this decoration can stand by itself.
Cheap Wedding Decoration Ideas
Fresh Wedding Flower Centrepiece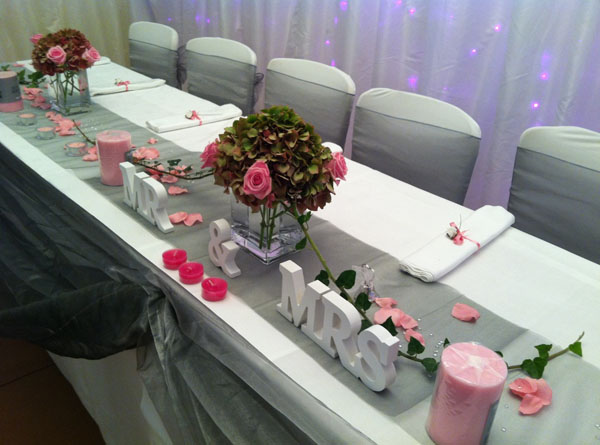 In this aspect, choose a flower that may define the theme, so as not to make it look boring because fresh flowers are the most common centrepieces. Add a few more touches like seashells alongside the centrepiece and some scattered petals.
Handmade Paper Flowers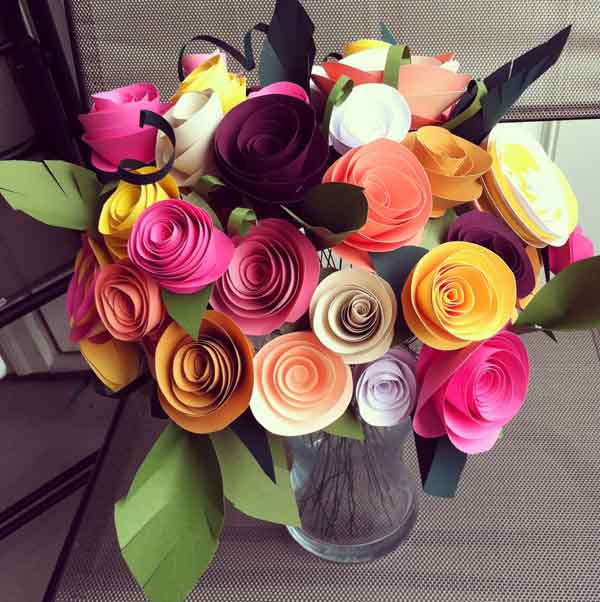 Origami: Is it a crane? No. Is it a butterfly? No. Is it a ribbon? No. Ever tried making flowers for the event by paper folding? If you want something cheap yet creative, then you can also use paper flowers. Being that they are handmade, you can personalize and design it according to your taste.
Floating Candles in Brass Bowl with Flower Petals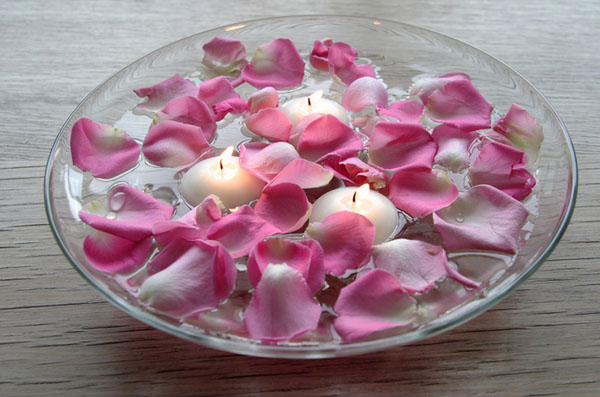 This is a classic wedding decoration idea. And a plus, it is easy to make. It also saves time in doing. Candles plus flower petals floating on water equals romance. This will never be a major fail.
Outdoor Wedding Decoration Ideas
Wedding Marquee Decoration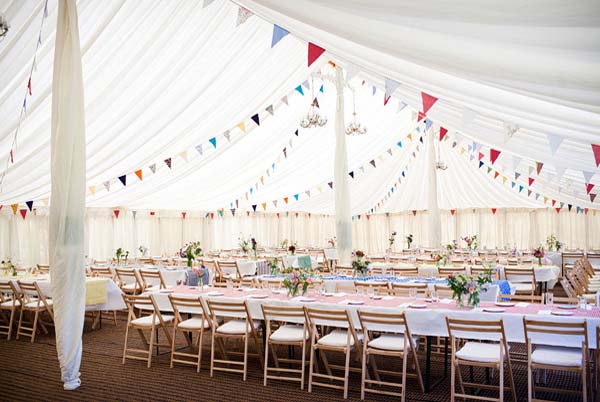 Because the theme is "outdoor," of course you wouldn't want your guests to suffer too much heat or to get wet in case it rains. Put an all-purpose marquee that will make the event, not only memorable, but well-equipped in any weather. But of course, dress the marquee creatively.
Flower Vessels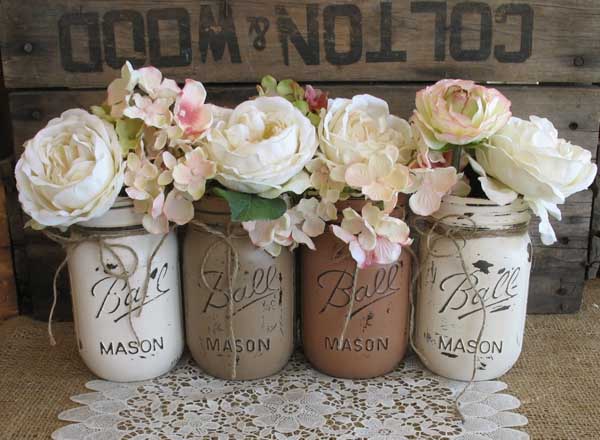 This decoration idea can make the event look nature-friendly. What's a better way to spend outdoors than with a bit of nature touch?
Fairy Lights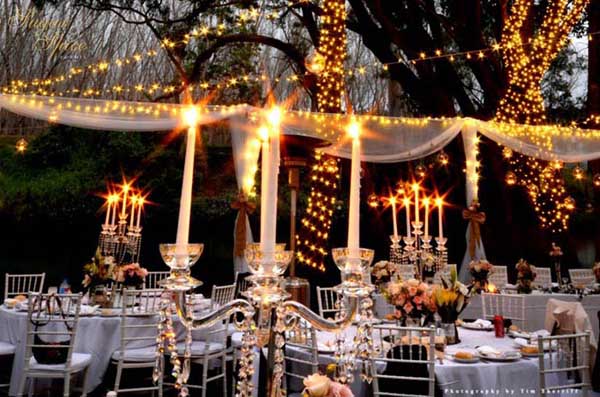 This will especially look good during the evening. Bits and pieces of lights hanging above the celebration makes the event look grand and alive. Instead of putting spot lights for the evening, try bits and pieces of lights that can make the celebration look like a rip-off from the Lord of the Rings.
Indian Wedding Decoration Ideas
Colorful Canopy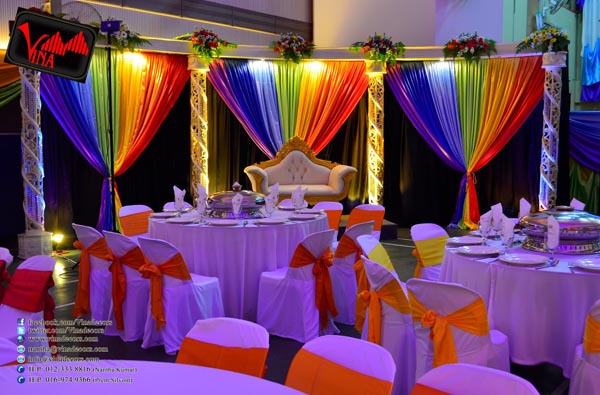 Indian weddings are specially adorned with bright colourful shades or purple and fuchsia, making the celebration seem festive and never boring. In contrary to the western pure-white theme, Indian weddings are bound to be colourful. It's specially a good idea to revamp the colors on the canopy that will enshroud the guests.
Flower Garlands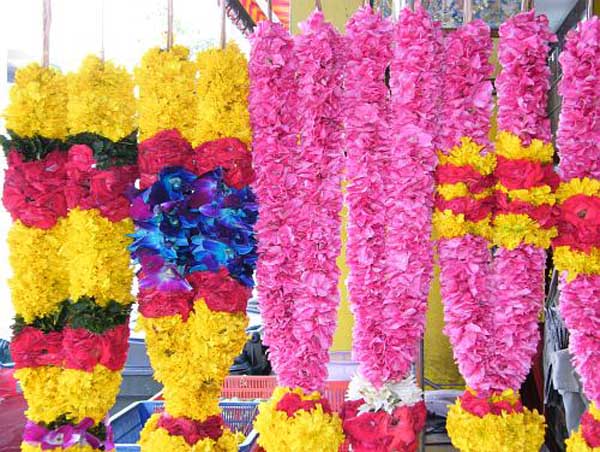 Again, garlands are a good idea for an Indian wedding. First, garlands can stand alone to decorate the whole event; and second, it's alright to create flower combos as decorations. Because it is an Indian wedding, there is no such thing as "over-decoration."
Moonbeam Purple Custom Aisle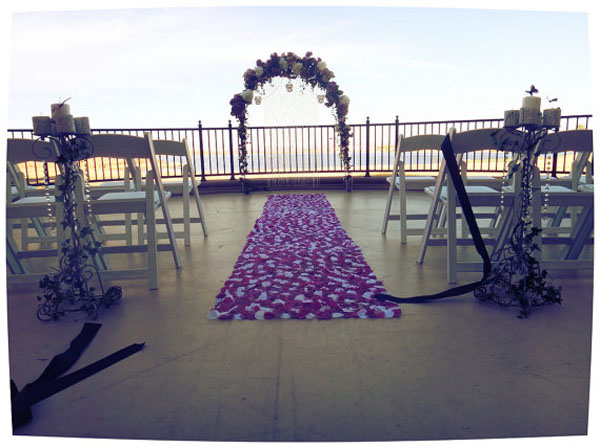 A unique aspect about Indian weddings is that you get to customize the aisle that the bride will cross. Phases of the moon is a phenomena special to Indians; thus, it can make the celebration more culturally in-tact. Purple, on the other hand, is the colour of royalty. No doubt, this idea can make the wedding memorable.
Vintage Wedding Decoration Ideas
Romantic Wooden Sign Just Married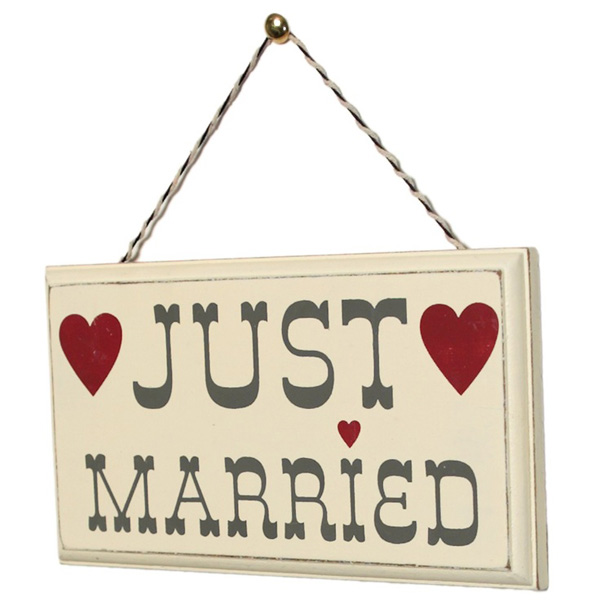 When we say vintage, we mean it. Anything old becomes the trend. This design is simple to do. The older the wooden sign may be, then the better. After all, what's vintage without a bit of moss and mildew. Wait, forget the mildew.
Three Tier Regency Cake Stand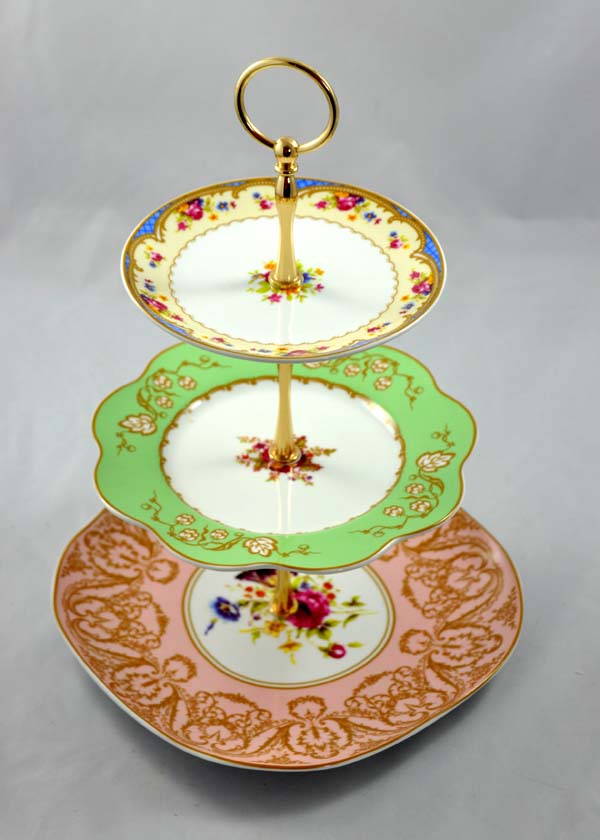 If you've seen Hollywood films that have settings in the Victorian era, then this is idea is something like that. A vintage theme never fails without the help of 'the' cake stand that can make the celebration look like your grandmother's wedding.
Wedding This Way Hanging Metal Sign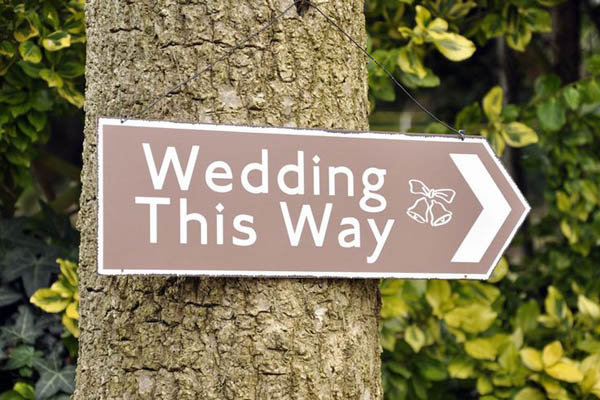 This is another vintage idea that will definitely be noticeable. The guests will surely look at this sign and of course, it may help in setting the theme.
DIY Wedding Decoration Ideas
Painted Vases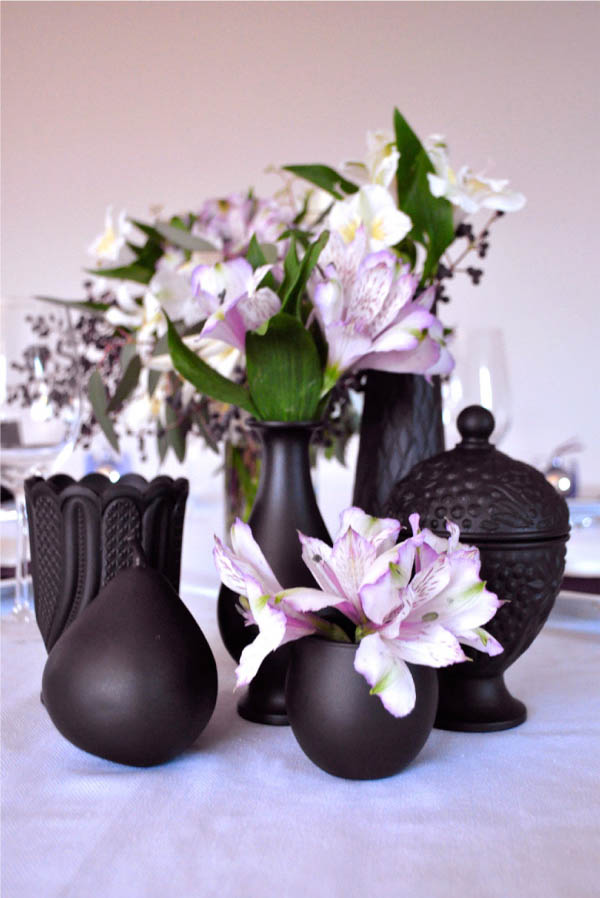 It's best to have this decoration idea in variety of colours, because having them in a monotonous tone will make the design a little boring. This will look especially good on the tables especially if you want to use painted vases with flowers as a centrepiece instead of the traditional crystal clear vase.
Floral Centrepieces (Water with Food Colouring Inside Vases)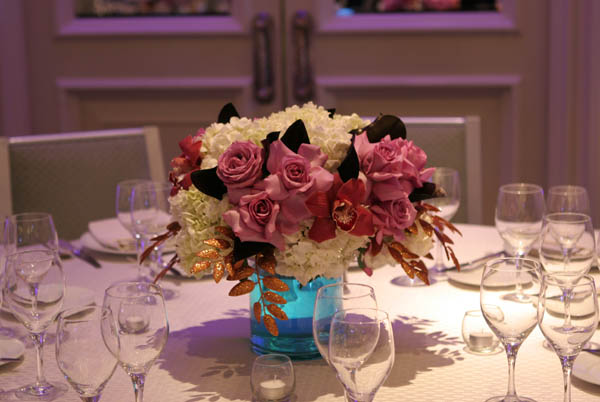 If you haven't heard of this decor trick before, then here's an idiot's guide for you. If you're probably wondering on how to make those flowers with colored tips, then this is the simple trick. Simply, put food coloring (of your preference) in the vase filled with water where the flowers will rest. Observe the results after an hour or two.
Origami Wedding Decorations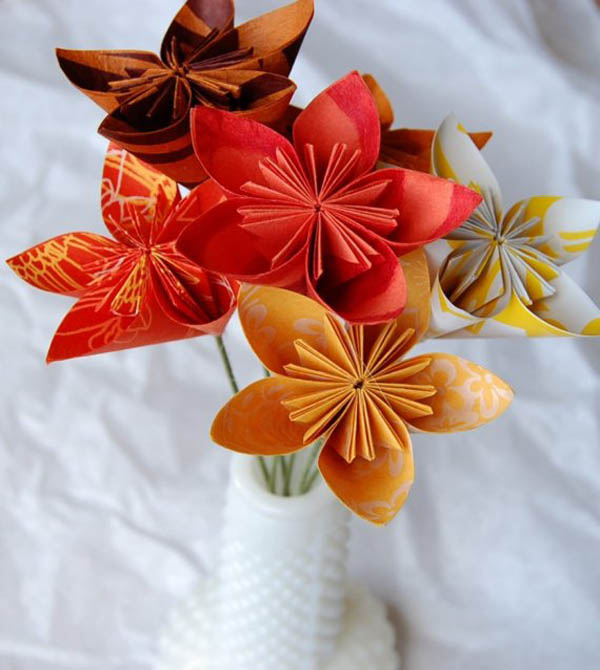 Now, it's the time to let out those paper folding ideas. You may also want to buy a special origami paper for this. Your guests will have fun looking at the designs that you've made specially for their entertainment.
Beach Wedding Decoration Ideas
Stunning Blue Seashell Bouquet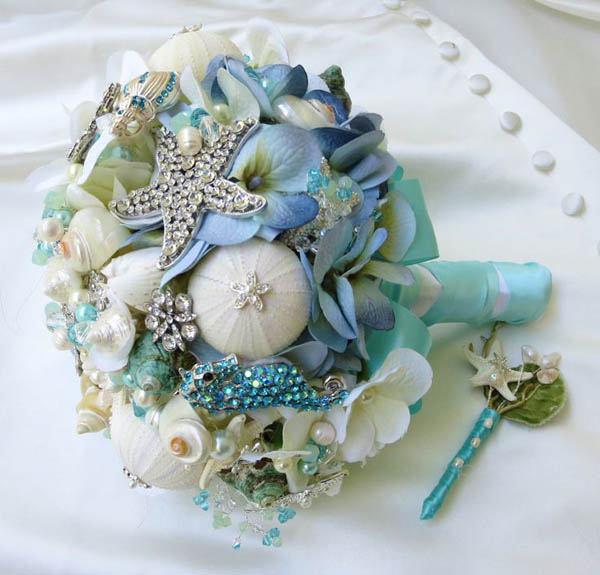 You're probably wondering – why blue? It's the colour of the ocean. Besides, blue has a calming effect. Why seashell bouquet? It's a beach wedding of course. The best way to wear the beach is to decorate using seashells. The guests won't have to point out the obvious.
Coral Beach Wedding Cake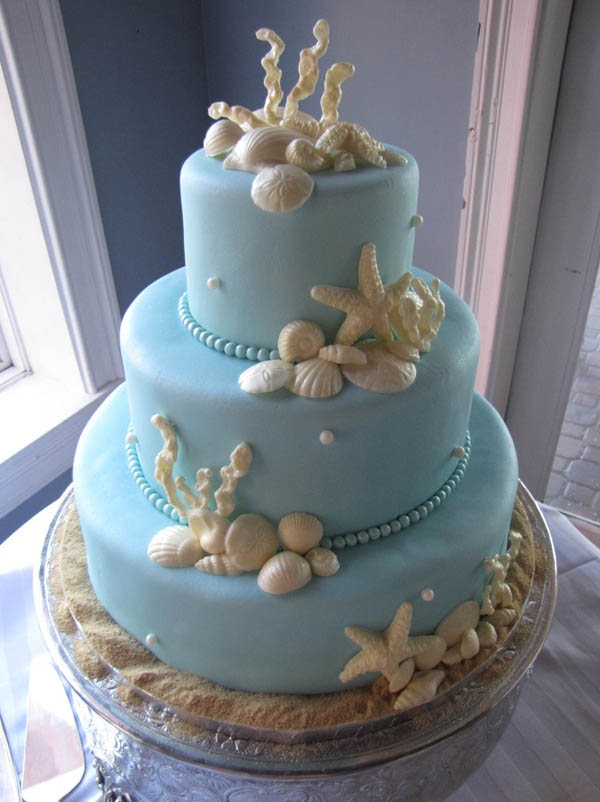 Because we can't get enough of seashells and corals in a beach wedding, let's do more of the obvious. The last stop: the wedding cake. But don't underestimate this obvious cake decoration for a beach wedding. You can find great images of this on a local store and on the internet.
Hand Wired Seashells, Pearl, Starfish with Swarovski Crystals (Hair Decoration)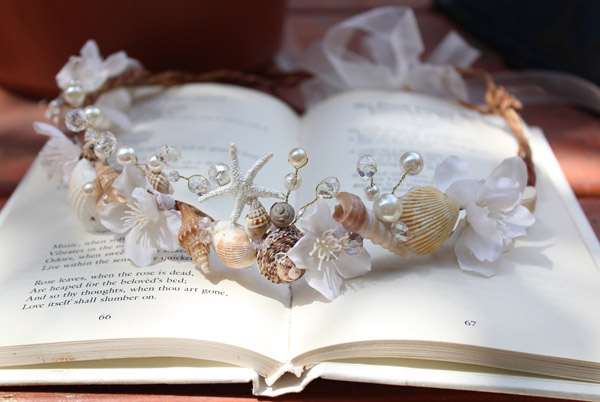 Still not enough seashells – we want to see more and this time, on the heads of the bride's maids. If this decoration idea is done with the proper arrangement, colour combinations and design variation (seashells, pearl, starfish, crystals), it will come out beautiful. It's also a good idea to make your bride's maids look like a part of the decorations. And please, do not use a live starfish for this idea.
Rustic Wedding Decoration Ideas
Pretty Pomes
How do you define pretty pomes? First, if the design is made in perfect pomes; and second, if the pomes is in the right shade. If you have a classic black-and-white theme, then have the pomes in the same colour. If the theme is rustic, then have them in warm colours. Pomes, just like garlands, can also stand alone. So if you don't have any more idea on how to decorate your rustic wedding theme, pomes is the answer.
Hanging Pinwheels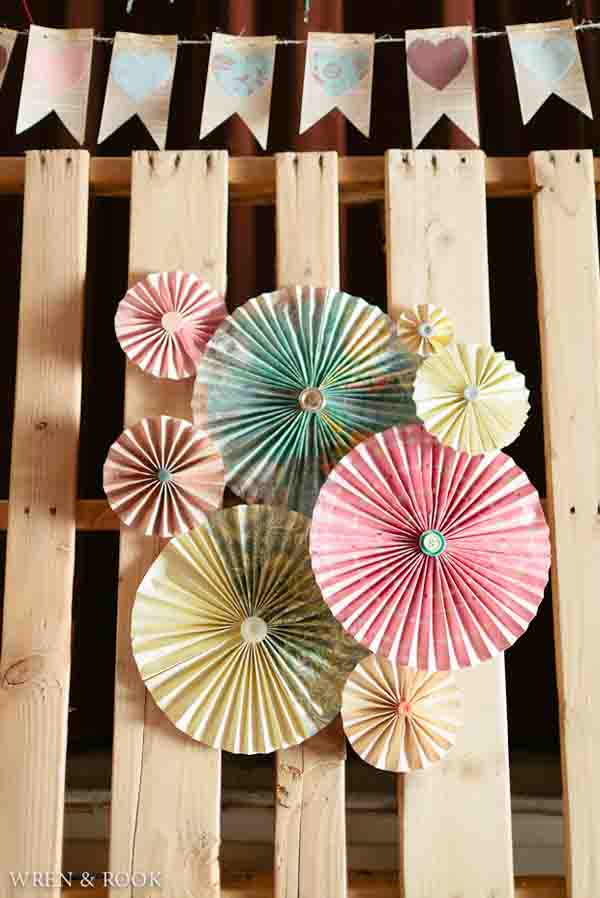 Who would've thought that you can use what have learned in your elementary art class to make rustic decorations? Pinwheels are easy to make. Moreover, they can look very decorative for a rustic themed wedding. Especially if the wedding is outdoors, just imagine how pretty this will look when a breeze approaches.
Wheat Centrepiece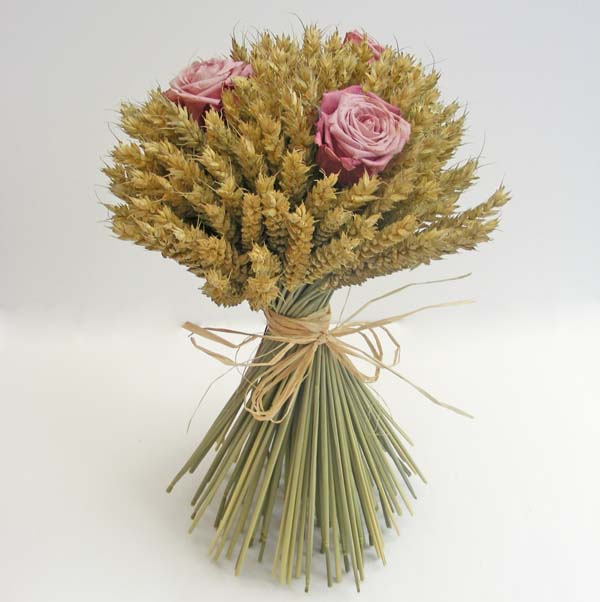 For a rustic wedding theme, flowers are overrated. Instead of having a flower centrepiece, you can surprise your guests by having a wheat centrepiece. This can especially look good because the colour palettes of wheat are not too over-powering. Imagine a wheat centrepiece on a brightly painted vase: perfect.