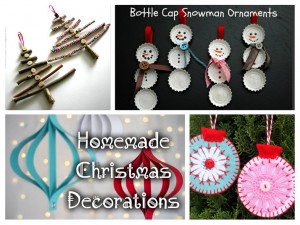 The best way to be inspired this Christmas is to decorate your home. If you decide to make you're on Christmas decorations and ornaments yourself or with family members, then this season will be more special. Now is a good time to let your creativeness shine through as you watch your home come to holiday life. Furthermore, you really don't have to spend lots of bucks just to buy your Christmas decorations and ornaments. Why would you if you can just make your own DIY Christmas ornaments and decors?
There are so many homemade Christmas decorations and DIY Christmas crafts that you can actually save you some penny. Some may be time consuming, but with the bonding moment with your kids while working on them, I think it's all worth the time and money. Therefore, if you have decided to create your decors and are looking for Christmas homemade decorations, you are at the right place. Here we have homemade Christmas decoration ideas to guide you in to making your own.
Homemade Christmas Tree Decorations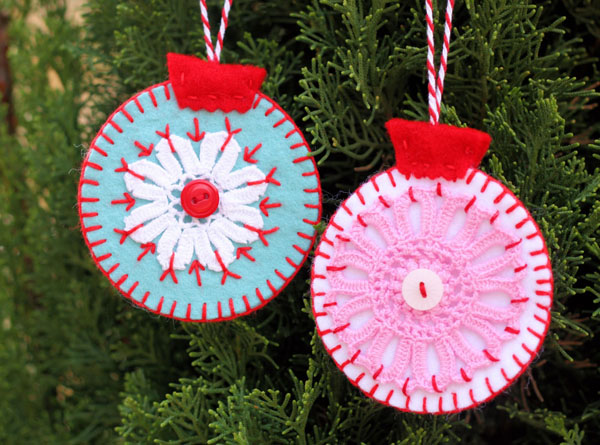 DIY Christmas ornament. You need some felt circles, buttons and strings. First cut out approximately 3 inch circles and add some buttons in the middle. Finish it off with basic embroidery stitches. It's a wonderful and creative way to decorate your Christmas tree with homemade ornaments!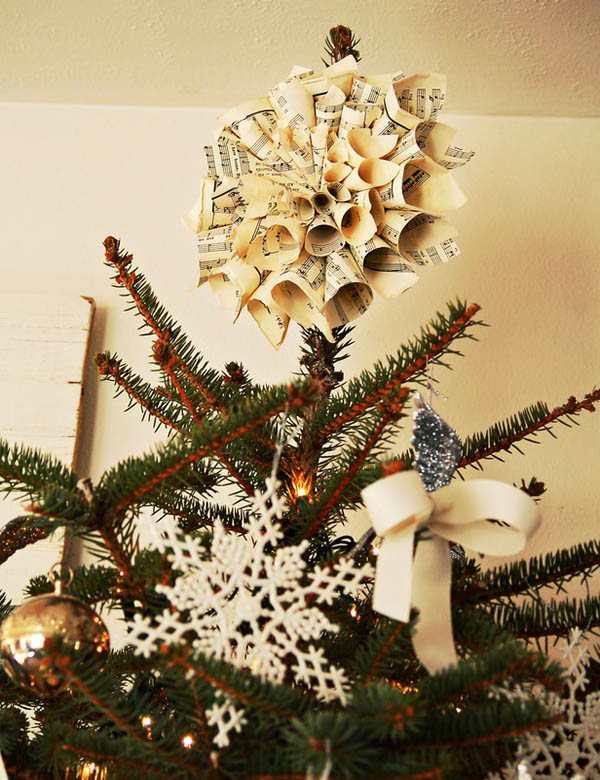 Create a Christmas ornament that you can put on top of your tree from a paper DIY. 10 long paper and 10 short ones. Form each paper to cones; start to glue each cone with the same sizes. Put the shorter one on top of the large cone. Now you have a paper star ornament that is perfect for you Christmas tree.
Homemade Christmas Decorations for Kids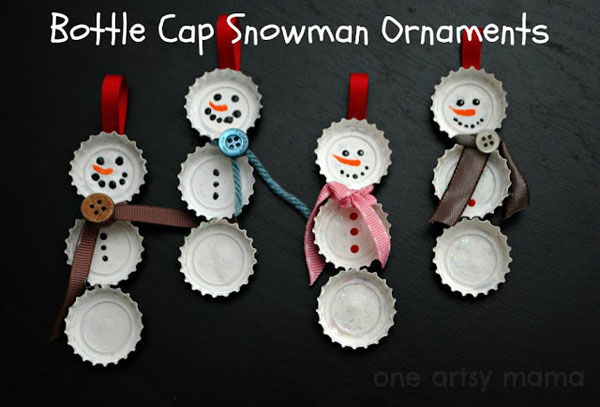 Don't throw your soda pop caps. You need paints, some soda caps, buttons and ribbons or strings. You can paint the inner part of the cap in white and create this snowman DIY to serve as ornaments. Form a hoop out of a string and attach it above the head of your soda cap snowman. Now it's perfect to hang to your Christmas tree or wreaths or doors.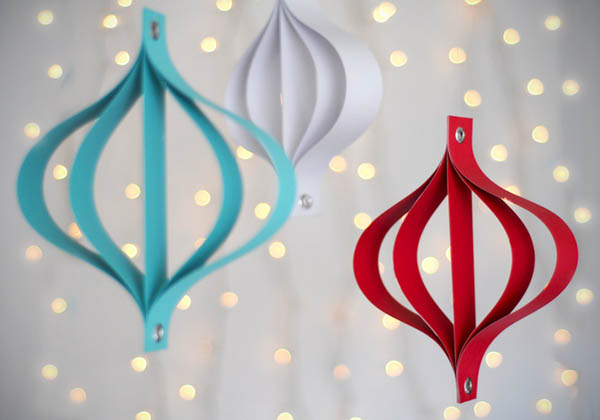 Things you need: 12 x 12″ cardstock, Binder clips, puncher, metal eyelet and glue. Create one flush end, and hold in place with a binder clip. Use the puncher to create a hole through all five strips from the end. Place the two complimentary pieces of the eyelet on both side, and glue into place. Repeat the process and to hang, just slip some white thread or string through the eyelet or under one edge.
DIY Homemade Christmas Decorations Ideas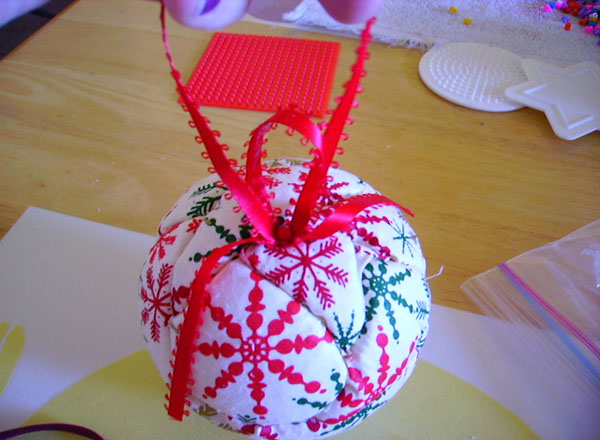 Fabric ornament ball. You need a Styrofoam 4-inch ball, cut out fabric 2-3inches and a knife. Stuff out the fabric cutouts into the ball, keep going around and do the same thing until the ball is covered. Top it with a ribbon and stuck it with a pin.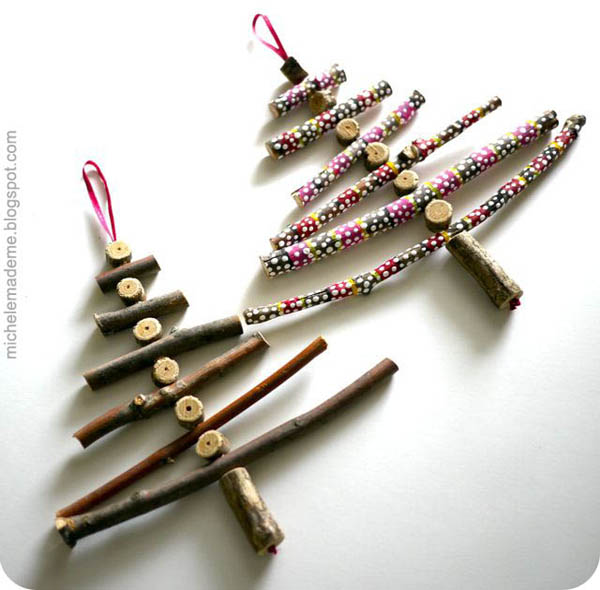 Decorate your Christmas tree with your homemade Christmas tree ornament. Collect small branches and line them up like seen on the photo to form a Christmas tree shape. You can design it by glue-ing small beads to add a livelier feel to it.
Easy DIY Christmas Ornaments
How to Make Homemade Christmas Decorations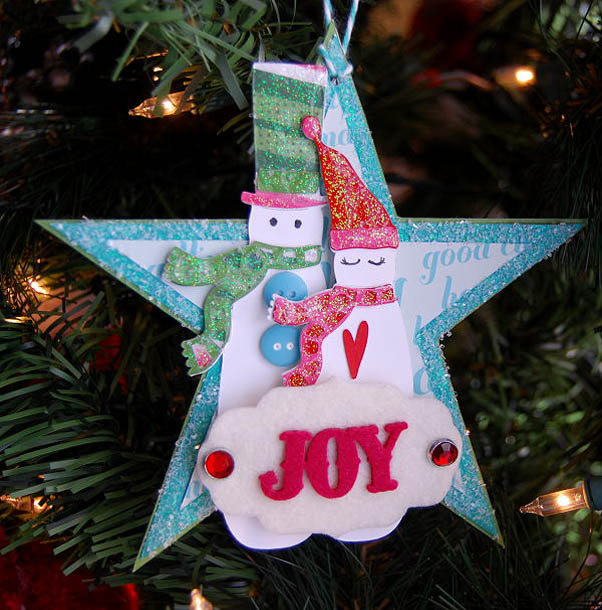 Joy ornament. Layer 3 paper stars together. Create two snow people.  Then use glitter glue to accent your ornament around the star and for the snow people's hats and scarves. When dry, add a bit of baker's twine to hang your ornament.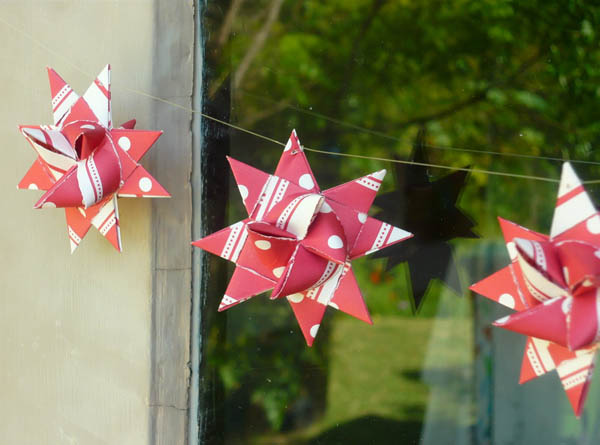 Weave/fold a 3d star. Use strips of paper about 1.2cm wide by about 50cm long. One sheet of Cristina Re paper made about 13 stars. Clear fishing line was used to string the stars together after puncturing a whole in each star with a sewing needle. This is an origami inspired 3d stars.
Homemade Paper Christmas Decorations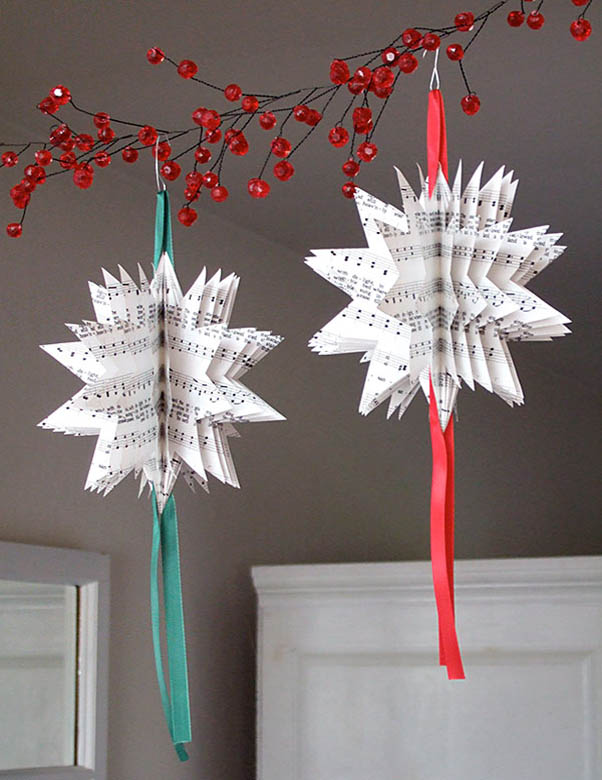 You need bright colored ribbons and star cutouts. Start to stack 10 stars together. Fold the ribbon in half, and then drape one side over the top of the stack and the other on the bottom of the stack. Leave a loop at the top about 1-1/2 inches long. Fold the top five sheets along the center stitch and spread each layer out as evenly as you can. Repeat with the bottom five sheets. You're done!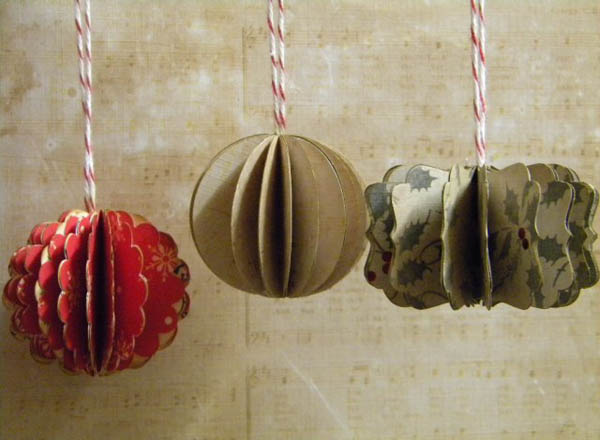 Prepare 10 cutouts of your desired shape. Stack 10 of the same shape together. Fold a string in half, and then drape one side over the top of the stack and the other on the bottom of the stack. Create a loop at the top for hanging purposes. Fold the top five sheets along the center stitch and spread each layer out as evenly as you can. Repeat on the other side. You can hang this to your Christmas tree or windows.
Cheap Homemade Christmas Decorations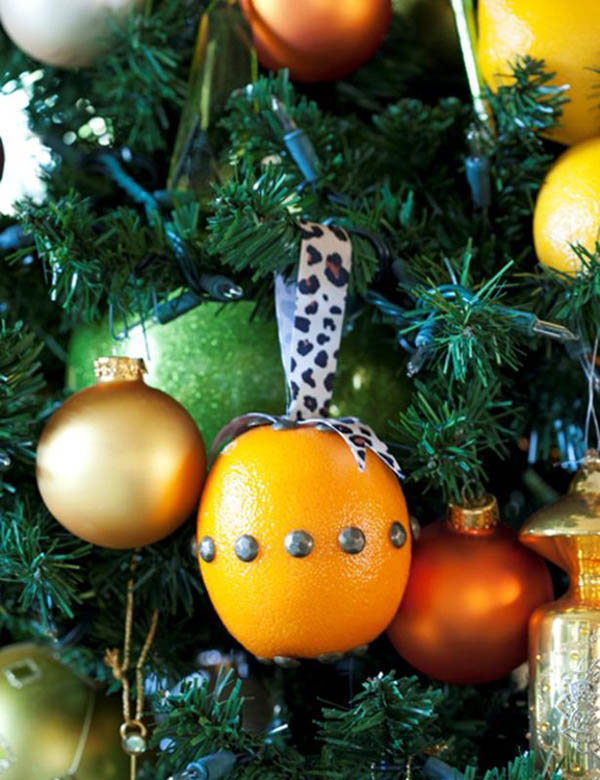 If you don't have Christmas ball ornaments, you can substitute it with oranges. You need a ribbon, flatten beads and a glue gun. You can add any flat beads to the fruit and glue them, create your on design to be creative. Glue a ribbon string at the top and hang them to your Christmas tree.
Homemade Outdoor Christmas Decorations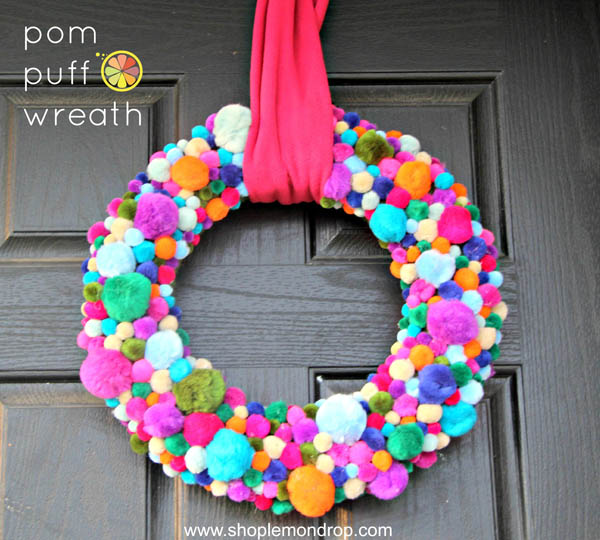 You need a thread, little puff balls with different colors, glue and a circle Styrofoam cut out. Start wrapping your Styrofoam with the thread and then mix the little puff balls and glue them to the thread. Use a scarf to hang it at your door or window.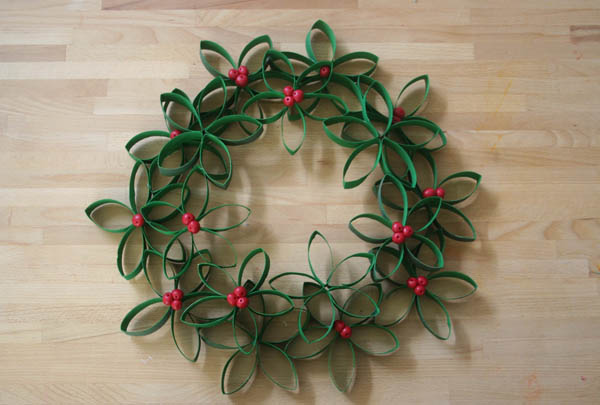 You need cardboards of the toilet paper about 4 pieces for 1 wreath that are painted with green acrylic paint, glue and scissors. Flatten the toilet paper and cut out four strips, then glue the cutouts to create a flower with 5 petals. Then glue them together to create a wreath.
Easy Homemade Christmas Decorations and Ornaments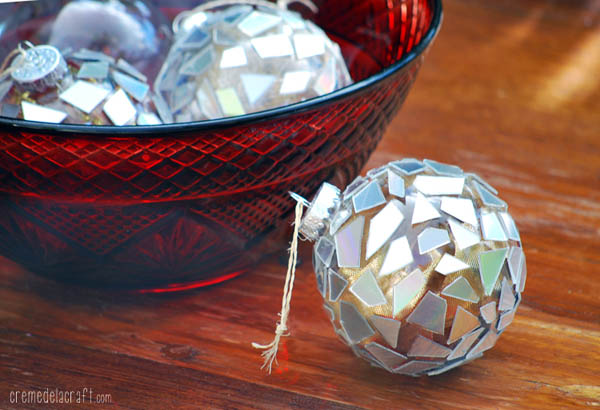 Christmas disco ball ornament. You need Christmas balls-any color, cd's and glue. Start by breaking the cd's into small pieces and glue them together to the Christmas ball to create a disco ball effect. And you now have a shiny ornament!
Homemade Christmas Table Decorations
Ideas for Homemade Christmas Decorations, Free Homemade Christmas Decorations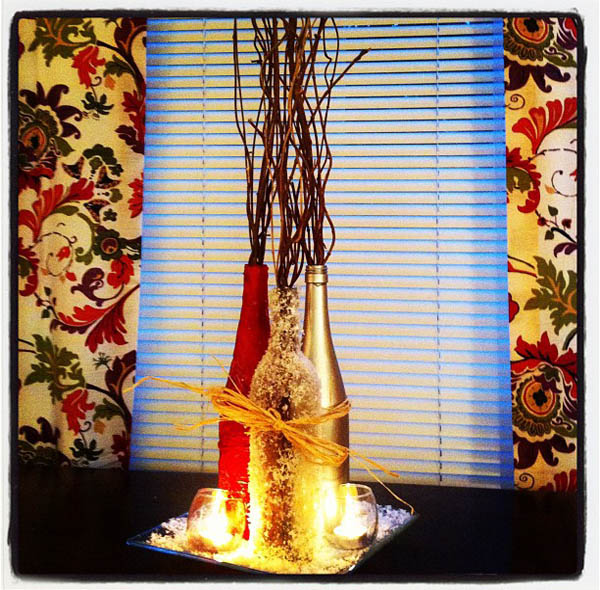 You need 3 empty wine bottles, sticks, strings, metallic paint, tissue paper and glue. Paint your wine bottles with your desired metallic paint color. Try them up and then put the sticks into the wine bottle. Tie them all together and create a snowy effect with your tissue paper. You can add candle lights for a relaxing feeling.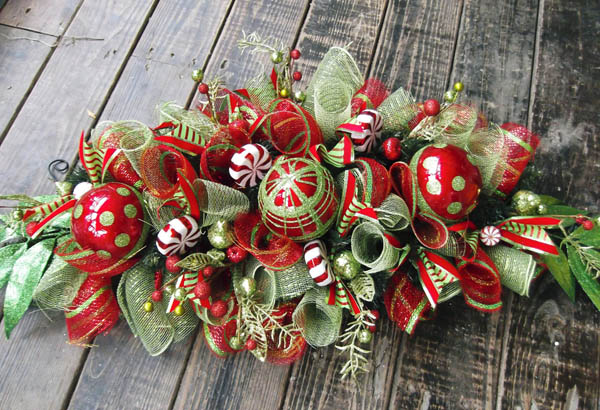 Homemade christmas centerpiece. Make this a table attention seeker for this coming holiday. This has Christmas ball ornaments, garlands and peppermint candy ornaments. Perfect as it contains all the traditional Christmas colors. This is one of the most beautiful options for Christmas table decorations during the holiday dinner.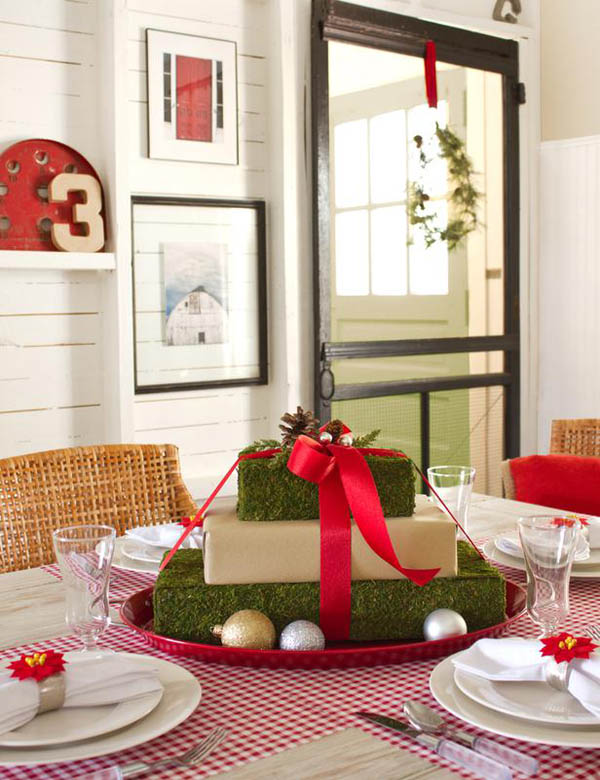 Mossy gift box for you center piece. Stack three of the mossy set with proportional sizes. Place them in a nice tray and wrap them up with a red ribbon to create a gift box effect.
DIY Christmas Decorations for Holiday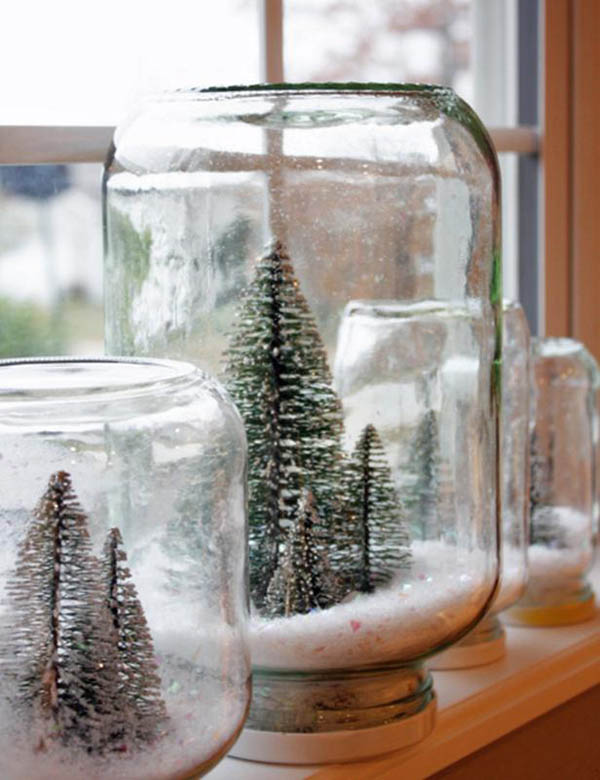 If you have large jars, you can do this for a Christmas decoration. Create a small Christmas tree that will fit to your jar. Attach the bottom end of the tree to the inside of the cap. Put some white dust inside to create a snowy effect. Close your lid and turn it upside down.
DIY Homemade Christmas Decor Ideas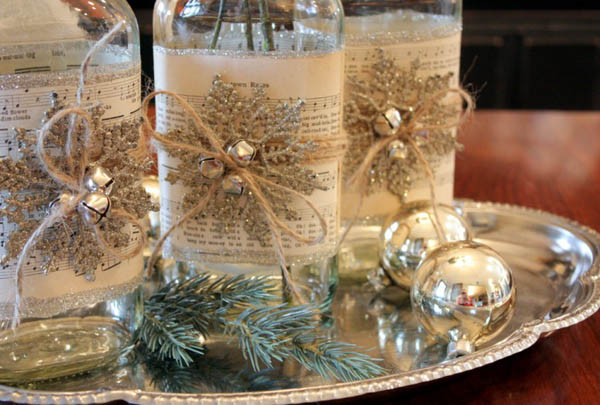 Recycle your empty bottles or jars. Place a paper with Christmas song notes to replace the labels of the jars. Glue a snowflake glittery cut out in the middle of the label then tie them up all together with a string. You now have an elegant center piece out of recycled jars.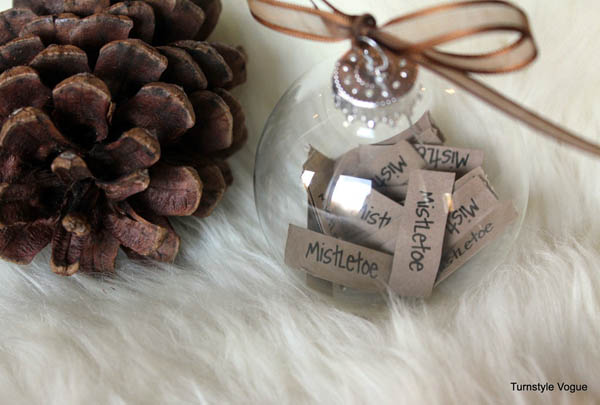 Here you need a see-through Christmas ball ornament, a pen and a paper. Start by writing Christmas words to the paper and cut them out to pieces. Put them inside the Christmas ball to add meaning and beauty to it.
There you have it! I hope you find enjoyment and fun while working on these easy DIY christmas decorations. Don't forget to include your kids while making these homemade Christmas decorations. Happy Crafting and Merry Christmas!