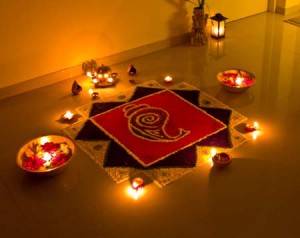 Rangoli designs are colorful patterns, sometimes made from different flowers in a variety of colors and kinds. They are the created for Indian celebrations. They also become the mood-setters for a particular occasion. In popular culture, this is one of the most explored in Indian culture because of its astounding art forms and unique geometry. Flowers and their petals, in different colors and kinds, formed to a marvelous pattern never fail to awe to the on-lookers.In the same light, a colorful geometric pattern made from colored chalks is also fun to look at. So you want great street art and graffiti?Indians culture inspired this.
Over the years, there has been quite an evolution to this artistic part of the Indian culture. These are also translated into different languages and dialects in India such as Kolam and Alpana in Tamil Nadu and Kolkata, respectively. Indian culture is always colorful, giving a sense of royalty and festiveness. Even Indian wedding dresses are exhibited in a wide variety of colours. These awesome material fibres of Indian culture also symbolize Indian values and morals that are crucial in preserving tradition.
Some design may have deities, flowers, earth elements, peacocks and the like. Indian culture has always been a heralded in modern world culture through these. Rangoli designs stretch as far as the Indian culture as adapted into the modern world, as these are also being imitated in other countries in the form of street art and graffiti.
Latest Rangoli Designs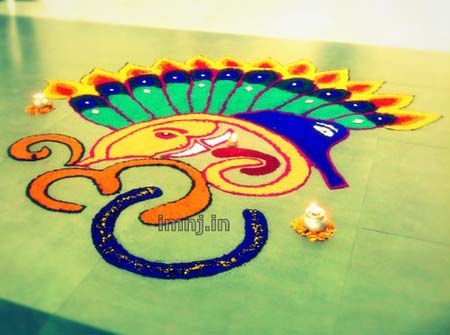 Usually, the latest designs make use of a complex yet minimalist art form – something catchy to the viewers, but also will make them think of the concept behind the pattern. Some popular pattern includes whirlwind design and peacock design.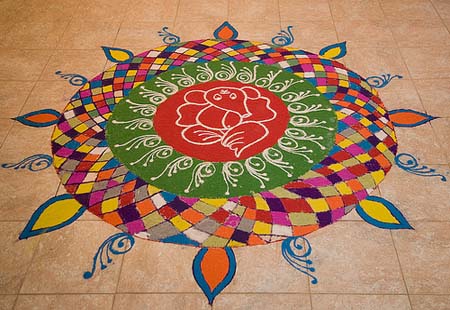 Modern rangoli patterns strive to move away from the usual trend of creating a colourful picture that easily becomes a give-away for the on-lookers; but rather, they force the viewer to think.
Rangoli Designs for Diwali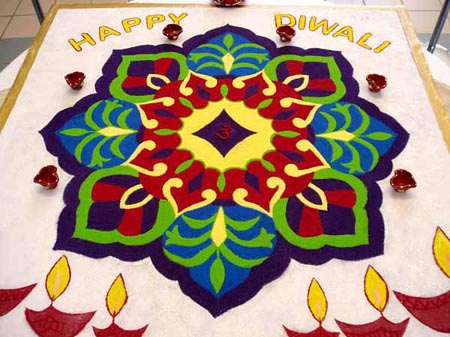 One good point a rangoli patterns for Diwali of this is to make your house look impressive for the guests. Some of the Diwali rangoli includes having bright colors that can put harmony in a household like red, purple, pink, green and yellow. They also make use of circular patterns that exhibit a sense of hearth and peace.
Easy Rangoli Designs for Diwali
Some find it hard to play with the color mixtures for a rangoli instead of defining the pattern even more. There are some rangoli designs, especially for Diwali that are simple when it comes to the geometric patterns, but are complex when it comes to the color combinations. This is a creative way to make a simple-patterned rangoli design look grand.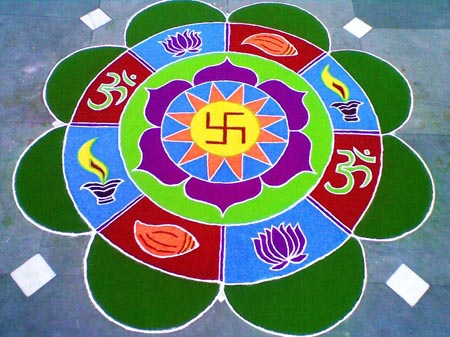 Simple Rangoli Designs
With all the extravagant colors that are used in rangoli artwork, it's almost impossible to think that there are also simple rangoli patterns to accommodate folk who want a more eye-friendly design.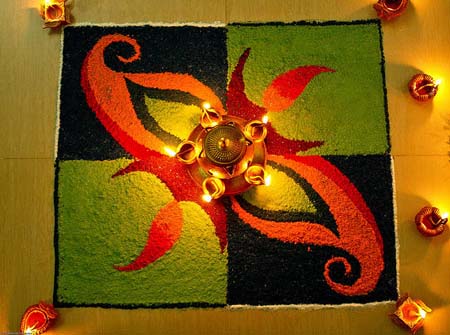 Simple rangolis are also favourable to those who are still on the process of learning to create more complicated patterns. Usually, these make use of simple geometric shapes that are simply put together in order to form a larger one.
Rangoli Designs for Competition
The objective of this design is the opposite of the simple rangoli patterns because the patterns are more complicated and more complex. In order to elevate the art form, shading techniques, as in sketching, are also used in this classification.
Peacocks are one of the most favourable muses in this design because these birds are naturally colourful and are perfect for the rangoli patterns and designs.
Free Hand Rangoli Designs
Rangoli designs can be sketched but this requires drawing skills. Of course, drawing rangoli patterns can be learned. There are tips on how to draw the design – some may recommend in starting with dots to connect in order to perfectly align the geometric patterns that are also highly-dependent on precision. Some also may recommend in drawing geometric patterns to form a picture.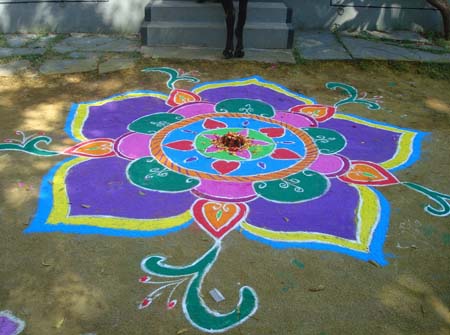 Easy Rangoli Designs and Patterns
Simple patterns plus simple colors make a simple design. Simple designs are those that are easy to make. So if it's your turn to make a rangoli for a festival or an occasion, then fear no more because there are easy designs that make use of flower petals with alternating colors or star shape with multiple colours.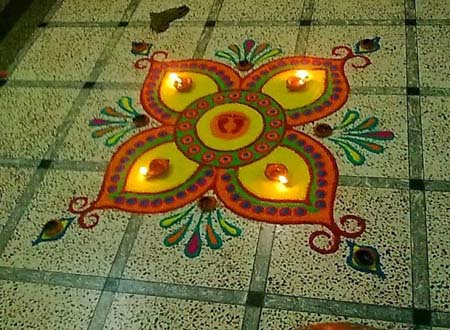 Rangoli Designs with Flowers
The modern way of adapting a rangoli design with flowers is through abstract and mystic patterns.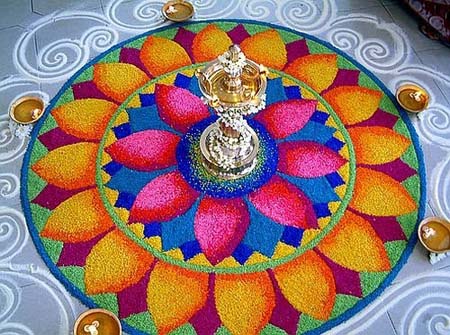 The circular shape as the core of the pattern seldom disappears, but this is always prominent to rangoli designs in general. You have to make the viewer think creatively in order to see a flower from the geometric design.
Sanskar Bharti Rangoli Designs
This is a free hand rangoli from Maharashtra that is drawn with three to five fingers. The design used for this classification can be traditionally circular as well as square.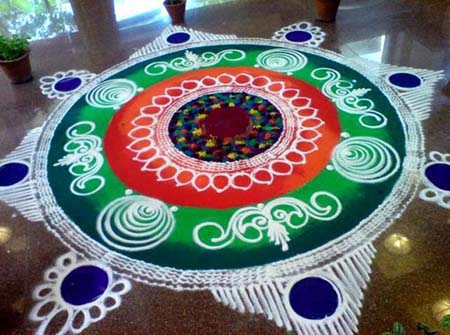 Pongal Rangoli Designs and Patterns
This rangoli design is intended for a special occasion; thus, the patterns and colours used for this classification are different from the usual rangoli pattern.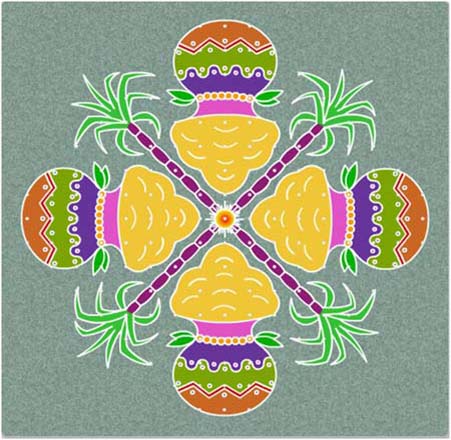 In an Indian festival that is called as Sankranthi or Pongal, this type is meant to symbolize happiness, wealth and peace in making use of additional touches to the rangoli. In particular, this adds some symbols such as birds, leaves, etc. along with dots mingled with the pattern.
Small Rangoli Designs and Patterns
Let's go back to the logic of a simple and easy design: simple patterns and simple colors make a simple design and simple designs are easy to make – small designs are an example of easy rangoli.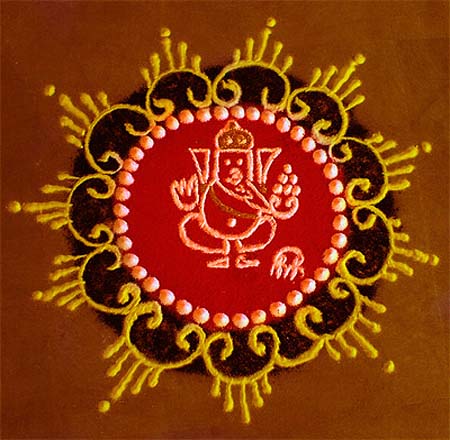 It is a fact that the larger the design, the more complicated the patterns may be but the smaller they are – say three dots as a start – the easier they are to make even if the colors are bombarded because the perimeter is only small.
Rangoli Designs for Kids
As early as they are kids, they can draw a rangoli like a pro. Simply, print some pattern templates and allow them to trace this with colored sand or with colored chalks. With this, kids can practice their free hand in tracing pattern templates for a learning experience.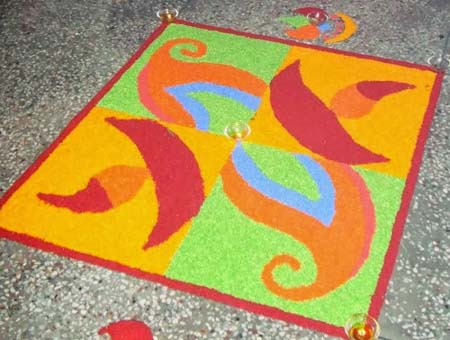 Having a design for kids doesn't necessarily mean using simple designs – that would be an underestimation. As long as there are pattern templates, kid can make tremendous rangoli designs.
Peacock Rangoli Designs
Peacocks are some of the most common symbolism in Indian culture and rangolis adapt this theme.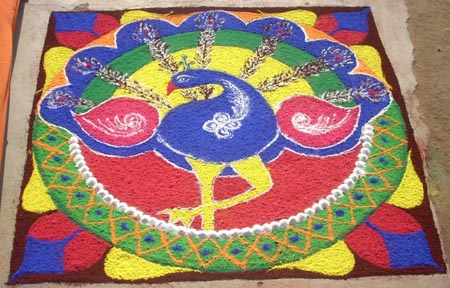 Majestic and mysterious – these are the usual descriptions for a peacock, the same with rangoli. Usually, these artworks are patterned on the drawn image of the peacock's feathers. Also, this type of design is also used for large designs.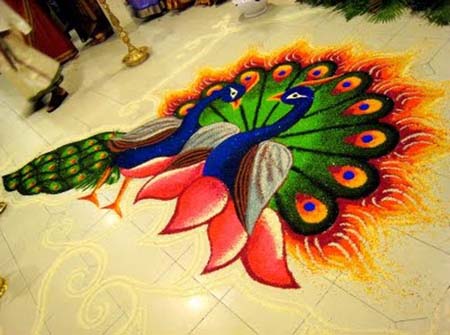 Freehand Rangoli Designs
Some of the best freehand designs are floral patterns with a flower inside. Some also make use of star-inspired shapes and themes for a little grandeur.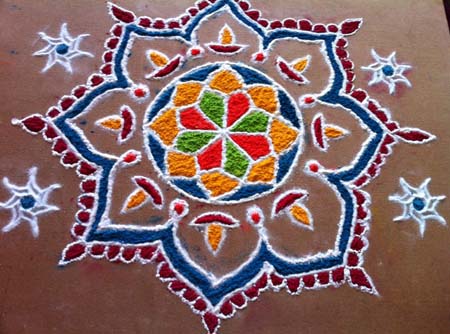 Floral designs are some that can easily be drawn from dots, whereas star-inspired can easily stand for itself.
Dotted Rangoli Designs
Usually, dots can be added as a supplementary art form in a rangoli, but surely even putting a few specs on the design can already make a big difference; thus, careful designing is also required for this type. Floral patterns tend to work with a dotted design.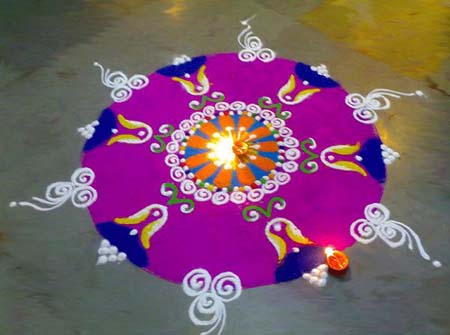 Rangoli Patterns and Designs for New Year
Even Indian culture celebrates the New Year with a bang. The designs for the New Year are accustomed to welcome another year with a flourish of prosperity and new life. The color patterns are more defined and the art form itself is grandeur.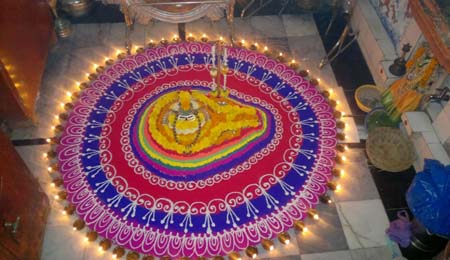 Kolam Rangoli Patterns and Designs
Kolams are made to inhibit multiple images in a pattern. In this aspect, there should be geometric perfection to harmonize the patterns into one image.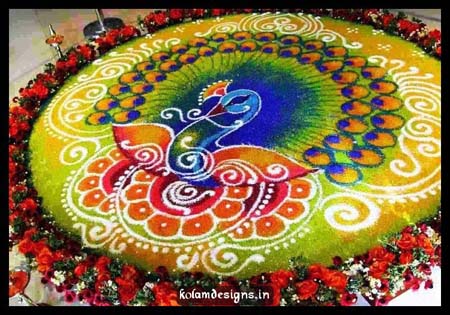 An example of this is the peacock images circled together to form a flower. The flower stands out as well as the swans surrounding it.
Ganesh Rangoli Designs
This type of rangoli  is made to honor the Hindu God Ganesh. The modern image, however, makes use of certain abstractions to represent Ganesh. Sometimes, minimalist art is also used for this.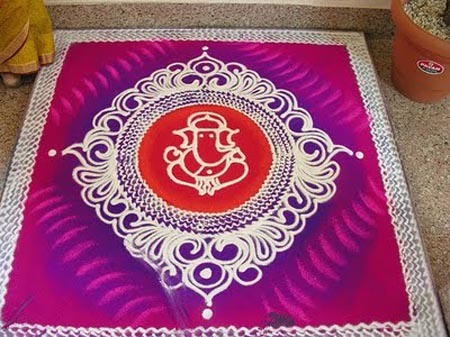 Indian Rangoli Patterns and Ideas
Exquisite and majestic – these are the descriptions for Indian rangoli patterns, which are intended to welcome a guest and a festival. The patterns vary from circular to rectangular to images. The colors are limitless and present unrelenting harmony.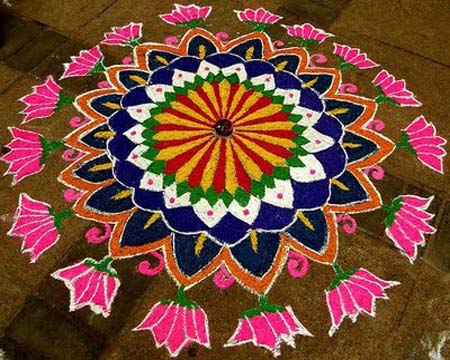 Simple Rangoli Designs for Beginners
For the sake of a beginner, the pattern is usually geometric, taking up the shape of a star, circle or flower. In order to make the drawing easy for the beginner, the pattern starts by placing dots to connect.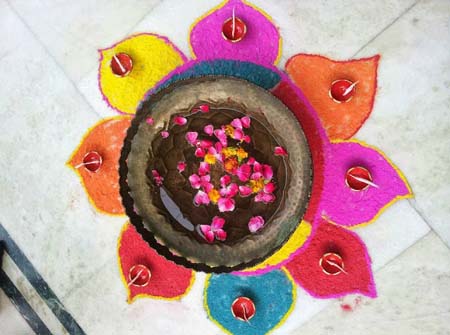 It's important that the pattern will reach precision because rangolis are reliant on the harmonization of pattern elements. Usually, the circle is the most favourable shape for a beginner, with pattern customizing done inside the circle.
Rangoli Designs with Dots
Rangoli patterns with dots are one of the most popular designs used by many artists since there are complementary dots that guide them in designing. Here are some of the best and simplest rongali designs with dots to use.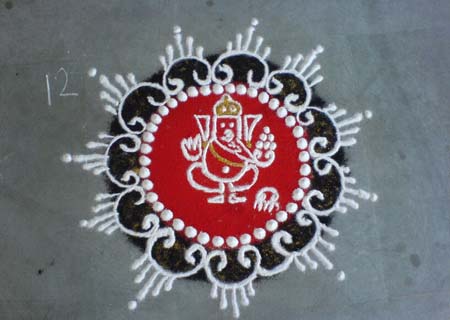 Artificial Rangoli Designs
Images: Veenavidya