Wedding cakes are an important aspect in the celebration that ties two people's commitments forever. Today, you may find different kinds of cake designs that are intended not just for eating but for artwork's sake. It's a fact in the development of leisure and lifestyle that food technology has also been mixed with today's yolk of arts. After the wedding ceremony and the reception proper, we head to the most crucial part for our taste palettes: the cake. We can't deny that the cake for the occasion has a very meaningful spot; otherwise, we wouldn't take pictures of the newly-weds as they spoon-feed each other with slices from the cake.
In times like these, we need a cake that will not only satisfy our craving for sweets that can match the occasion. We need a pretty darn good cake that is also picture perfect and palette satisfying. We need a wedding cake that can make the church bells ring for the second time around.
Cupcake Wedding Cakes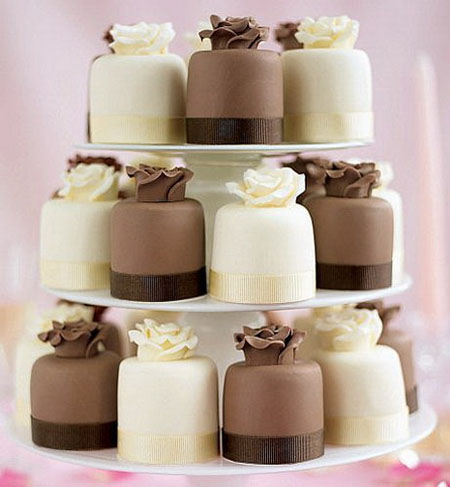 This type of cake is usually preferred in you don't want a dashing three-layered heaven that can occupy a lot of space in the food table but can't be as thrilling as you want it to be. When the guests finally will have a taste of the wedding cake, they can dig in into separate cupcakes that make up your cake. Having a cupcake cake resting on a three tier cake stand adds a little excitement to the guests
Simple Wedding Cakes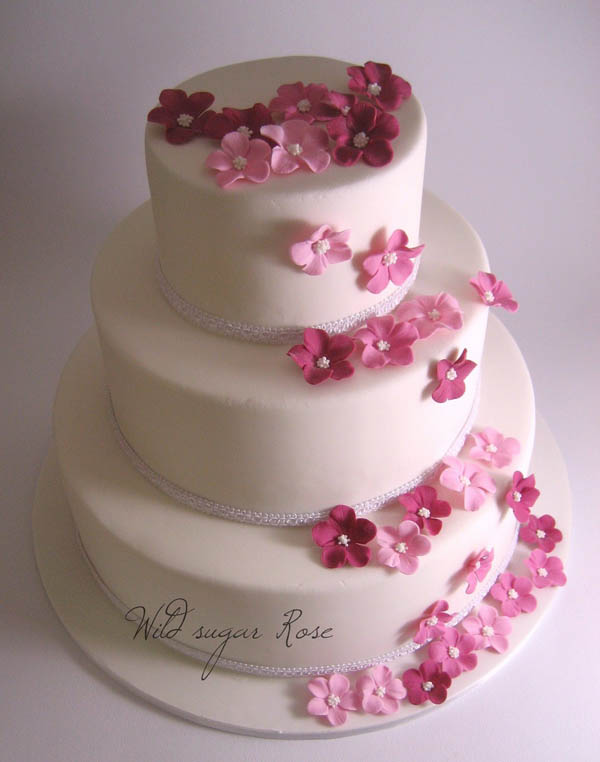 Usually when we mean a simple wedding cake we mean something that doesn't have to be a three-layered multi-coloured architecture that can over-power the buffet. Sometimes, wedding cakes can be as simple as having only one layer with only two to three colour-combinations (usually, white is the main coating) and with a single flavour to topple it with.
Amazing Wedding Cakes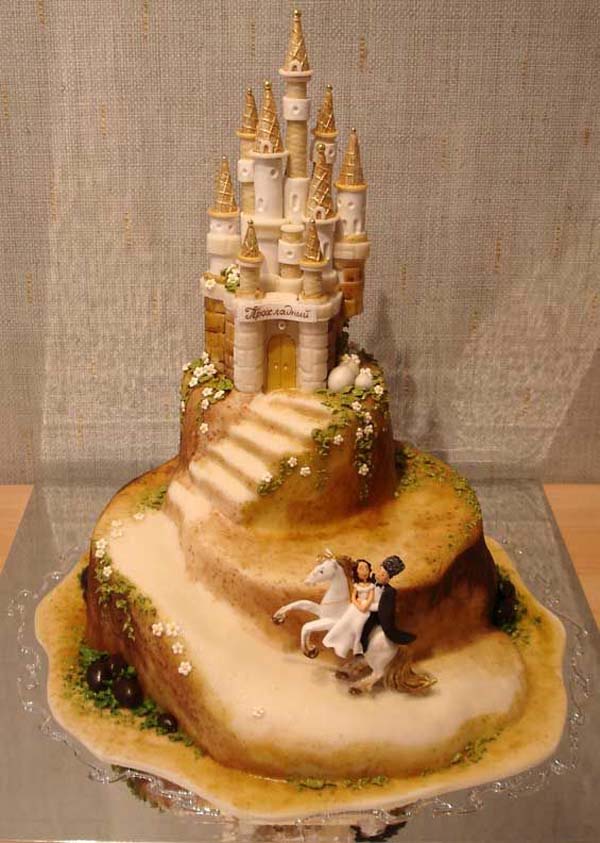 Aside from having a reality show that is entitled as Amazing Wedding Cakes, this idea basically gives a hint that the cakes have to wander away from the ordinary abstract arrangements of putting together a some slabs and decorating them customarily. These are the type of wedding cakes that try to paint an image for the on-lookers. Some examples are castle cakes and three-storey lace cakes.
Square Wedding Cakes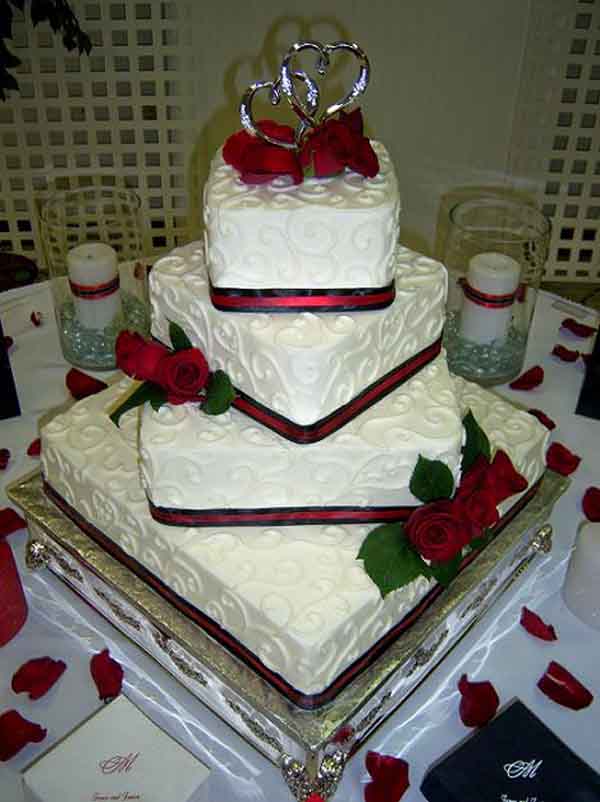 These types are easier to decorate in abstract form compared to the customary round shaped because the edges help in dictating more precision and angles. For more, some prefer having square cakes rather than the round counterpart because the first is easier to distribute in cuts to the guests compared to the latter.
Vintage Wedding Cakes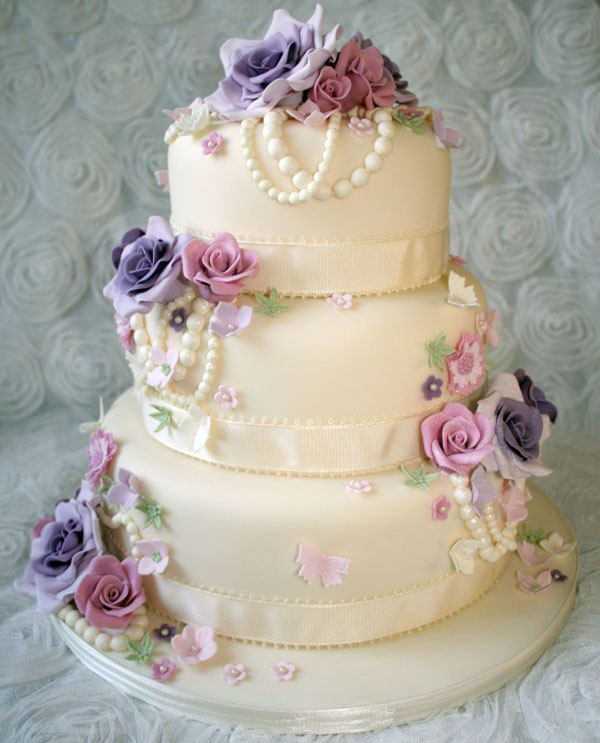 When we say vintage, this theme points in using designs straights from our grandparents' closets: laces, ribbons and floral. This idea applies even in having a vintage-inspired wedding cake that makes use of intricate vintage touches – floral and lace patterns that gives a sense of traditional but classy feel.
Mexican Wedding Cakes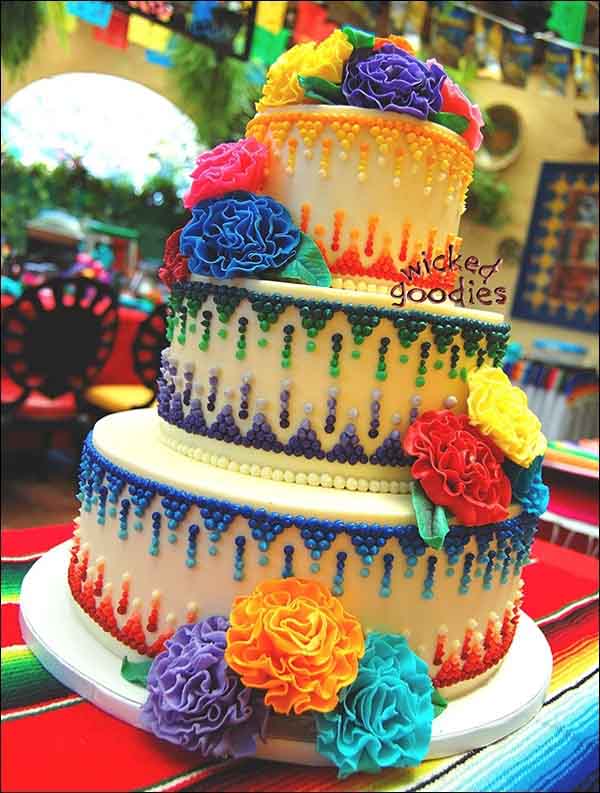 This is a different kind of wedding cake, that when you search it on the internet you'll find small round pieces of bread-like and cookie-like images that are toppled with confectioner's sugar. This goes by many names such as Russian Tea Cake and Italian Butter Nut because of the ingredients and flavour inside – crunchy butter-flavoured balls with minced peanuts.
Black and White Wedding Cakes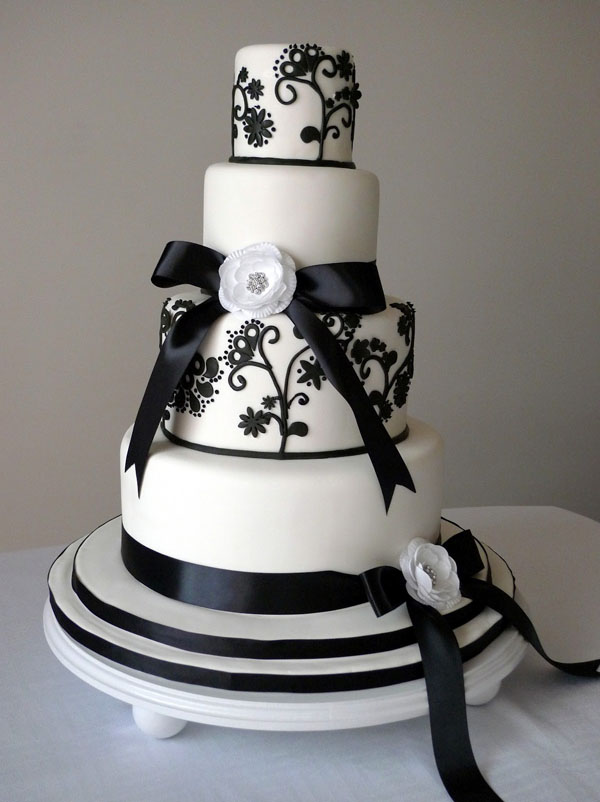 This is a contemporary wedding cake idea that tries to mix the modern wedding cake with the traditional white. Since the bride and the groom are also draped in black and white wedding outfits, the cake should also follow suit. The design can be in stripes or in checkers (but this is rarely adapted). Some makes use of the colour black to make a ribbon that embraces a pure white cake.
Fall Wedding Cakes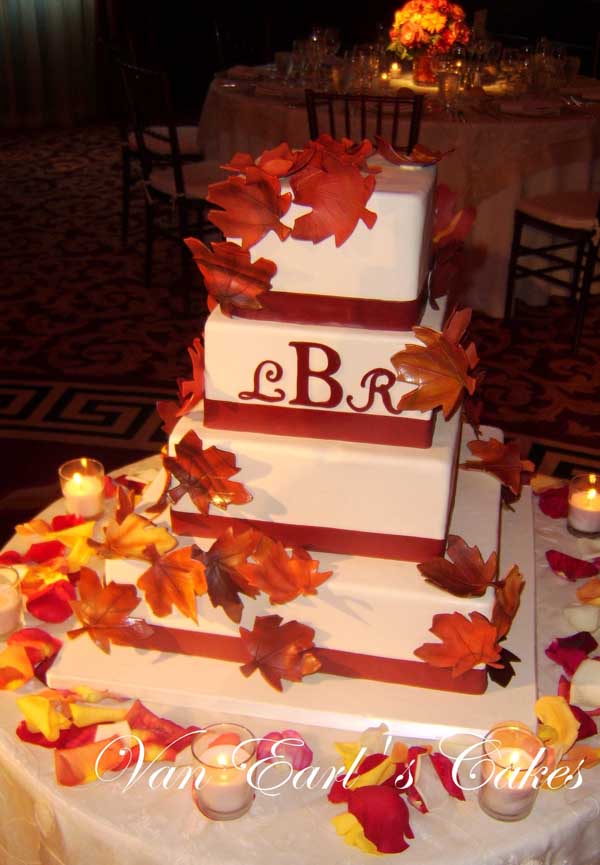 This time of cake is autumn-inspired. The most common designs you can see with this is autumn-leaves inspired. For this one, more earthy colours such as dark green, brown and dark orange are used in order to make the autumn feel. The idea is to make the cake look as if it's been under an autumn tree for a long time, that the leaves have managed to land on its sweet persona.
Purple Wedding Cakes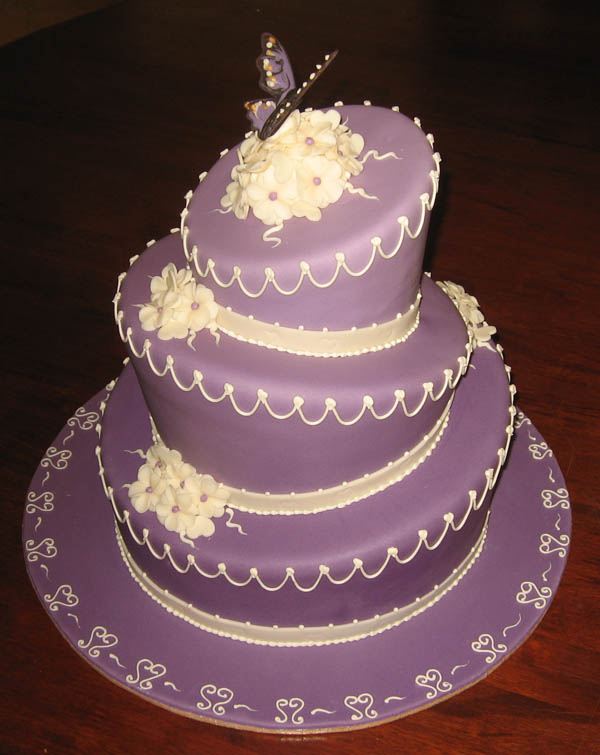 As the name goes, the cake is dominantly purple – but of course, the colour is stretched with additional colors that can complement the purple shade and usually, the purple is does not overpower the rest of the additional colours. The function of the supplementary colours, usually black, blue or white, is to balance the combination and lessen the overly purple look.
Elegant Wedding Cakes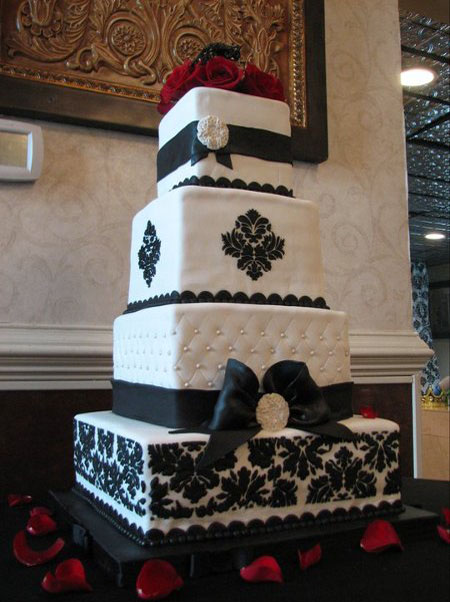 Sometimes, the lesser the details the more elegant a cake may look and this holds true. Some of the most elegant-looking cakes have less colour combinations – usually they are only in white and black themes – and have a minimalist design. In this case, some elegant wedding cakes are chiffon-inspired and lace-inspired.
Cheap Wedding Cakes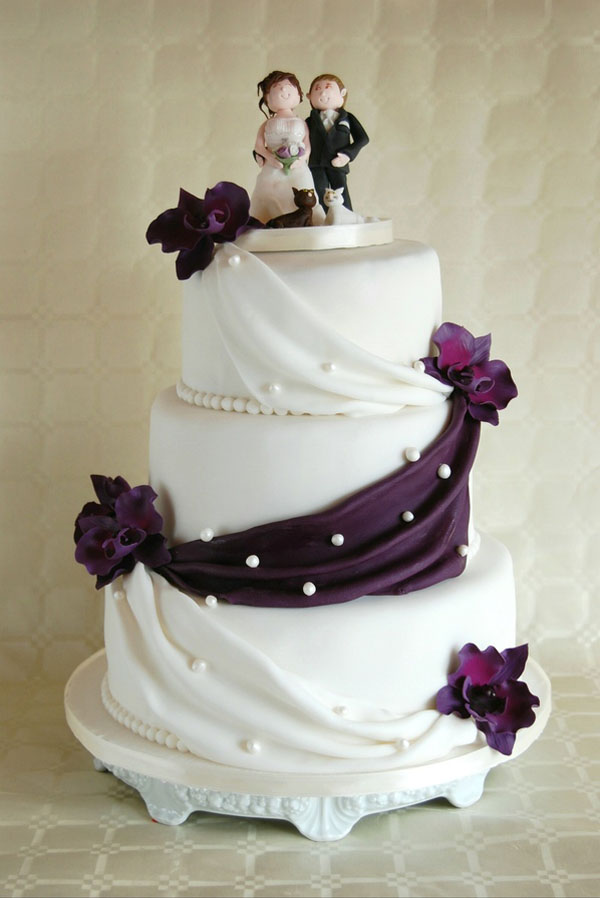 Who would've known that cheap wedding cakes can also come as elegant as competing wedding cakes? If you think that being cheap means cutting the colour combinations and patterns in the cake, well it's a false idea because you won't really notice the price tag once the finished product is already there. But just to sure you are on the budget-easy track, you can have accomplish wedding cakes by adapting a traditional white chiffon design or a square floral-inspired that only does with two colours.
Rustic Wedding Cakes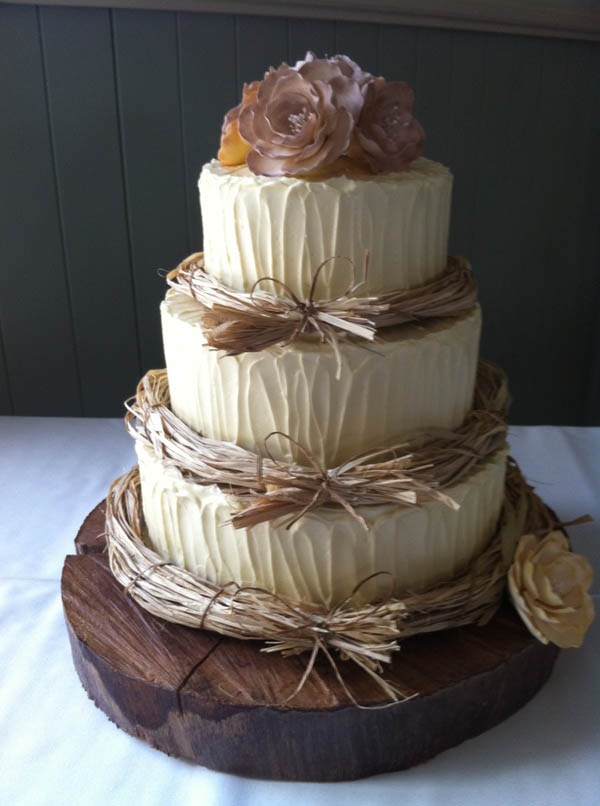 Put rust, wood, orchid and cake in one mix and what do you get? A rustic wedding cake: most designs have common themes that draw the design closer to nature. Some designs may have a wood-inspired theme, having a third layer imitating wood with a natural orchid to topple the top-most layer.
Beach Wedding Cakes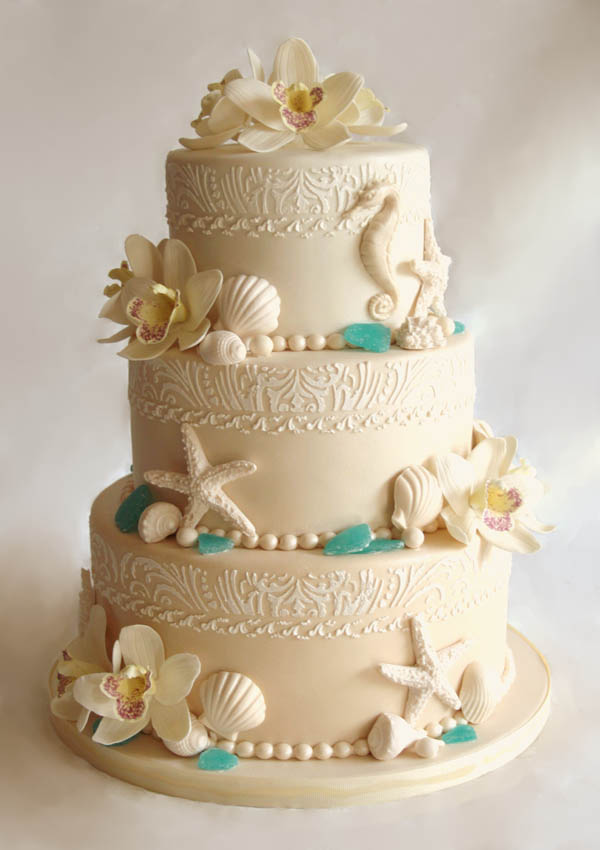 This is also similar to underwater / under-the-sea / mermaid wedding cakes – as there are similarities with the designs and colour combinations: sea shells, pearl, corals in blue or aquamarine cake colour idea. Ideally, this cake is supposed to share a sense of "ocean" feel. The cake colour may vary, but to make the cake beach-inspired, the starfish, sea shell, coral and pearl never disappears.
Small Wedding Cakes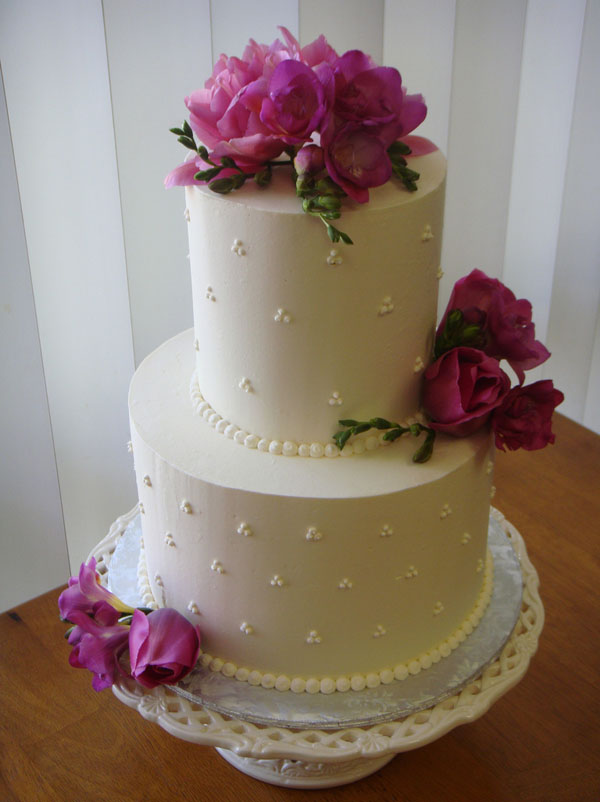 As the saying goes, big things come in small packages. This is particular kind of wedding cake is preferred if the newly-weds would want the wedding cake to be theirs alone. Of course the guests could dig in a different type. Small wedding cakes, because of the limited perimeter, have the chance to be playful with the shapes – some may have heart shapes.
Chocolate Wedding Cakes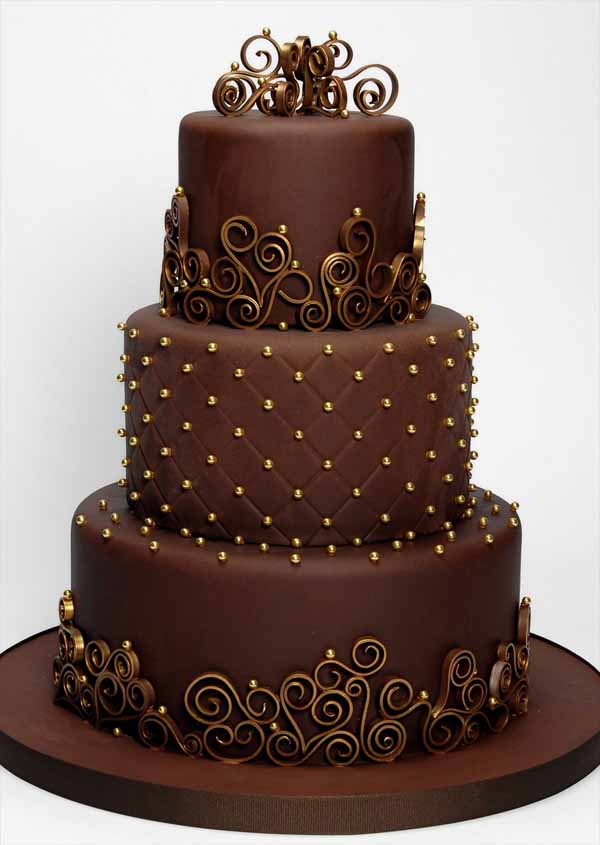 Traditionally, wedding cakes are supposed to be white and vanilla-inspired for that matter that it would seem as if having a chocolate wedding cake would be the greatest violation in the tradition. But actually, this cake theme can work in some aspect especially with the exquisite and special designs if your guests would fancy a chocolate cake instead of a plain vanilla one.
Modern Wedding Cakes
We are trying to think out of the cake box when we say "modern," and this holds true in the concepts. Some cake designs have the biggest layer on top, while having the smallest underneath. A rectangular wedding cake may be aligned in a lopsided manner to make it look more post-modern.
White Wedding Cakes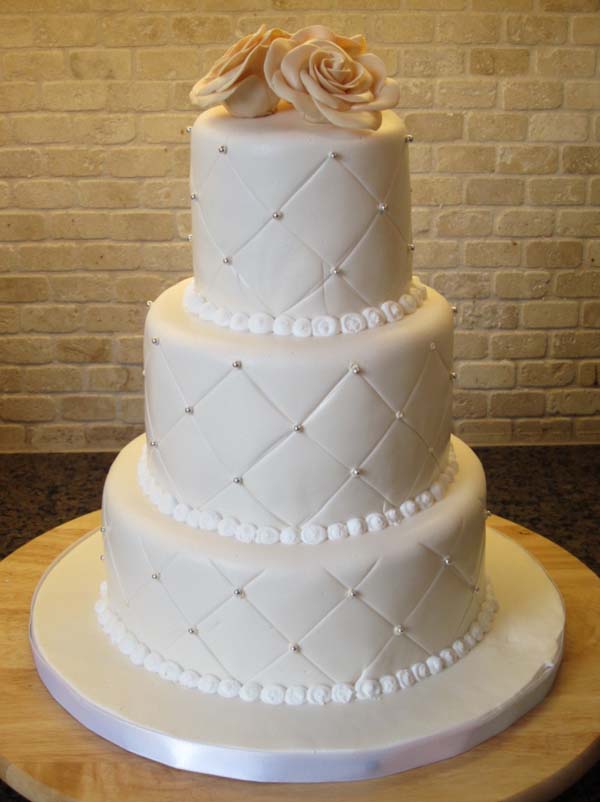 In the presence of a chocolate-inspired cake, there is also a white wedding cake to counter it with. And true enough, the traditional wedding cake is white because this symbolizes purity and holiness. In a couple would want a traditional wedding theme, white wedding cakes are still the most preferred.
Camo Wedding Cakes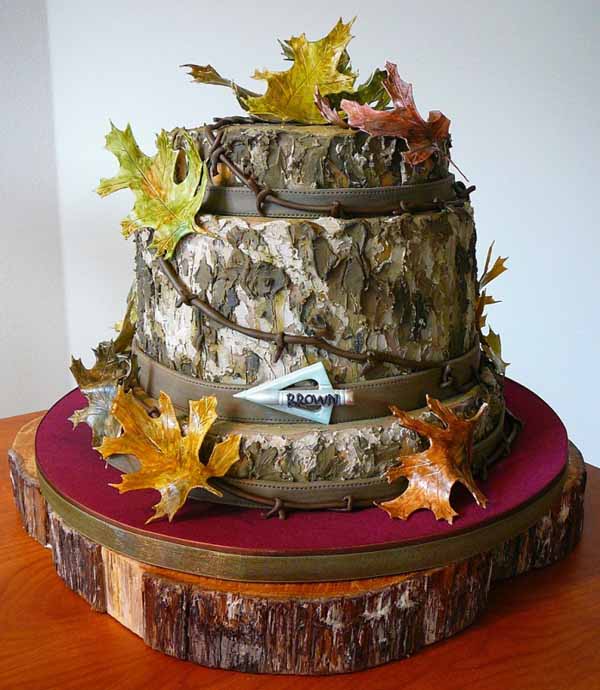 Who would've thought that the idea of camouflage will apply even to a wedding cake? This concept works best for nature lovers and environmentalists. This can give the occasion more identity. Some designs feature the colour combination that imitates the environmental or earthy colours and some would have imitations of fallen leaves.
Winter Wedding Cakes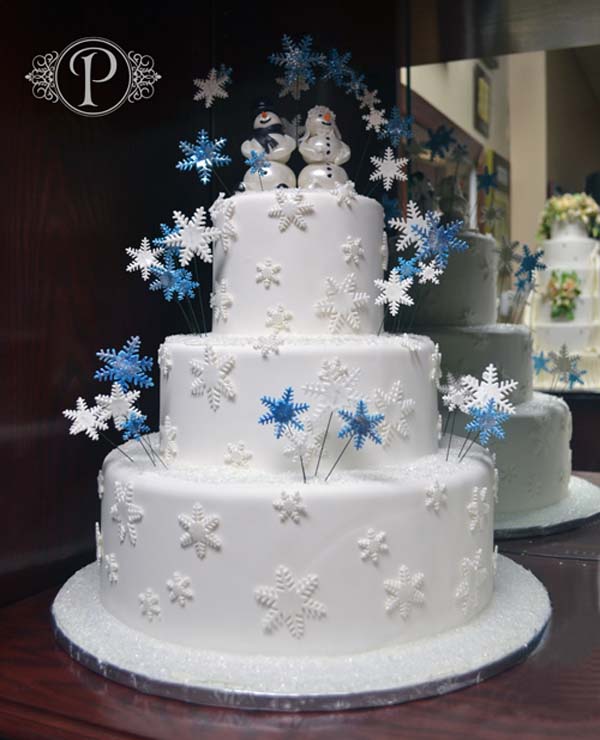 The main identity of a winter cake will be the decorations, minimal or not, on it because the adapted colour will still be white; thus, it will be hard to distinguish it from the rest unless the decorations will stand out. Usually, a winter cake has decorations such as snowflakes, real pine cones and snowman.
Traditional Wedding Cakes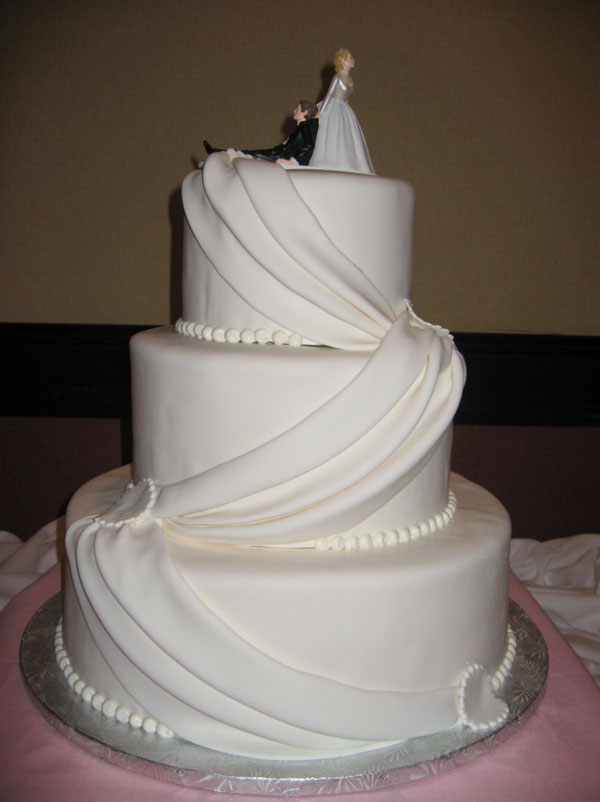 White, floral, lace with a touch of vintage is the traditional images of a wedding cake. The point of this type is to set the mood in the celebration. Usually, the layers are in multiple with an ceramic image of the newly-wed at the top-most layer.
Western Wedding Cakes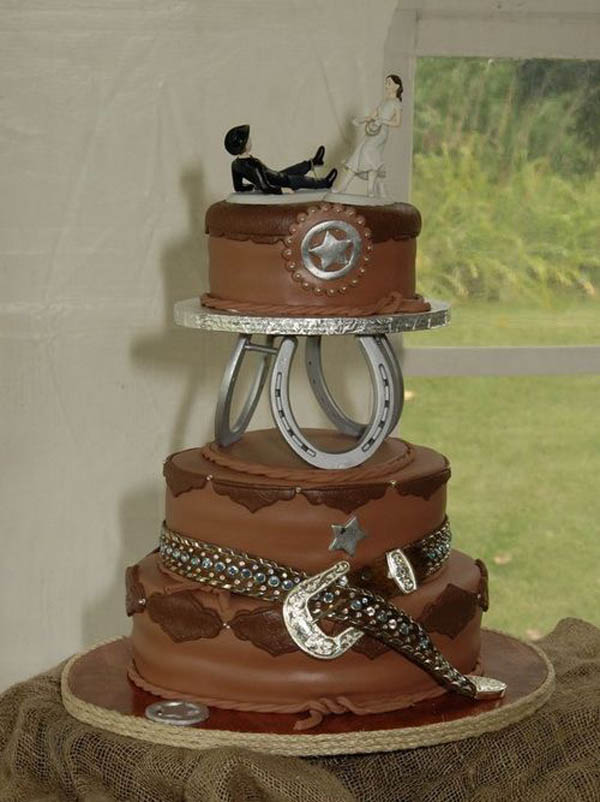 These types are usually inspired by the wild west stereotype, so you'll see a couple of cakes like this that are inspired by cow hair colours, ropes, cowboy and barns. The perfect combination of a cake for this theme is chocolate, now this is an example of a theme that works better with a chocolate cake than with a plain one.
Funny Wedding Cakes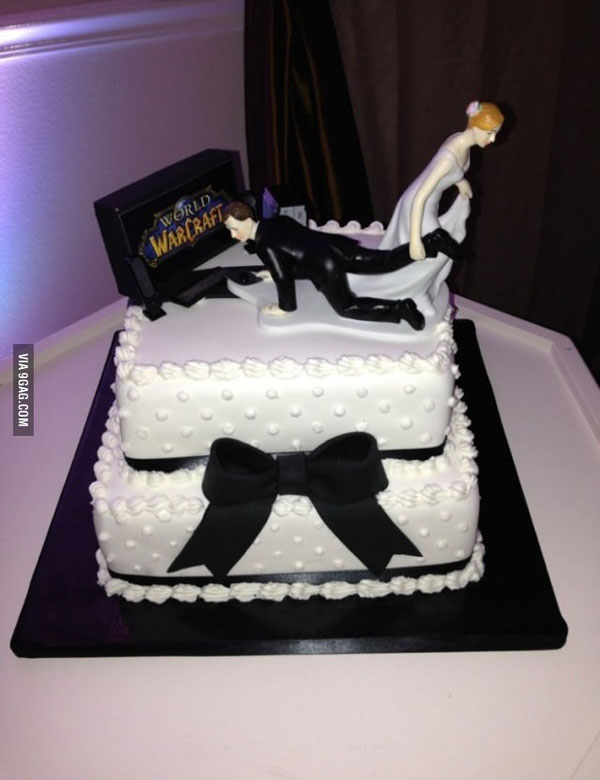 The point of this kind of wedding cake is the message, which highly-depends on the ceramic designs or hardened frosting drawing. This is meant to put a little humour on the event and will make the cake even more entertaining. Some design will show a ceramic image of the couple dragging each other or sleeping the booze off at the top-most layer.