One of the main things that all brides stress out over when planning her big day is getting the perfect wedding hairstyle. With all eyes on you, you'll want to look perfect from head to toe. Details are everything! Too true when it comes to one of the biggest events of your life. Nothing accentuates a bride's wedding gown than their hair.
Pick the wedding hairstyle that embraces your personal style and features. Get a do that will show the world that you're ready to say "I do!". Whether you choose the classic updo or opt for loose tresses cascading down your shoulders, wedding hairstyles are as diverse and distinguished as the brides that wear them.
Latest Wedding Hairstyles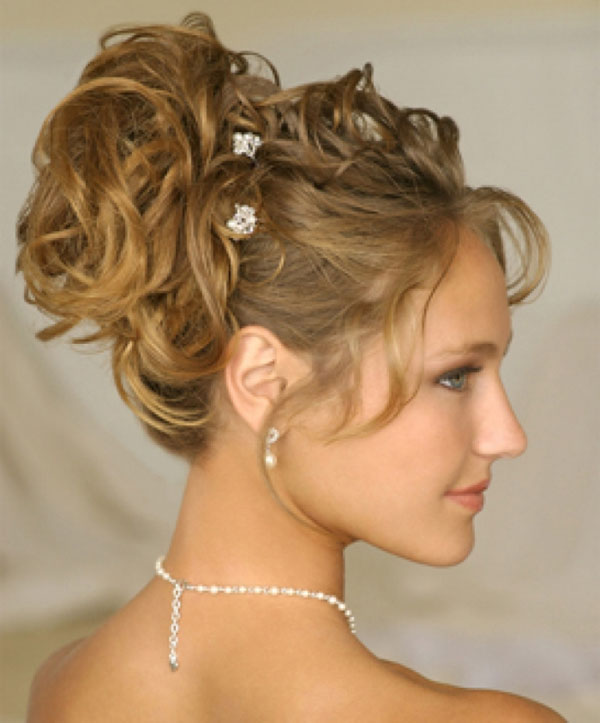 Dreamy and elaborate updos are in style nowadays, a modern twist to a lovable classic. Curls have been getting a lot of attention lately too. Look beautiful and angelic with lovely waves flowing down your back. Braids are also back on the trend, perfect for a more relaxed but avant-garde feel.
Wedding Hairstyles for Long Hair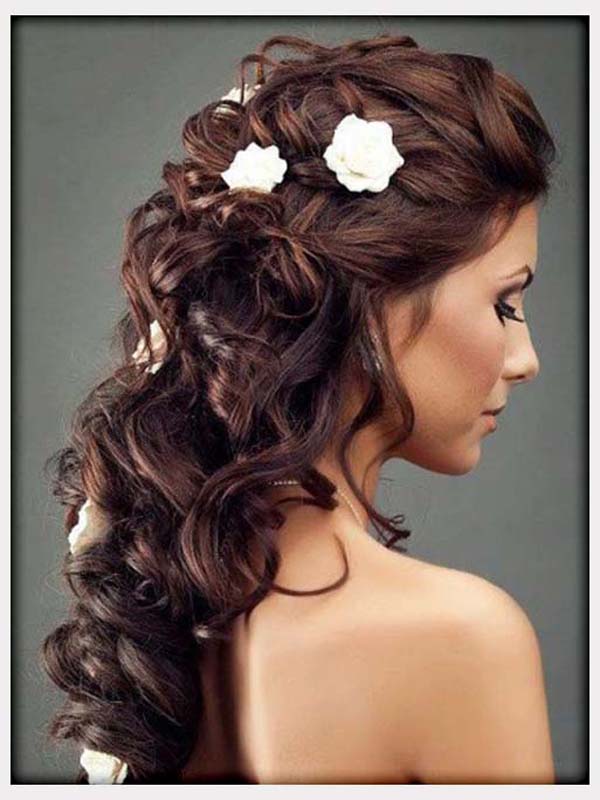 Women with long hair have a great advantage when it comes to hairstyles – their choices are significantly greater than those with short hair. They'll be able to mix and match different styles, try out all sorts of trimmings, and be as creative as they want with their hair. Look like a princess with wavy locks decorated with flowers and buds. Feel like a fairy with ethereal tresses pinned up delicately behind or on one side of your head. Make those features stand out with a gorgeous bun or with a low French braid.
Wedding Hairstyles for Short Hair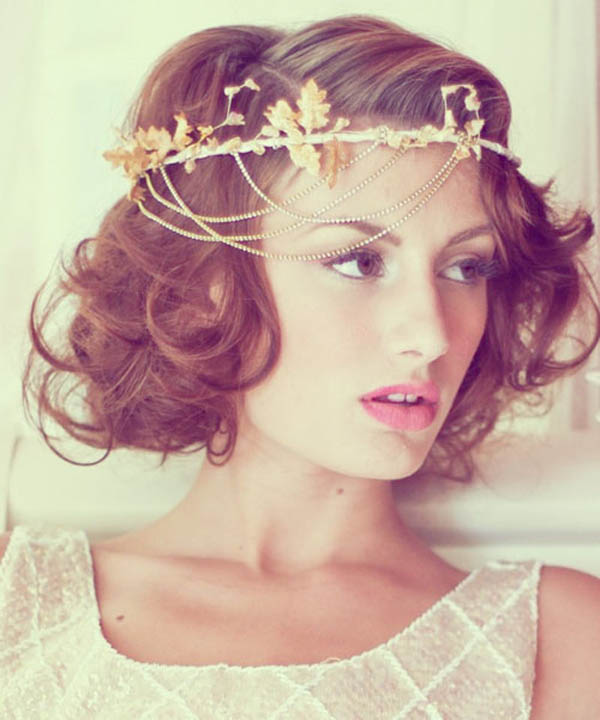 However, short-haired beauties will look just as stunning on their wedding day with the perfect hairdo. Bouncy waves and cutesy curls will give the bride a sophisticated, chic look. Blowing and teasing out your lob or pixie will give you that messy but fabulous appeal. It's also a good idea to pay attention to your bangs. Hair accessories are great for subtly accentuating your pretty tresses.
Wedding Hairstyles for Medium Length Hair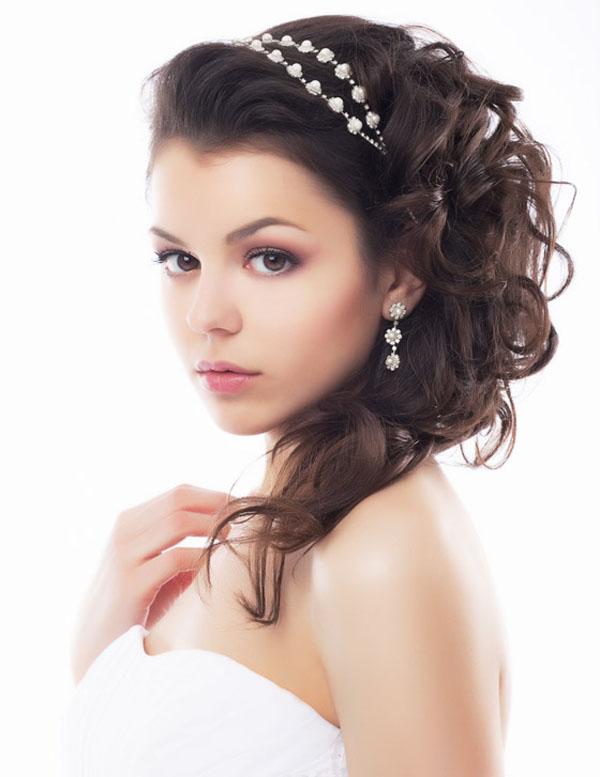 Mid-length hair is great in layers. You'll look cool and refreshing with layered hair, perfect for summer weddings. If you want to add a dash of elegance, try giving your hair light curls at the tips or pinning on some stylish clips.
Wedding Hairstyles for Shoulder Length Hair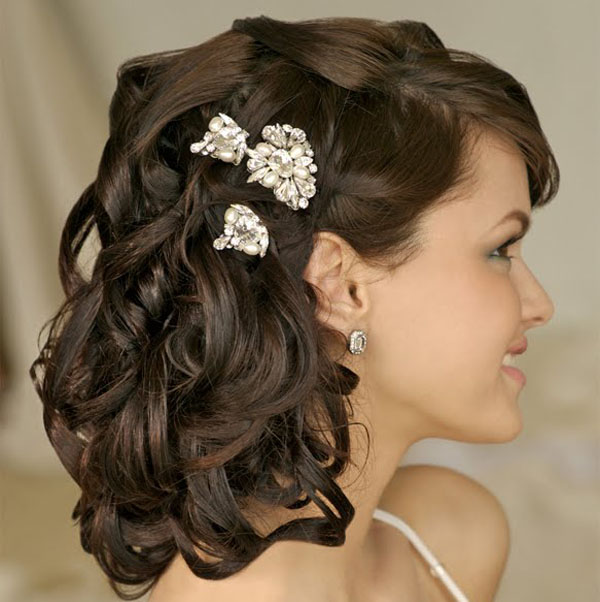 Look stunning in a twisted bun garnished with delicate swirls. Intricate braids are also great if you're the daring type who'd like a more zesty look. Soft curls and floral clips are also in fashion and are great for those with shoulder length hair.
Half Up Half Down Wedding Hairstyles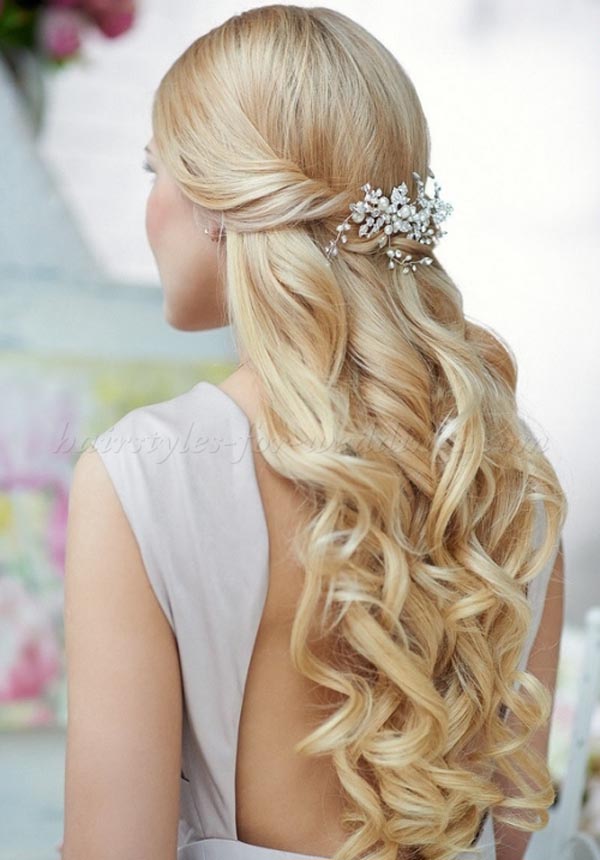 With its rising popularity, the half up and half down style is great for those who can't decide whether they want to look prettily prim or confidently casual. Ideal for those with lengthy hair or those who want to feel like royalty. This style can dazzle anyone.
Indian Wedding Hairstyles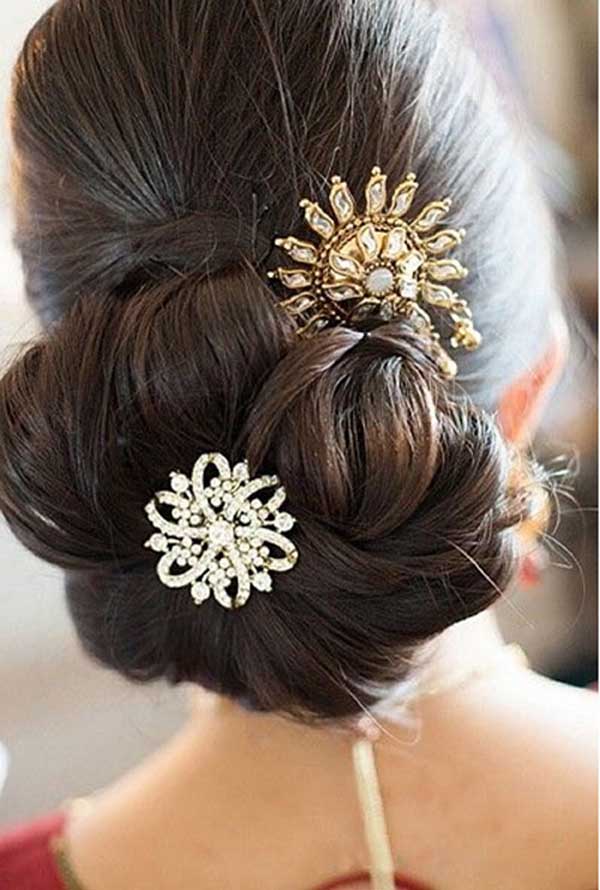 Whether you're Indian or an enthusiast of the striking fashion of India, this style is sleek and glamorous and perfect for your wedding. Traditionally, Indian brides put up their hair in a clean bun touched up with accessories. They go for voluminous hairstyles that harmonizes with the bride's personality and features. And don't forget those jewelries!
Wedding Hairstyles Updos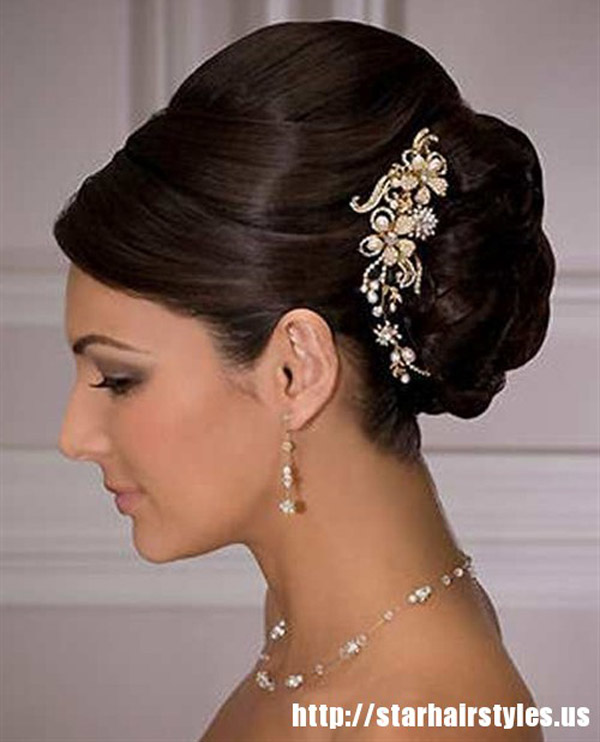 Probably the most formal style around, updos are great for looking dignified and prepared. There are different variations to choose from with this style. For a neater look, the slicked back updo would be great for you. But if you prefer to look more natural and outgoing, the gently tousled bun would be better. Plates and waves are also great with this style.
Vintage Wedding Hairstyles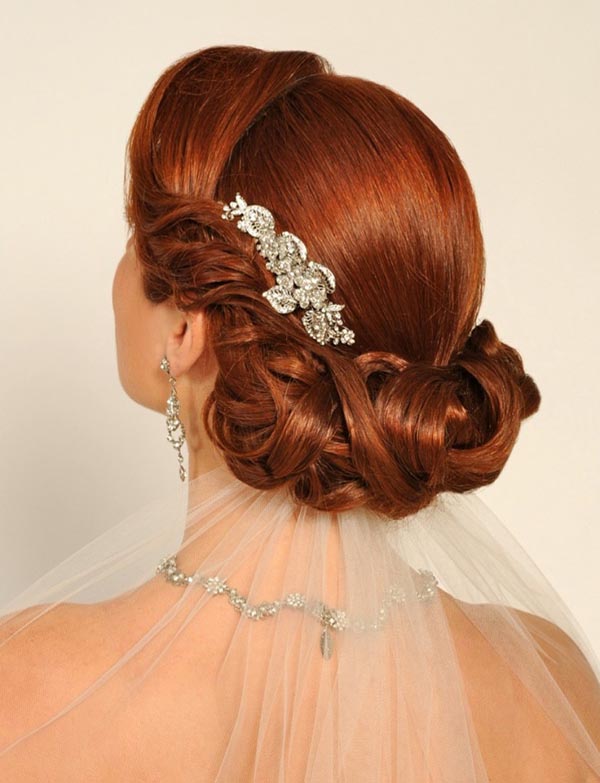 Vintage hairstyles will never get old. They're timeless and breathtaking, just perfect for brides looking for a more unconventional glam. The thing to pay attention to if you want to go for the vintage look is your hair's volume. Puffy curls or blown buns are examples of vintage hairstyles. Adding some texture will also give your hair some flair.
Beach Wedding Hairstyles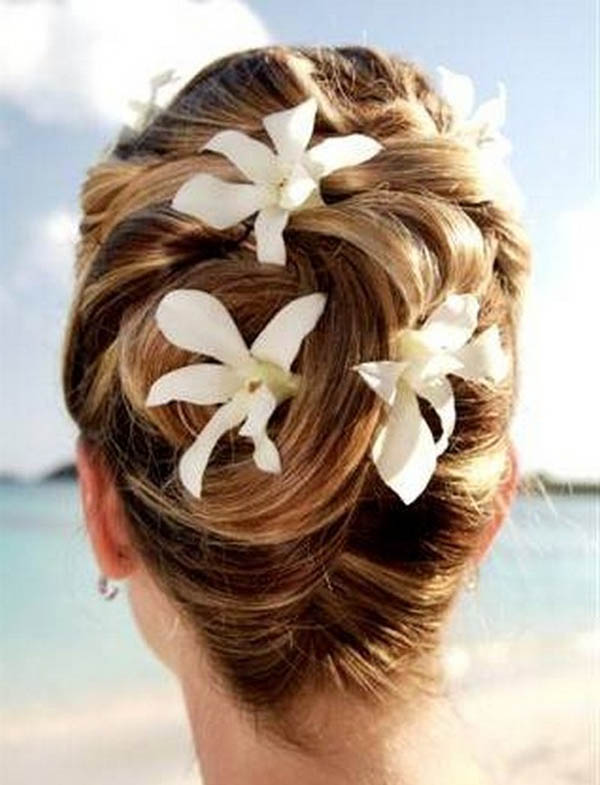 Beach weddings mean that your hair has to endure the sun and the salty air. The simple but sassy ponytail is a great option if you want to keep your hair at bay while still looking fabulous. Embellished braids are also stunning as well as undeniably gorgeous for perky brides.
Wedding Hairstyles with Veil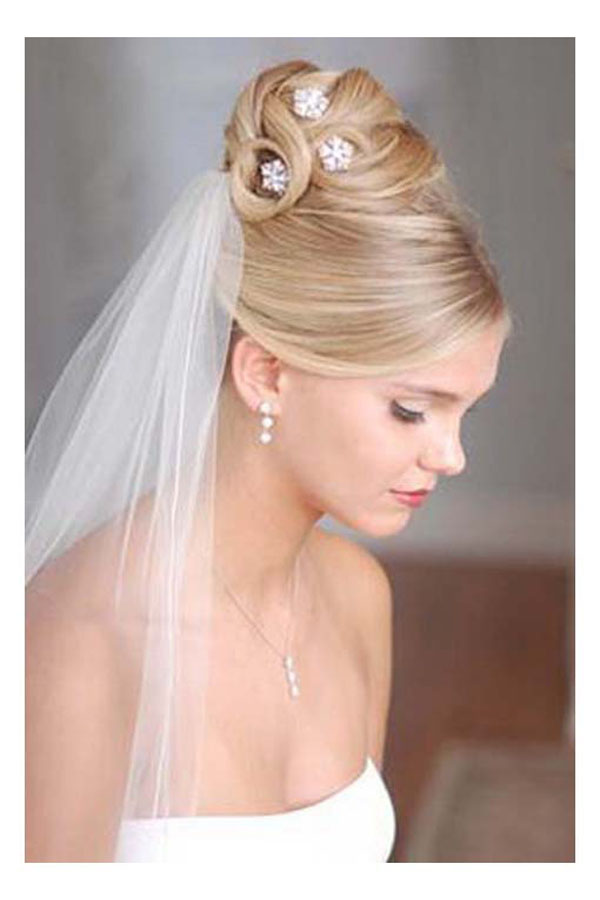 A simple bun or chignon can make any boring veil extraordinary. The veil will be complimented better if you keep your hair styled up. A tasteful selection of accessories and fascinators will do your veil wonders.
Wedding Hairstyles for Black Women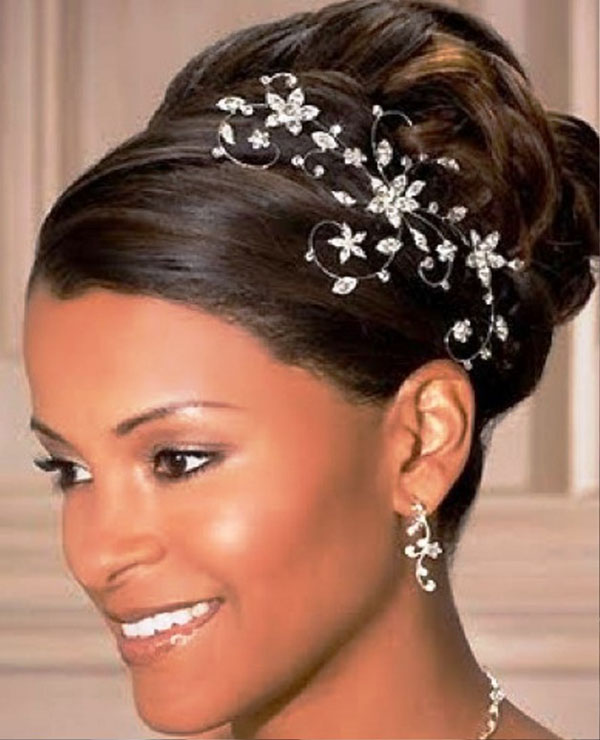 Black women often have naturally thick and textured hair. Sweeping your hair back will enhance your facial features wonderfully. Walk down the aisle in style with a glamorous pompadour that will make you the envy of women. Floral accents are recommended for a softer, ethereal look.
Curly Wedding Hairstyles
Who doesn't want to have to die for curls on their wedding day? This style is great for all lengths of hair. Soft and loose spirals give brides a flirty delicate look. Closer curls are more romantic and chic.
Wedding Guest Hairstyles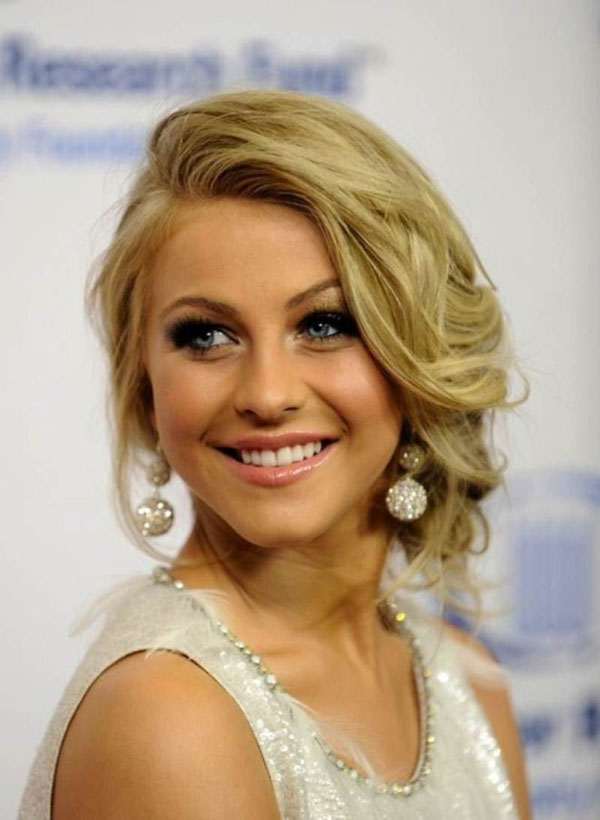 Of course guests have to look glamorous too. However, you might want to amp down on the glam on wedding ceremonies. You'll want to look stylish without upstaging the bride. Go for cute but simple hairstyles that will harmonize with the theme of the wedding.
Braided Wedding Hairstyles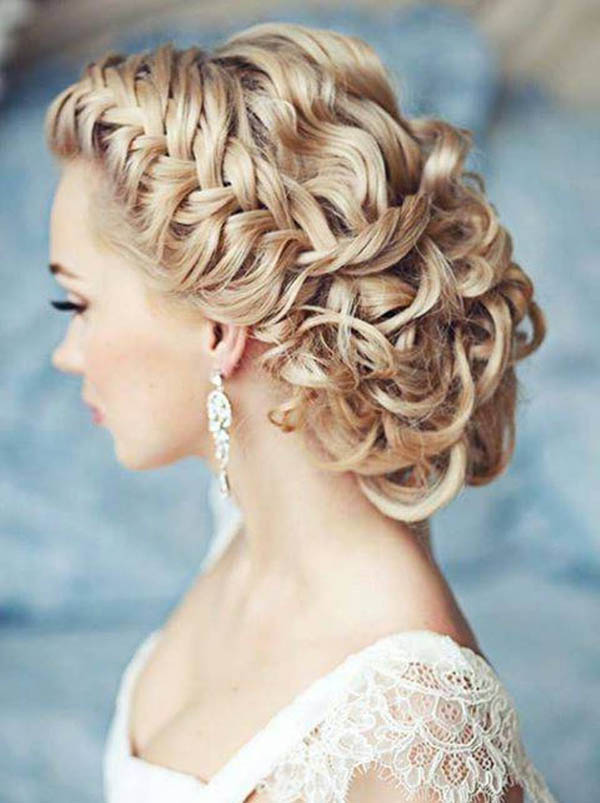 Fans of braids and plaits rejoice! Braids are gaining popularity in the bridal scene once more. This style looks great on anyone and can be personalized in numerous ways. You can have a braided updo or a low side fishtail or an embellished French braid. Get creative and start braidstorming for ideas!
Simple Wedding Hairstyles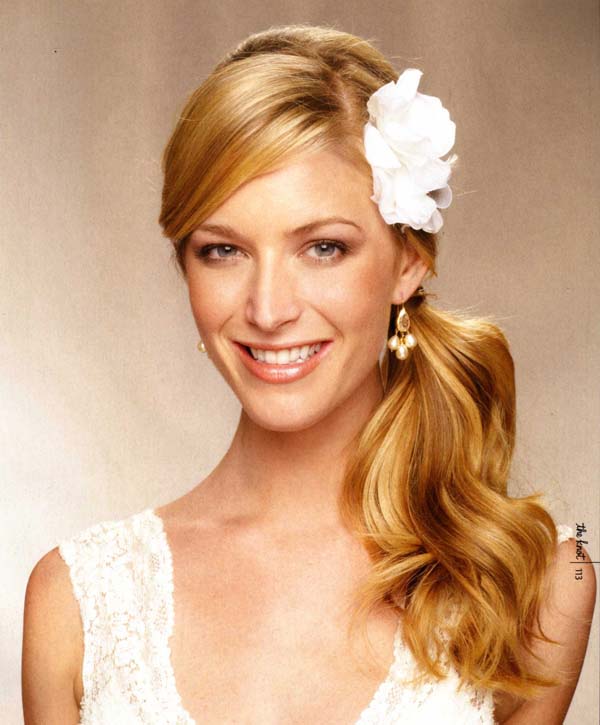 The humble side ponytail is simple yet effective. It gives the bride a down-to-earth appeal. Letting your hair hang loose with a few sprits of mouse or hair spray to puff up those locks is sexy and casual. And curls are always a good idea.
Celebrity Wedding Hairstyles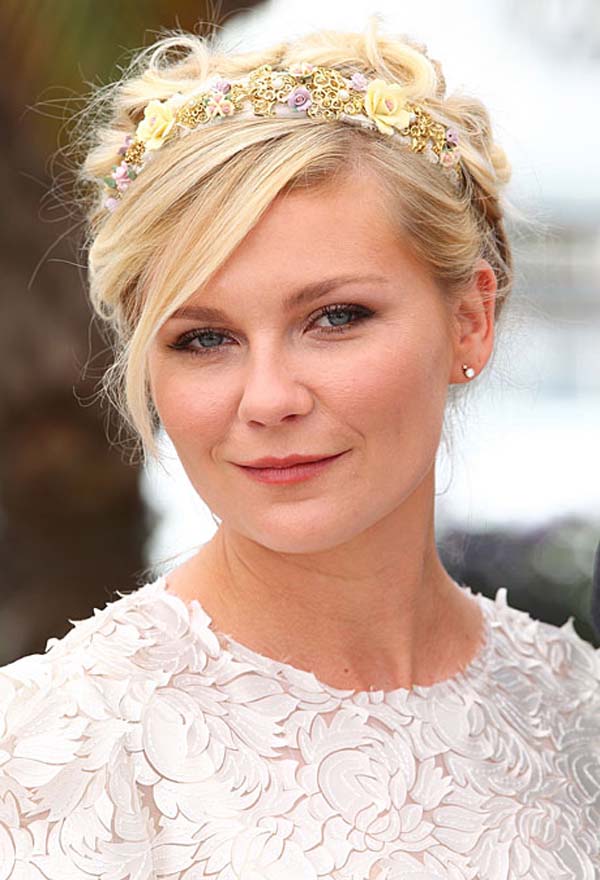 Celebrities are often our fashion heroes. Kate Middleton is practically a deity when it comes to perfect weddings. Get inspired by fashion divas like Beyonce or Rachel McAdams and flaunt your locks like a star. Just remember to embrace your own unique characteristics and add your own personal touches.
Wedding Hairstyles for Bridesmaids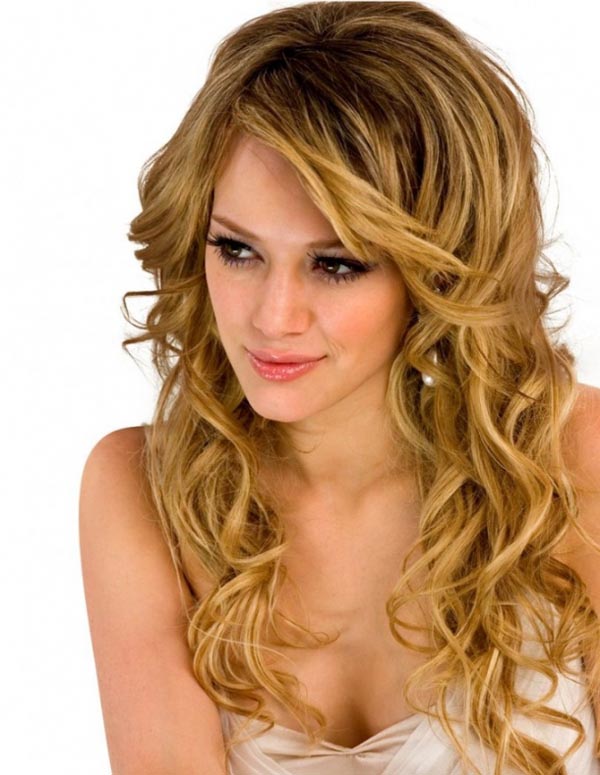 Bridesmaids have to compliment the bride's beauty. They need to have hair that coordinates with the bride's. Showy hairstyles should be minimized because all attention should be on the bride. Softer styles are recommended.
Wedding Hairstyles with Flowers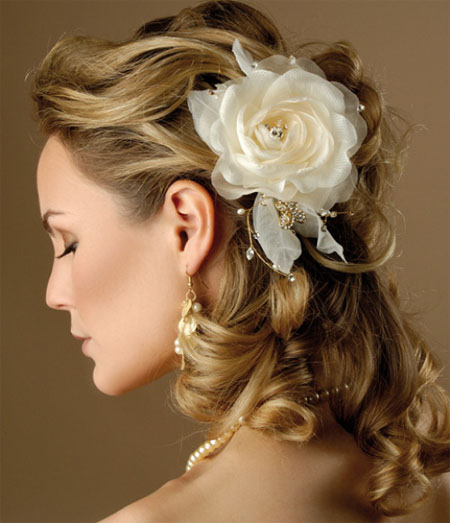 Weddings and flowers go hand in hand. The blooming bride needs blooming blossoms. A large flower headpiece should be preceded with caution. You need to wear it somewhere where it doesn't obstruct your face or your hair but balances with everything. Little flower pins should also be strategically placed. They should enhance your do, not overpower it.
Romantic Wedding Hairstyles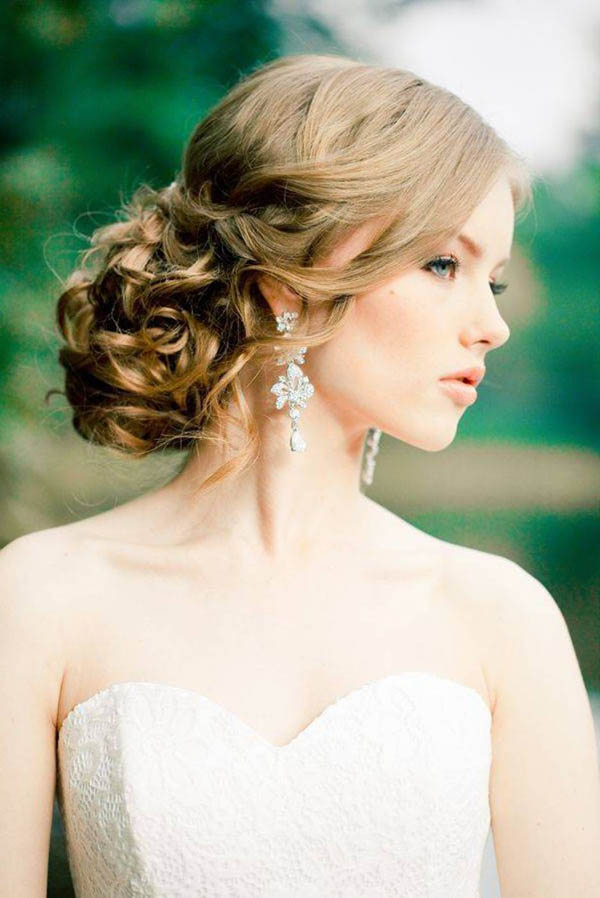 Your groom will be speechless when he turns around and sees your perfection in a dreamy and out of this world hairstyle. Casual, loose tresses will make you glow and will amp up the romance in your wedding. Chignons are perfect for achieving that elegant but genial look that all brides aim for. Your man will find it impossible to tear his gaze away from you with hairstyles like these.
Side Wedding Hairstyles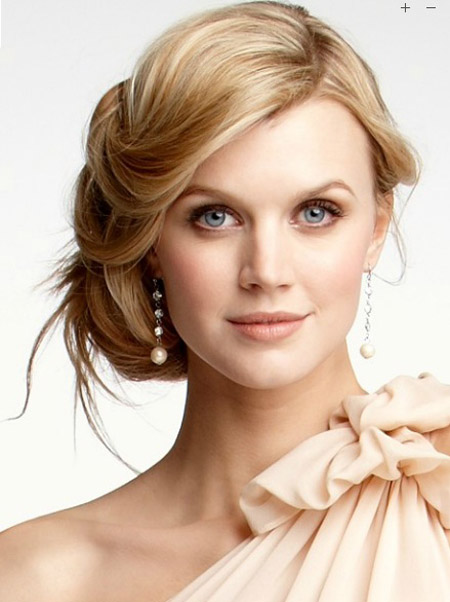 For stylish brides who want to look classy but bohemian. Be trendy with a side bun that will make the crowd go wow. Or consider the sexy side part and walk down the aisle like celebrity. Or how about the fearless side updo, perfect for brides who will take over the dance floor after the ceremony.
Elegant Wedding Hairstyles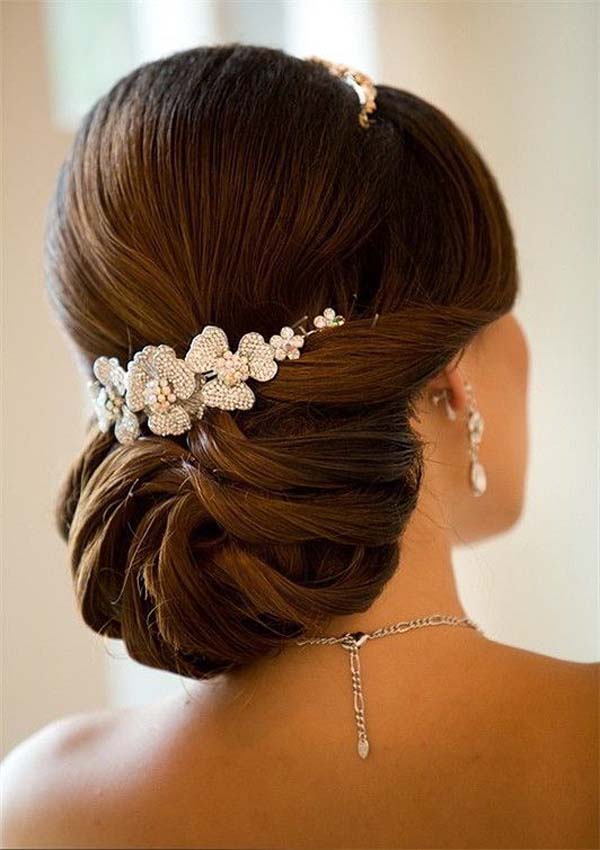 Putting your hair up gives off the air of sophistication. However, letting your hair flow freely also shows off your graceful, chic side. You'll want to make sure that your hair won't go wild on your wedding day though so hair accessories are a must.
Wedding Hairstyles with Tiara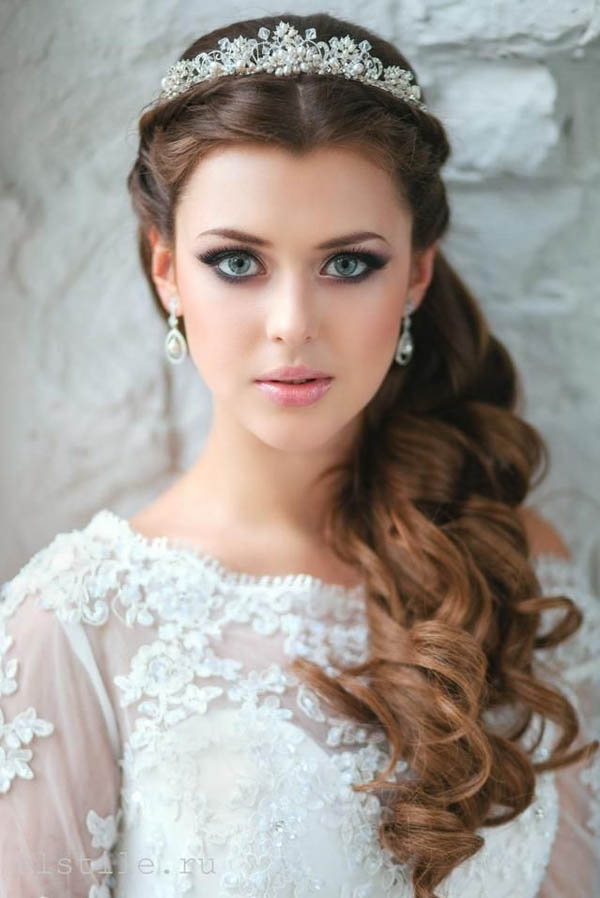 Feel like a princess with a tiara adorned on your hair. It not only keeps your hair in place but also gives you a regal appearance. You'll sparkle twice as much with a tiara!
Wedding Hairstyles with Bangs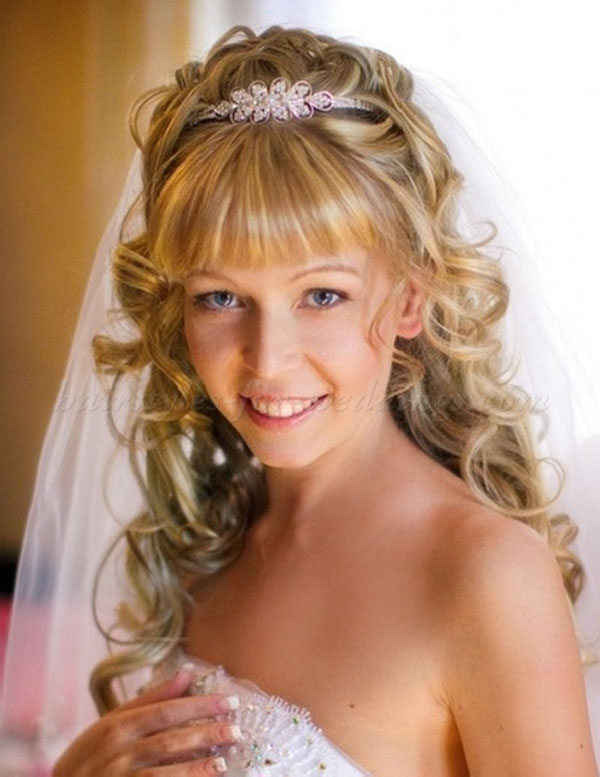 Bangs can really make a difference. Take into careful consideration how you want to style your bangs. You can puff it out if you're going for something retro and cool. Or you can sweep it to one side if you're going for a more conventional but cute look.